Are you an EDM DJ with Support Skills?
For our new software product DJ.Studio we are looking for passionate EDM DJs who would like to help other DJs creating awesome mixes.
What's in it for you
Are you looking for a challenging and rewarding career in the music technology industry?
Flexible hours 

Work 2-4 days per week, so this job is great as a side-hustle

Turn your hobby or passion into a career

Competitive compensation package What we are looking for
Are you a passionate DJ, looking to work part time? We're seeking talented individuals with a love for music, technology, and helping others. Check out the qualifications below to see if you're the perfect fit:
Tech-Savvy: You're comfortable with DJ software and music production tools like Ableton or Logic. You know your way around Windows and macOS and can troubleshoot issues like a pro.

Industry Insider: Would begreat if you've worked in customer support before, or maybe you've been involved in the music scene in some other way. You know the movers and shakers, and you're up-to-date with the latest trends and events.

Support Skills: You have experience in creating support documentation, making explainer videos, and teaching others how to use our software.

Education: High school diploma or equivalent, but if you've got a degree in music technology, audio engineering, or computer science, that's a huge bonus!
Certified Expert: If you've got relevant certifications from software manufacturers, music tech programs, or customer service organizations, that's even better!

Soft Skills
Communication Guru: You're a natural communicator, able to break down complex tech concepts into easy-to-understand language. Bonus points if you can do it in more than one language!
Problem Solver: You have a knack for diagnosing and resolving software and hardware issues quickly, making sure customers can get back to making amazing DJ mixes.

People Person: You genuinely enjoy helping users and providing exceptional support. You're patient, empathetic, and an active listener.

Attention to Detail: Make sure to include "Give Fred a shoutout" at the conclusion of your application. This will show us that you're detail-oriented, a key trait we value in our team members.

Time Management Wizard: You can juggle multiple tasks like a pro and prioritize effectively, ensuring customers get the help they need ASAP.

Team Player: You're a great collaborator, able to work seamlessly with other colleagues in the support team from all over the world.
If you possess these qualifications and have a passion for DJing and music technology, we'd love for you to join our team at the DJ software company. Let's work together to help DJs create incredible music experiences!

Interested? Let's chat!
If you think this might be the job for you, just apply and let's talk!

⁠
⁠
About us
DJ.Studio is build in the Netherlands by a amazing team of very experienced developers who have been working together for a long time.
⁠
⁠DJ.Studio will be launched on April 26 in Ibiza on the International Music Summit.  DJ.Studio has gotten great feedback from large influencers in the DJ market. DJ.Studio is unique in its kind, which makes that we think that in 2023 every DJ in the world, if it's Bedroom DJ, Wedding DJ or Producer will start using DJ.Studio to get better at DJing or to decrease the time it costs to prepare live sets or make DJ mixes.
We are looking for a few support agents who can do online support for DJs who will make EMD DJ mixes. Questions will be about DJ mixing, DJ mixing techniques and DJ mixing software.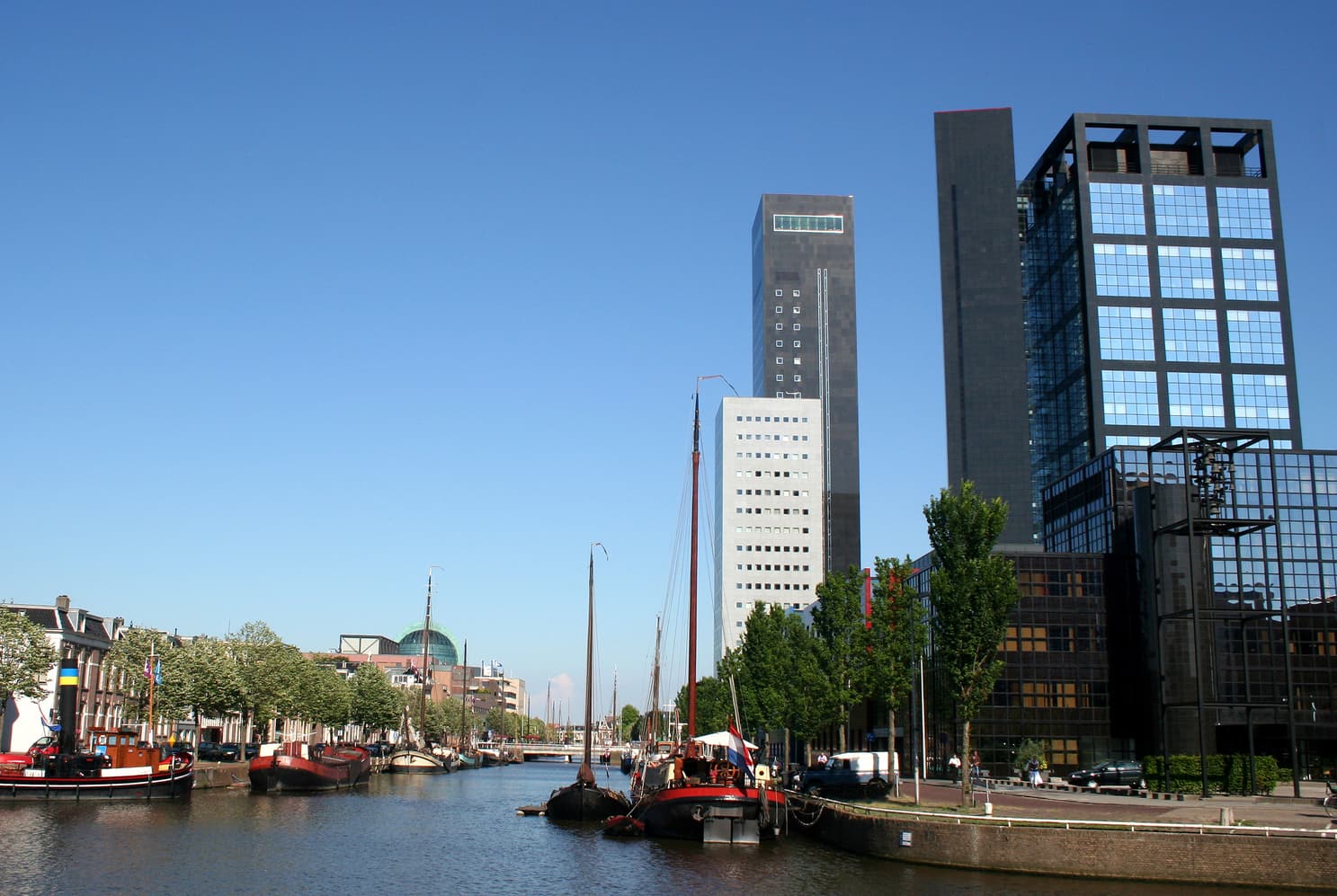 Our customers
These are the people who you will be supporting
Bedroom DJ's
Bedroom DJs want to enjoy their hobby. ⁠They love Dance music, but it's hard to create a mix of their favorite tracks via DAWs for DJs like Ableton or Logic and DJ controllers are intimidating.

Studio DJs
Radioshow makers and fitness instructors need to produce a lot of DJ mixes and manual mixing in key is very time consuming
Performing DJs
Wedding DJs and professional DJs can prepare live sets much faster by getting ideas for track ordering from the Automix and try out some different types of transitions quickly.
DJ.Studio: the DAW for DJs
With DJ.Studio you can create DJ mixes in a fraction of the time.
Upload your tracks and DJ.Studio will use algorithmic beat matching, harmonic chord intelligence and note detection technology to order your tracklist in the best harmonic way. 
Fine tune your transitions in our timeline editor which is built for DJs. Most DJs use Ableton or Logic, but those software products were built for producing music.
Export your mix to Mixcloud, Youtube, Ableton or a file in your harddrive.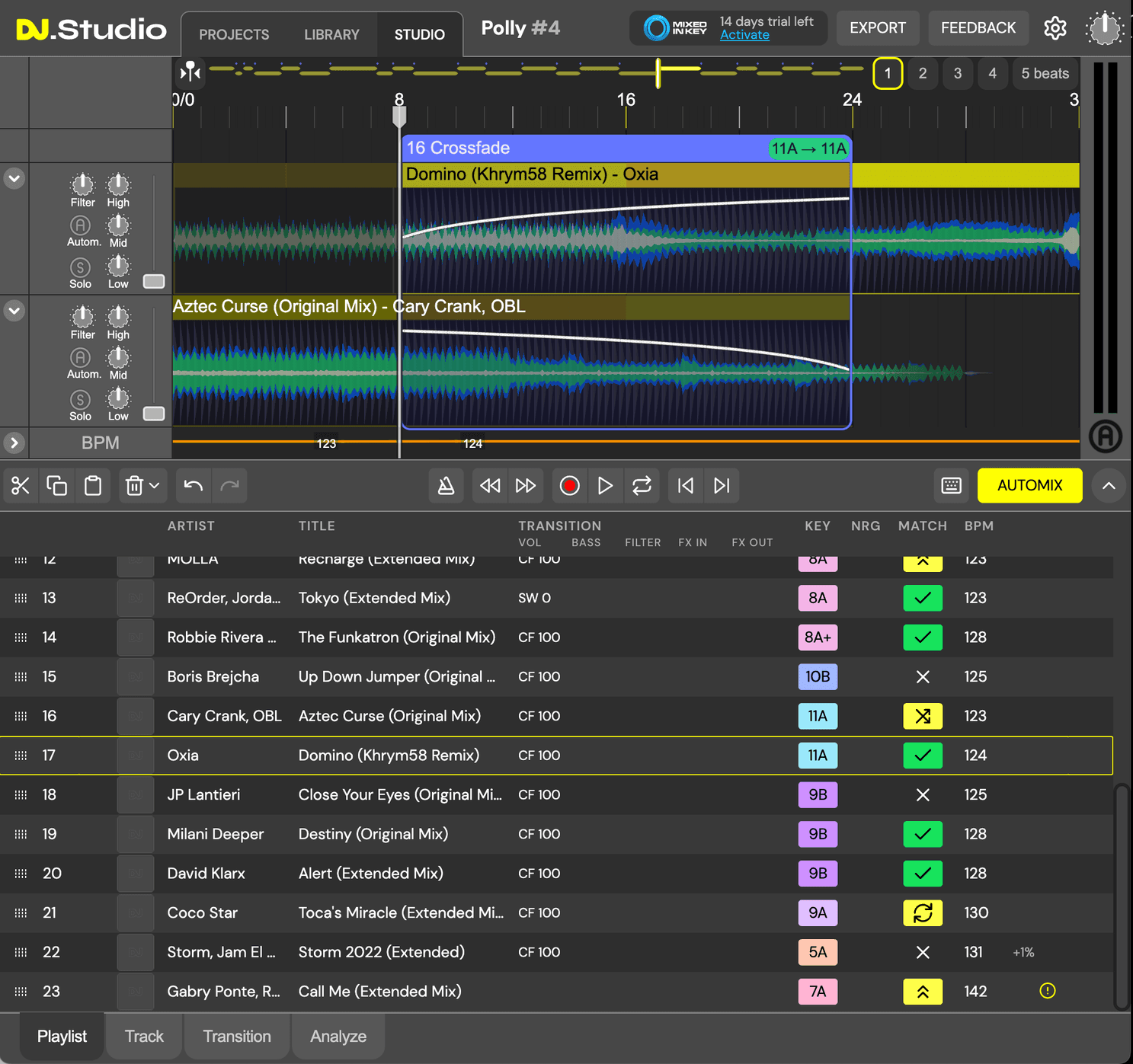 Apply today, so you can start helping other DJs tomorrow!