Are you an EDM DJ with Social Media and Communication Skills?
We are looking for a DJ with a passion for social media and technology to build awareness and community for DJ.Studio. Pretty specific, we know, but DJ.Studio is reinventing the way DJs create mixes, and we need a creative go-getter who can engage the community, build our social audiences, and support our users. You'll also lean in to support many of our brand, website, app, and communications programs.
What's in it for you?
At DJ.Studio, you can launch a challenging and rewarding career in the music-technology industry.
100% Remote
Join us on site 2 days a week, or work 100% from a location of your choosing.
Flexible hours
We're internationally focused, so we don't need to stick to a local workday.
16-26 hours a week
This job could be your perfect side-hustle.
Competitive
We invest in our team, starting with competitive compensation.
What will you be doing?
We're seeking talented individuals with a love for music, technology, and helping others. As a member of the DJ.Studio team, you'll be responsible for:
Strategy
Develop and execute an organic social strategy to build an engaged following across social platforms using a variety of content formats. Key platforms include TikTok, Instagram, Facebook, Reddit, LinkedIn, X/Twitter, and online communities.
Social content
Build a robust content calendar that integrates social, blog, product, and industry content; develop and manage production schedules; ensure adherence to the calendar. Oversee the creation and quality of creative assets including images, video, audio, and animations, working with both internal and external resources.
Social monitoring
Operationalize social listening to identify issues, trends, and opportunities quickly. Monitor and respond to comments on all platforms; work with Support to ensure quick responses to customer issues. Moderate discussion in social channels.
Integrated campaigns
Envision, launch and oversee cross-channel campaigns and promotions that integrate social, website, blog content, email, video, and paid media around central themes and objectives. Collaborate on paid social programs and campaigns.
Report
Regularly analyze and report on growth and performance across platforms and audiences. Build a deep understanding of what drives engagement across various segments. Add color and insights into the personas within our marketing segments.
Building awareness in key communities
Engage in conversation across platforms to help DJ.Studio become a voice in the DJ community, increase our social following, and grow brand awareness. Identify and participate in online and offline events that reach key audiences.
Influencers
Identify and partner with influencers to amplify brand awareness through programs that reach both DJ.Studio and influencer audiences.

What are we looking for?
We're seeking talented individuals with a love for music, technology, and helping others. Check out the Hard Skills, Mindset and Experience qualifications below to see if you're the perfect match:
Experienced Creator: An amateur or professional DJ, producer, radio host, or podcaster with experience in social media marketing.
Social Media Expert: 3 years of social media marketing, with a proven track record of growing followers and engagement and a portfolio of effective content.
Dialogue Savvy: Demonstrated ability to listen and respond across social channels.
Media Fanatic: Experience managing creative resources, and a strong understanding of the video-creation process.
Poet: Amazing writing skills and an eye for effective creative communication.
Adventurer: Energetic personality who's ready for start-up life.
Got the skills and experience?
Check out the Soft Skills below to see if you're harmonically compatible:
Communication Guru: You're a natural communicator, able to break down complex tech concepts into easy-to-understand language. Bonus points if you can do it in more than one language!
Quality: Oversee the creation and quality of creative assets, including images, video, audio, and animations, working with both internal and external resources.
Attention to Detail: Make sure to include "Give Fred a shoutout" at the conclusion of your application. This will show us that you're detail-oriented, a key trait we value in our team members.
Consistency: Create consistency in visual, audio, and video assets by creating and applying social style guide.
Content that wows: Get creative. Keep content, ideas, campaigns, promotions, and contests fresh and edgy.
Lean in: You'll also envision, create, and publish content for website, app, blog, email, newsletter, and offline assets and collaborate on cross-functional programs.
Interested? Let's chat!
⁠If you possess these qualifications and have a passion for DJing and music technology, we'd love for you to join our team at the DJ software company.
⁠Let's work together to help DJs create incredible music experiences!
About us
DJ.Studio is built in the Netherlands by an passionate team of 25 people who have been working together for a long time. ⁠DJ.Studio was launched in April 2023 during the International Music Summit. In the past few months our experienced development team has added a lot of new features and we have thousands of enthusiastic users. DJ.Studio is unique in its kind. It is our mission to convince every Bedroom DJ, Wedding DJ, Festival DJ to start using DJ.Studio to get better at DJing or to decrease the time it costs to prepare live sets or make DJ mixes.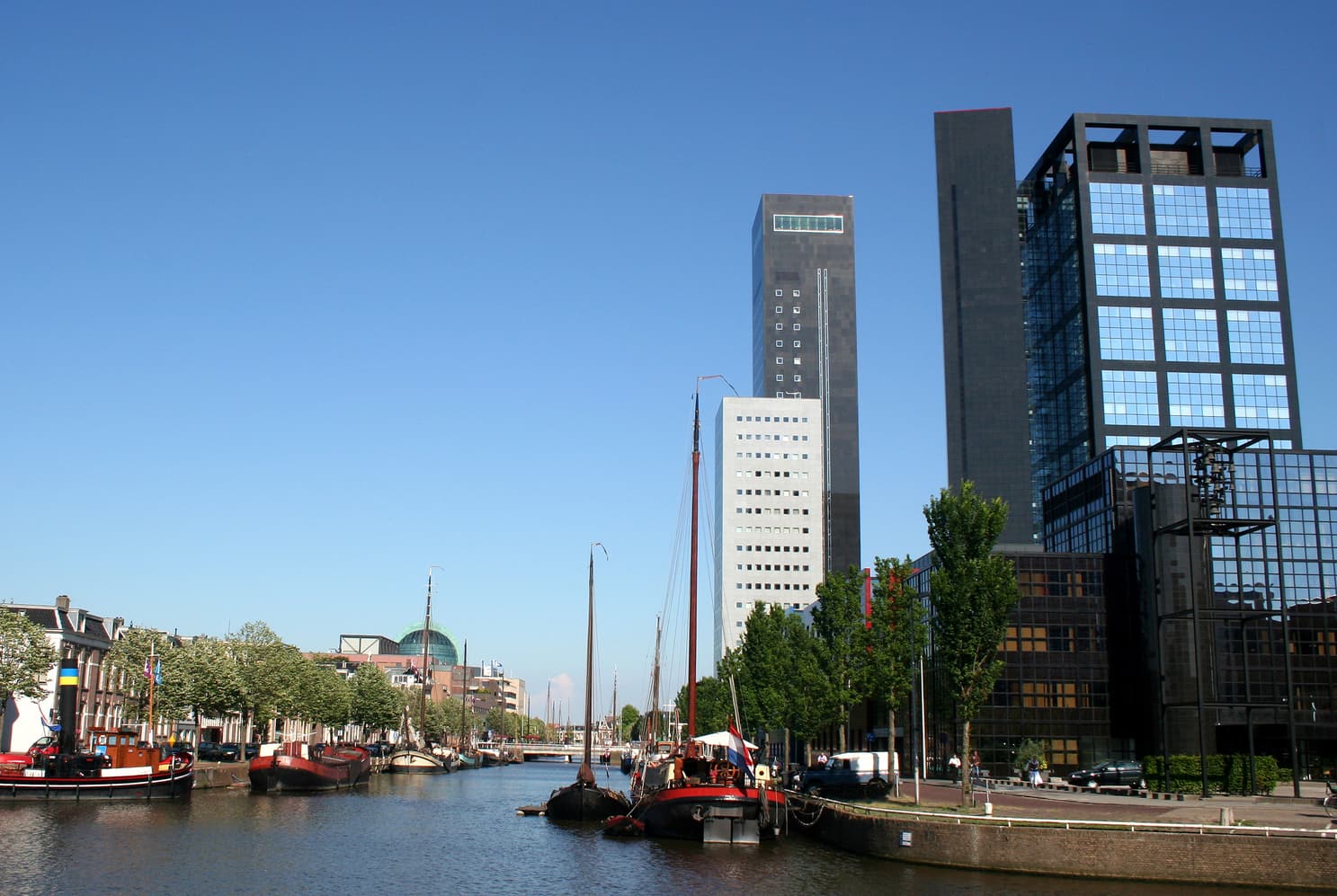 Our target audience
These are the people who you will be communicating with
Bedroom DJ's
Bedroom DJs are in it for the fun of the hobby. ⁠They love Dance music, but struggle to create mixes using DAWs like Ableton or Logic, and might find DJ controllers a bit intimidating.

Studio DJs
These radioshow makers and fitness instructors create a lot of DJ mixes in a short amount of time and are looking for ways to speed up the process. No need to be unique, the mix simply needs to fit.
Performing DJs
Wedding DJs and professional DJs can prepare live sets much faster by getting suggestions for harmonic ordering and are eager to try out unique and different types of transitions quickly.
DJ.Studio: The DAW for DJ mixing
Use DJ.Studio to create DJ mixes in a fraction of the time.
Load your tracks and DJ.Studio will use algorithmic beat matching, harmonic chord intelligence and note detection technology to create the most harmomic sounding mix. 
Fine tune your transitions in the timeline editor built for DJs. Most DJs use Ableton or Logic, but those products are less optimal for mixing since they were built for producing music.
Export your mix to Mixcloud, Youtube, Ableton or a file in your harddrive.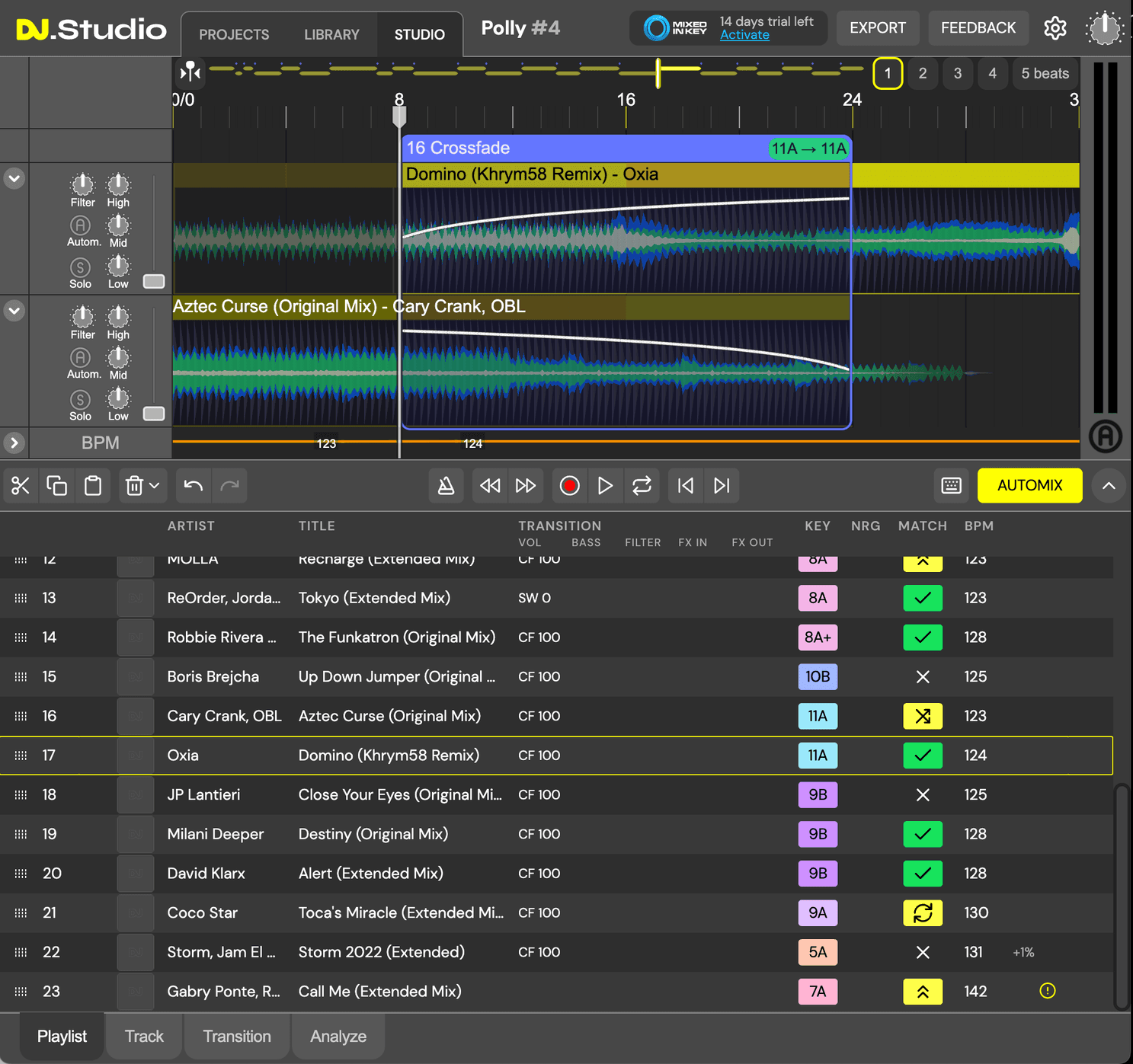 Apply today, so you can start tomorrow!