DJ.Studio VS.
How does DJ.Studio hold up against the most powerful DJ tools out there?
Let's checkout how the best DJ software compares with DJ.Studio.
Automix helps you to get your DJ mix started
With DJ.Studio's Automix, your track list is optimized from the get-go.⁠⁠

The Automix feature saves you a lot of time trying to mix together a large list of tracks. Lock some tracks into place, and get suggestions to improve track list by adding or removing tracks. Craft your transitions afterwards to become the star of the dance floor.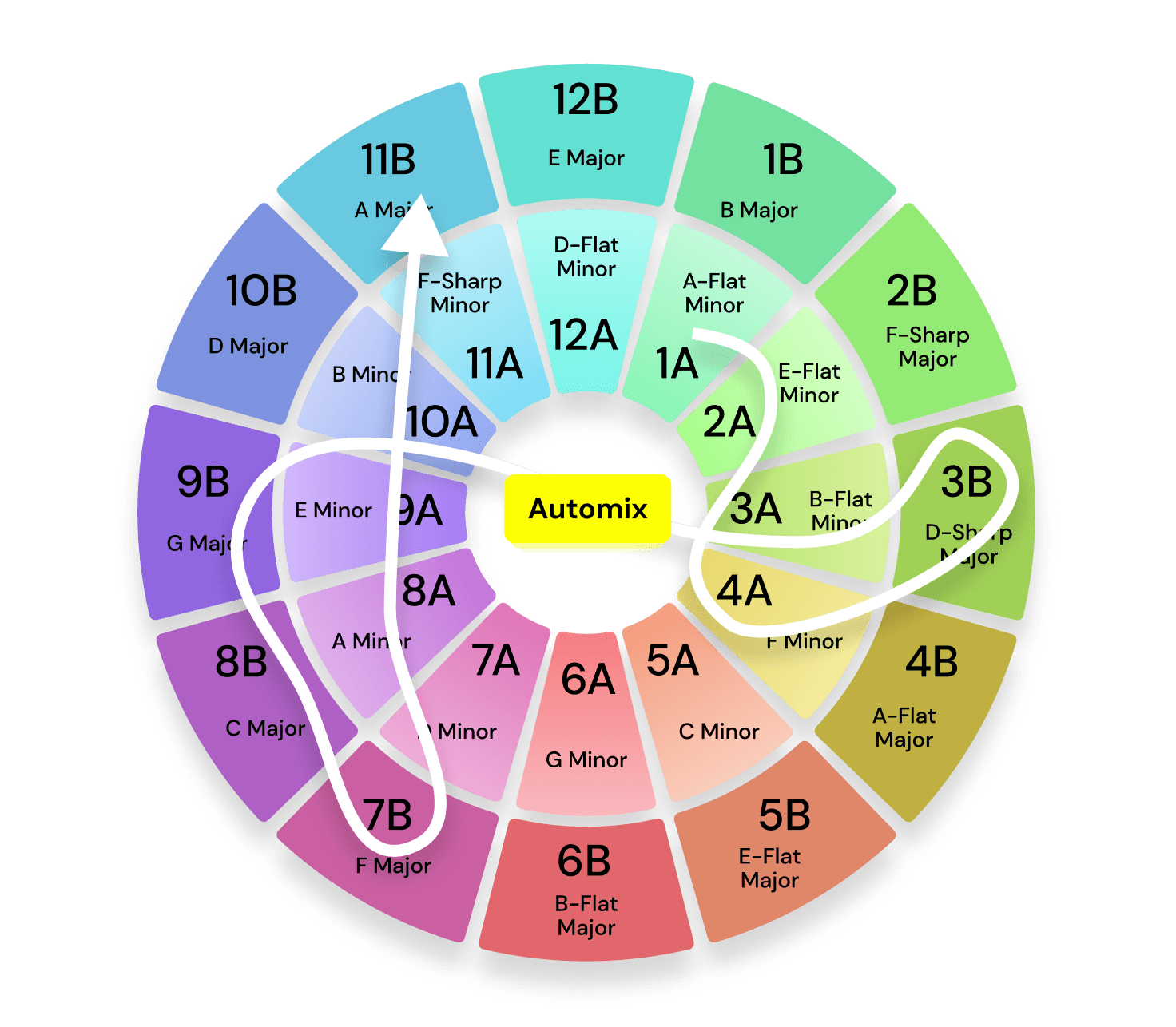 What Makes DJ.Studio Unique?
If you're already a DJ, you probably create your mixes with software that was designed to produce music.⁠ DJ.Studio is a tool designed with the DJ in mind. It allows you to create great DJ mixes in a fraction of the time it would take you with other tools.

Unlike most DJ software, DJ.Studio takes the best elements from live performance mixing and the versatility and power of non-linear audio editors, to create a mixing solution like nothing else.
Import Music From (Nearly) Anywhere
DJ.Studio lets you import music from a wide range of sources, including your hard drive. You can link DJ.Studio with other DJ software like Mixed In Key, Pioneer DJ rekordbox, Serato DJ Lite or Pro, and DJ.Studio lets you browse popular streaming services like YouTube for inspiration.

The built in Camelot system immediately shows you the compatibility of the selected track with your current mix, to help you keep your mix harmonic. This means that you see how well each song's dominant key connects to the next, ensuring more professional sounding matches.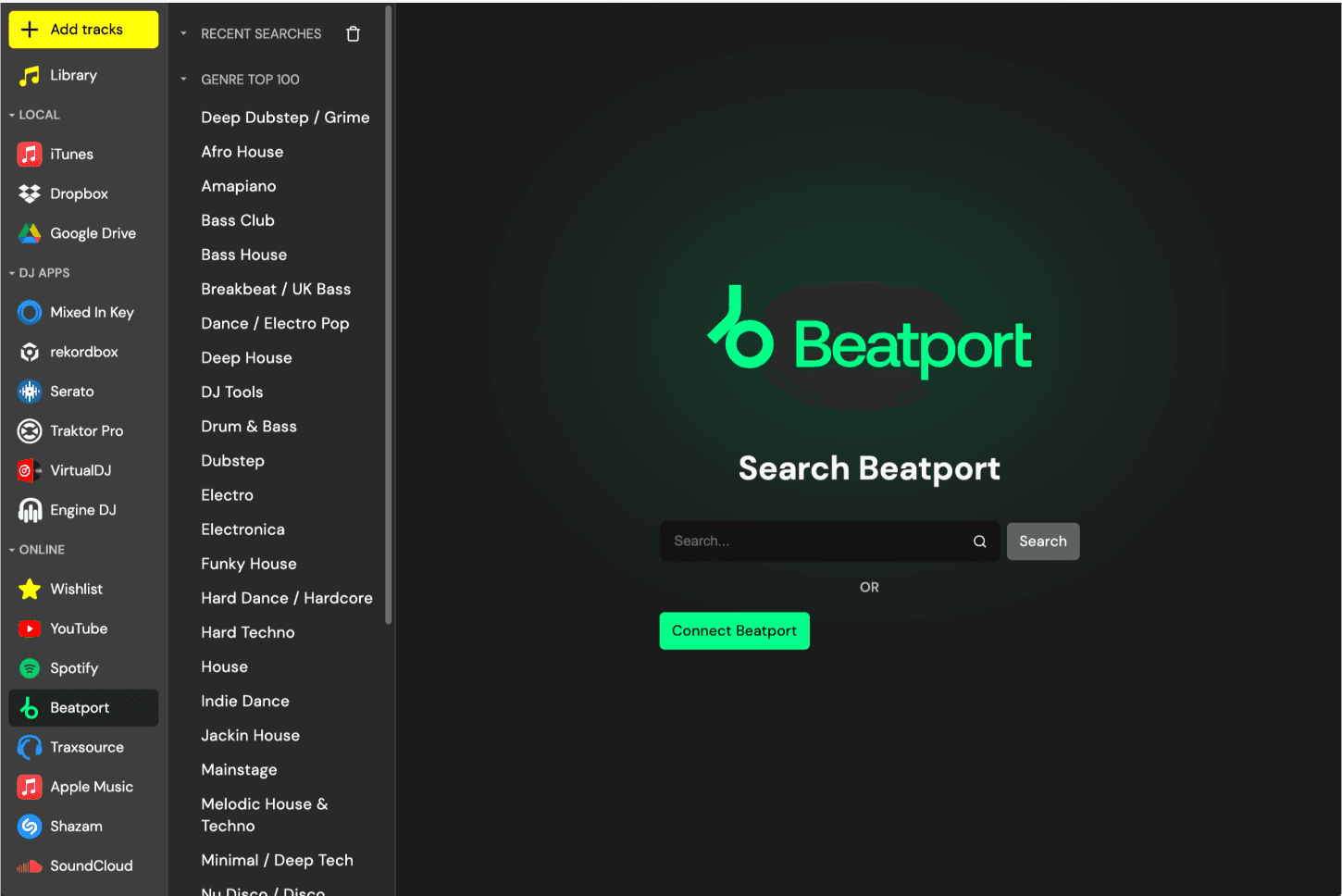 Powerful AI-Assisted Automixing
DJ.Studio offers a powerful Automix system, which determines the optimal sequence of your tracks, considering both key and tempo. It even beat matches and applies seamless transitions automatically to your mix.

This helps you create mixes quickly, but can also help live DJs to work out the best order of music to make mixing easier during their next live performance.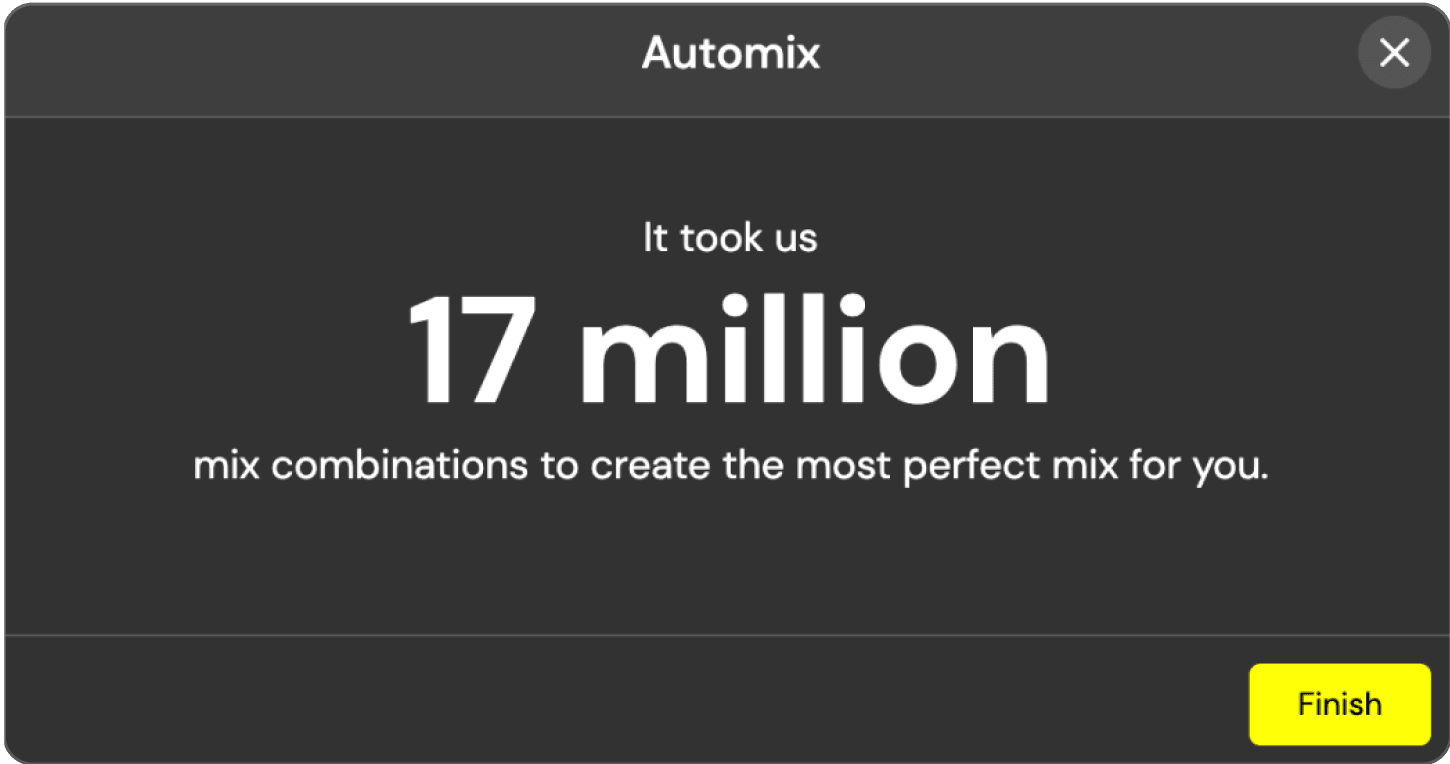 Timeline Based Editing
Unlike most popular DJ software like Serato DJ Pro and Virtual DJ, DJ.Studio uses a timeline to create DJ sets. The interface looks more like traditional music production DAWs (e.g. Fl Studio and Ableton Live), without the needless complexity.

With DJ.Studio it's easier to be more precise and detailed with your mixes, and it lets you perfect transitions in a way that wouldn't be possible using DJ controllers. This means you can create the perfect mix, without the hassle of continuous live recording and mistake fixing.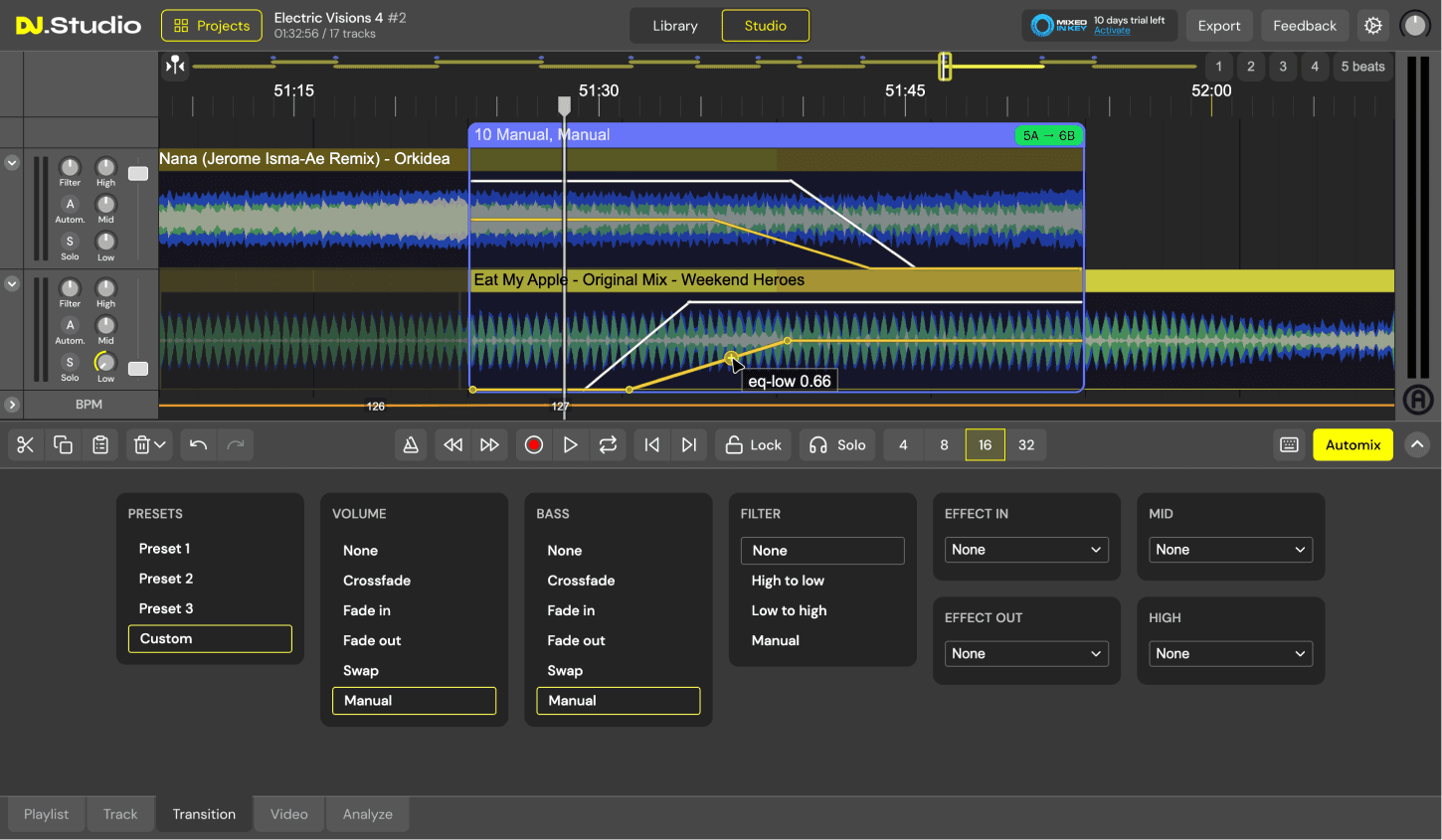 Transition Editor
The transition tools in DJ.Studio make it easy to create detailed and expressive transitions. Sculpt your transitions with simultaneous automations over every transition parameter (volume, bass, mids, highs, filters, effects, and more).

Open up your creative expression and can create mixes that sound far more interesting than anything created in other DJ software products.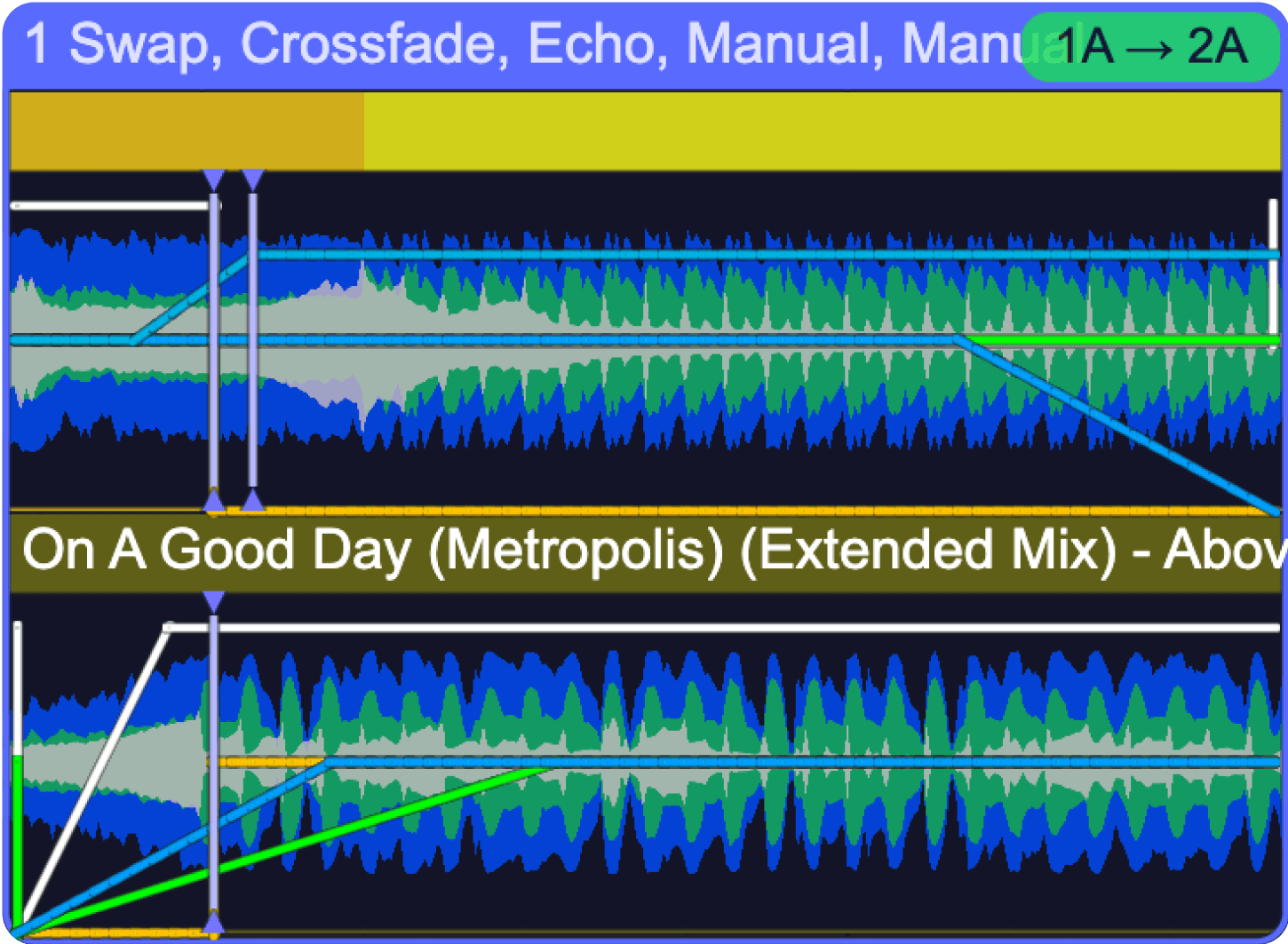 Versatile Export and Record
When your mix is finished, you can export it to multiple sources- including a direct upload to MixCloud or YouTube or Ableton live.

The recording system is lightning fast, recording mixes at 10x speed. This means an hour-long mix would only take around 6 minutes to record and share - now that's quick!

This finishing touch means that DJ.Studio helps at every stage of the mix creation and distribution process. You can have a full DJ mix arranged, recorded, and uploaded online in under an hour.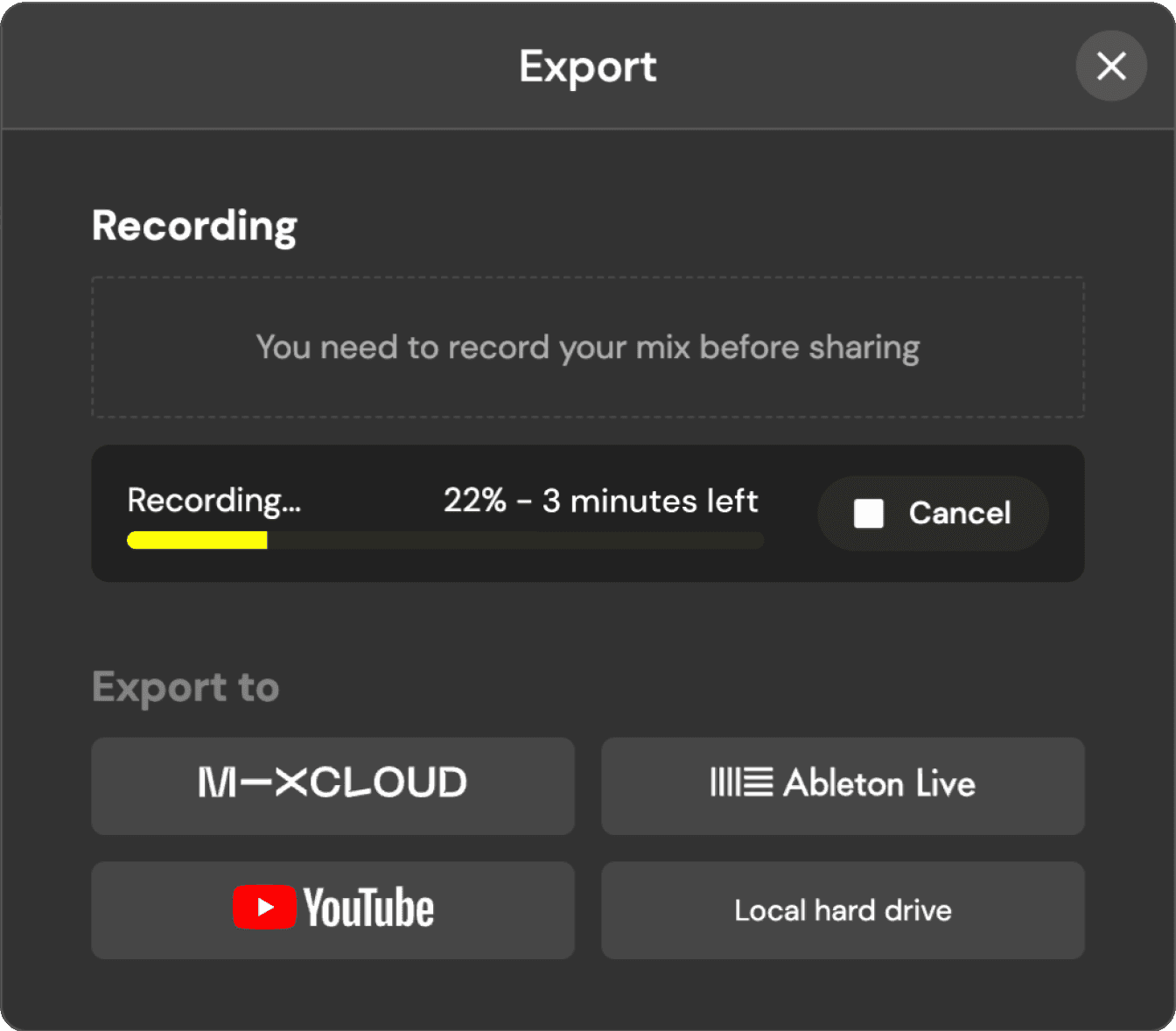 A Uniquely Powerful Workflow
The workflow of DJ.Studio combines the best of DAW-style timeline interfaces, with DJ tools, and powerful AI features. The workflow is completely different to the standards set by other DJ software.
Import tracks into your music library.

Select the songs you want to use in a set.

Automix, and let our AI find the optimal track sequence.

Fine-tune the arrangement and transitions.

Record the mix, and export it to your PC, or online!
You can see how quick and easy it is to use DJ.Studio to create the mixes of your dreams with minimal effort and time!
Who is DJ.Studio For?
DJ.Studio is designed for many types of users, from professional DJs to newcomers. Even people who have no DJ experience, and just want to create seamless mixtapes of their favorite music to listen to or share.
The feature set of DJ.Studio means it facilitates the entire mix process, from song discovery to distribution. The power of automix makes it a great tool for new DJs and playlist lovers, meaning the only thing you need to know in order to create a killer mix is the music you want to listen to!
DJ.Studio also features a high level of depth and control over its workflow, meaning if you are a professional DJ or performer and need more advanced features - DJ.Studio has all the tools you can dream of. Even Radioshow makers can use it to create podcast or radio mixes.
The Future of DJ.Studio
This isn't the final form of DJ.Studio, as many expansive features are planned in the future. A few examples:
being able to link DJ.Studio with DJ hardware like a Pioneer DJ controller so you can mix live - this will be great for scratch DJs and other members of the DJ community.
better video integrationso you can automatically create a visualizer video for YouTube.
DJ.Studio's development progression will be highly driven by community feedback. Users will be able to vote on new features to include in future updates. Everybody's voice counts here!
Give feedback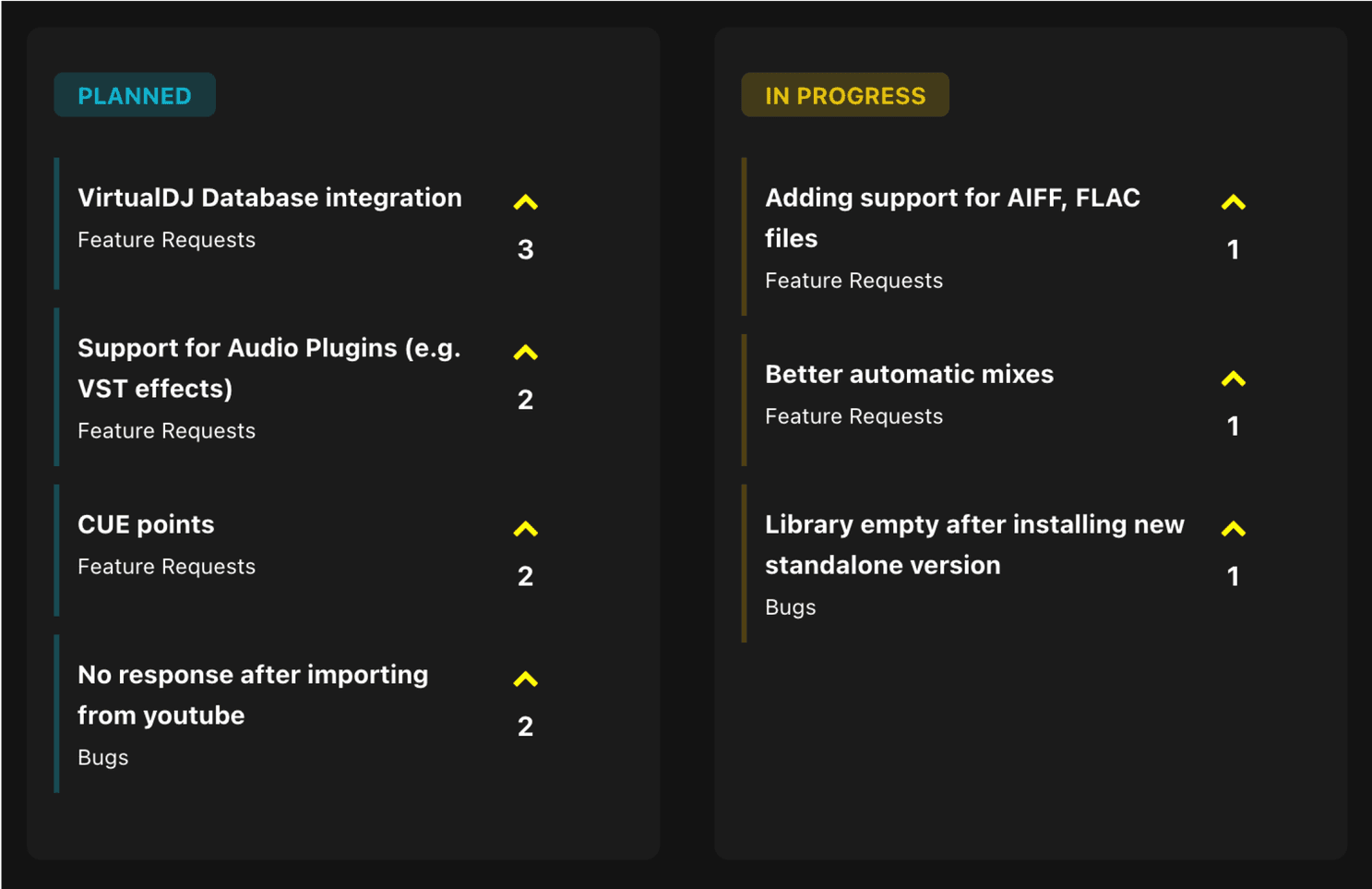 Don't take our word for it
Check out some of the responses given by influencers in the DJ world.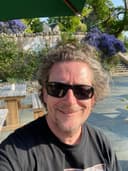 Let's start creating your own DJ mixes with DJ.Studio