DJ.Studio vs. rekordbox - DJ Software Comparison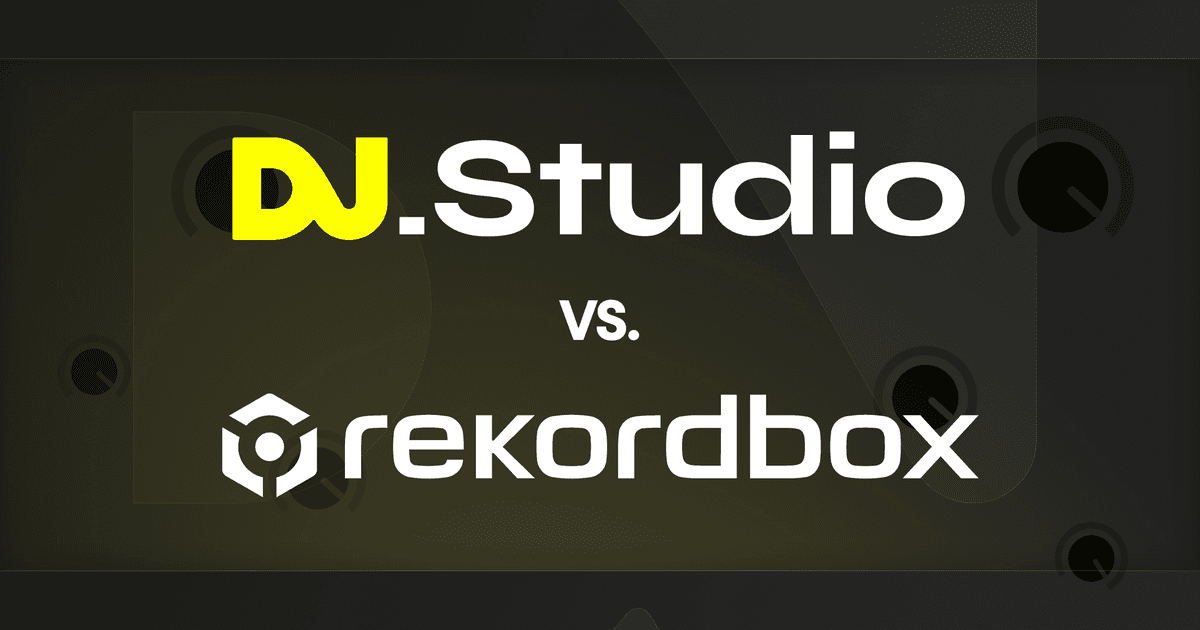 Rekordbox is one of the oldest and most popular live DJ software platforms out there, but DJ.Studio is a revolutionary alternative that offers new features and a powerful workflow that was previously unseen.
These DJ software products can both be used to create DJ mixes, although they work in different ways. In this review, I'll be comparing the features, ease of use, design, and advantages of these DJ software programs.
For other recommendations, check out our full review of the Best DJ Software in 2023. 
Both rekordbox and DJ.Studio are standalone systems that give you the ability to create DJ mixes - but is one platform the best DJ software around? Find out here...
TL;DR DJ.Studio vs. rekordbox DJ#
Best for live performance = rekordbox DJ

Best for studio, radio, and non-live use = DJ.Studio

Integrating both of these types of tools in your workflow will give you a significant advatnage over DJs who use one or the other. 
DJ.Studio vs Rekordbox - DJ Software Overview#
Let's start with a brief overview of each of these DJ software platforms and their basic and advanced features.
These are both types of DJ Software for PC, rekordbox does have a mobile app, and DJ.Studio will soon be releasing a mobile version. 
Find out more about How DJ Software Works!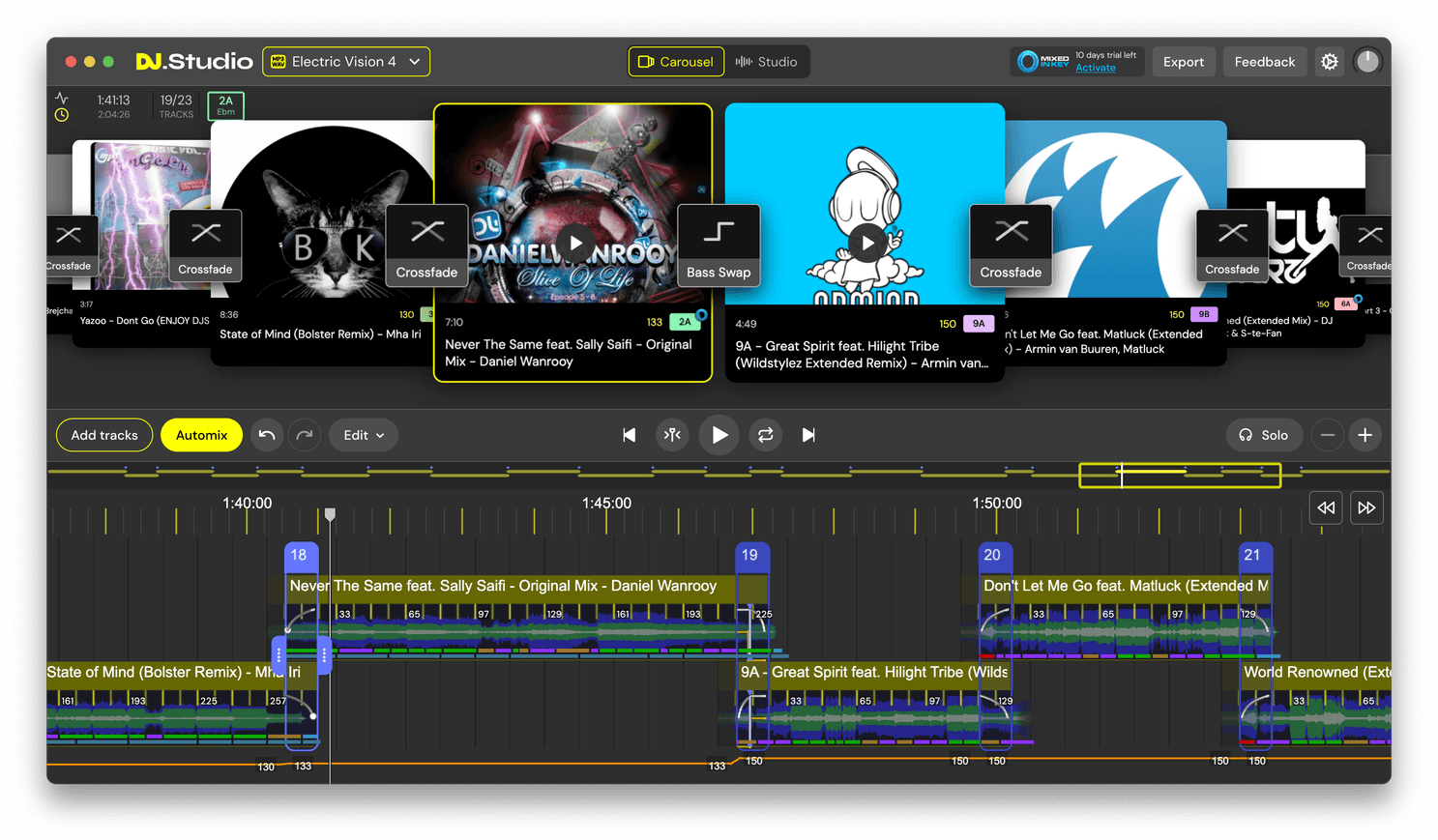 DJ.Studio is a new tool that revolutionizes the way DJ software works. Unlike traditional live performance programs, DJ.Studio is designed to excel in studio use for other areas of the DJ industry.
Any professional DJs or producers who need to create detailed DJ sets, but don't need to perform or record them live, will find DJ.Studio is empowering software that will save them a huge amount of time. It's also a great choice of Software For Beginner DJs.
Essentially, you choose a playlist of tracks and use the automix feature to arrange the tracks on a timeline based on BPM or key matching. Then you adjust the transitions and placements. Now you can bounce your mix at 15x real-time speed.
This saves a ridiculous amount of time compared to manually recording a DJ mix. You don't need to worry about having to re-record your whole mix if you make a couple of basic mistakes.
You can also tweak the transitions and arrangements in an unbeatable level of detail - allowing you more creative freedom and expression than you would normally be able to achieve by mixing with only two hands using traditional DJ mixing software.
Another neat feature is the ability of playing music and mixing audio from streaming services like YouTube - making it the ideal companion for your DJ journey.
This is a perfect tool for Creating DJ Mixes on a Laptop - even if you don't have a controller or any DJ equipment. It's also one of the Best Windows DJ Software options too! (And even fantastic DJ Software for Mac users aswell...)
Pros
Precisely arrange mixes in a timeline view

Create realistic-sounding, seamless DJ sets

A powerful workflow that saves a huge amount of time over other DJ mixing software

Powerful, unique automix features to arrange a playlist based on BPM and key

Revolutionary library management system that analyses key and tempo, and shows you how well certain tracks will mix together.

A bunch of effects

Integration with a range of streaming services and other software (including rekordbox DJ, Serato, Mixed in Key), and YouTube videos

Manual transition editing, allowing you to edit all controls simultaneously - letting you achieve mixes that wouldn't be possible to do live
Cons
Currently not suitable for live use

Subscription model

May be unfamiliar to new DJs
Rekordbox#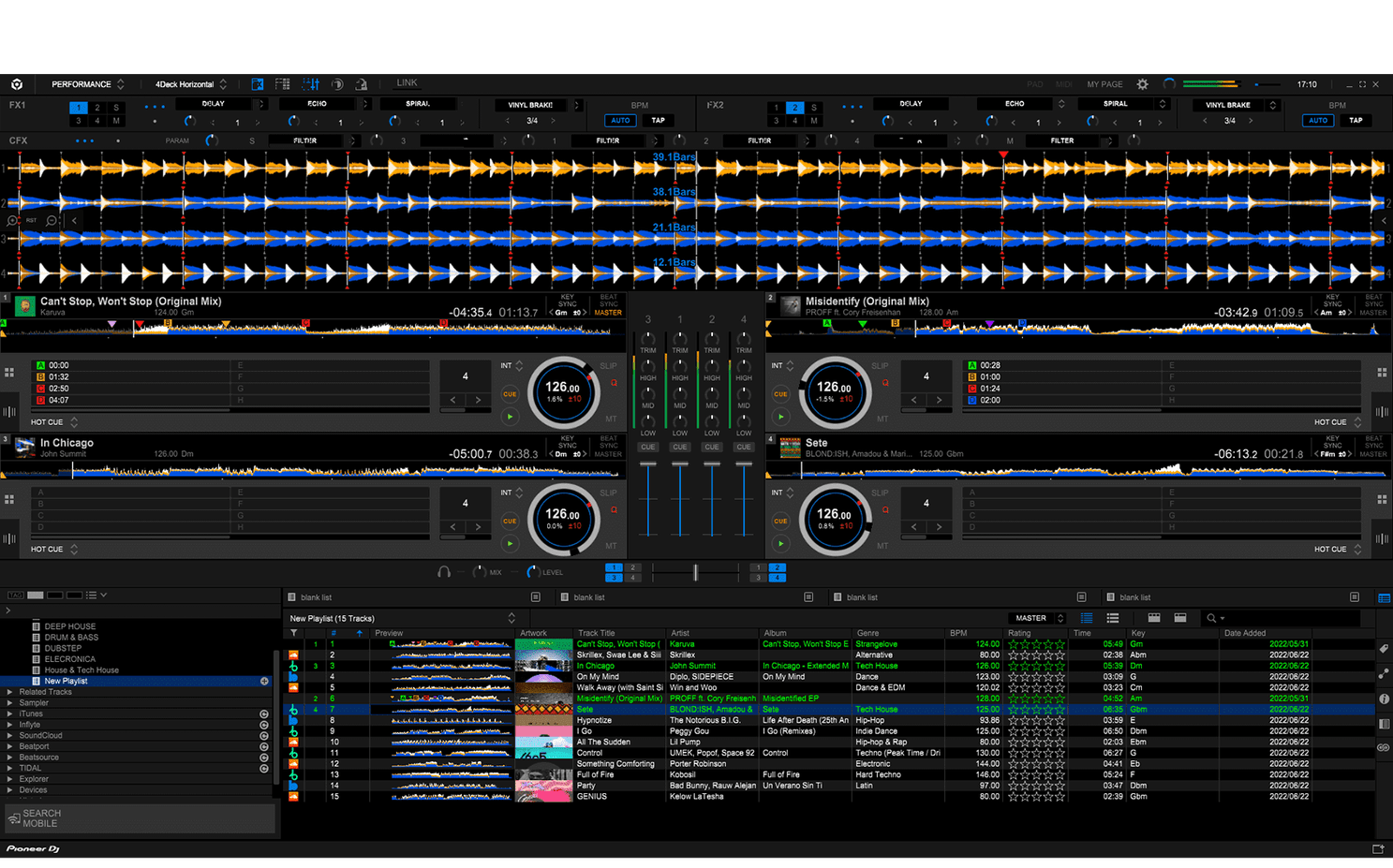 Rekordbox is a powerful piece of live-performance DJ mixing software. It has a bunch of features that make it an essential tool for DJs who perform live sets to a physical audience.
The rekordbox DJ software has all the familiar tools you need to mix tracks live - including a virtual mixer, beat-matching assistance, up to four virtual decks, and a library manager. It also interfaces seamlessly with a bunch of hardware, including Pioneer CDJs and other DJ controllers. Many DJs use this to prepare DJ sets and their tracks before they perform them live, including working out the BPMs, managing cue points, and building a playlist or set library.
Pros
Professional live DJing software, with a simple, familiar intuitive interface

Integrates with Pioneer equipment, DJ gear, and controllers

A wide range of effects and tools

Beatmatching sync assistance

Comes in a range of price points - from rekordbox DJ lite to pro.

Up to 4 tracks live mixing

You can buy expansion packs to increase the functionality

Linked with a mobile app

There is a free version - (Discover more Free DJ Software here!)
Cons
Expensive subscription to unlock all features - no lifetime license available

Sets must be recorded in 1:1 real-time - costly if mistakes are made

Stability issues

Only works with Pioneer hardware

No Serato hardware compatibility

Not great to use with a keyboard and mouse - better for hardware usage.
Core Feature Comparison#
Now, let's compare the core features of each of these DJ software programs.
Controls and Mixing Interface#
Rekordbox Controls and Interface
Rekordbox features a traditional user interface that any DJ will find familiar and relatively easy to use.
It's broken down into 5 main parts: the library management panel, the virtual decks, a mixer, the waveform view, and an effects panel.

The library management panel lets you import tracks, and organize them into playlists or folders. It also shows the BPM, key, and length of each track, as well as other metadata such as the artist, album, genre, and your given star rating. It provides relatively extensive library management options, although there are still a few features that would be nice to see.
You can drag tracks from the library into one of the 2, 3, or 4 virtual turntables (depending on how you have it set up).

The virtual decks give you all the typical controls, like Cue, Play/Pause, looping, and jog/slip, and tempo control. It also gives you buttons to jump to one of the four available cue points you can set for each track. There is also a display of the current BPM in the center of the wheel, and a small window that shows the name, artwork, and key of the currently loaded tracks. There are controls for syncing tracks here too - letting you set which track is the Master sync, and then letting you lock the others to it.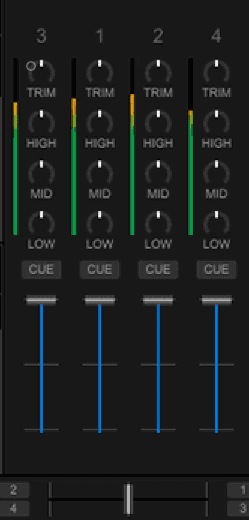 The mixer is also very standard, giving you controls for a 3 band eq (Low, Mid, High), channel fader, gain trim, and headphone monitor button, for each of the tracks/decks used. There is also a crossfader which can be configured as you like, with additional controls for headphone volume. All of these can also be controlled by a Pioneer DJ controller.

The waveform indicator displays the waveforms for each of the loaded tracks in a high amount of detail. It uses 3 bands of color to highlight the bass, mids, and treble of tracks, which can give you an idea of which parts are coming up in the arrangement. You can also clearly see the beats and sections of each track in the timeline. This is useful to let you see how well-synced your tracks are. This is also one of the areas where you can configure cue data points for your tracks.

The final section is the effects panel, which gives you four configurable DJ effects for each track. This lets you choose the type of effect from a drop-down menu, and then set how much the effect is applied with a control knob.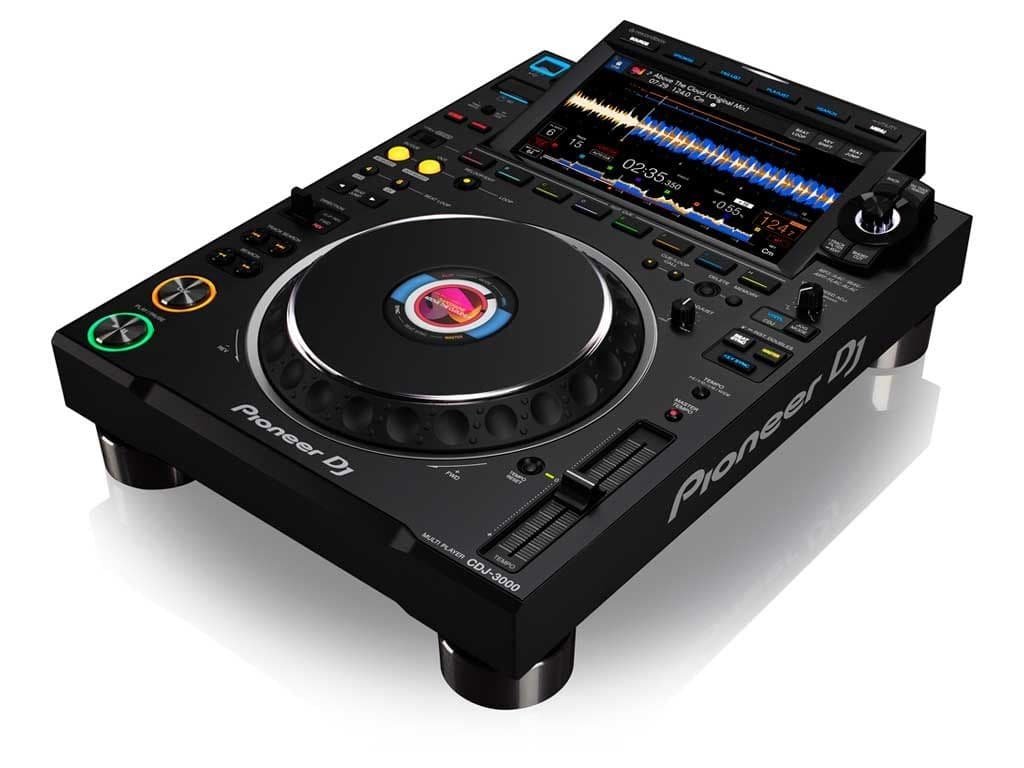 The overall workflow for Rekordbox DJ will be familiar to anybody who has used traditional mixing hardware (or software) before. This emulates the workflow of mixing on physical DJ gear like CDJs or another DJ controller. Scratch DJs may prefer the offerings of Serato FX, Serato DJ intro, or other Serato products over Rekordbox, although this is ultimately just a matter of taste.
You can still use connected DJ hardware and professional DJ equipment to give yourself a more hands-on feel if that's your preference, although you can only connect Pioneer DJ equipment, rather than generic DJ gear. If you can't connect Pioneer DJ equipment then I'd look at a different software. It has a few cool features when using it with a Pioneer CDJ setup. 
The rekordbox mobile app enables users to manage their cloud library and prepare their DJ sets on the move. This is a pretty handy feature, and you can sync your rekordbox library in the cloud, and manage hot cues remotely from a mobile device. You can also use it for creating playlists. You can download rekordbox mobile from your smartphone store.  
It does only have relatively basic features, and you will need a creative subscription plan, which is bought using the in-app subscription. Still, it's probably worth this for a certain DJ lifestyle, as the cloud library sync feature is super handy in some cases. 
DJ.Studio Controls and INterface
DJ.Studio offers a different and more flexible interface. The workflow of DJ.Studio is different, so the overall interface has been adapted to this style of use.
There are three main sections of DJ.Studio, each with further sub-sections.
Projects - where you load, save, and manage your various DJ set projects

Library - where you manage your music collection and can connect it to other software

Studio - where you arrange and produce the DJ Mixes.
Projects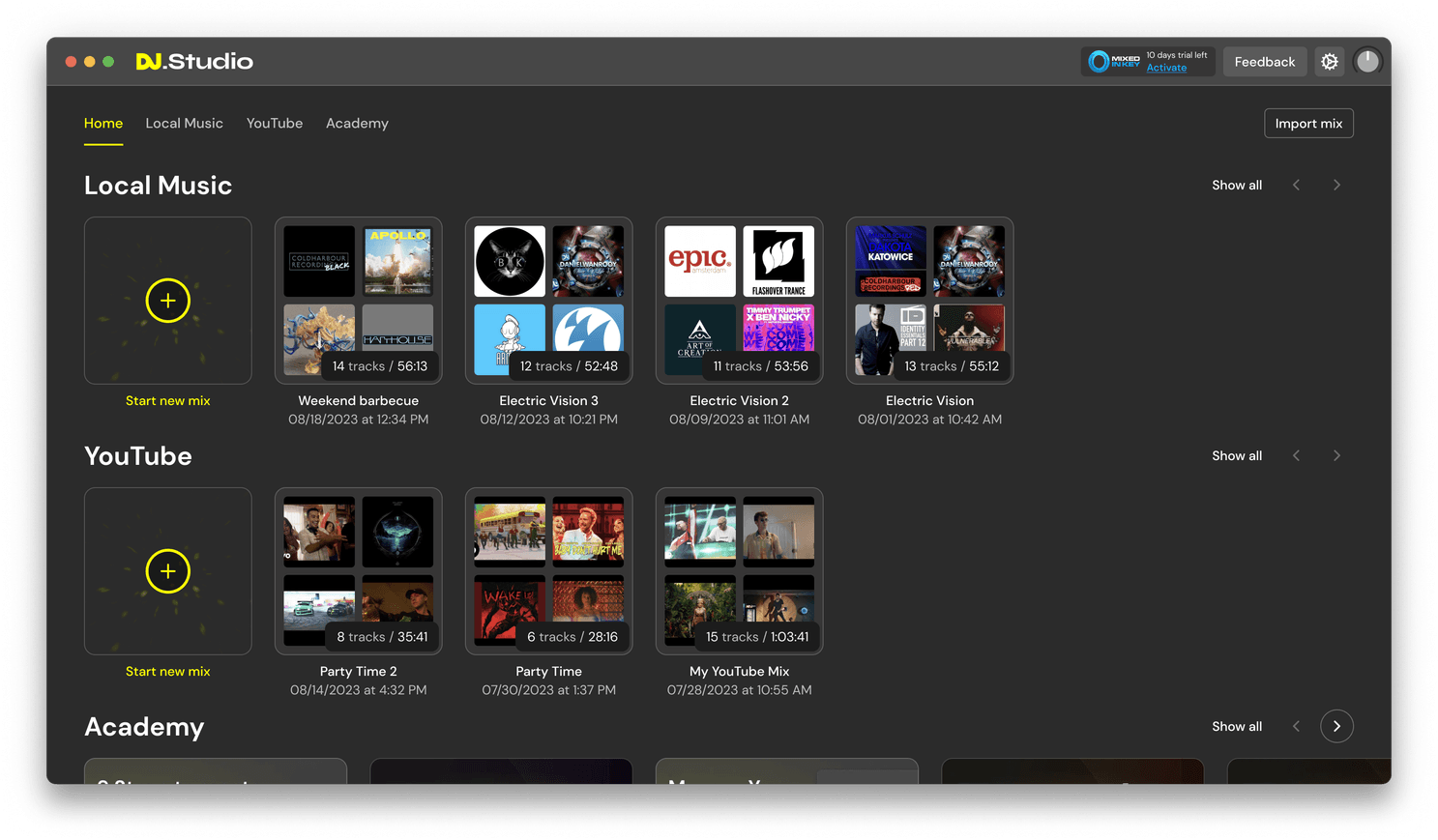 This is a simple panel where you can manage the various projects you are working on.
Library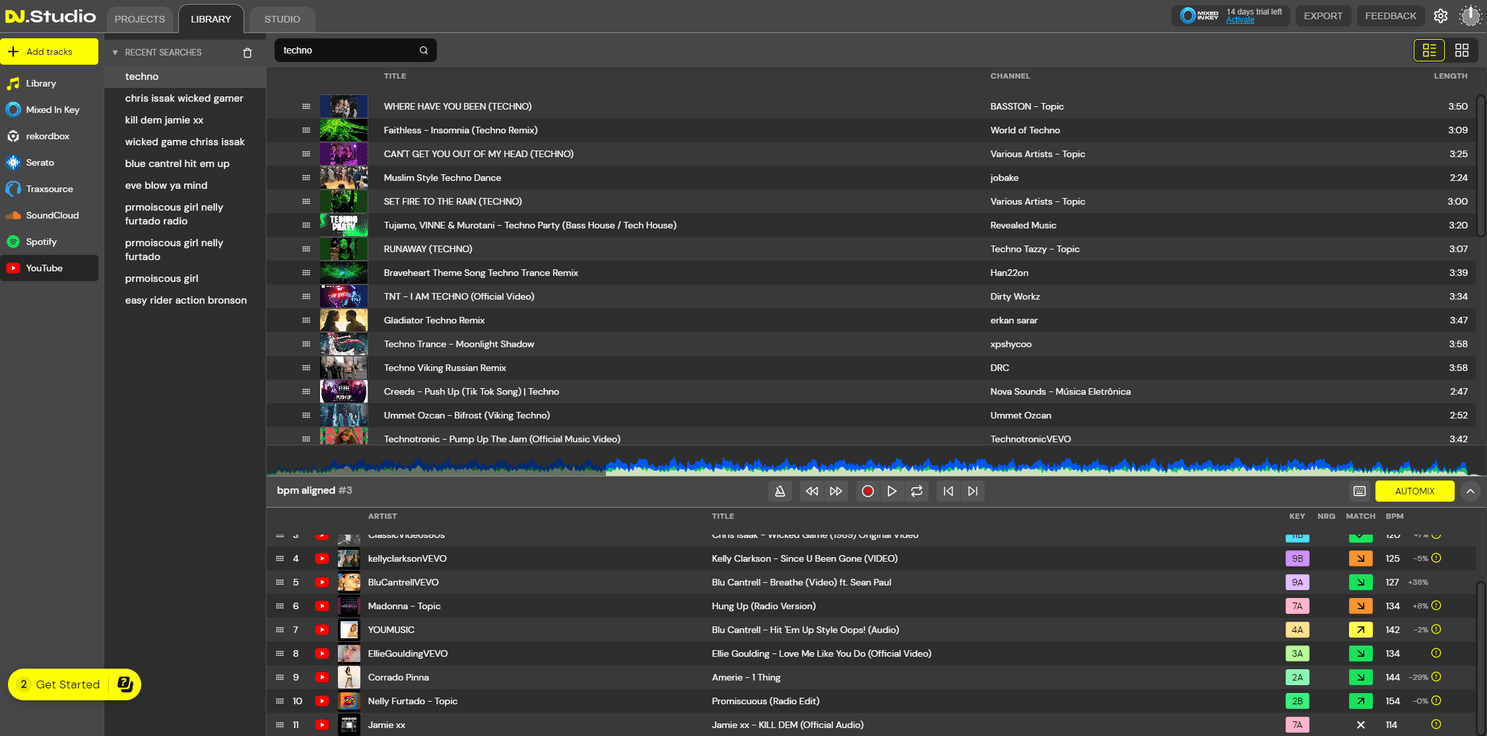 This is the section that lets you manage your entire music library and all your favorite music files - just like typical Music Organizer Software. This has a bunch of powerful features. Firstly, you can import music from a wide range of sources - any downloaded music files you have can be loaded into the software.
You can also import projects and playlists from Mixed In Key, rekordbox, Serato, VirtualDJ, Engine DJ, TRAKTOR and iTunes. This gives you direct access to your existing playlists, saving you the time to create new ones. In the Library, you can quickly listen to songs and rate them.
Your imported tracks are automatically arranged in playlists based on import date or rating which makes it easy to find a track in the simple and intuitive interface. This is a fairly powerful piece of music management software that enables professional and beginner DJs alike to organize their music libraries.
Studio View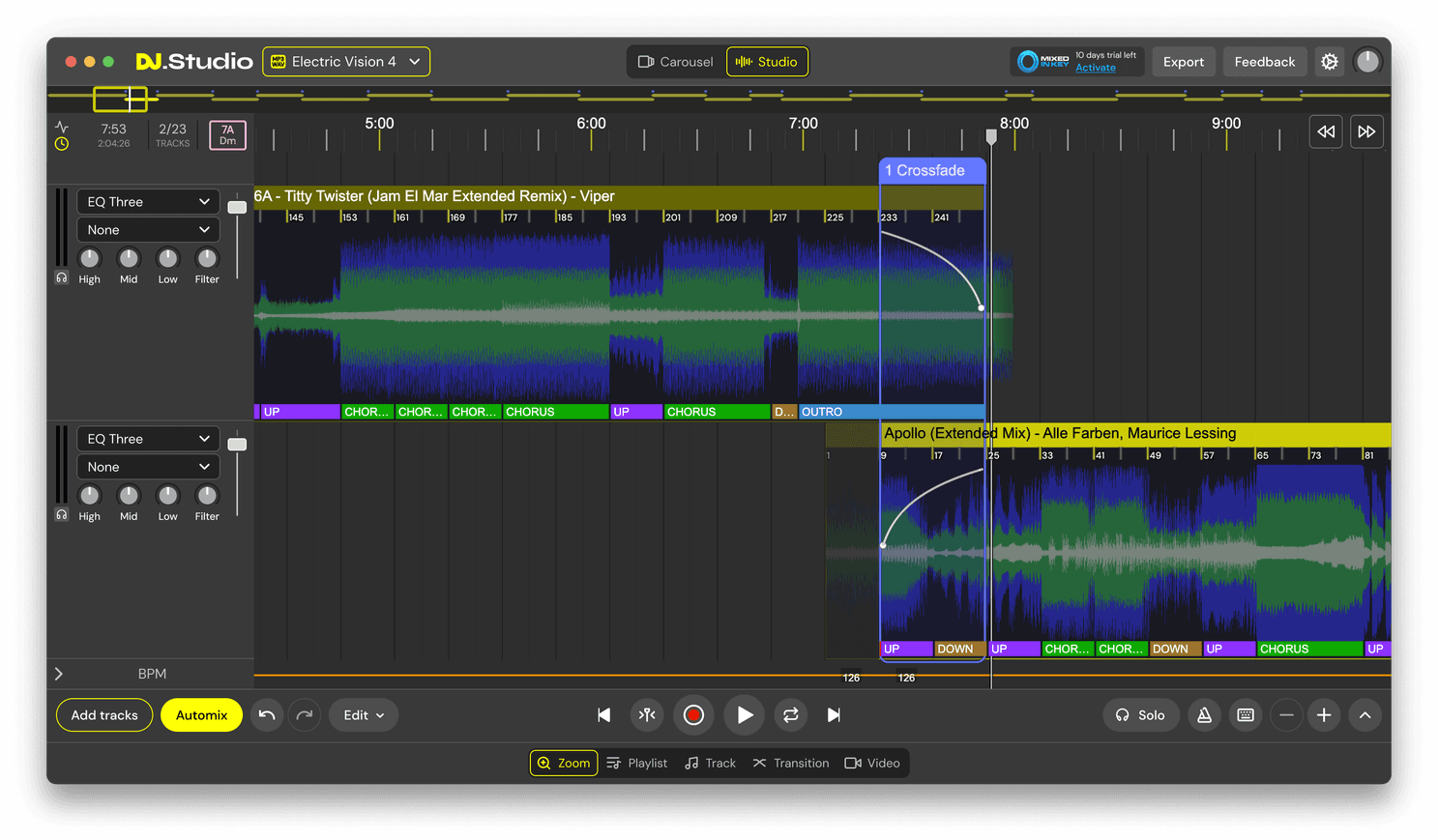 This is the main part of the software. There are a bunch of different panels in this section.

Firstly, you have a timeline view, that will be familiar to anybody who has worked with audio software before - like FL Studio. There are two timeline tracks that represent two virtual decks.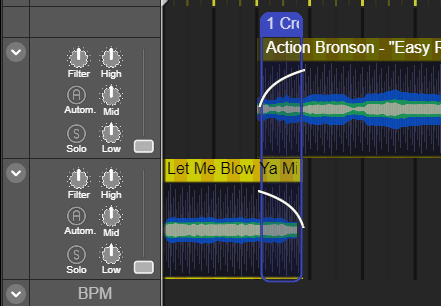 On the left of these tracks, you have a three-band EQ, a hybrid LPF/HPF filter, an automation record knob, a solo button, and a channel volume fader.

Under the timeline, you have a BPM automation lane.

Below the timeline view, you have the control and playback bar, which has controls for the metronome, recording, play, loop, skipping back or forwards, and automix (more on that later).
Under this is a flexible window that has 3 options - Playlist, Track, and Transition

The Playlist View shows you the selected tracks in the project's playlist. This shows you the title, artist, transition details, key, and BPM.
It also gives you information on how well the tracks are matched through the arrangement of the playlist, showing you how the energy of the mix will change as you transition from one track to the other, and also the tempo speed change in a percentage.
You can use the playlist window to reorder the tracks, which will then automatically be updated in the timeline panel to reflect the newly chosen order.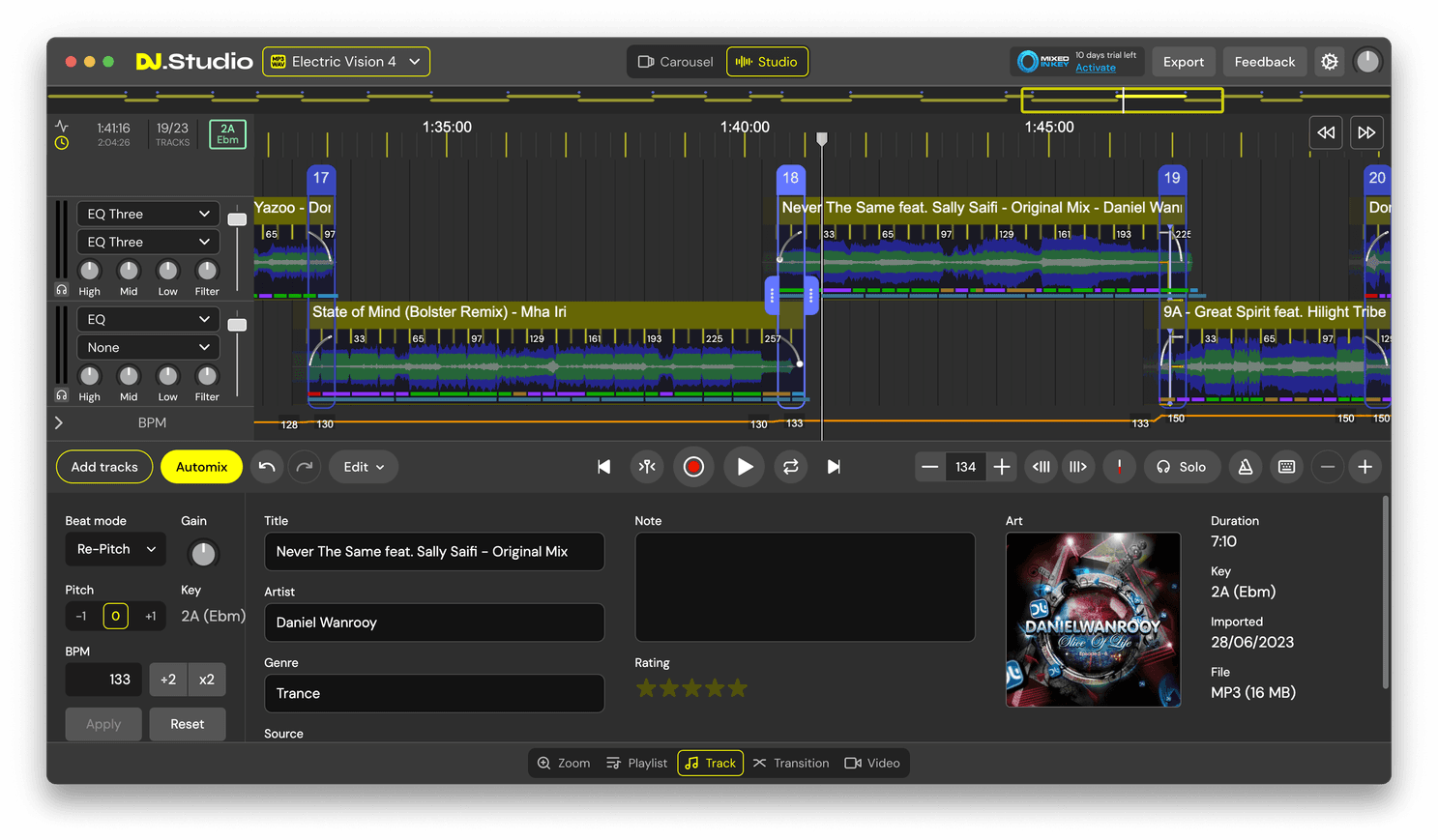 The Track View shows you information about the selected track and gives you some controls to adjust how it plays, including the pitch, BPM, beat mode, and gain. These let you fine-tune the details of a track to make sure it blends well with other tracks.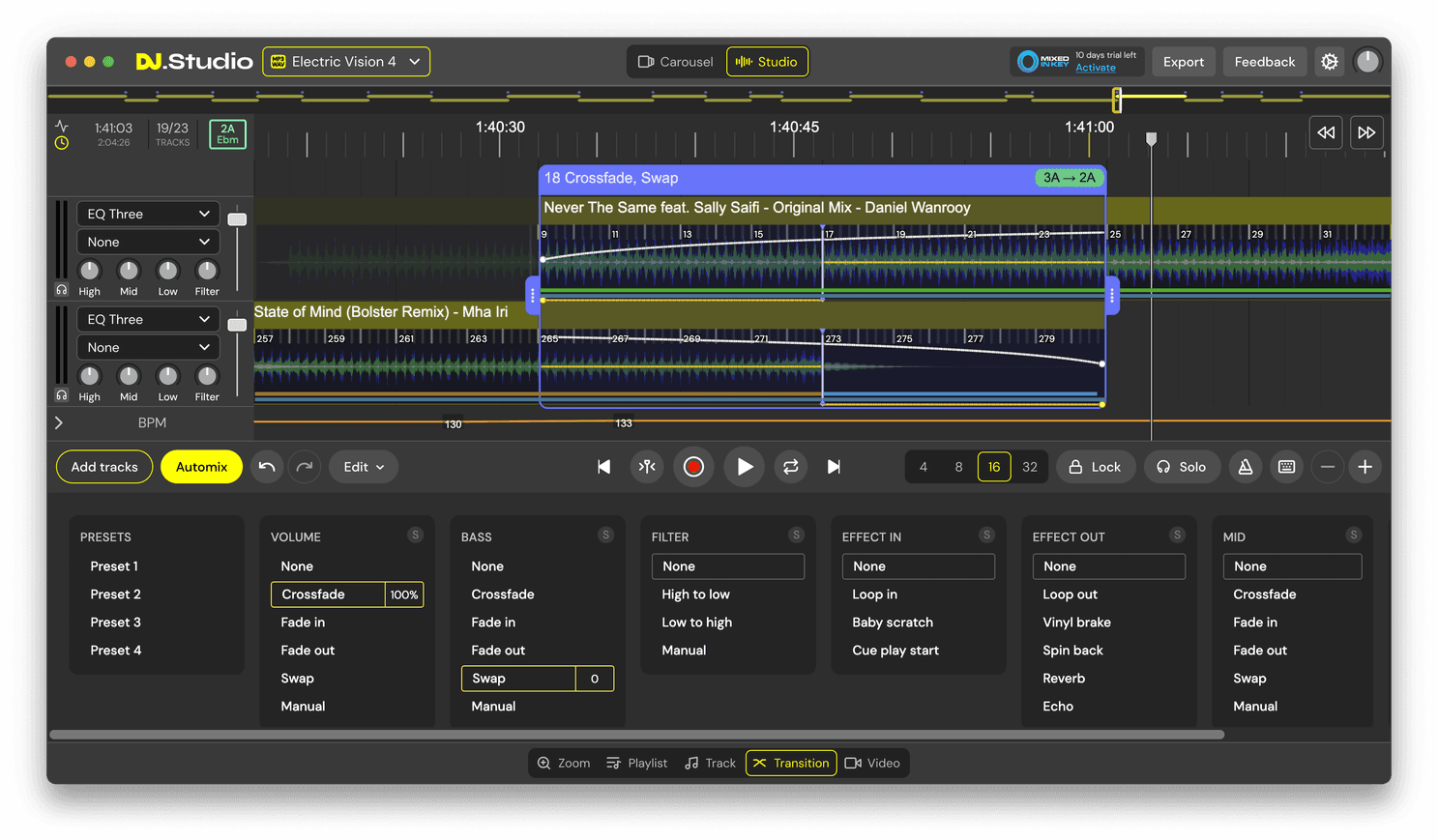 The Transition View lets you choose how the chosen to transition between two tracks functions. This gives you options for changing the automation for the volume, EQ, filter, and effects, letting you choose the percentage of crossfading or sharper cuts. You can combine these in any way. These can also be edited in the timeline window, where you can draw in the automation lanes in more detail for each of the chosen transition parameters.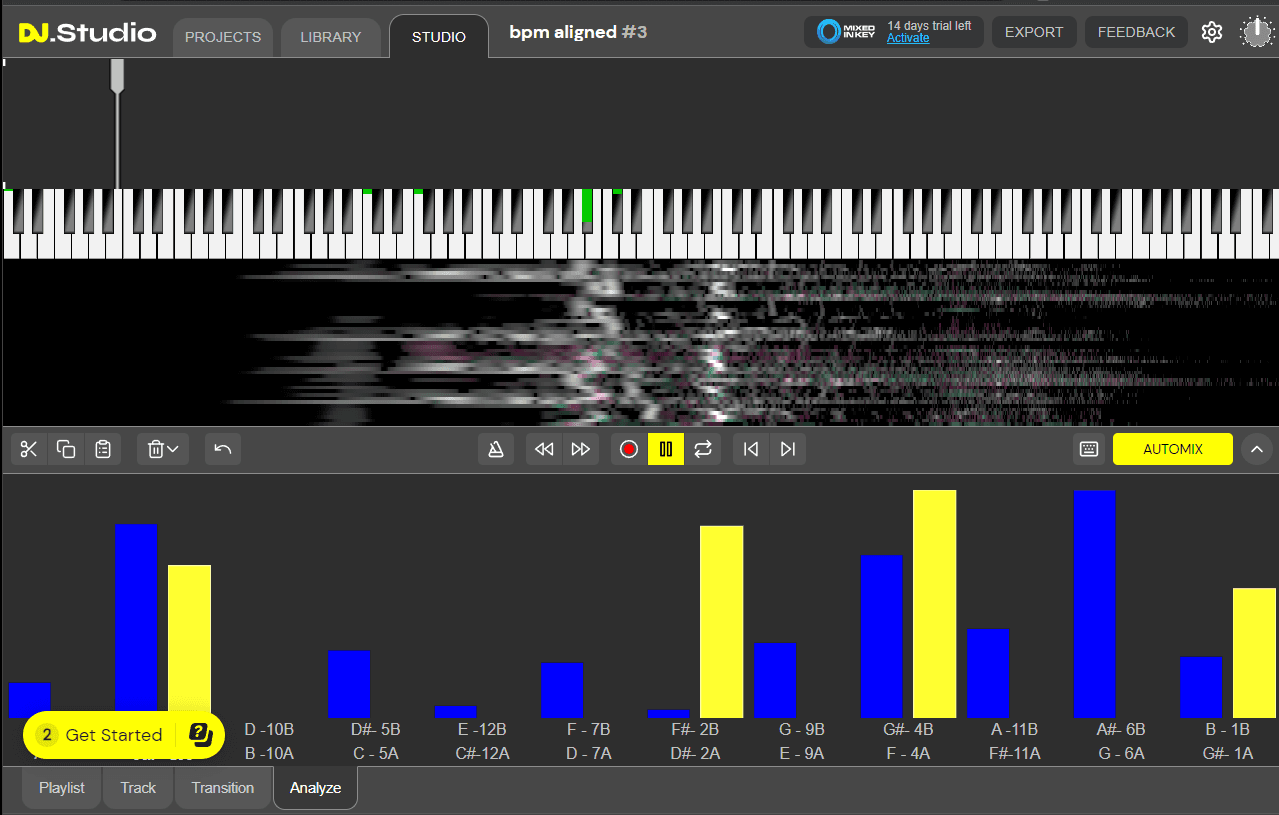 Finally, the Analyze View shows you how the software analyses the key of each song. This displays the density of each note and harmonic in a track and shows you how this relates to the keys on a keyboard.
(Analyze View has been temporarily removed from the software)
Ease of use and Workflow#
The workflow of both of these programs is ultimately very different, and this is why one would be more suitable than the other depending on the type of work the DJ is doing.
DJ Studio is much better for non-live situations. For example, if somebody is putting together a mix for a radio show for an event without a live DJ such as a workout class or a party, or a podcast.
On the other hand, rekordbox is a much better system for people who need to DJ live or need to prepare their music library for a live DJ performance. But.. even for live events DJ.Studio can save the DJ a lot of time by suggesting the right order of your tracks.
Looking at the workflows you can see how the process is very different for each one - but also has strengths and weaknesses depending on the use situation.
Rekordbox's Workflow#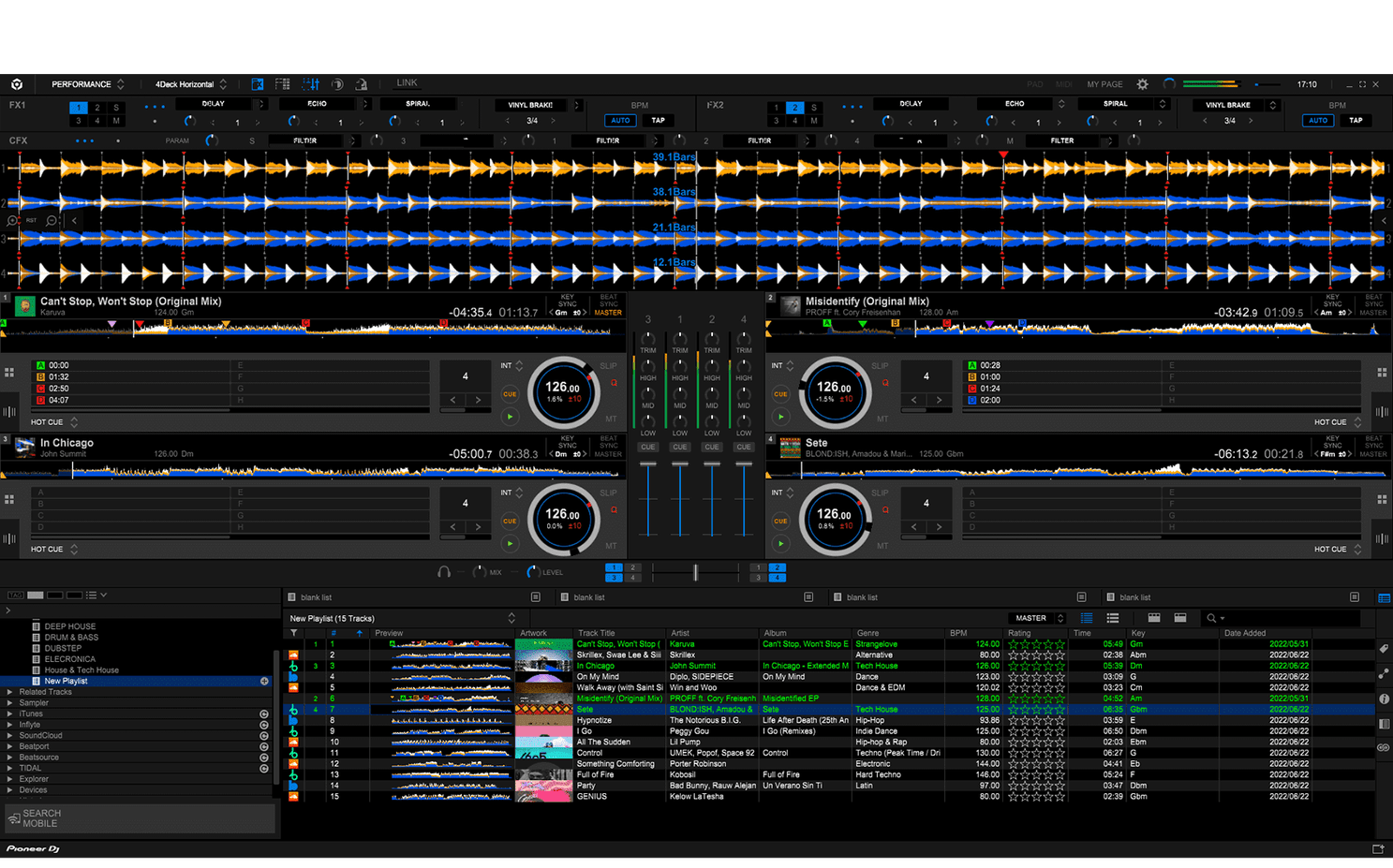 Let's look at the workflow of rekordbox.
You start off by importing your tracks into the rekordbox library. This accepts tracks from wherever MP3 audio files you just drag and drop them into the library folder. You can mark hot cues if you want to make some quicker mixes later on.

Then you can create folders. Rekordbox will automatically scan imported tracks and mark them with their BPM and other metadata.

From here you create a new project, then you start to select songs from your library to import into a playlist just to streamline your view of what tracks you have.

Then you simply load one track into one of the virtual decks and then hit play to play it.

Next, you load a second track from the playlist into the second virtual deck.

Then you can even manually or automatically beat-sync the two decks. This is easier done with the automatic feature where you choose which is the master track hit sync and the subtract will link up to it.

Once the tracks are synced you just have to queue up the second track wherever you want it to come in, then hit play, and then bring up the channel fader to increase the volume as you desire to make your transition.

Then simply turn down the volume of the first track until it's only the second track playing. You can also use effects to make this process smoother.

After this, it's just a matter of repeating this process for each subsequent track until you finish your mix.

Rekordbox software does have a feature for recording your mix. Simply hit record when you're ready to record then play the tracks and run through your mix making each transition as you please. However, you do have to wait for the full track to play so it will take an hour to produce an hour mix if you don't make any mistakes.

Then you simply export the file.
Most of these features can also be controlled by Pioneer DJ equipment too if purely digital DJing isn't your thing. Note, it will only work with Pioneer DJ hardware. 
DJ.Studio's Workflow#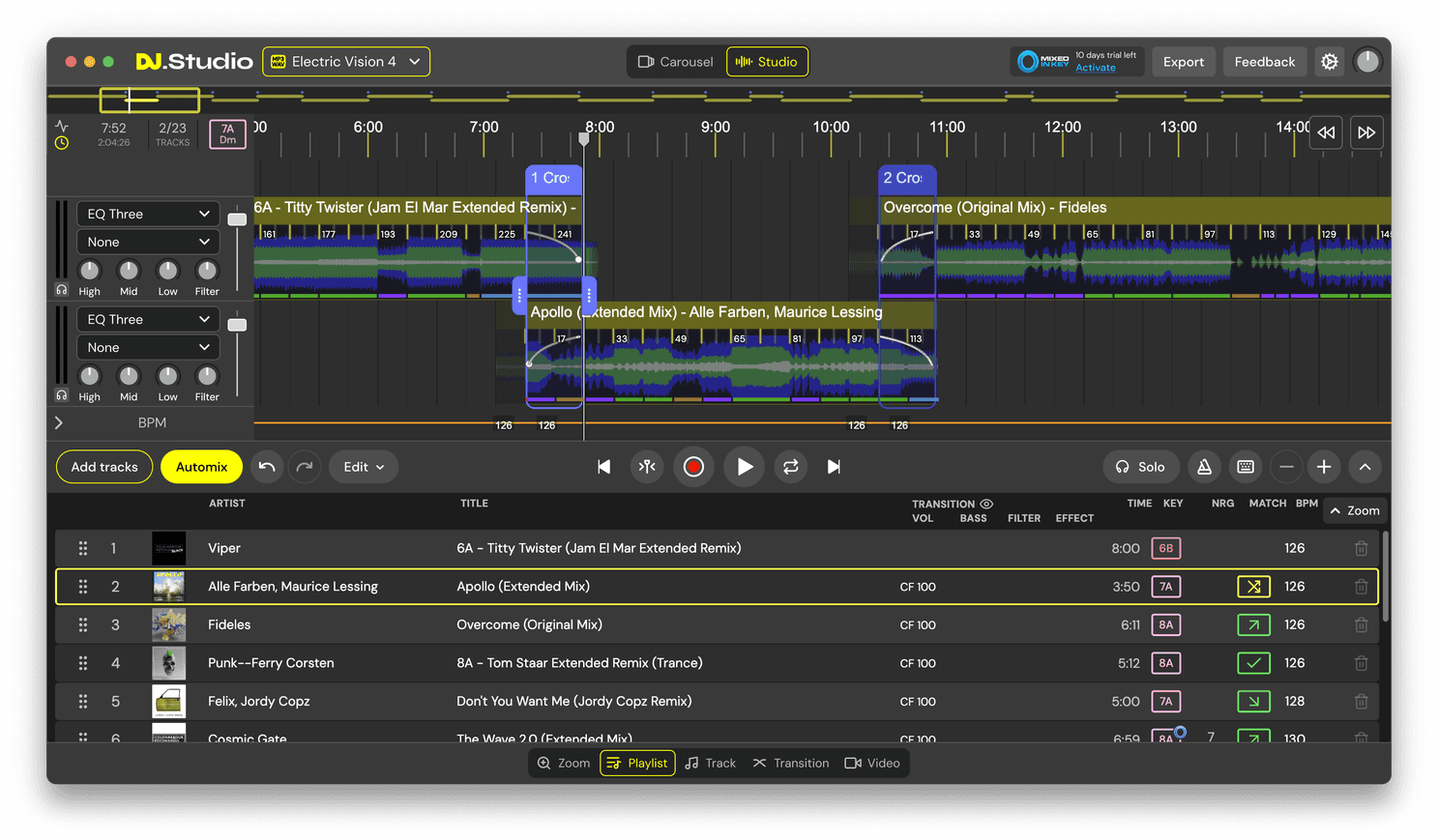 The workflow for DJ studio is very different, but ultimately improves the expressive and creative potential of a DJ mix, while also massively reducing the amount of time it takes to produce one.
You start off by importing tracks into your library. You can import tracks from the broad range of locations specified above.

When you want to make a set you select a bunch of tracks from your library to create a new project.

From here you can either manually arrange them in the studio timeline view or, you can use some of DJ.Studio's magical automatic features.

The magic comes in when you use the automix feature. What this does is when you click the AUTOMIX button you're presented with a slider that chooses how the automix feature works, you're either going to choose a bias towards BPM (for tempo mixing) or key (for harmonic mixing), or anywhere in between the two.

Now when you hit this automix button, DJ.Studio automatically arranges every track in your project and places them on the timeline in a sequence based on your auto-mix choice.

This automatically creates a somewhat seamless mix between each track as it places in automatic transitions and crossfades while making sure the BPM modulates when transitioning between tracks of different speeds to keep the groove and rhythm consistent.

From here you can then start to tweak the transitions in fine detail, whereby you draw in the automation information for each transition parameter such as the EQ filter or effects.

After you're happy with the transition and arrangement it's time to record and export the mix.

Hit the record button and the mix is recorded to a file at 15 times real speed. That means if you had an hour-long mix it would be complete in 3 minutes, which just goes to show how much time this can save.

There are other export options including an incredibly powerful export to Ableton project option. The Ableton live export option lets you export the project as a multi-track Ableton project. When you open this in Ableton you will see your entire mix as a multi-track arrangement with a separate track for each of the songs, arranged just as you had it. Any automation information such as transitions, or performance automation recorded by hand will also be imported into Ableton for you to tweak. This incredibly powerful feature that you to finalize your perfectly arranged mix and add any voiceovers or radio jingles if required.
As you can see the workflow for these two programs is drastically different and each one has its advantages.
Note, that we are working on adding the ability for users to connect professional DJ equipment and controllers to DJ.Studio.
It's worth mentioning that you can either run DJ.Studio in your browser or download the DJ app to use offline. This makes it the ultimate DAW for DJs!
Check out this guide one Creating DJ Mixes In DJ.Studio for a deeper tutorial.
Tempo and Key Synchronization#
Both rekordbox and DJ.Studio includes automatic sync features, although they differ slightly.
Rekordbox can automatically synchronize any of the loaded tracks. You simply set one as the master, and rekordbox automatically changes the speed of other tracks to match the leader's BPM. It also aligns the tracks so that the beats are in time, although it doesn't consider the placement of the beats, so sometimes they will be out of phase. Rekordbox also doesn't include any key synchronization features.
DJ.Studio features powerful synchronization algorithms for both tempo and key. It can automatically match the tempo and beat placement of tracks to make sure they are perfectly aligned. It also detects the key of music and gives you the option to match tracks using harmonic mixing techniques.
Library Management and Track Importing#
The library features of both of these pieces of software are relatively similar, although they have some different options. DJ.Studio lets you import tracks to your music library from a wider range of sources. The organizational features of rekordbox are more advanced, letting you create custom folders and add star ratings to tracks.
DJ.Studio has a huge advantage by letting you import songs directly from Mixed In Key, rekordbox, Serato, VirtualDJ, Engine DJ, TRAKTOR and iTunes. It also gives you more information on how your tracks connect together in terms of tempo and key.
rekordbox does have some integrations with Mixed In Key, although not as many other programs as DJ.Studio has. The integration with Mixed in Key in rekordbox is also more basic. 
Automix Features#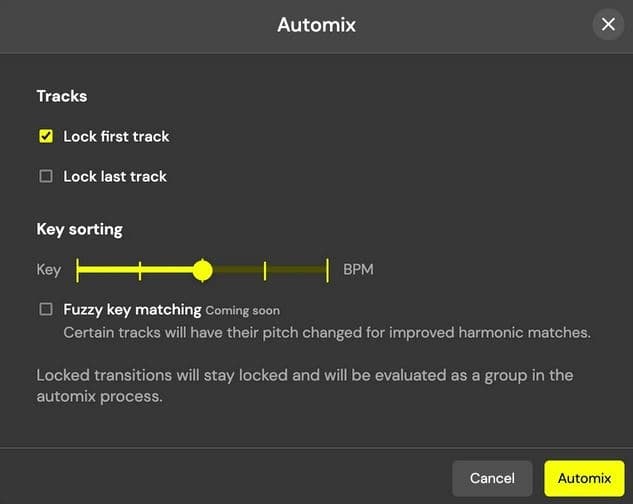 Rekordbox features a basic continuous play mode, which blends from track to track before they end. However, it doesn't take into account any BPM or key matching, so transitions can be awkward
DJ.Studio has a much more powerful automixing feature. DJ.Studio lets you create mixes automatically from a selected playlist. It also lets you choose whether the tracks are sequenced based on BPM or key. This automix choice is given as a variable slider.
Recording and Export#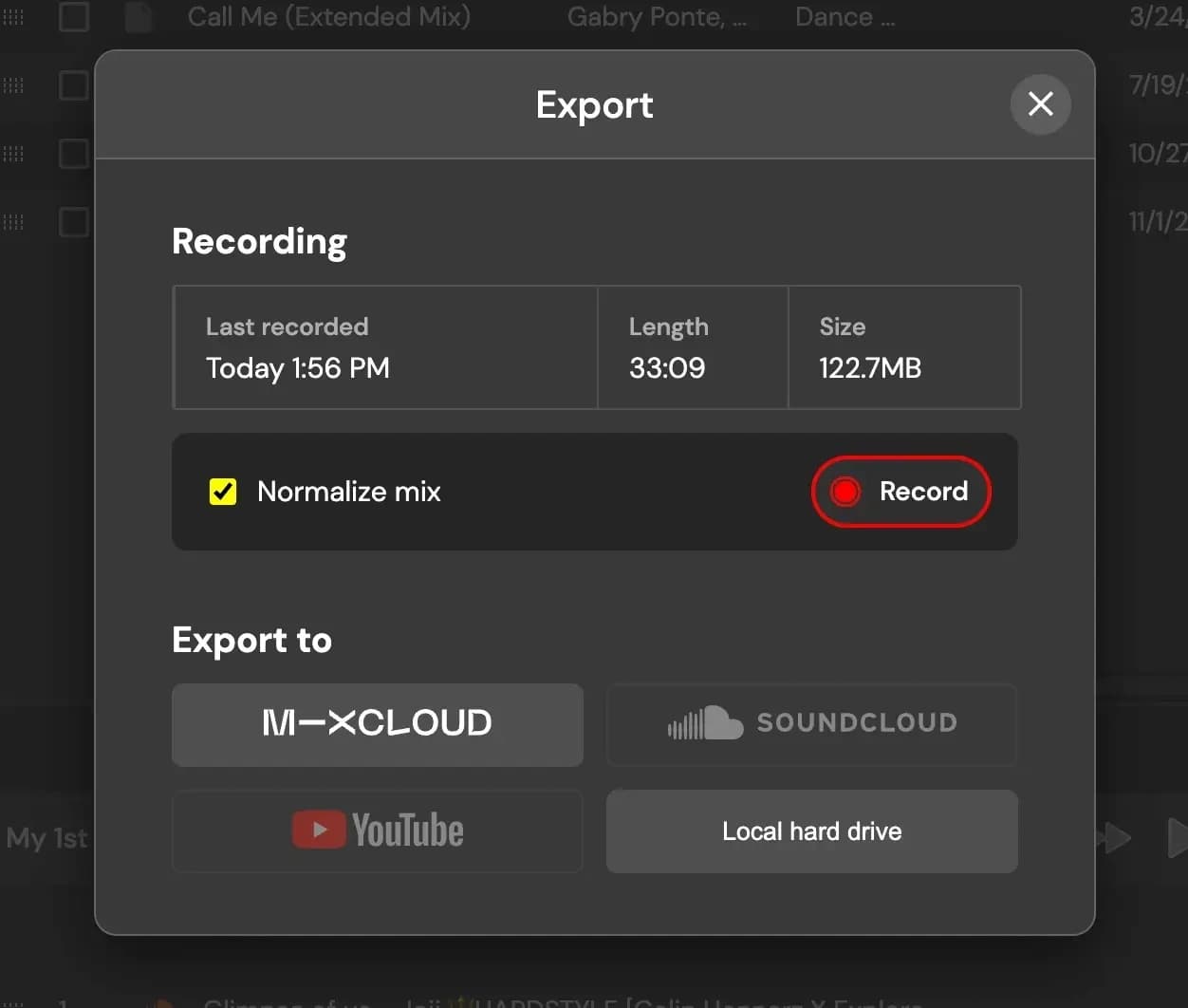 Both DJ app programs have recording and export options, although DJ.Studio works differently, with a wider range of more flexible options.
The rekordbox recording function is relatively simple - you hit record, then your live performance is recorded to an exportable file.
The DJ.Studio DJ app is more advanced in this regard. You can record your mix in 15x real-time, and you can also manually record effect automation. Exporting is highly powerful, and as mentioned above, it can export mixes as a multitrack project for Ableton Live.
Final Verdict#
Overall, both of these are powerful pieces of DJ mixing software that have a lot to offer. Ultimately they are both designed for different situations, and each has advantages that make them more suitable in their own space.
Using both together can create a strong workflow that includes the best elements of both systems. 
While rekordbox does offer more advanced performance features and a powerful workflow for live scenarios, the tools given by DJ.Studio are generally more flexible and efficient. If you need to produce mixes, radio shows, or seamless playlists, then DJ.Studio is much easier and quicker to use. 
Good luck on your DJ journey!
Best for live performance = rekordbox
Best for studio, radio, and non-live use = DJ.Studio
Closing Thoughts#
There are a lot of differnt DJ app variations out there, from Serato scratch live to virtual DJ. Each type is catered to a slightly different audience. So, while it's hard to say if one objectively reigns supreme, there are clearly certain situations where a particular software platform excels.
In the case of DJ.Studio, no other software platform comes close in terms of speed, creativity, and smart-assistance tools. This is easily the best choice for anybody who doesn't need to mix songs live, and wants to create finished 'mix tapes' of their favorite music.