The 7 Best DJ Mixing App Downloads In 2023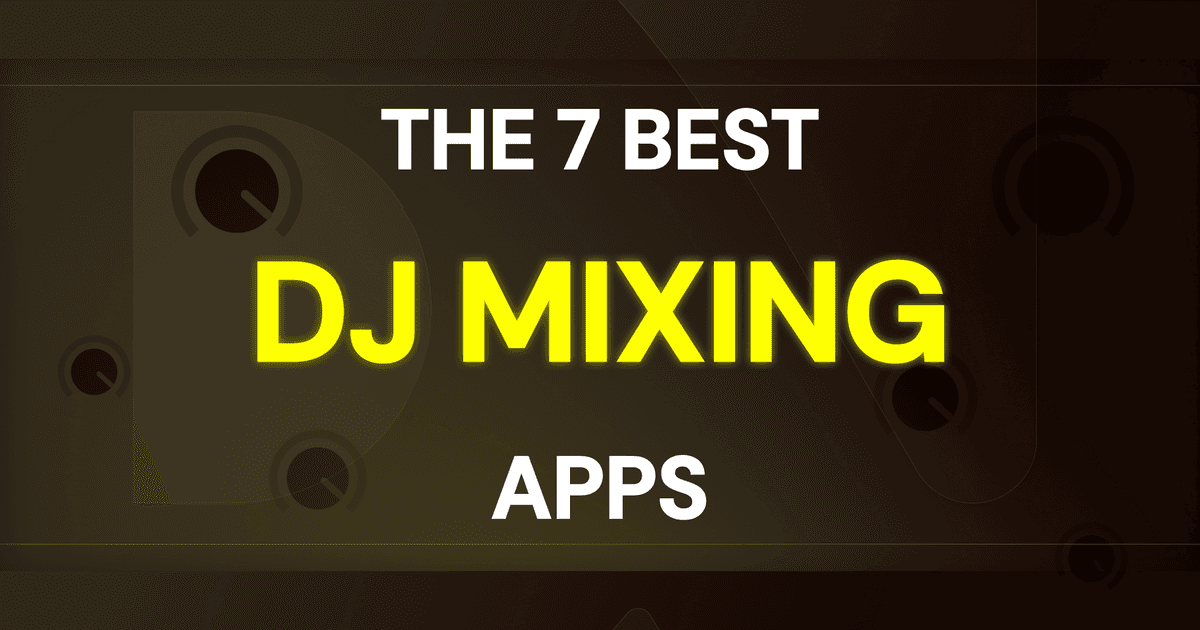 Looking for some DJ mixing software to help you craft a banging new set? I've put together this list of the best options out there. There are tonnes of DJ software programs available that are designed to let you mix music from a computer alone.
While there is a lot of overlap, most software programs have some unique elements and features. That said, there is a lot of mediocre mixing software out there that you should avoid unless you want to waste time and end up with a headache.
I've tried most DJ software in my time, so let me explain how to choose the best software for your needs, and I'll highlight some important things to watch out for!
TL;DR - The Best DJ Software#
There are a few differing types of DJ software, each suited to different use cases.

Typically, DJ software is designed for either live performance or studio use.

Some software is limited in its features, many need a DJ controller for maximum effect.
If you're looking for a quick DJ software comparison, the following overview may help you. To learn more, read on.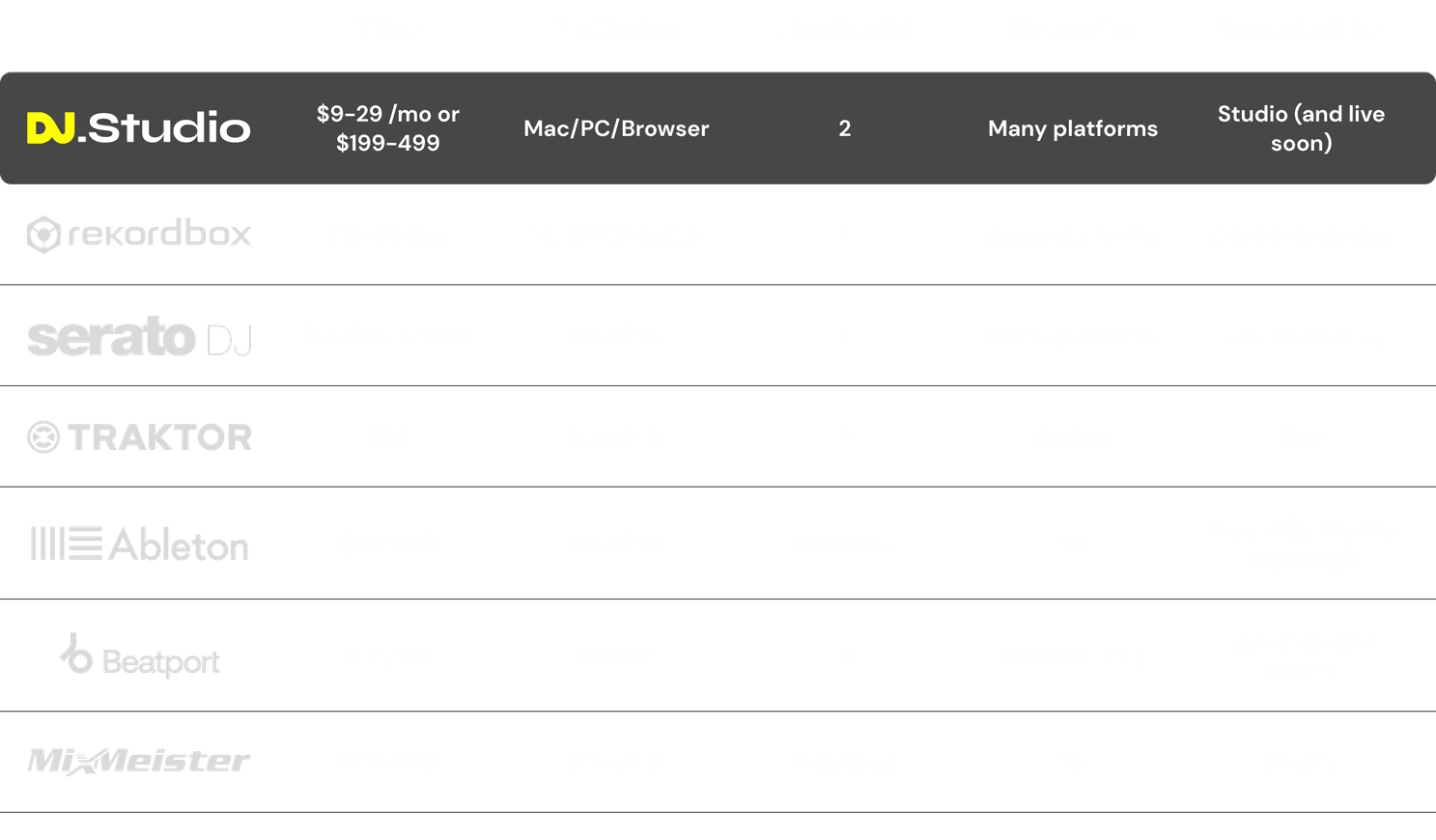 The 7 Best DJ Mixing Software Programs#
Here is a list of the best DJ software on the market!
But first - It's worth understanding DJ software comes in two main design styles - either for live use or for the studio.
Live software is designed to be used for real-time performances. This could be a DJ in a nightclub, party, or on a live radio show. These have different features to studio software.
Software designed for studio DJs is created in a way to offer more power and flexibility for DJs who aren't mixing in real-time.
This could be for anybody who needs to create some kind of flowing musical playlist or a mix - for example, radio shows, podcasts, or online mixes, or anybody else who wants to create a DJ set but has no need to record it through live performance.
I'll make it clear in the following reviews which software is more suited to which use case.
Now, let's get to the roundup!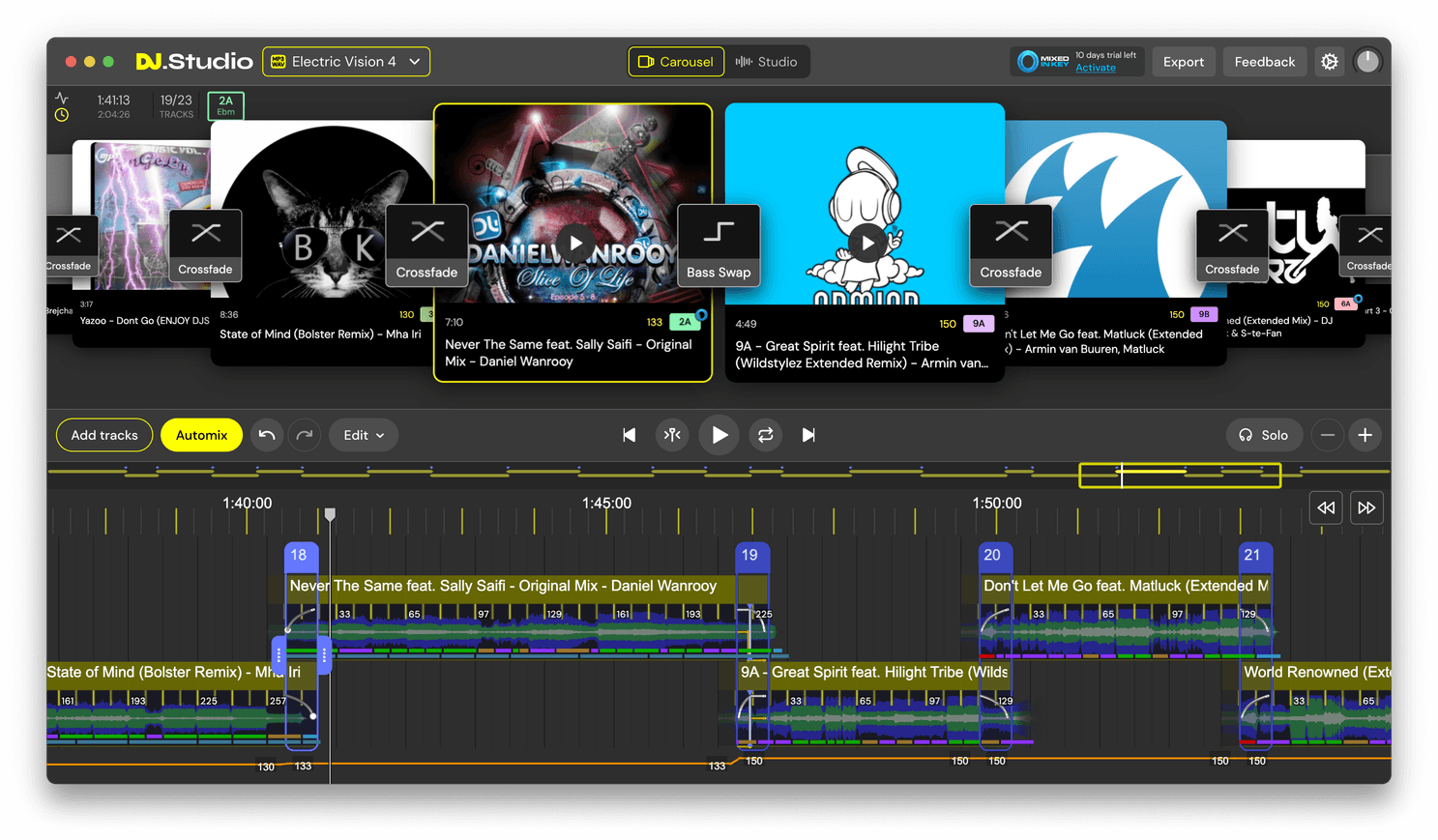 Price - Free trial available, subscription for $9/29 a month, or a one-time fee of $199/$499.
Platforms - Mac/Windows/Browser
Number of Decks - 2
Streaming Services/Connections - YouTube, Soundcloud, Sertao, rekordbox, Mixed in Key
Pros
Revolutionary and unique auto-mixing features

Easily arrange seamless mixes

Powerful transition features

Import tracks from a range of sources

Export mixes to Ableton
Cons
Still in Beta

Doesn't have support for live performance (yet)
DJ.Studio is a brand-new piece of DJ software that offers powerful features not seen anywhere else. This DJ mixing app takes inspiration from MixMeister, but moves the idea into the modern decade. It comes with all the tools you need to create perfect mixes, lightning-fast.
Unlike most DJ software, this is designed for studio use and comes with a range of smart, automatic features which do the hard, boring work for you so you can focus on creativity and expression.
The workflow is simple:
Import songs to your library (from a wide range of sources including rekorbox and Mixed in Key)

Select the tracks you want to use in a set.

Use the Automix feature to automatically sequence your tracks, with a preference for either key matching or BPM matching

Tweak the transitions and arrangement of your mix

Add effects and other creative flourishes.

Record your mix in 5x real-time, then export wherever you need it to go.
This powerful workflow makes the lives of DJs quicker and easier than ever before. Not only does it make DJing more efficient, but it also expands your creative options. When you mix in real-time, there is only so much you can do in the moment with two hands. This is why DJ.Studio is ideal to mix music on a laptop.
With DJ.Studio, you can automate any of the effects and controls you want simultaneously. So you can blend filters, EQ, volume, reverb, echo, and other effects to make stunning and previously impossible transitions.
It features an interface that will be familiar to anybody who has worked with a DAW before and also features a DJ-style console, which can be paired with a DJ controller for real-time mixing (this feature is still in development). This DJ app even has a built-in music visualizer for making your own music videos, and can be used for video mixing.
Overall, if you want to power up your DJing process, this AI-Powered DJ Software will give you a creative kick and amplify your DJing prowess. This virtual DJ software is equally as useful for professional DJs as it is for humble music lovers.
Compare DJ.Studio to other software to see how it stacks up!
2. rekordbox##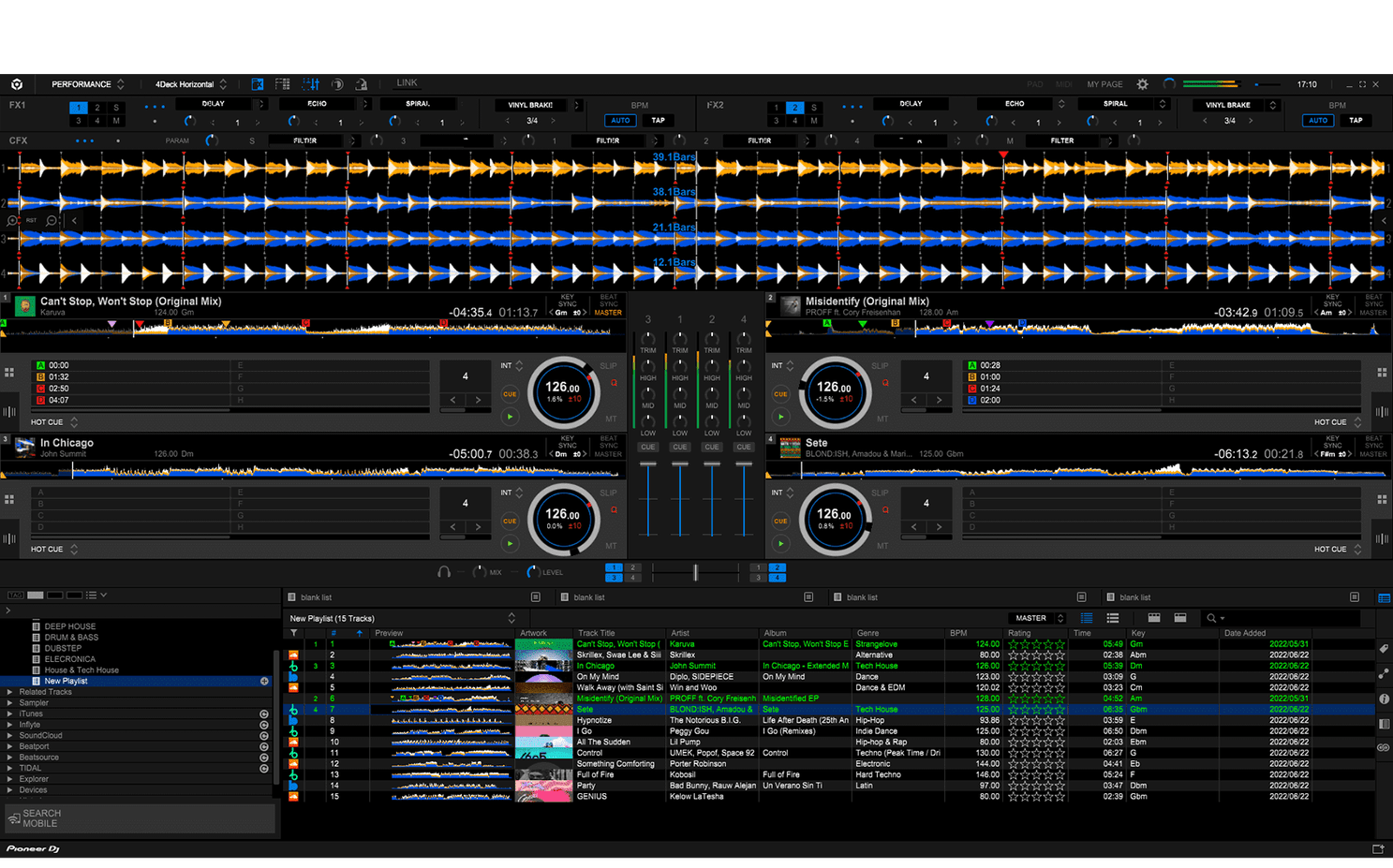 Price - Subscription $10/$15/$30
Platforms - Mac, Windows, Mobile
Number of Decks - 4
Streaming Services - Beatport, Beatsource, Soundcloud, and Tidal
Pros
Works with all pioneer CDJs, controllers, and other hardware

Powerful live performance features

Excellent library management

Can be used for free
Cons
Cloud subscription required

Several limitations

Best used with a DJ controller, but not great with a mouse and keys
Rekordbox is one of the long-standing names in the DJ software world, and for good reason. Made by Pioneer DJ, one of the leaders in the DJ industry, rekordbox has a comprehensive set of features for live DJ mixing.
This DJ app has all the typical aspects you need - tempo matching, effects, up to four decks, looping, track analysis, and automatic phrasing features. The music library management is well-designed and easy to use, and it lets you easily organize and cue up your tracks like any other music organizer software.
The large attraction to rekordbox is its integration with Pioneer hardware, particularly the CDJs, which makes it a pro-grade tool. You'll find this kind of Pioneer DJ setups in clubs all around the world.
The subscription is a little pricey for the pro version of this DJ mixing app, although you do get your money's worth if you need to perform regularly as a DJ. That said, you can get pretty far on the free version too.
3. Serato DJ Pro#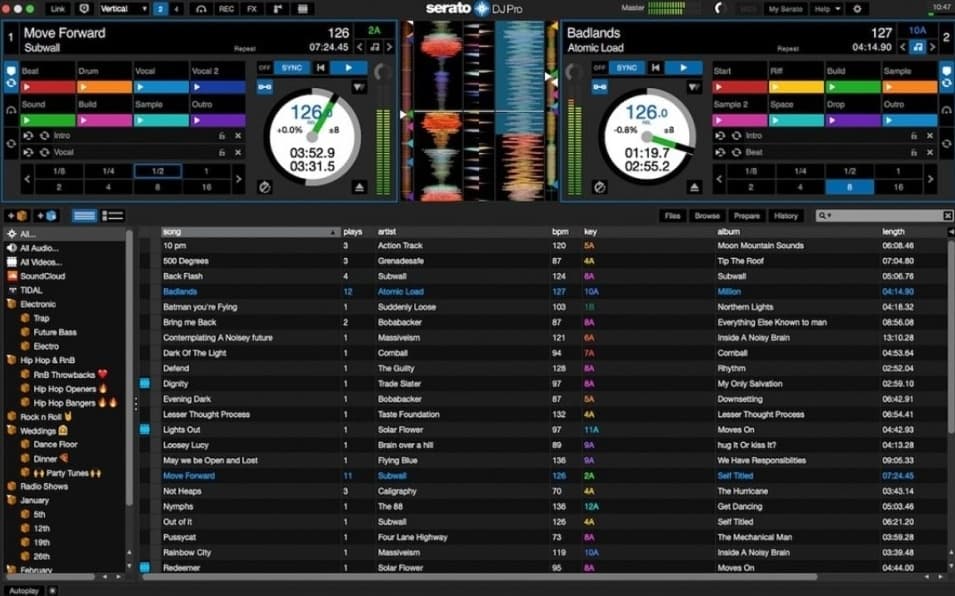 Price - $10/month or $199 to $20/m or $399 for suite
Platforms - Mac and PC
Number of Decks - 4
Streaming Services - Beatport, Beatsource, Soundcloud, and Tidal
Pros
Broad feature set

Works with a range of DJ controllers

Great for scratch DJs

Easy to navigate music library
Cons
Confusing subscription model

Needs high powered PC
Serato pioneered the concept of digital vinyl systems - a kind of technology that uses digital controllers to give a vinyl-like mixing experience. This was the original format of Serato, although it has since evolved to become a more comprehensive set of DJ tools.
While it's useful for all types of live performance DJs, it's particularly popular with the scratch Dj crowd - thanks to the realistic vinyl scratching mechanisms and the complex set of remixing tools.
Today, it has good compatibility with other Dj software like rekordbox and Traktor, and works with a range of hardware controllers - not only the Serato hardware line.
One slight pain is the subscription model. While on first inspection you might think that all the features presented are accessible, actually many of them are locked behind the various subscription packages offered by Serato - with the highest coming in at $30 a month.
That said, Serato is a powerful DJ app for beginner and professional DJs alike, and it offers multiple effects, virtual turntables, and an easy-to-use library to mix music with. This is great if you are a DJ who likes to remix your favorite songs with real-time effects in a live performance.
I hope, in the future, that they improve access to the various tools offered in this virtual DJ mixer software - and make perhaps package it into fewer download bundles.
4. Native Instruments Traktor Pro#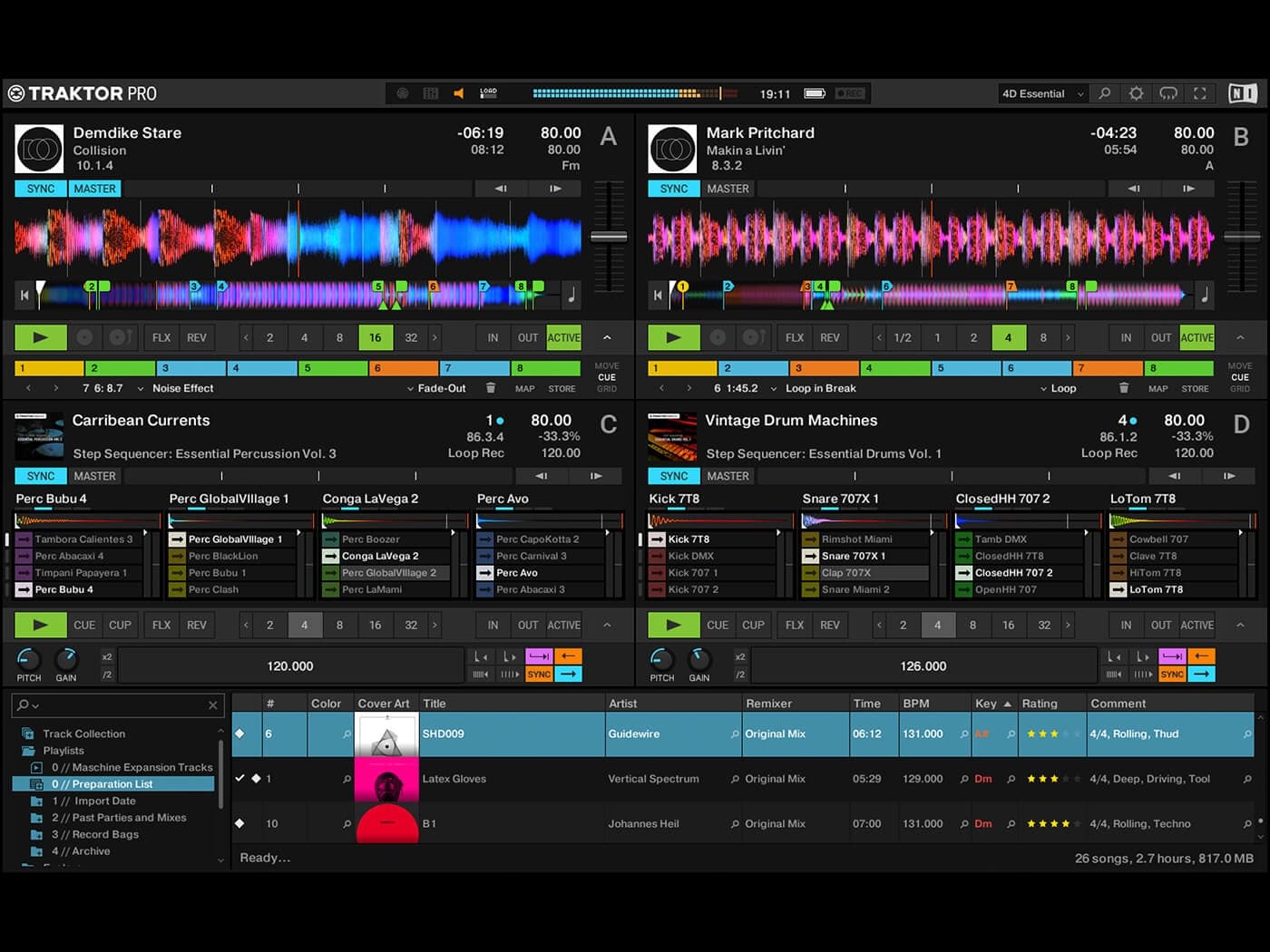 Price - $99
Platforms - Mac and Pc
Number of Decks - 4
Streaming Services - Beatport DJ, Beatsource
Pros
No subscription - buy once, own forever

Very easy to use an intuitive

Works with a range of MIDI and DJ controllers
Cons
Slightly basic, and limited in performance
Traktor DJ is another piece of DJ software that has been around since the old days of digital DJing and is made by one of the largest names in the music software industry.
This uses a more simple interface for making seamless transitions between two songs, and while it does feel a bit simplified - it still performs well enough for most situations.
If you want to play music and start mixing on a computer then Traktor DJ is a good place to start. For those who want to start djing without investing in a huge setup, or over-complex, overwhelming software, Traktor DJ is a good choice.
This DJ mixing app still has just enough functionality to work for professional situations, although you won't get as much action or flexibility out of other DJ apps on this list.
5. Ableton Live#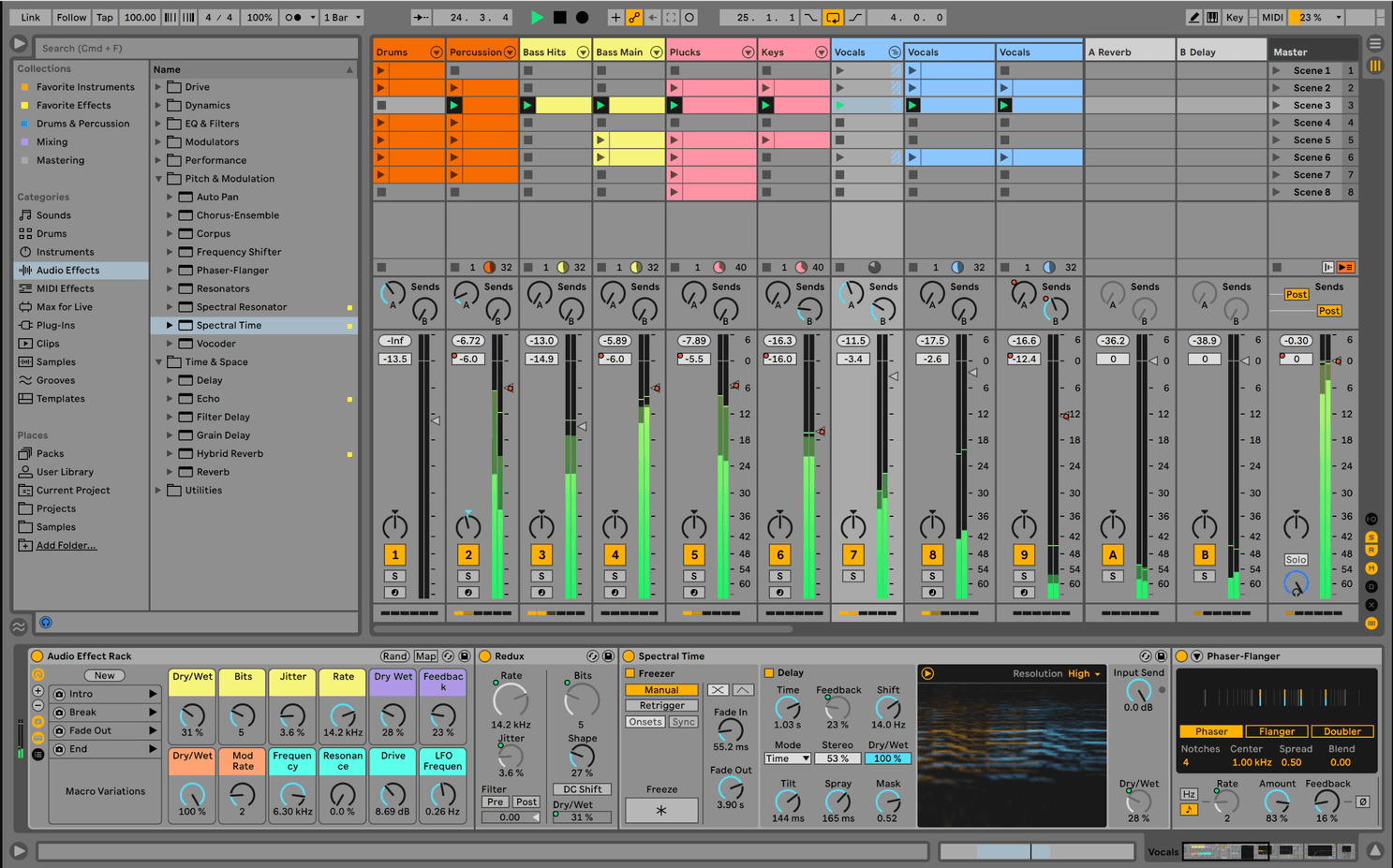 Price - $89 to 700

Platforms - Mac and PC

Number of Decks - Unlimited

Streaming Services - No
Pros
Flexible DAW for production and DJing

Works for live or studio situations

Powerful features and effects

Works with any MIDI hardware, excellent hardware integration
Cons
Not specifically designed for DJing

Unfamiliar interface to some DJs
While Ableton Live isn't specifically designed for DJs, it still has a bunch of features that make it ideal as a DJing tool. I think this is a great choice if you also have an interest in music production, as you can use it for DJing and creating your own music. It's also great if you want to remix songs.
This doesn't have the standard turntable style interface, although it can still be used in much of the same way. It has a crossfader, tempo warping, sound effects, and loops, and lets you fine-tune songs in any way you can imagine.
This is a fantastic tool for making remixes or sculpting DJ sets not in real-time. It has all the features you need to bend and stretch any song to mix with other tracks of a different key or tempo.
I would say that this is definitely more suited to people wanting to make DJ mixes in the studio, rather than club DJs. That said, Ableton is geared towards Live set performances in general, and can still be used as a powerful DJ tool. If you also have an interest in making your own music then you should definitely check it out.
6. Beatport DJ#
Price - Free/$10 month
Platforms - Browser (Windows, Mac)
Number of Decks - 2
Streaming Services - Only works with Beatport
Pros
Hybrid DJ Software and streaming library

Great software to try out new set ideas
Cons
Simplified features compared to downloadable apps

Lacks DJ effects

Only works in browsers and needs an internet connection

Doesn't work with many DJ controllers
Beatport DJ is a refreshing take on DJ software. While this isn't the same as the standard DJ apps, it essentially lets you add DJ controls to Beatport's massive library of songs. This lets you mix any song on Beatport into any other track on the website.
Sure, unlike other DJ apps this won't have the depth of control needed for professional live performances. But if you want to test out different sounds and beats before buying tracks, this is app is a lot of fun. I also really like the party mode which lets you mix with your friends.
It only has really basic controls, but it has enough to make some fairly smooth albeit unexciting mixes. One nice advantage is that it integrates with the mobile version of Beatport. This lets you line up a music playlist on your mobile screen, then get mixing on your laptop. There's even a free Chrome extension.
7. Mixmeister#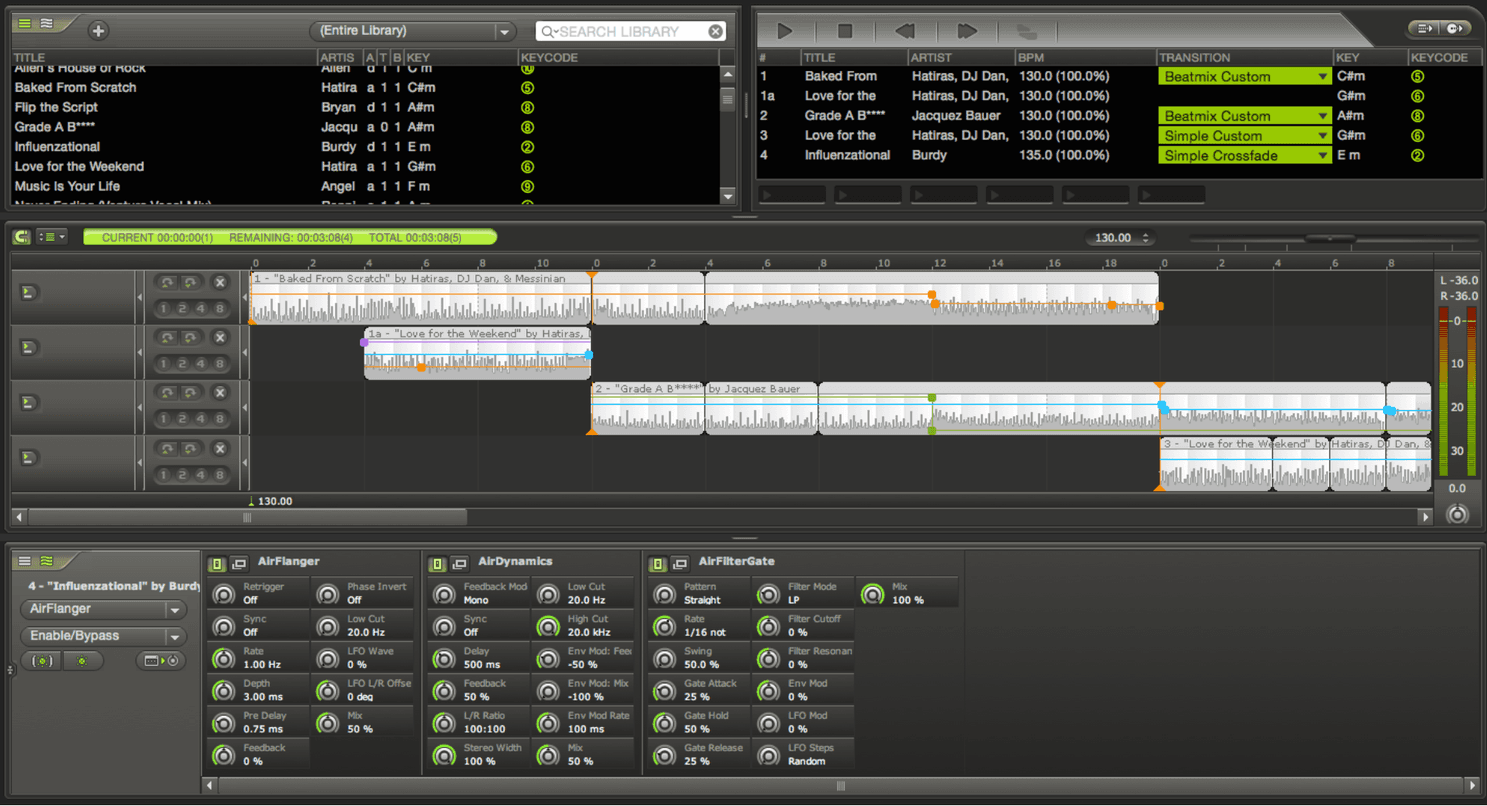 Price - $100-400
Platforms - Mac, PC
Number of Decks - Unlimited
Streaming Services - No
Pros
Unique workflow

Automatic key detection

Change the key without changing the tempo

Wide range of exporting features
Cons
Outdated interface

Has not been updated for a long time

Limited for live performance
Mixmeister is an interesting style of mixing software that lets you arrange mixes in a timeline and edit them to your heart's content, differing from most DJ apps.
The layout and design are different compared to most DJ programs and are more suited to use in a studio than live performance. It still has live features, although they aren't as advanced or comprehensive as other software on this list.
That said, this is still a useful piece of software that lets you build mixes in your own time. It can save a lot of time for people working on the radio, or anywhere where you need to make sets of music, but don't necessarily need to play music and mix in real-time.
It has all the standard tools you need to craft mixes - a decent library system, effects, crossfaders, looping, key detection, tempo detection, and all the other bells and whistles. The main difference is that it's set up to quickly compile playlists, rather than mix them in real-time.
Honorable Mentions#
I didn't think these DJ apps were worth including a full review for, but you might be interested in some of these other options.
YouDJ Desktop and YouDJ mobile app

Virtual DJ

Algoriddim djay Pro AI

Beatsource DJ
What Makes Good DJ Software?#
When choosing Dj software, there are several features that are important to consider
Library Managing#

The first, and arguably most important feature is song library management. It's important that the library system is easy to organize and interact with. Different DJ software offers a range of library management features after you add songs. Some let you create playlists. Some support smart organization features that sort out your library in BPM and key which makes it easy to find songs that pair well together.
Controller Compatability#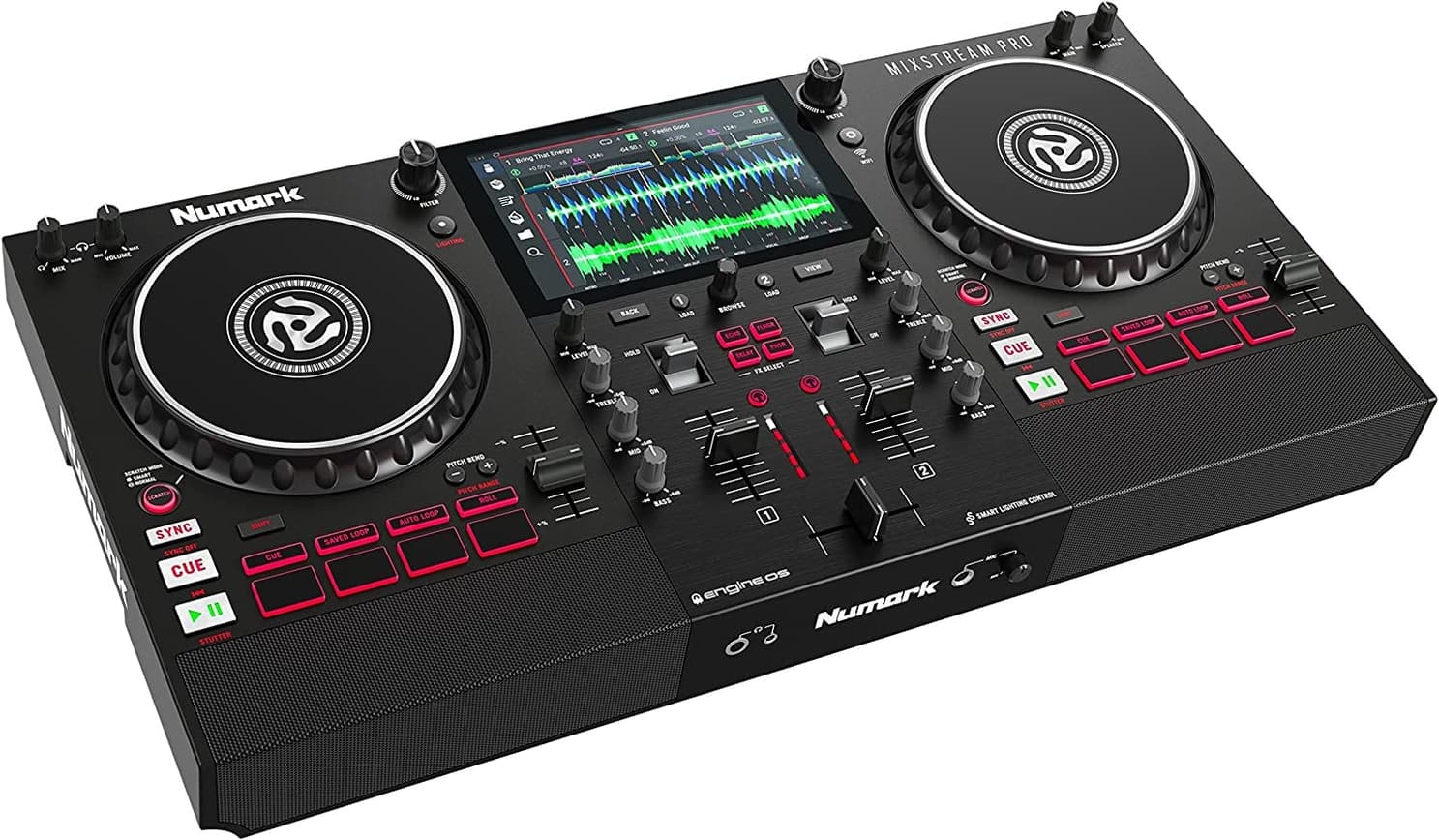 If you are a live DJ, then you'll probably want to use a hardware controller to control your software. This makes the DJing process much more interactive and hands-on. Most DJ software can connect to hardware, although there are some limitations on which hardware you can use on some software. If you have hardware then make sure it's compatible with the software you plan on using.
Effects#
Effects are a core part of making smooth transitions and spicing up your mixes. There is a tonne of different effects you can use for a DJ set. The most common types are EQs, filters, reverbs, echoes, loops, chorus, and flanger. There are many others too.
Beat-matching assistance#
Some software contains beat-matching algorithms which help to automatically match the speed and placement of your beats. This saves a lot of time for DJs who would otherwise need to do it manually. Not all DJ software has beat-matching algorithms, so you should consider whether you want this time-saving feature or can go without it.
Key Matching#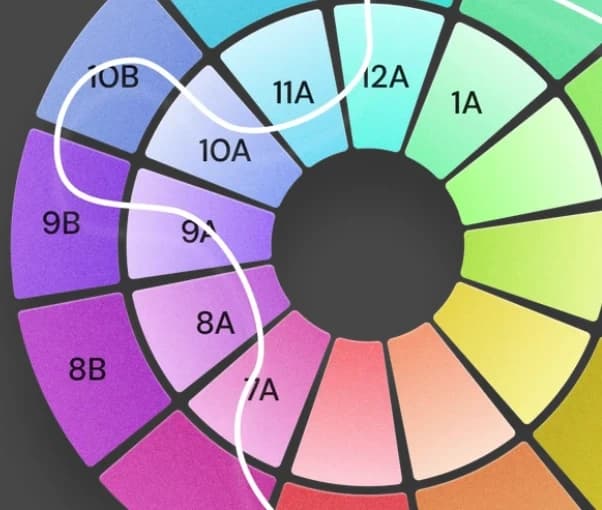 Key matching is a powerful feature that helps you to mix harmonically without having to dive deep into music theory and keys. All songs come in a key - but some keys sound better together than others. Some key combinations just sound awkward and clashy too, which you want to avoid.
Software like DJ.Studio offers the ability to automix your library and playlist based on the most flowing key combinations. This helps you to create seamless mixes without you needing to spend all your free time studying and connecting your music library's keys.
Why is DJ.Studio So Unique and Powerful?#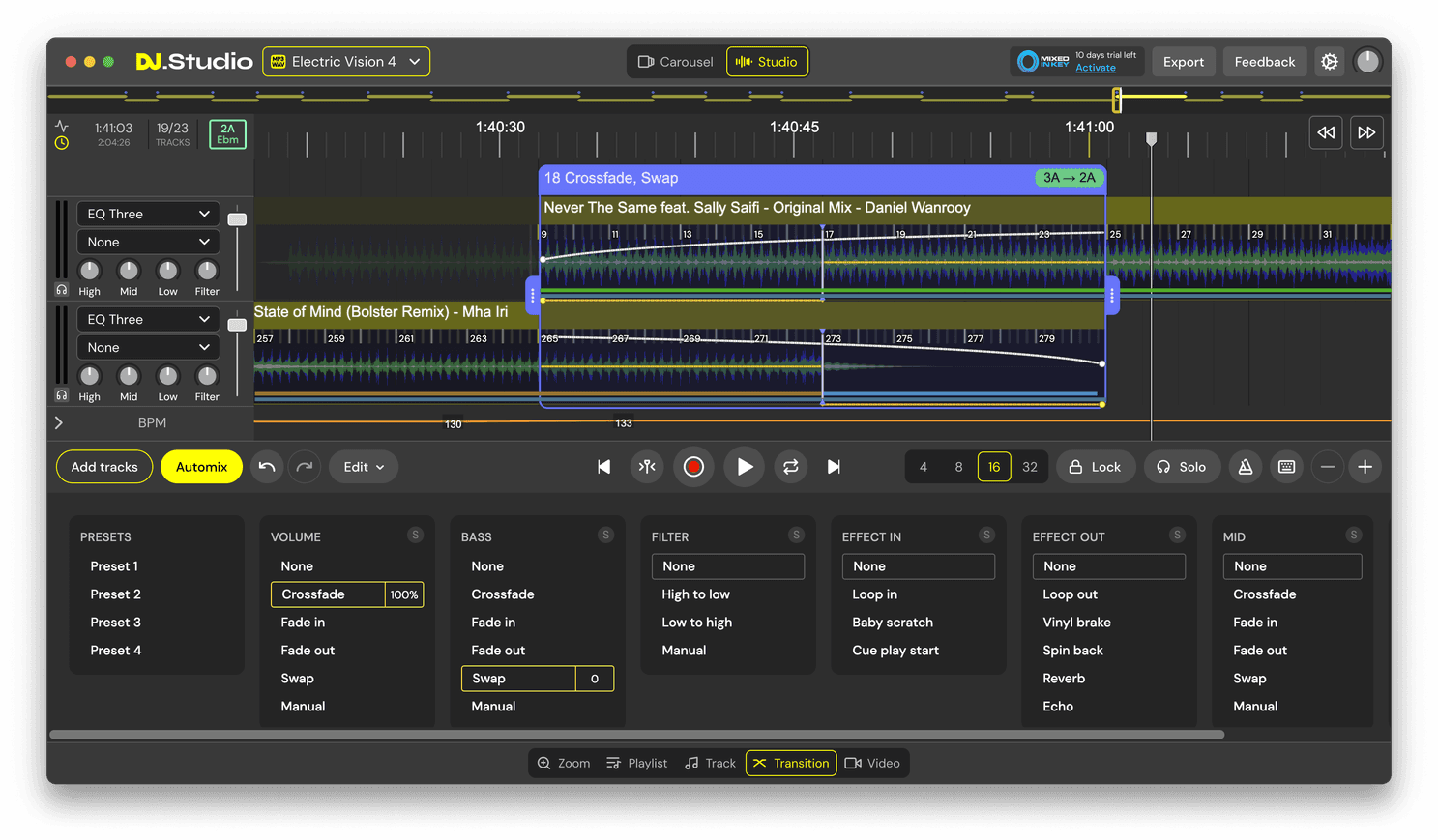 DJ.Studio has unique advantages over other types of DJ software. This program was made to solve issues presented by all the other software in the industry, while also creating new tools which have previously not been offered. The automixing features are beyond the capability of any other tools - taking away technical efforts so you can focus on having fun.
Closing Thoughts#
Good luck choosing your new DJ software! There are a lot of options out there, so use the information and recommendations above to choose the type that suits your needs the best. If you're on a tight budget, you might want to look at the Best Free DJ Software.
Remember, many of these programs offer free demos which you should definitely check out before you buy the full version.
FAQs about DJ Software
Is there any free DJ software?

How much should I charge for a DJ mix?