DJ.Studio vs MixMeister - Which Is Better?
MixMeister was once a revolutionary piece of software for making DJ and radio sets, or mixtapes for fitness studios. Released all the way back in 2000, MixMeister has now essentially become obsolete and depreciated.
This once cherished software now barely works, and even when it does, it's severely outdated.
Siebrand Dijkstra was a longstanding user of MixMeister, and as this tool became a relic of the past, he decided to create something new and powerful, evolving from the concept of MixMeister to birth a new spiritual successor - DJ.Studio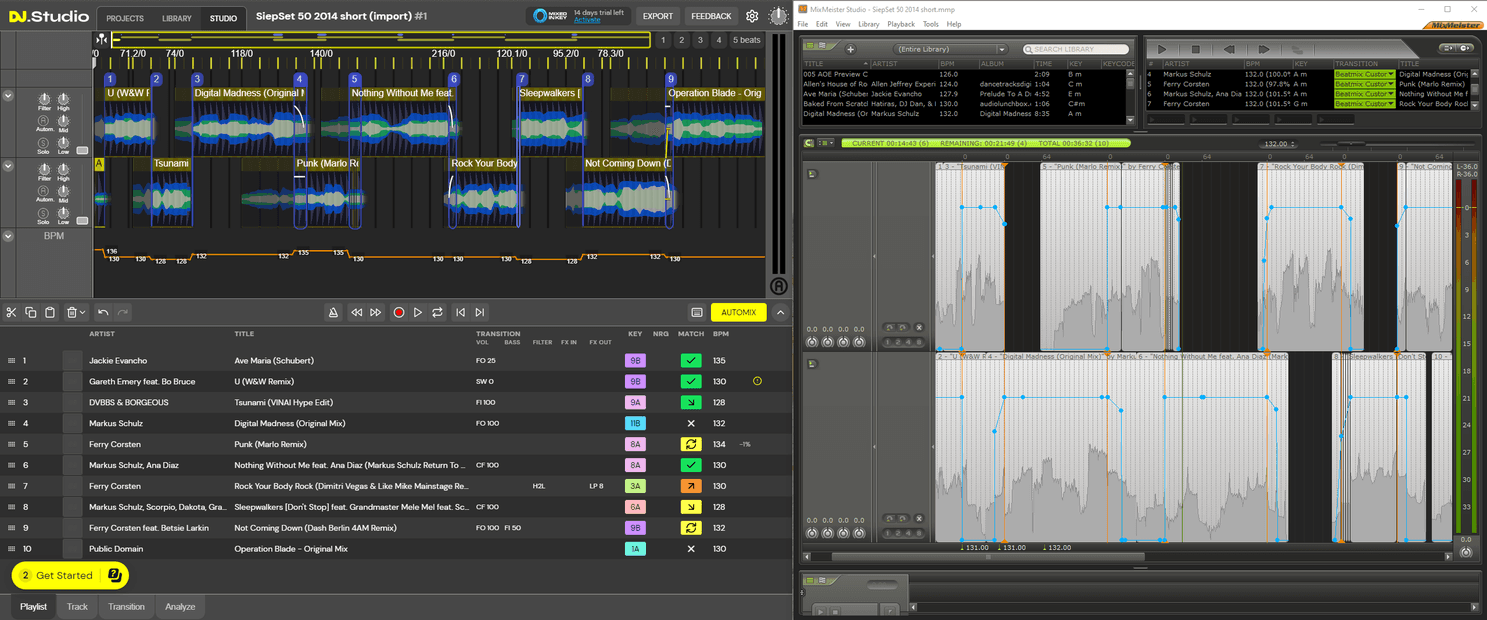 In this article, I will compare MixMeister and DJ.Studio. I'll preface this by saying DJ.Studio is by far a better and more advanced replacement for the systems that MixMeister used to offer.
If you need software that can help you create DJ sets and mix tapes with precise detail at an astounding rate of speed, then DJ.Studio is really the best option you have today.
Now compare these two pieces of DJ software in more detail.
TL;DR - DJ.Studio vs MixMeister Studio#
MixMeister is now depreciated - and no longer updated.

DJ.Studio offers an upgraded, expanded, and modernized approach to MixMeister's perspective.

While both work in a similar way, in contrast to live mixing software, DJ.Studio evolves this concept further.

DJ.Studio is a powerful piece of software for DJs, radio show producers, and people needing to make mixtapes for fitness studios, venues, events, and similar situations.
MixMeister Overview#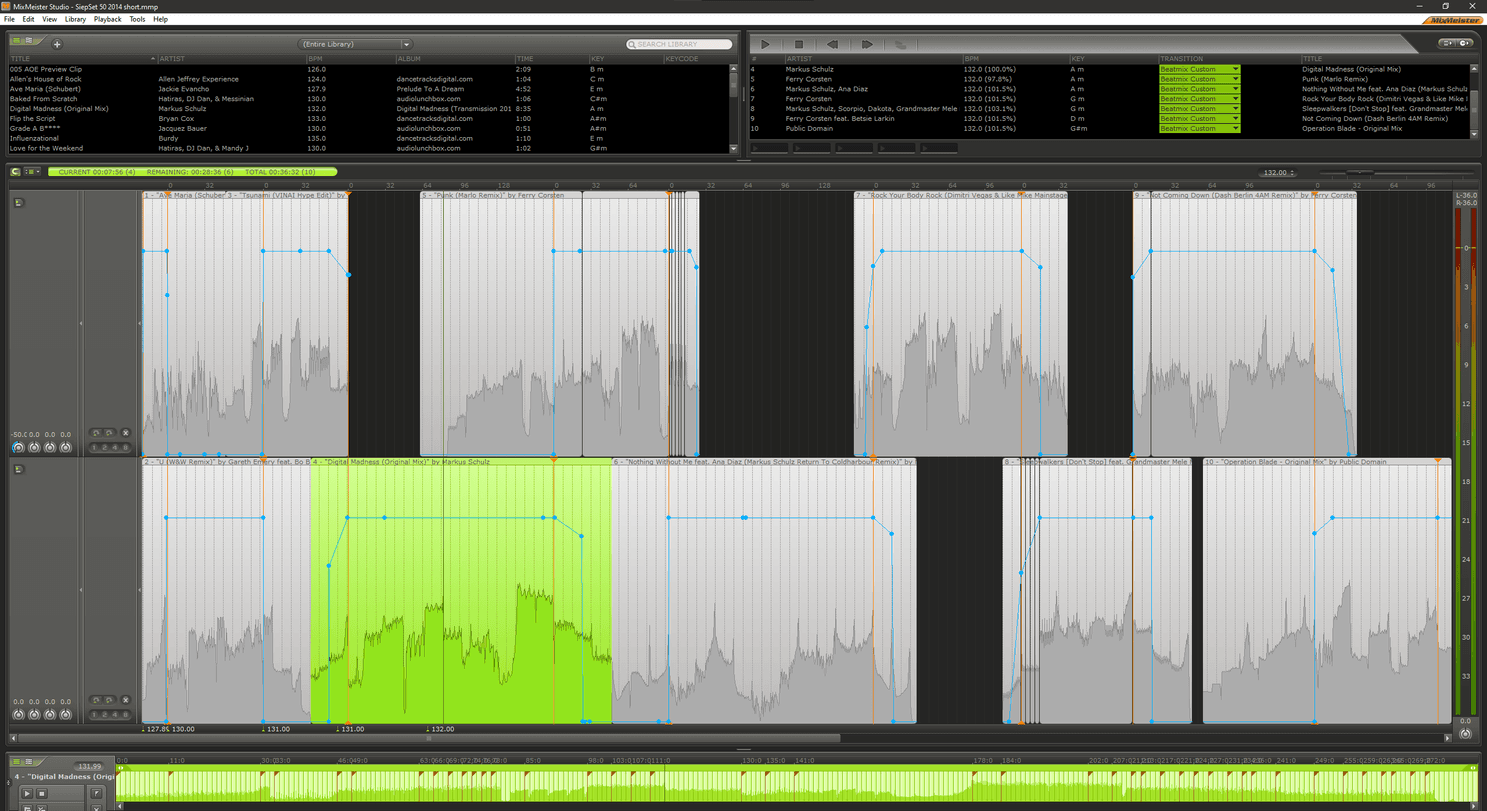 MixMeister was a fairly innovative piece of software for its time. Anybody who needed to create DJ mixes, sets of music, seamless playlists, and mixtapes for fitness studios, or radio shows, would find this software incredibly useful and time-saving.
Miximeister comes in three main versions:
MixMeister Express

MixMeister Studio

MixMeister Fusion
Each of these offered a slightly different take on the design, although all used the same core interface.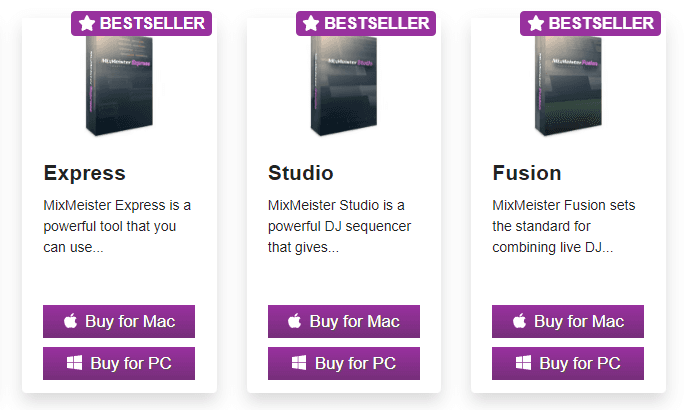 The unique approach of MixMeister was to combine the non-linear interface of a digital audio workstation, with tools and shortcuts which were suitable for making DJ sets. This was different from the style of DJing software, as it moved away from the live performance approach and moved towards something where you could edit and tweak DJ sets in a timeline view.
Unlike using traditional DJ equipment to record a mix, this DJ program meant mixes and shows could be produced on screen.
Overall, MixMeister's innovative approach makes new possibilities for DJs, radio hosts, fitness studio mixtape makers, and other long-form audio producers.
MixMeister Studio Features#
Create a perfect studio mix with up to eight songs simultaneously.

Produce mixes faster than 1:1 time, as you would when recording live.

Helpful tools for automatic beat matching and most beat-mixing tasks.

MixMeister Studio records volume and eq automation and DJ performance parameters - similar to traditional mixing.

Integrated burning tools for creating CDs.

Intelligent looping - letting you automatically loop up to eight measures.
Problems with MixMeister#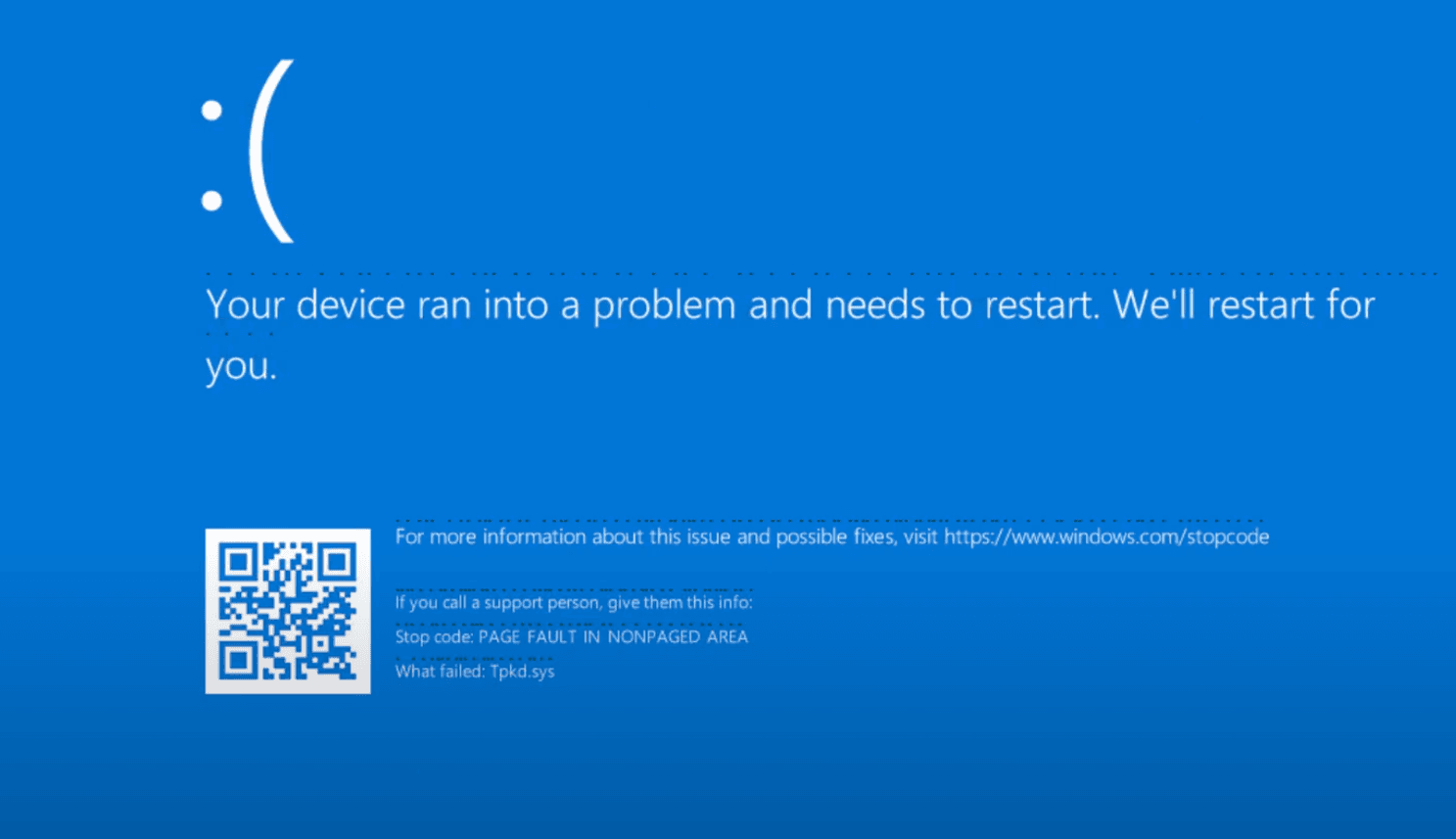 While MixMeister was good in its heyday, it's since slipped out of development and is now largely outdated, and even incompatible with most modern machines and operating systems. It's a little bit clunky and old-school, like driving a rusty old car rather than something safe and new.
It also has stability issues meaning it's a bit glitchy and buggy in certain situations, particularly on Apple Mac machines.
Also installing the software can be a massive pain because it literally breaks your computer in many cases. When I was testing it out recently it gave me a repeated blue screen of death issue, and the only way to fix this was by going into the command prompt and navigating through my hard drive in text format to then find this broken driver that it installed which was preventing my computer from starting up. Luckily I'm relatively tech-savvy, however, if you weren't a big nerd like me then you may find this to be a stressful and troublesome situation, where you get bricked out of your PC.
Besides these big issues, there are more problems that relate to the usability of the software. It's fair to say that this is fairly outdated and it hasn't kept up with the needs of the modern market. While it does do the basic job, the overall workflow is a little bit archaic and could be much more streamlined and enabling for modern producers who need to use this in any form.
Problems with MixMeister
No longer in development - incompatible with modern operating systems and machines.

Only works on Windows.

The old-fashioned interface makes it clunky and fiddly to use.

Not keeping up with the modern market or DJ landscape.

Can cause bluescreen issues when installed to a computer, which requires technical knowledge to fix.

Rudimentary library system.

No auto-mix.
Inspiration for DJ.Studio#
Siebrand (the creator of DJ.Studio) needed something similar to MixMeister, but with a broader range of breakthrough new features, and updates to meet modern needs (and computers!)
He decided to build DJ.Studio to expand the concept of MixMeister, while also offering modern features which are more relevant for DJs today. For example, MixMeister was created in an era before the internet had become such a huge part of everybody's daily life. Taking this into consideration leaves a lot of room for internet-based features to be more closely integrated with the software.
DJ.Studio Overview#
DJ.Studio picks up where MixMeister left off, and brings this concept into the modern age. This DJ Studio production software makes the lives of DJs and audio creators even easier, by offering them a powerful DJ sequencer that can create a full-length mix in a short amount of time.
DJ.Studio works in a relatively similar way to MixMeister, however, it offers an enormous range of expanded functionality, utility, and creativity, while also working in a slightly way - being more user-friendly, and being integrated with a range of other platforms.
Now let's look at what this powerful tool offers!
First of all, it offers a similar timeline workflow to MixMeister software, where you can arrange your tracks on a timeline, fine-tune the mix transitions by automating volume, equalization, filters, effects, etc, and then you can export your finished mix to a range of sources.
Looking at the workflow step-by-step, you can see where many of the improvements have been added with DJ.Studio.
Importing Audio & Music Library#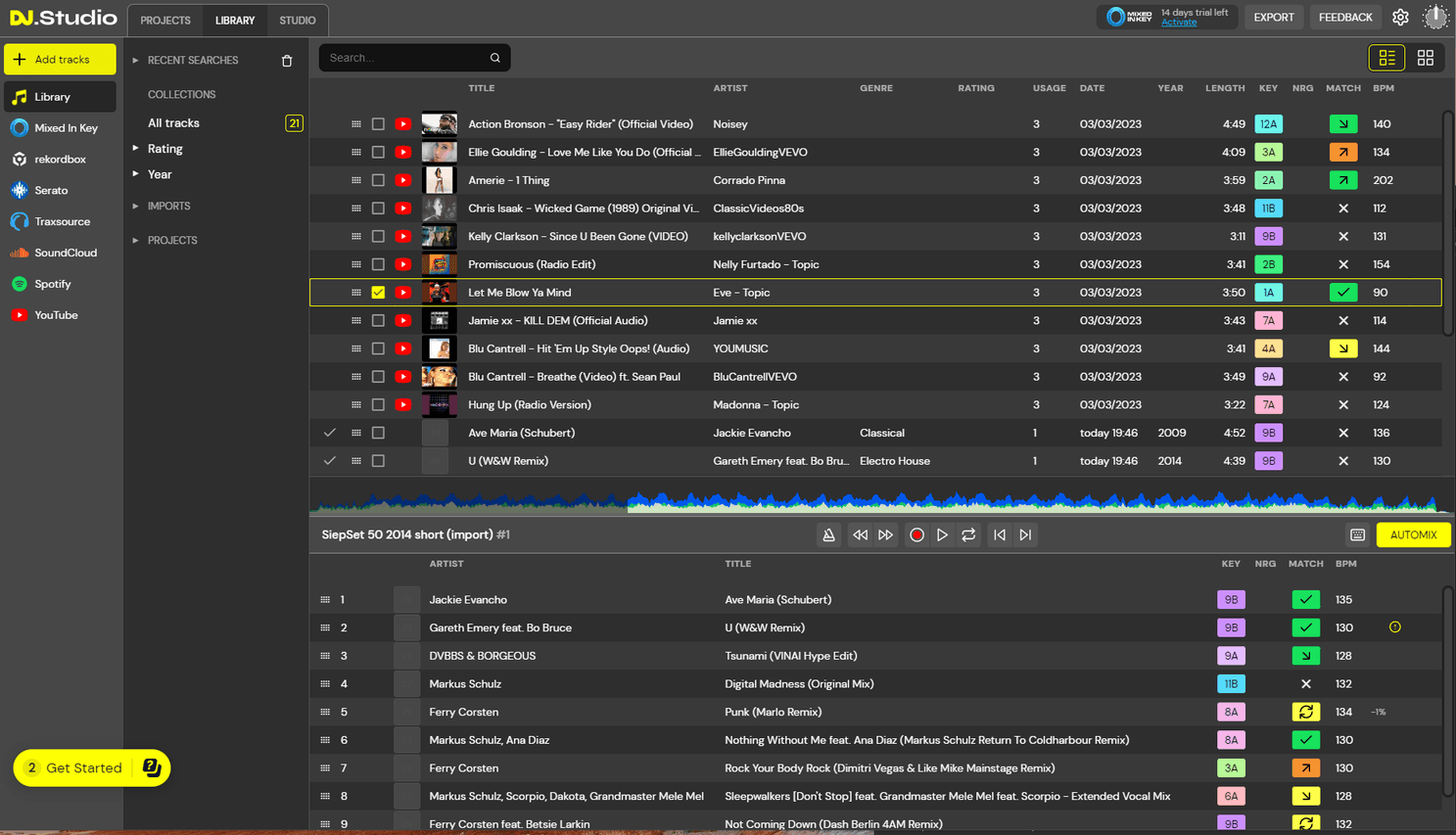 Firstly, when importing music, DJ.studio lets you import tracks from a much wider range of sources than MixMeister did.
For example, you can import music from other DJ software like Rekordbox, Traktor, and Serato, you can use Spotify, Traxsource, and Mixed In Key, and you can even import music and videos directly from YouTube.
Library Management, and Track Analysis

Next, library management in DJ.Studio is very advanced and has a bunch of exciting features that will be incredibly enabling for DJs or radio producers who need to create seamless mixes at speed.
DJ.Studio shows you the key of each track in your library, as well as information on the BPM. DJ.Studio also gives you information on how songs connect to other tracks based on the concept of harmonic mixing.
Automix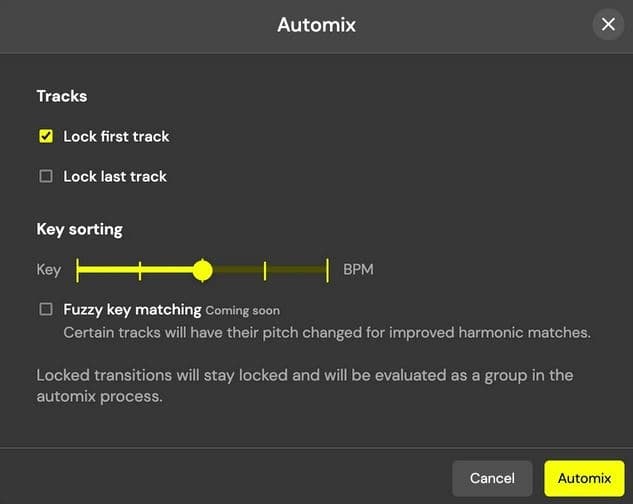 Another powerful feature of DJ.Studio is Automix which can automatically order your playlist in the best harmonic order.
You start by choosing the tracks in your playlist. Then you hit the auto mix button, where you choose how to bias the automixing algorithm - whether you want it more focused on BPM or key.
Then hit automix again, and DJ.Studio automatically constructs and arranges the entire DJ set based on your chosen playlist, making sure that each track is beat-matched, and mixed harmonically in key - ensuring some nearly seamless transitions at the click of a button.
This scans through every possible mix combination, to then choose the final order based on your instructions for the automix algorithm.
Transitions
Then all you need to do is refine the transitions in the timeline editor by tweaking the automation lines. DJ.Studio lets you automatically apply a range of transition types to your mixes, from bass swaps to filter cuts.
You can chain multiple effects together for transitions too, letting you make blends that wouldn't be possible to achieve by using two hands with a hardware mixer. This gives you a much greater ability to create a top-notch, entertaining mix than other DJ apps.
Find out more about transitions, and the types offered by DJ.Studio here > Guide To DJ Transitions.
Recording & Exporting Mixes#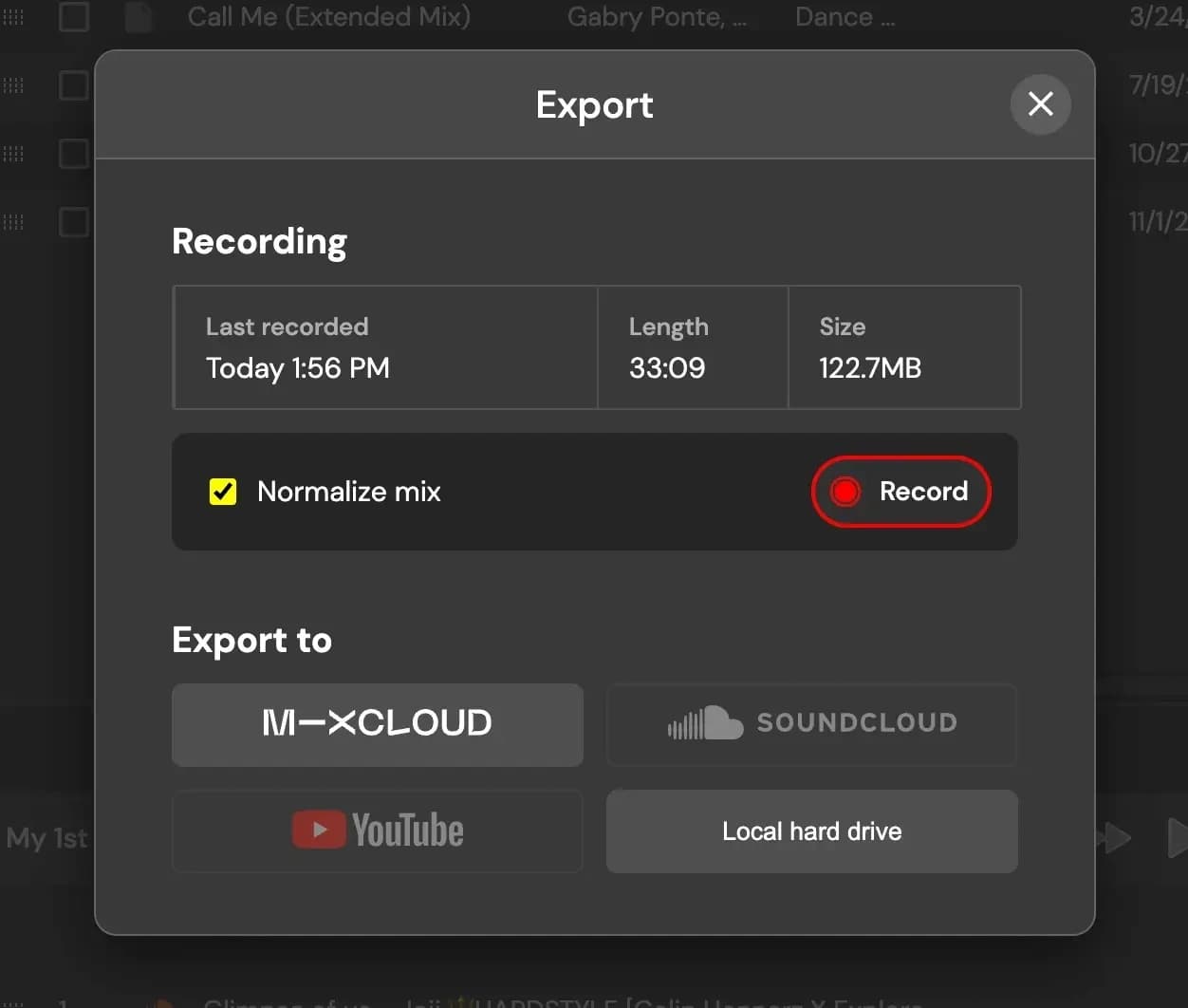 When you're happy with your mix, all you need to do is click the record button which lets you record your mix at 5x real-time speed. This saves an enormous amount of time - for example, if you were recording an hour-long set it would only take around 6 minutes to render the file.
There are also more advanced exporting options built into DJ.Studio, for example, you can bounce it to a range of online sources like YouTube or Mixcloud.
You can even export the project as a multi-track file for Ableton Live. This type of export is impressive as it retains the automation information throughout your whole project, and that lets you tweak it and spend more time on the mixing and mastering. You can also easily add in voiceovers and sound effects, or overlay samples and jingles if needed for a radio show.
The sound quality of the final output is just as high as the original recordings, so you don't need to worry about your audio being downgraded.

DJ.Studio Features#
Simple import system with a range of third-party integrations.

Powerful, unique automix feature which builds the optimal sequence of music.

Detailed transition editing with real-time automation recording and quick transition presets.

Modern features designed for the internet generation - built-in YouTube videos, direct export to online platforms, sync with your other music library software.

Lightning-fast recording and export - saving hours of time.

Design and deliver creative, professional mixes in with minimal time and effort.

Integration with MIDI hardware controllers.
Final Verdict - Which is Best?#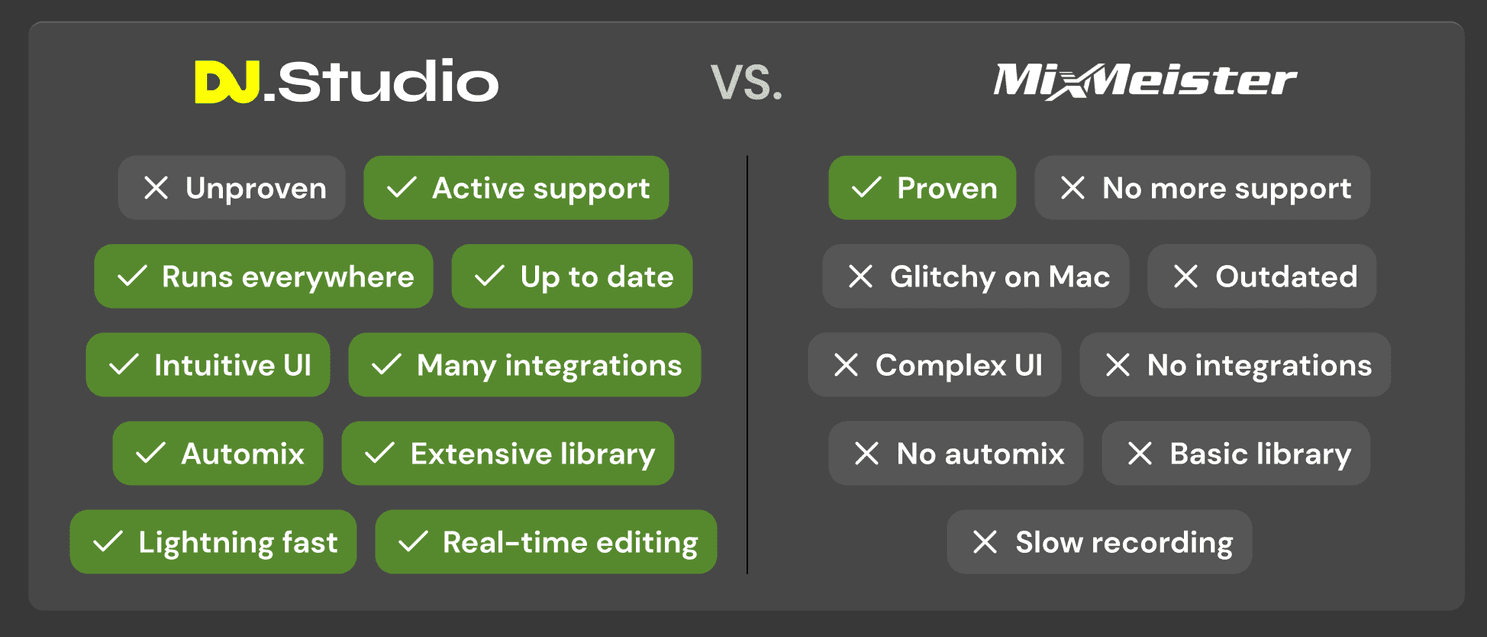 From comparing these two pieces of software, it's easy to see which comes out on top.
While MixMeister was once a solid option, it's now too old, broken, and antiquated to provide a useful experience. It was revolutionary for its time - offering a workflow similar to a DAW, but designed for DJs, although sadly now it's no longer supported by many machines.
In comparison, DJ.Studio, is easier to use, quicker, more stable, and resource-efficient. Beyond these core factors of usability, DJ.Studio also has a bunch of additional creative features which help to save time and make more expressive and artistic mixes.
DJ.Studio will be incredibly useful for anybody who needs to create DJ sets without necessarily needing to perform them live. This could be anywhere from people working in radio, to creating fitness class soundtracks, making mixes to play in their store or cafe, play at events, or even for DJs who want to mime when performing live!
Even if you want to quickly knock together a cool mix of your favorite tunes to share with friends, DJ.Studio is the best solution.
FAQs about DJ.Studio as an alternative for MixMeister
What is the difference between Mixmeister Fusion and Studio?

What is better than MixMeister?

How much is MixMeister studio?

What is better: MixMeister or DJ.Studio?
Related Posts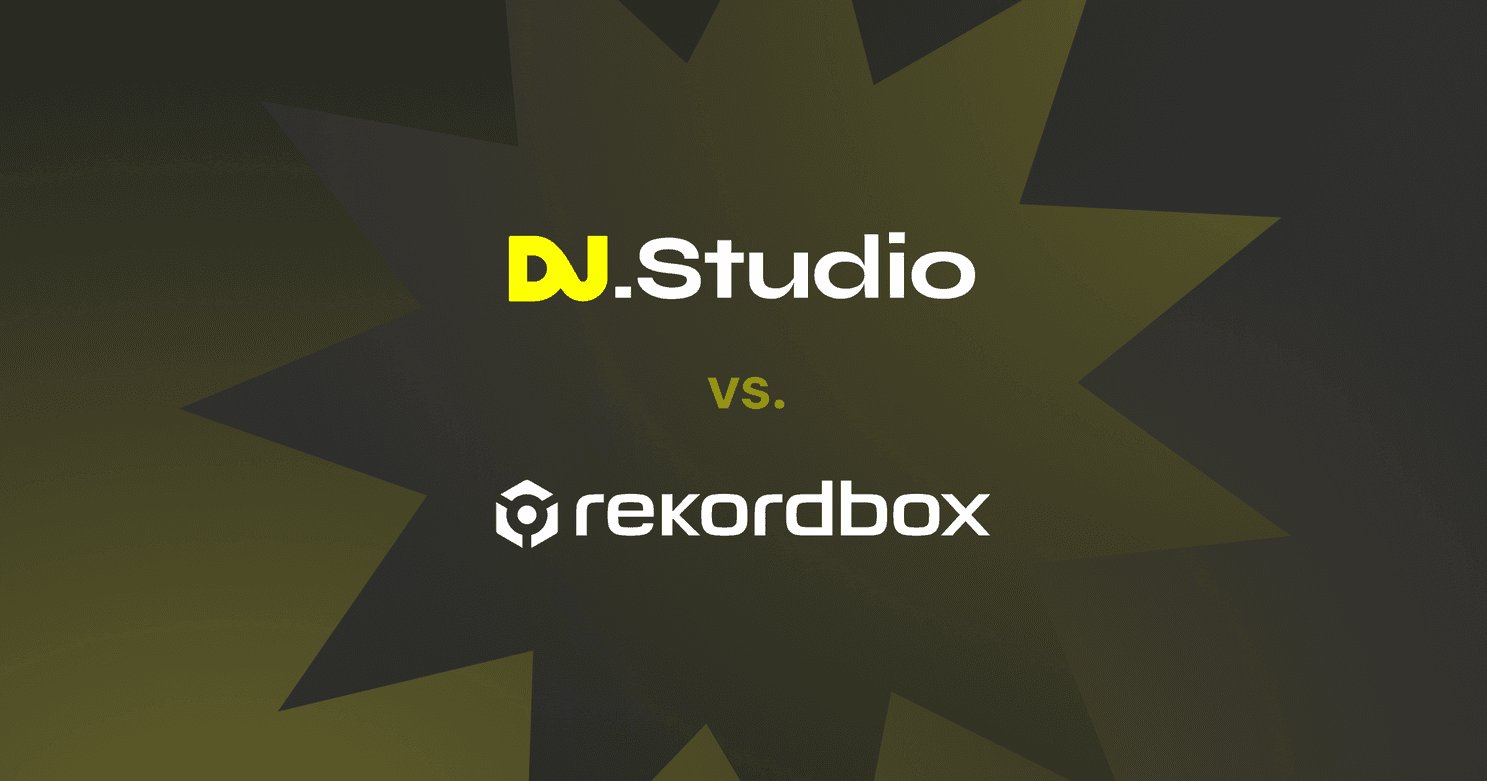 This comparison of DJ.Studio and rekordbox highlights which DJ software is the best for certain situations.
2 months ago
DJ mixing software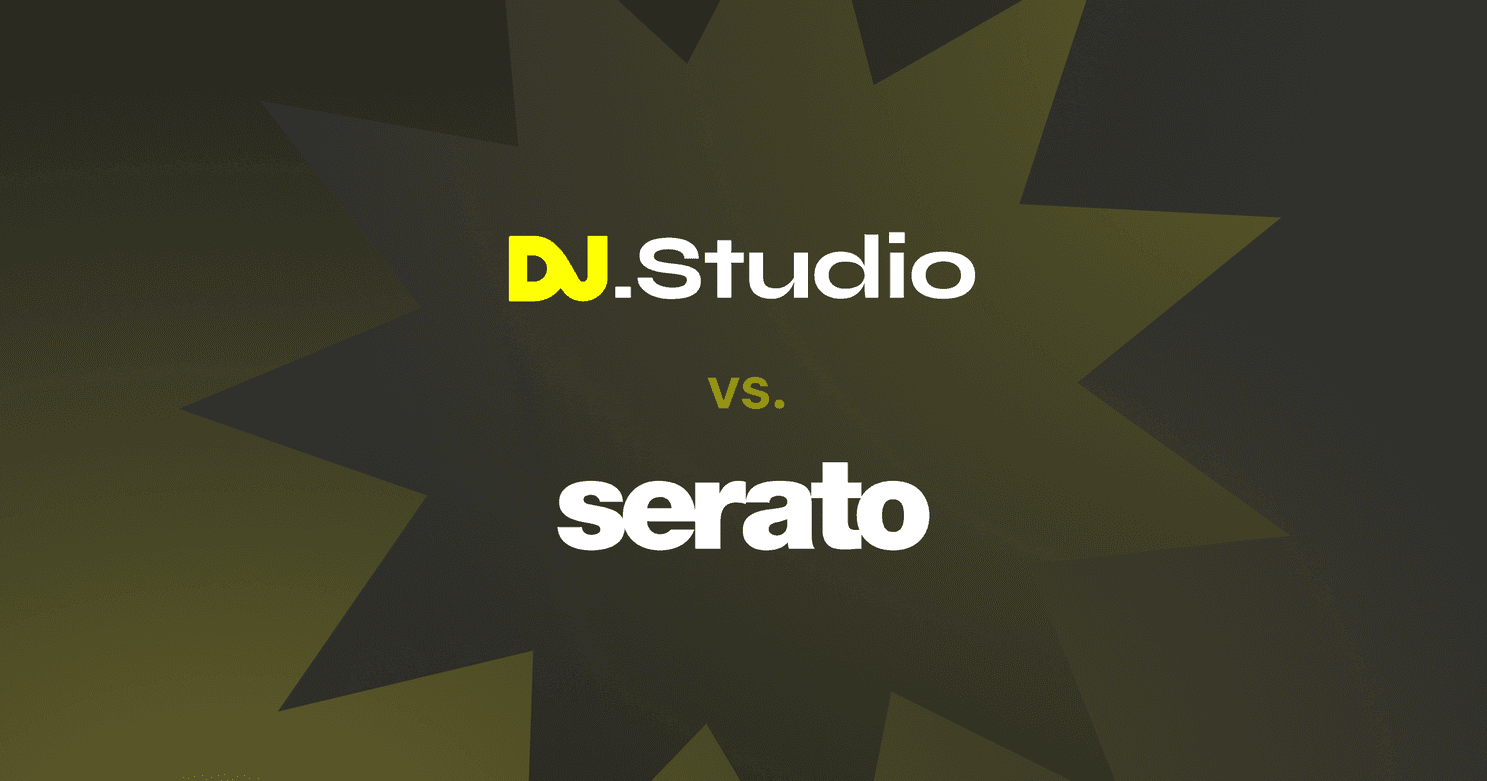 Serato is a popular choice for DJs, although DJ.Studio is quickly becoming a powerful addition, which will enhance any DJ's workflow.
last month
DJ mixing software