7 Best Apps For DJ Mixing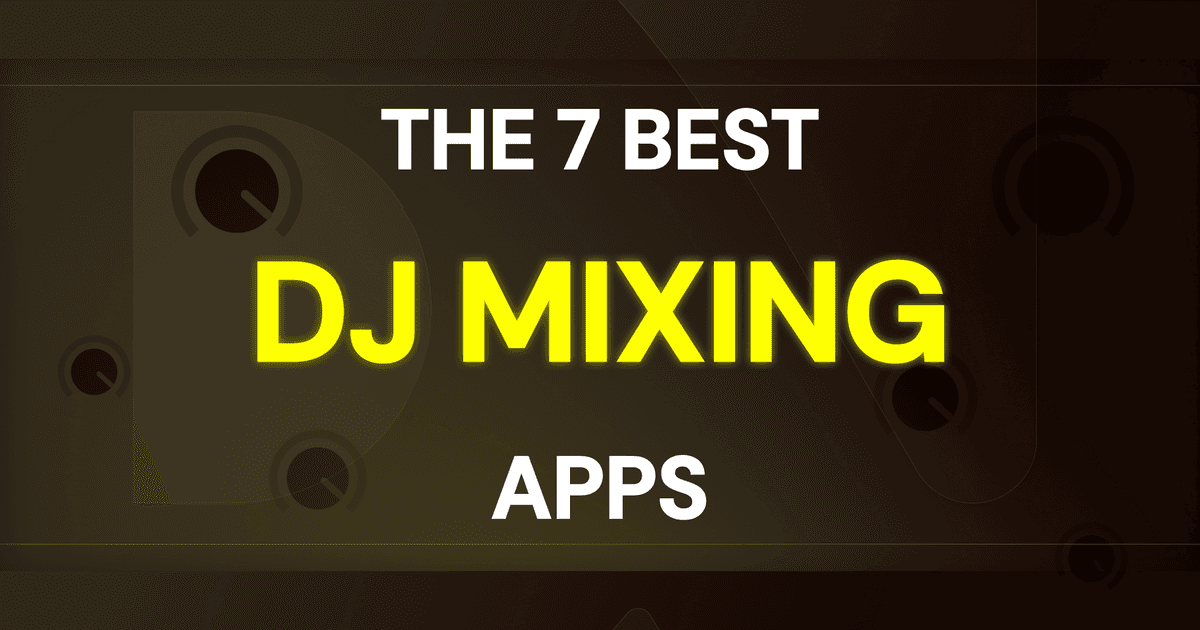 These days, there are countless ways a DJ can mix their tunes. Whether they're using old-school vinyl, CDJs, DJ controllers, or even a modern, software-only setup. Every setup type revolves around achieving the same results - creating a killer mix, although the workflow is different for each method.
Regardless of what type you use, DJ software is one of the most important and powerful parts of a modern setup. But with so many DJ apps to choose from, which is the best choice for you?
This guide shows you the best DJ apps available today and helps you find the best style for the way you like to mix music. Enjoy!
TL;DR - Best Apps for DJ Mixing#
There are hundreds of DJ apps out there, with varying quality.

Some apps are better for live performances, others are better for crafting mixes in the studio.

rekordbox, Serato, and Traktor are some of the best choices for live Djing.

DJ.Studio is a new DJ app that offers a uniquely powerful workflow.
The 7 Best Apps For DJ Mixing#
Here are some of the best apps for DJ mixing! Check out the extra sections in the second half of this guide which explain important things to consider when choosing your new DJ software!
1) DJ.Studio#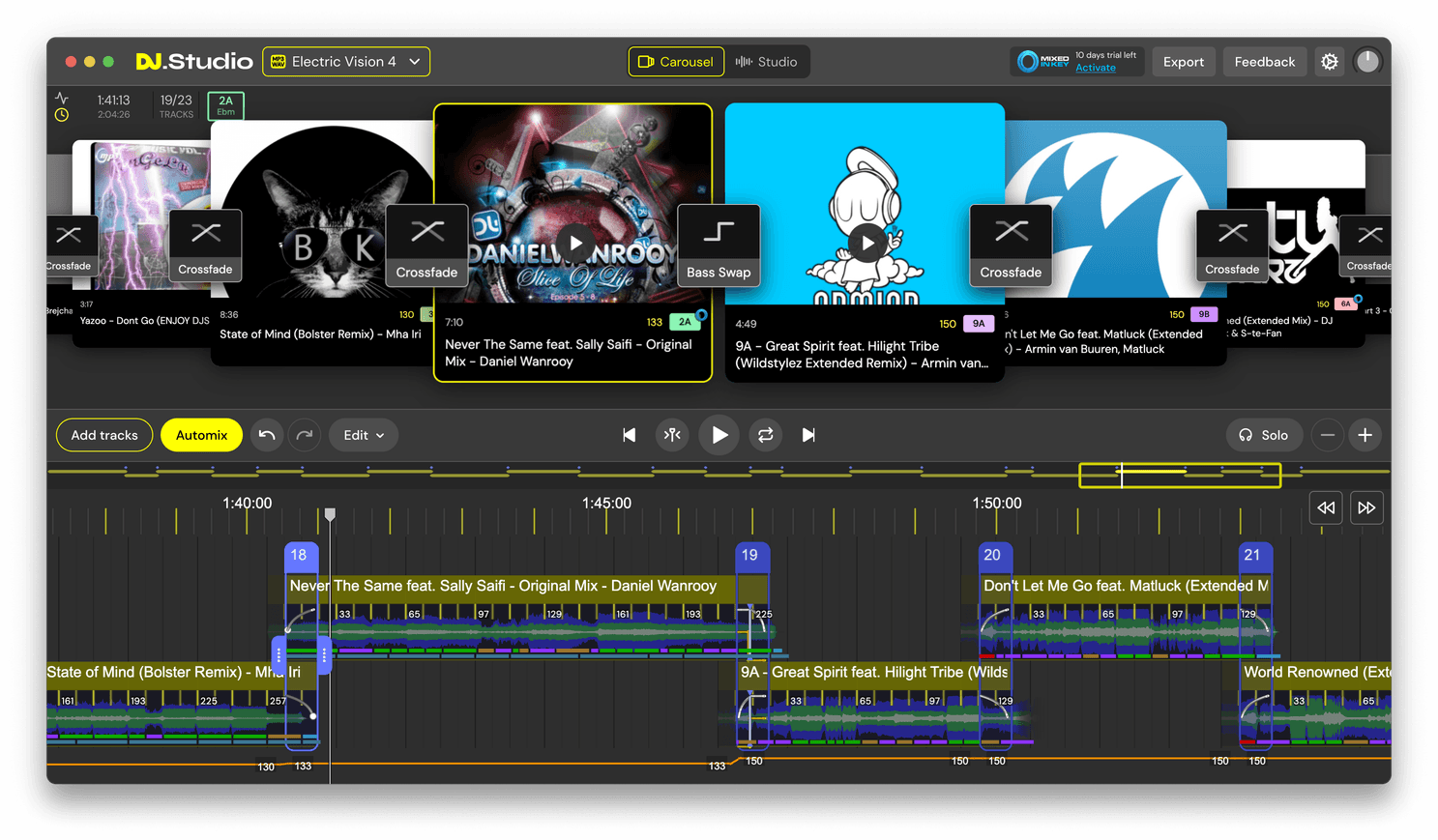 DJ.Studio is a unique offering on the DJ software market and provides a range of unseen features that give DJs, music lovers, radio hosts, podcasters, and other mix creators a whole new level of creative power.
Rather than working like traditional live DJ software, DJ.Studio is a timeline-based editor which makes the mix creation process non-linear and more flexible.
You don't need to worry about recording a mix live, and instead can craft it with an infinite amount of detail, using your mouse and keyboard alone! This will be familiar to anybody who has used music production software before.

Not only does it give DJs a new method for mixing music, but it's packed with cutting-edge features that expand the expressive and creative process of making mixes.
Sure, club DJs will still need to use additional live DJ software when they're in the club, although using DJ.Studio together offers an advantageous hybrid workflow.
To understand why DJ.Studio is so unique and powerful, take a look at its workflow.
Launch DJ.Studio, either the downloaded app or directly in your browser.

Create a new project - Local mode works with your downloaded audio files, and Online mode lets you mix with any track on YouTube or YouTube Music.

Add Tracks - Pick songs you want to use in your mix and import them to your playlist.

Automix - The AI-powered automix system will then analyze all your tracks, and work out the optimal sequence based on the key and BPM of your tracks. This automatically harmonically mixes and beat matches your tracks, creating seamless transitions between each one.

Jump over to the Timeline Editor - Here you can further customize your mix, including adding effects, automating EQs and filters, creating loops, and changing the arrangement and placement of tracks. You can add new tracks to your mix if you think it needs some.

Use the Transition Builder - The transition interface lets you select a range of transition presets for each track. You can then further customize them by manually drawing in the parameter values, creating unique transitions. This lets you automate every parameter simultaneously, creating transitions that wouldn't be possible on a hardware mixer.

When you're happy with your mix, it's time to record and export your set. DJ.Studio lets you send your mixes to a range of locations, including MP3s, WAVs, YouTube Videos, Mixcloud, or even an Ableton Live multitrack project for further editing and adding sound effects.
As you can see, this user-friendly app provides a wide range of unique features and tools, offering a completely new workflow for DJs.
This is designed to increase productivity and efficiency, while also opening up new creative doors for DJs, letting them sculpt and craft their mixes in a new level of detail.
It's simple enough for beginners but also has a range of deep pro features for the biggest names in DJing.
You also don't need to worry about the pain of re-recording when you make a mistake in your mix! Check it out yourself with the free 14-day DJ.Studio trial!
2) rekordbox by Pioneer DJ#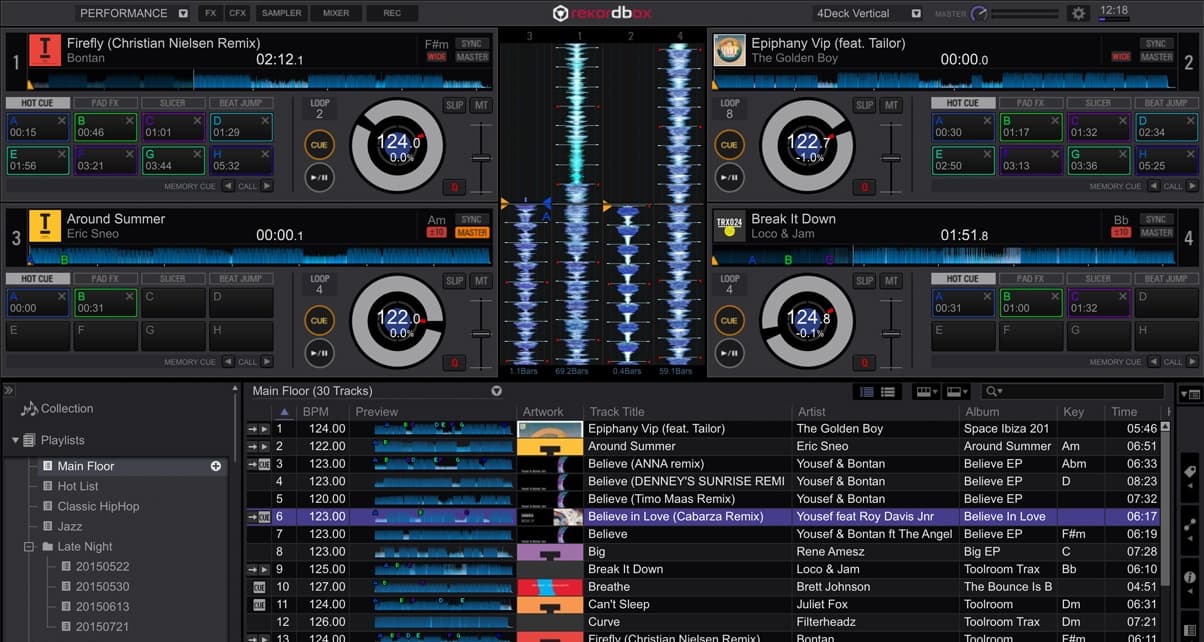 rekordbox is one of the largest names in DJ software and has seen years of development to make it a decent option.
If you want to mix live, rekordbox is one of the best choices - although it is limited to only working with Pioneer DJ controllers, so it won't be suitable for everyone.
It has all the basic features you need to mix a DJ set, including a music library for managing all your favorite music, beat sync, looping, effects, and a well-featured virtual mixer.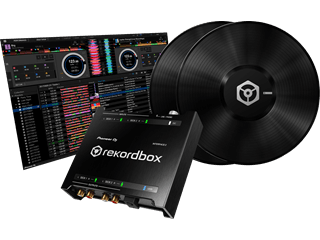 There are a couple of different tiers of rekordbox, with the most expensive versions offering cloud storage, streaming integration, and more features for live performance.
As you'll see, the general feature set offered by the other live mixing software is basically the same, with some slight variation. The free version of rekordbox is a good place to start if you want to test out mixing DJ sets.
3) Serato DJ#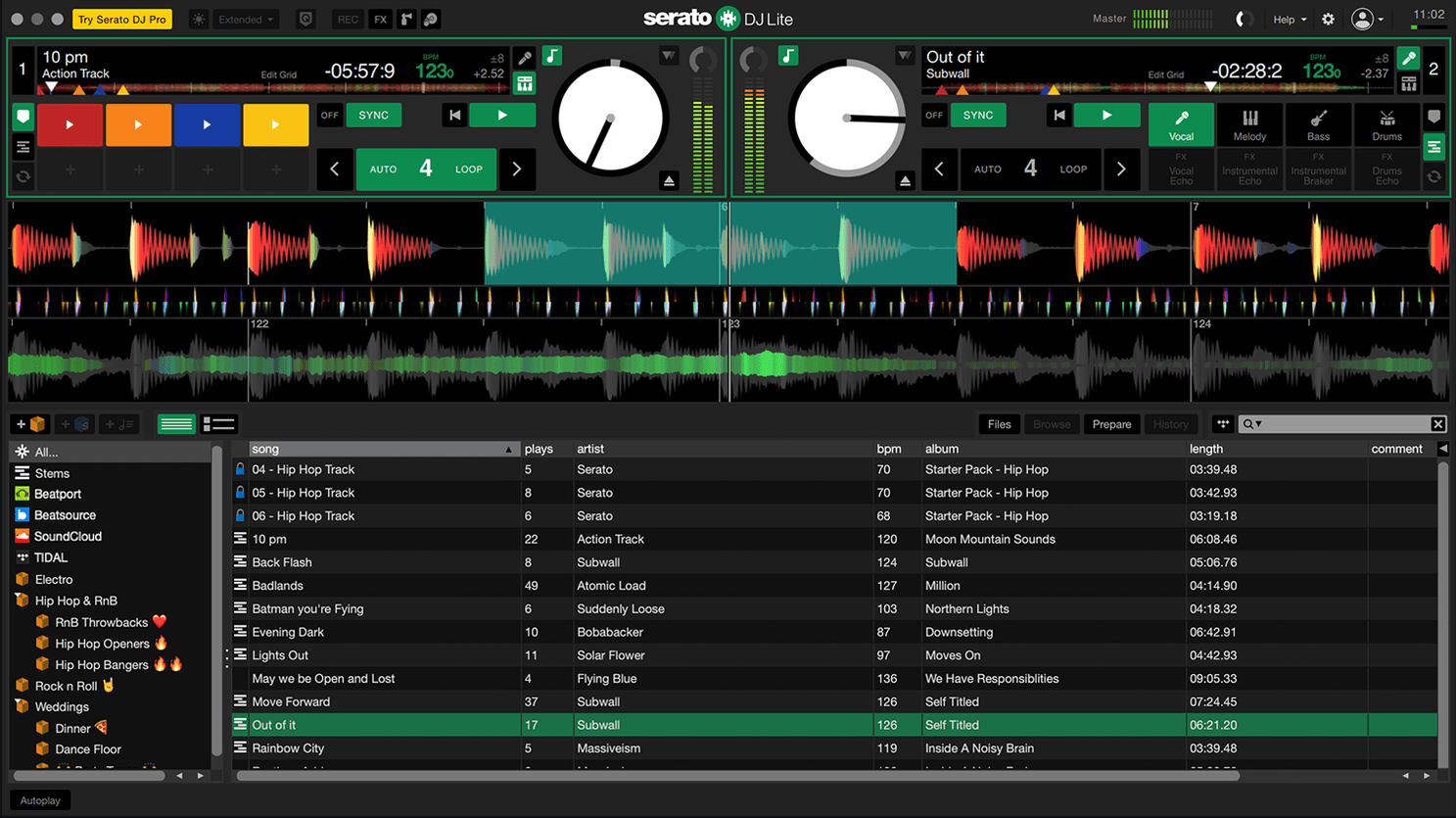 Serato is another big name in the DJ scene and is known for its broad controller connectivity and hardware integration, stability, and customizable interface.
Like rekordbox, it has all the features you need to get mixing - including sync, a virtual mixer, effects, track management, and more.
This is popular in the hip-hop DJ community, thanks to its live remixing features and wide range of effects.
A standout feature of Serato is the hardware connection. Unlike a lot of software, Serato isn't limited to working with only Serato hardware, meaning you can connect it to most DJ controllers on the market, regardless of what brand.
You can find Serato at a range of prices, including the free version.
Serato DJ Pro is the more expensive version with a larger set of features. This also gives you the ability to use DVS (Digital Vinyl Systems), which simulates the feeling of vinyl, but with the flexibility of digital software.
4) Traktor DJ#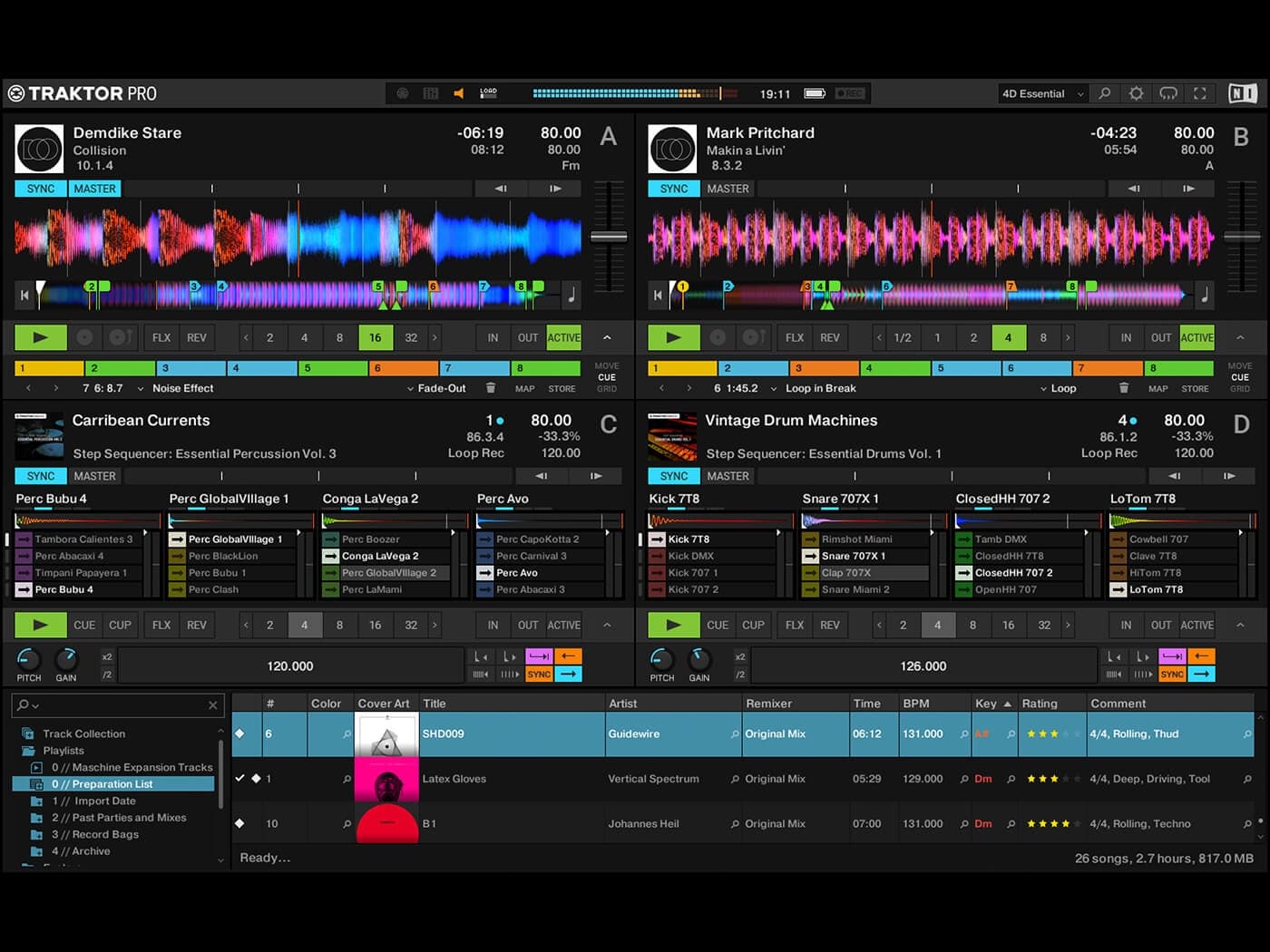 Traktor is a DJ app made by Native Instruments and is also one of the most popular live options. This handy software gives you all the tools you need to mix live and is one of the top contenders.
If you want to use hardware, note that Traktor is only compatible with Native Instruments-endorsed gear, which will limit your options.
5) Virtual DJ#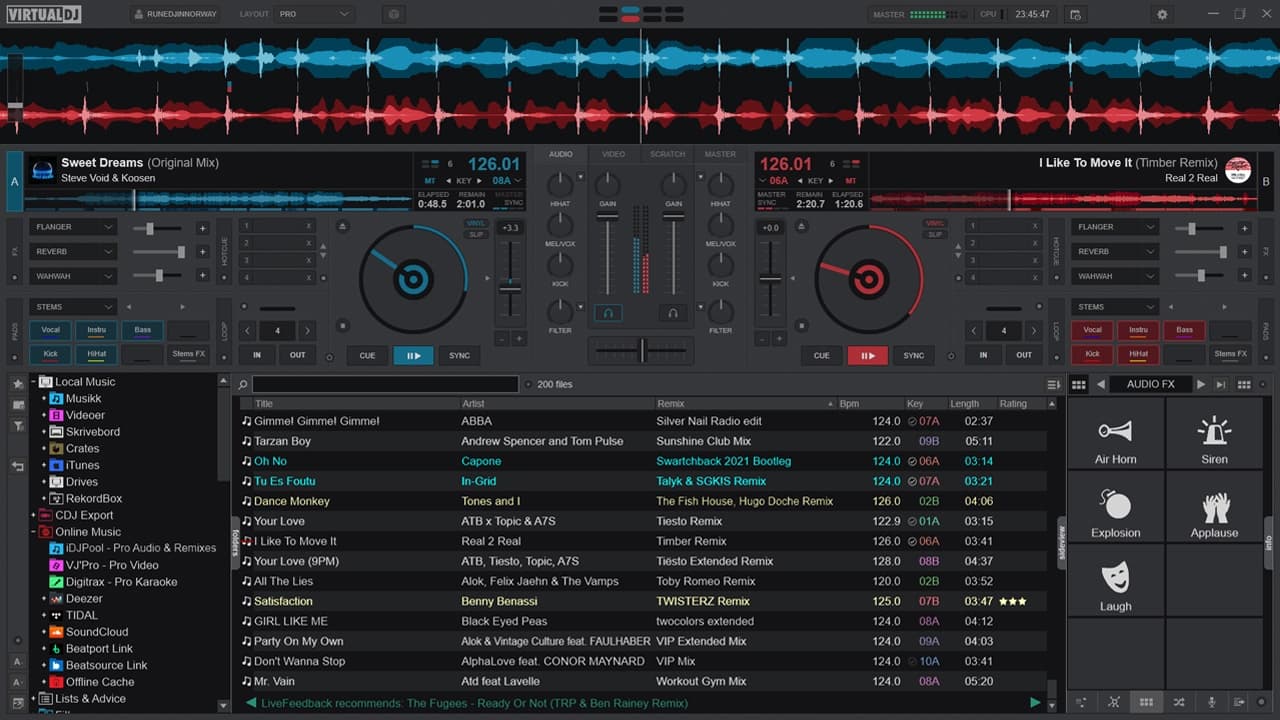 A neat feature of Virtual DJ is the versatility of hardware integration. Rather than being limited to a particular brand, you can connect most DJ controllers to Virtual DJ. All you need to do is spend a bit of time MIDI mapping the knobs and buttons, and you're good to mix!
6) DJay Pro#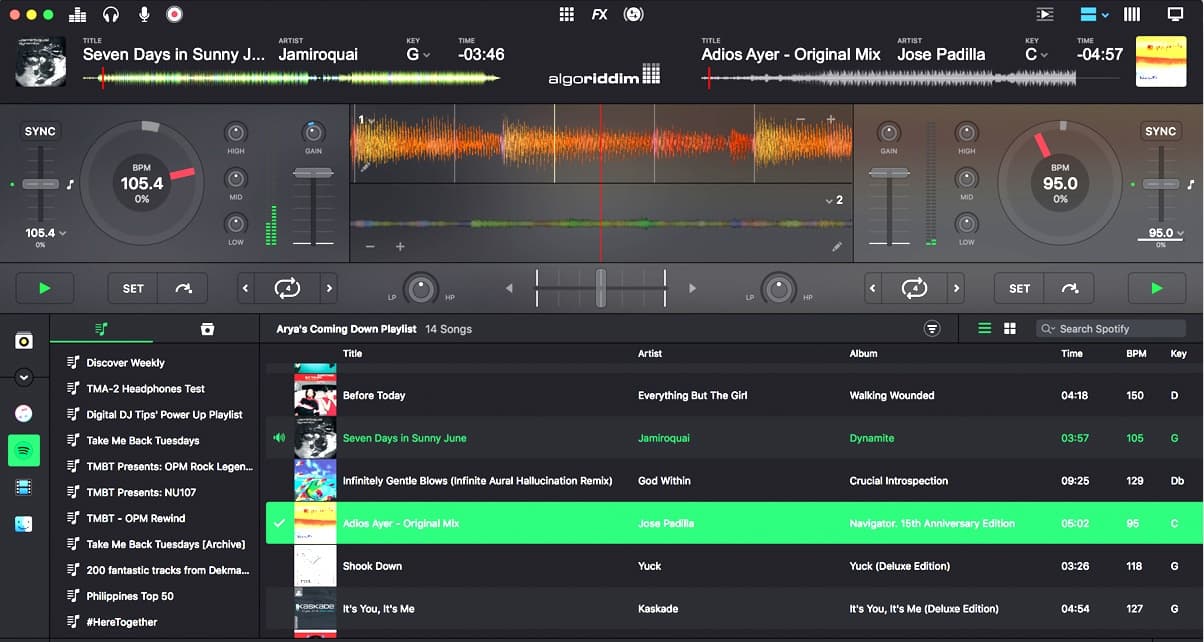 DJay Pro by Algoriddim is a relatively new option on the market but still has a bunch of attractive and advanced features. Most notably, the DJay Pro AI feature gives you access to stem separation. This lets you isolate individual elements of tracks (like vocals, basses, drums, etc.) so you can make impressive remixes on the fly.
However, it is generally a bit more restricted and limited in comparison to older DJ software, so only go for this if you want the stem separation.
7) Mixxx#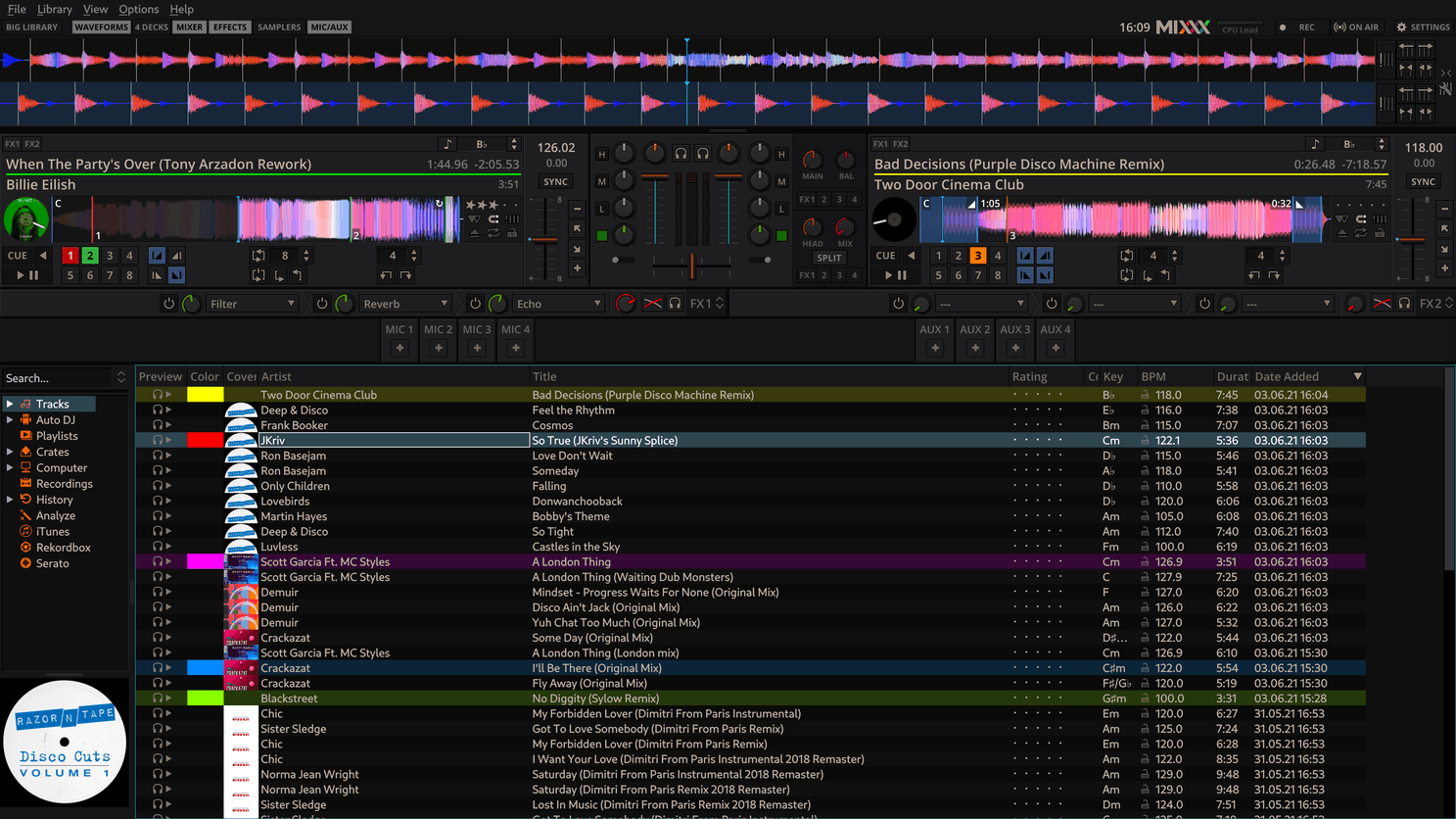 Mixxx is a unique character on this list as it is the only free and open-source DJ software. This means it's entirely community-developed, and you won't have to pay a single dollar to access all the features.
This means it's a good option for people on a tight budget, and it has a lot of customization options too.
However, being free, it also has a lot of limitations. It's pretty unstable and doesn't have the same level of reliability as paid software. There is also no official support, so you'll have to use the community forums to answer any questions.
That said, if you want a completely free piece of DJ software to experiment on, Mixxx is a nice choice and even gives you hands-on control with most entry-level controllers. Now that's good value!
Best Mobile DJ Apps#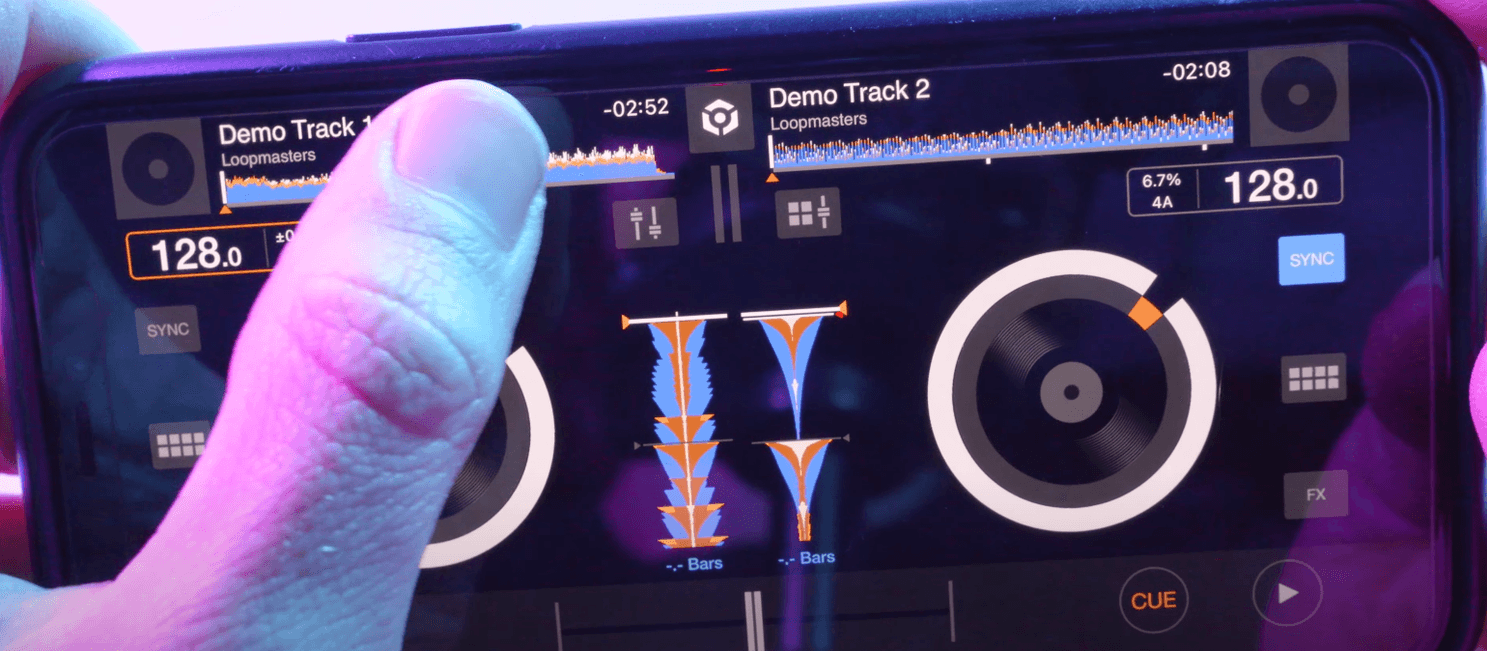 If you're looking for DJ apps to use on your phone or tablet, these are some of the best options.
By the way, DJ.Studio works on tablets, and a mobile app is coming soon!
Edjing Mix - One of the longer-reigning names in the mobile DJ scene, Edjing Mix is a well-featured app that lets you connect with a bunch of streaming services, including Soundcloud Go and Tidal. This makes it ideal for mixing on the move without needing a lot of downloaded music!

YouDJMixer - Offering virtual turntables, you can start mixing and scratching music on Android and iOS for free!

DJ Mixer Studio - This is a great choice for creating live remixes, and has a bunch of loop effects and sample pads for spicing up your mixes, as well as all the usual tools!

WeDJ - Letting you mix and compose music, WeDJ features a nice interface that lets you see a song's structure in one quick look. It also automatically analyses phrases, and features beat synchronization.

Cross DJ - Featuring a sampler, waveform display, and turntable simulation, CrossDJ lets you mix music on your mobile phone like a pro. It's super easy to use and is available on both iOs and Android devices.
What Makes Good DJ Software?#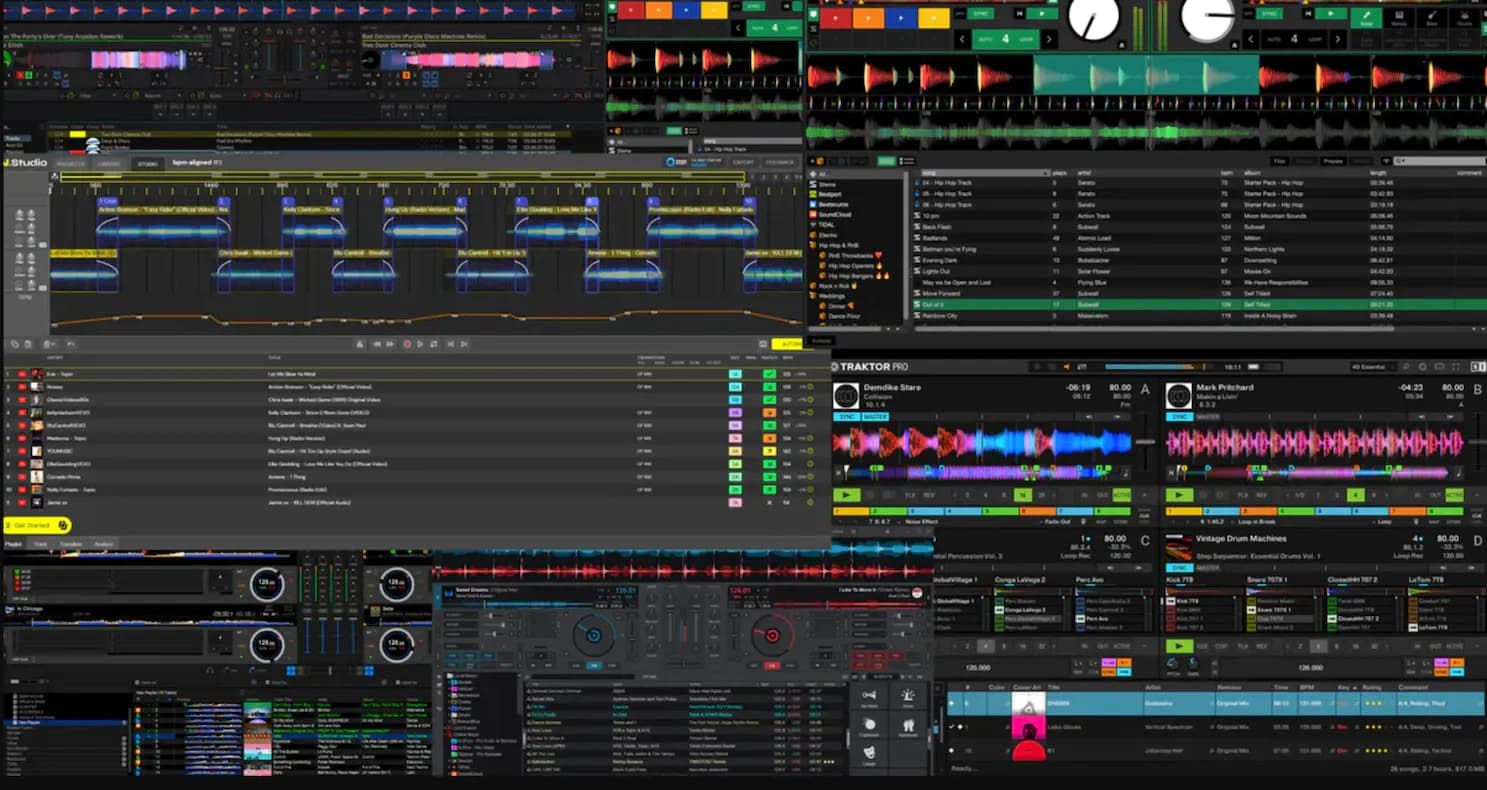 With such a large range of DJ apps to choose from, it can be hard to know what is the best for you - especially if you don't know what to look for.
There are a few core features that every DJ software should have, including the ability to:
Beatmatch

Mix volumes

Use EQs, filters, and effects

Loops and adjust track arrangements

Import and manage music tracks
There are other features that professional DJs might look for, such as stem separation, recording, controller integration, and the option for connecting to streaming services.
Ultimately, the best DJ software depends on what features you like, based on your mixing style.
Some important things to look out for are:
Stability - Some software is prone to crashing, while others are super reliable. Most of the top software is stable these days, although some still have bugs. This is particularly important in professional situations.

Compatibility - If you plan on using your software with a DJ controller, make sure it's compatible with the model you own/want to buy. Some software works with any controller, but others are limited to certain brands.

Features - The general feature set is mostly the same across platforms, although you will see a fair amount of variation. Study the features offered by the software you are considering, and make sure it offers tools that you want to use.

Price - You can find DJ software at a range of prices, some even come with a few pricing tiers, offering more features at a higher cost. You don't need to spend loads of money to purchase a decent app, and some even offer subscriptions to make access even more affordable.

User Interface - You want a clean and user-friendly interface for your DJ software. Most of them are pretty similar, although they each have a slightly different style. Go for one that looks comfortable and exciting for you when possible.
Live vs. Studio DJ Software#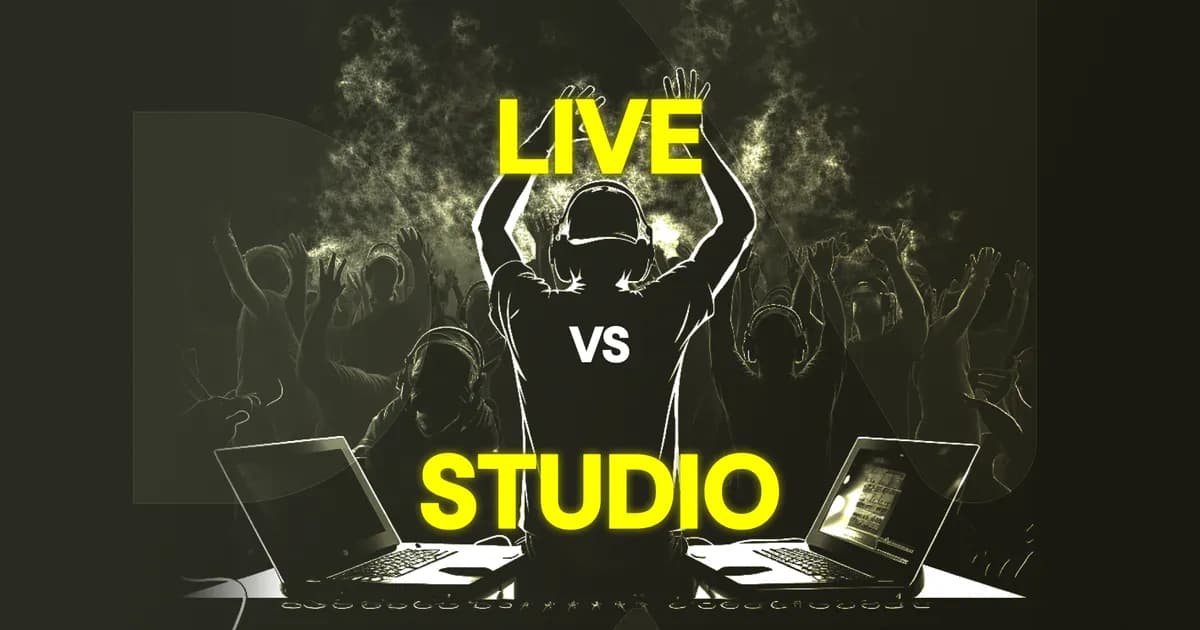 When looking at DJ applications, you will see that there are two types - Live and Studio.
Live software is the most common, and as the name suggests, is designed to mix songs live in real-time.
Studio software is an alternative option designed to enable the creation of DJ mixes from in your studio, without needing to mix live. You can think of this as a DAW for DJs. It's similar to audio software that lets you compose music, although its geared for making DJ mixes instead.
This type of software is less common, with only MixMeister and DJ.Studio being the notable examples. Although, MixMeister has been depreciated and doesn't run on modern operating systems.
For the most flexible DJ workflow, I recommend you use both types of software. You can use studio software to craft more detailed mixes, share them online for promotion, or use them on radio shows. Then, use live software with a controller in the DJ booth when you want to play to a live audience.
How To Choose The Right DJ App For You#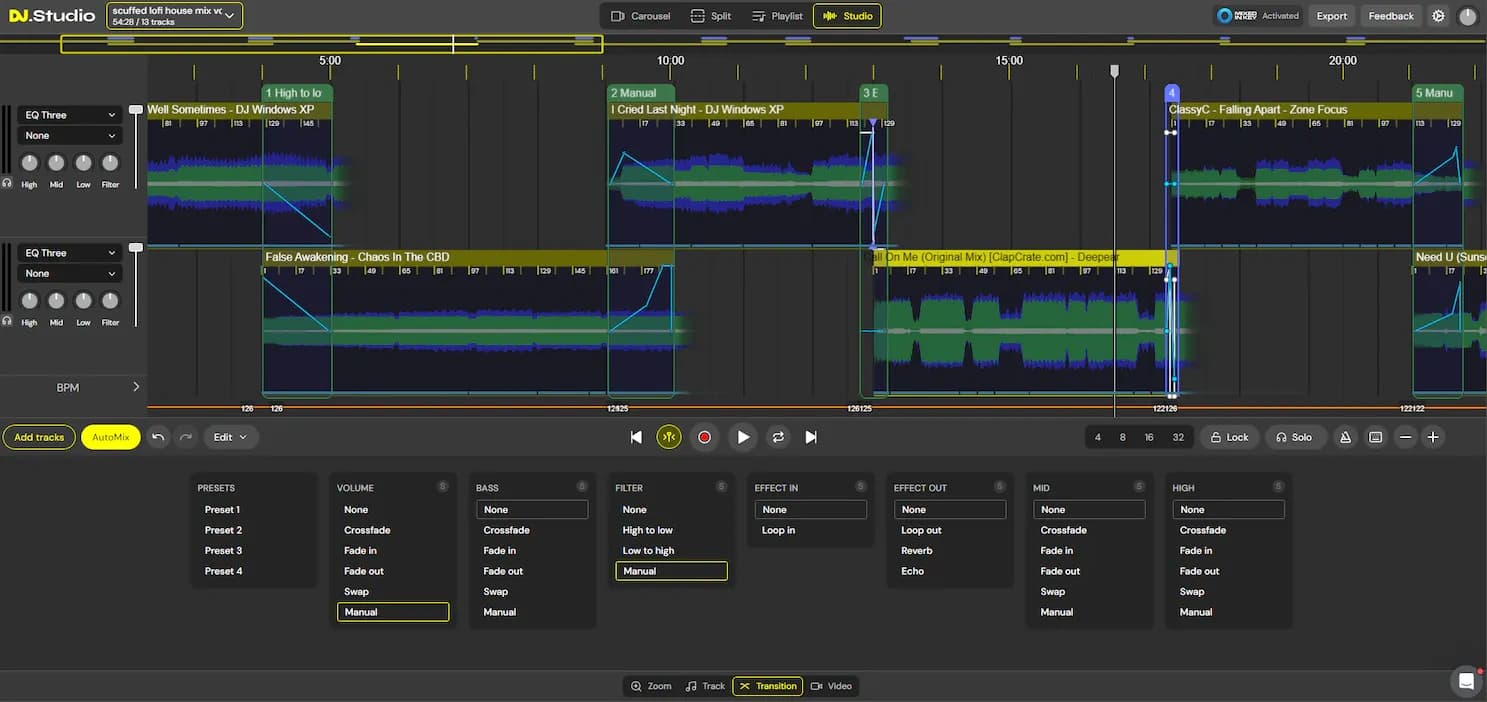 It's worth dedicating a good amount of time to finding out which DJ software is the best for you. If you are considering taking DJing seriously, then you may end up investing a lot of time and money into your software.
To work out which is the best type of software for you, I'd recommend you follow these steps:
Make sure you spend some time understanding the points laid out above in the "What Makes Good DJ Software" section. Consider what features are important to you, and which are not so vital.

Make a list of the software you think sounds right to you - you should find enough in the list above.

Download the free version for each software - most have one.

Test out each software, making mental notes of which feels best for you.

When you find one software you like, spend more time on it and see if you feel like it's worth paying for.

Start by buying the most affordable version, and then consider upgrading later when you need more features.
Remember to test out both live and studio-type software, as there is a large difference between the workflow of each style. You will find it beneficial to eventually own both types of software - but you might want to start off with just one if you are new to DJing.
I would personally recommend starting on studio software, as this will help you to get your head around the core concepts easier than live - but if you want to start mixing to audiences straight away, then look into live software first.
Summary#
With the above list, you'll have no problem finding the perfect DJ mixing app for your needs.
I would personally recommend trying out both live and studio software, as using both types will offer you the most powerful and flexible workflow.
Most of these have a free version, so make sure you test out the demos before buying so you can get a feel of the software.
If you want to get a taste of what is possible with digital DJing, you should test out the free 14-day DJ.Studio trial!
FAQs About DJ Mixing Apps
How to mix two songs for DJ?

What is a good free DJ app?
Related Posts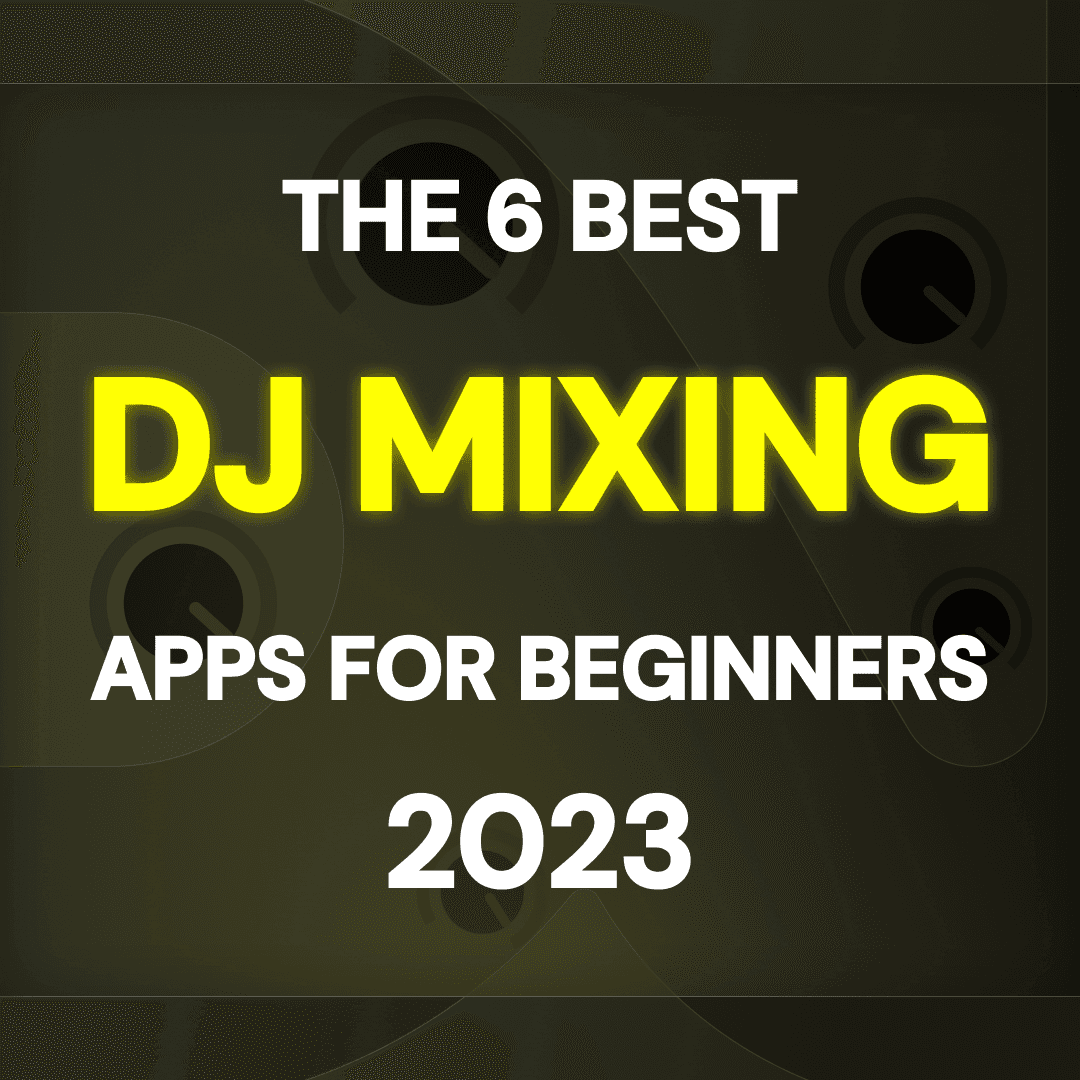 Are you a new DJ looking for the best mixing software? Click here to discover the best choices! There are lots out there, so find help in this guide!
5 months ago
DJ mixing software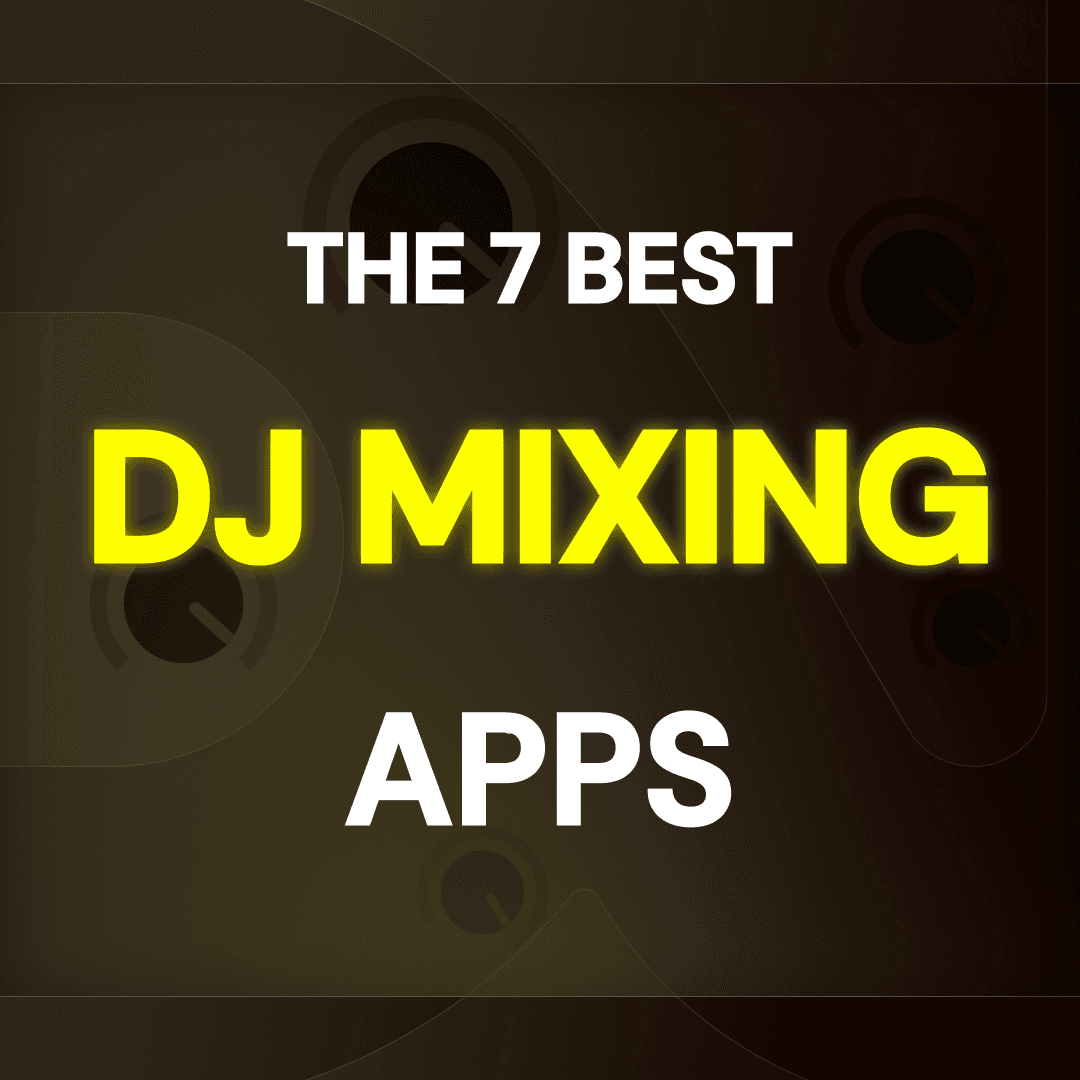 With so much DJ software out there, it's hard to know what's best... This guide reveals the secret to finding the perfect DJ tools.
6 months ago
DJ mixing software

Automix software makes DJ's lives easier - although some are superior to others.