The 6 Best DJ Software for Beginners in 2023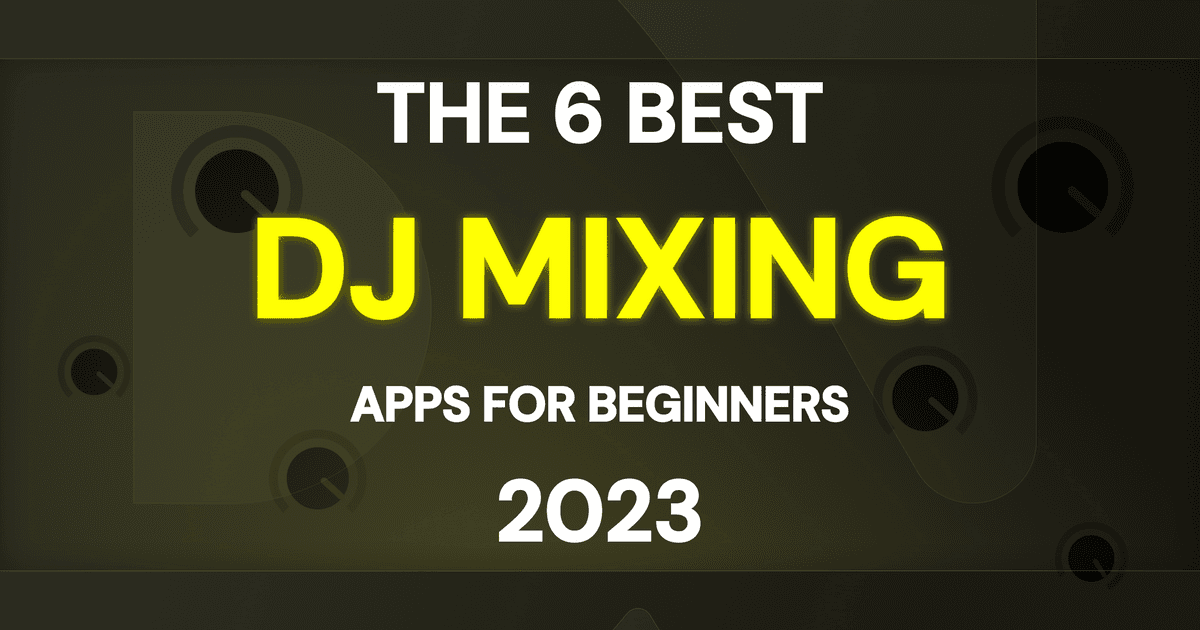 If you are new to Djing, you might be considering going down the software route. Using DJ software is a great choice for beginners, and lets you get to grips with the main concepts of DJing without having to splash out on expensive hardware.
There are a bunch of different options when it comes to DJ software for beginners. Some of the best choices are free - which you really can't complain about!
In this guide, I'll take you through all the best choices in DJ software for beginners, as there are loads out there. I'll also explain some important things to think about to help you choose the software that most closely suits your style and interests.
Finally, I'll share a couple of extra tips on how to progress your DJ career, based on my experience taking the journey to becoming a professional DJ.
How To Choose A DJ Mixing App For Beginners?#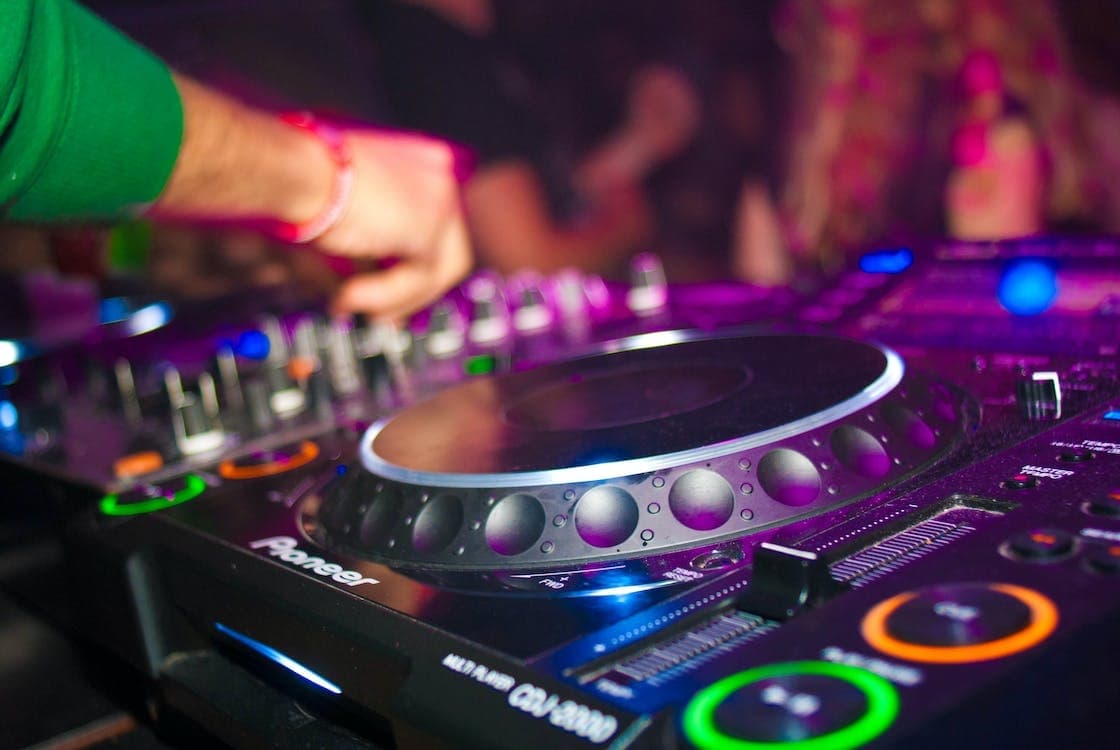 When it comes to choosing DJ software for beginners, there are a few different considerations to make, to ensure you pick the right type.
Do you need a DJ controller, or are you happy musing a mouse and keyboard?
Do you want to mix live, for a real audience, or are you looking to make mixes to share online?
These are just some of the questions you should ask yourself when choosing a DJ mixing app.
Here are the main points to think about when choosing some new DJ software.
Budget - The first thing to consider is your budget. You can find DJ software at all ends of the price spectrum, from free software to professional-grade software that can be very expensive. Work out how much you're willing to spend and find software that fits your budget. Many companies also offer subscriptions, which can make the initial cost lower, although this will add up over time. You might consider choosing Free DJ Software if your funds are tight.

Features - Consider what features you need in DJ software. Most software has all the important basic features like beatmatching, EQ controls, and effects, but some offer more advanced features like loops control, sample triggering, key detection, and harmonic mixing tools. You might want to avoid software that has too many features that you don't need, as this can make it more complicated to use - although it will give you more room to grow in the long run.

Compatibility - Make sure the software you choose is compatible with your computer operating system and hardware. Some DJ software is designed specifically for Windows or Mac, and may not work on the other platform. Although most days they work on both platforms. If you are considering using a DJ controller then make sure you choose software that accepts the controller you want to use.

Interface Style - Choose software with a user-friendly interface that's easy to navigate. Some software may have a steeper learning curve than others, so look for one that you feel comfortable using. You may be used to the deck-style interface, or you may prefer a DAW/timeline-style interface like DJ.Studio.

Support and Community - Look for software that comes with good customer support, including online tutorials, forums, and user manuals. This can be especially helpful for beginners who are just starting out and may need extra help getting started. 
If you take these points into consideration you can choose a DJ software that's right for your needs and skill level. That said, the majority of DJ software applications are very similar and offer largely the same software features. If you want to look at more advanced DJ apps, see our guide on the Best DJ Software!
Comparison Table#
See more on our DJ.Studio Comparison Page.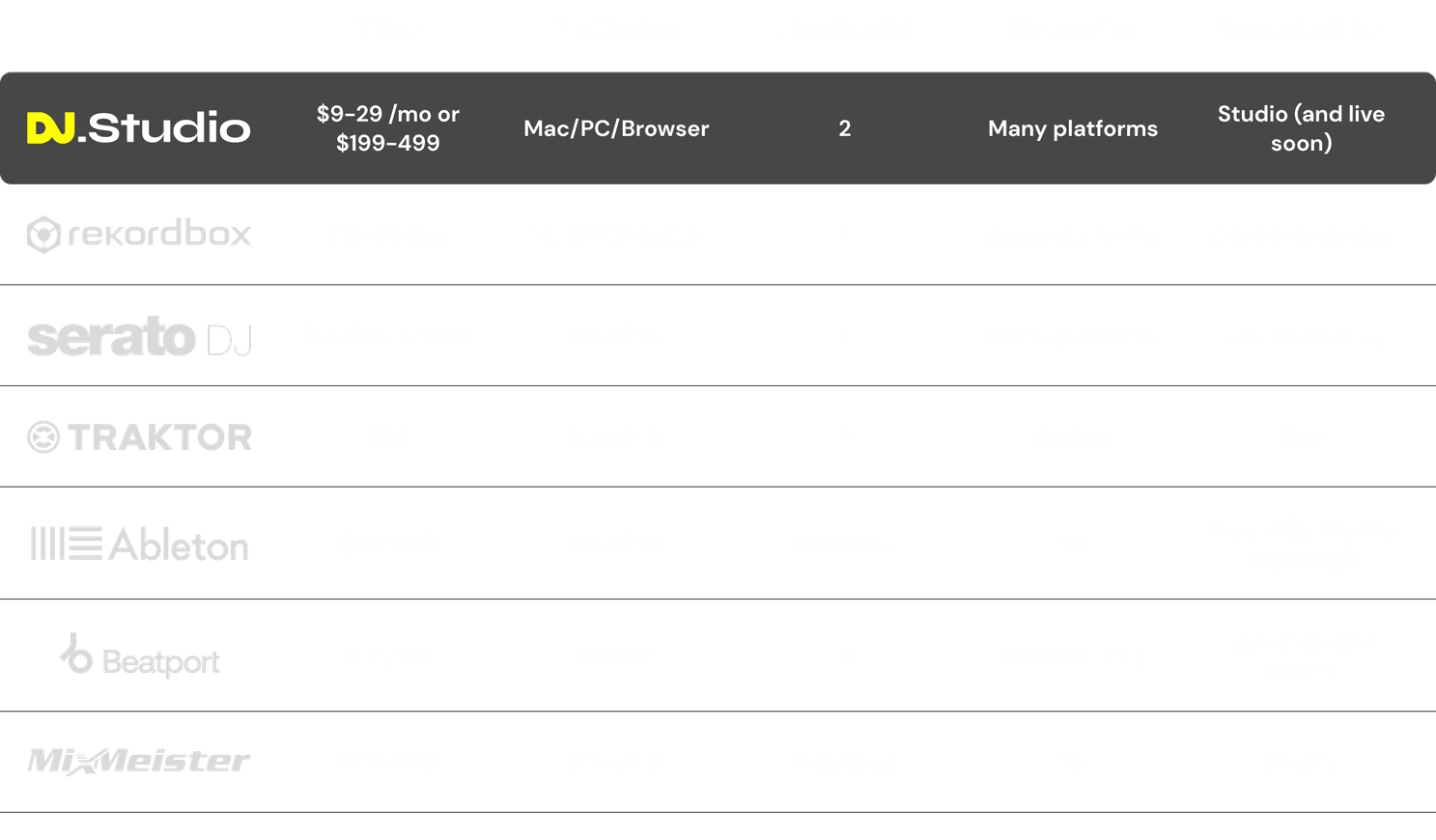 The 6 Best DJ Software For Beginners#
I chose these 6 best DJ software for beginners based on their value for money, simplicity, and learning curve, and because they can all accommodate you as your skills progress to more professional levels.
I've used all of these myself for many years, so I can personally guarantee that these are the best options on the market. It's worth noting that you don't have to use just one, you can try them all out and find out which one works best for you.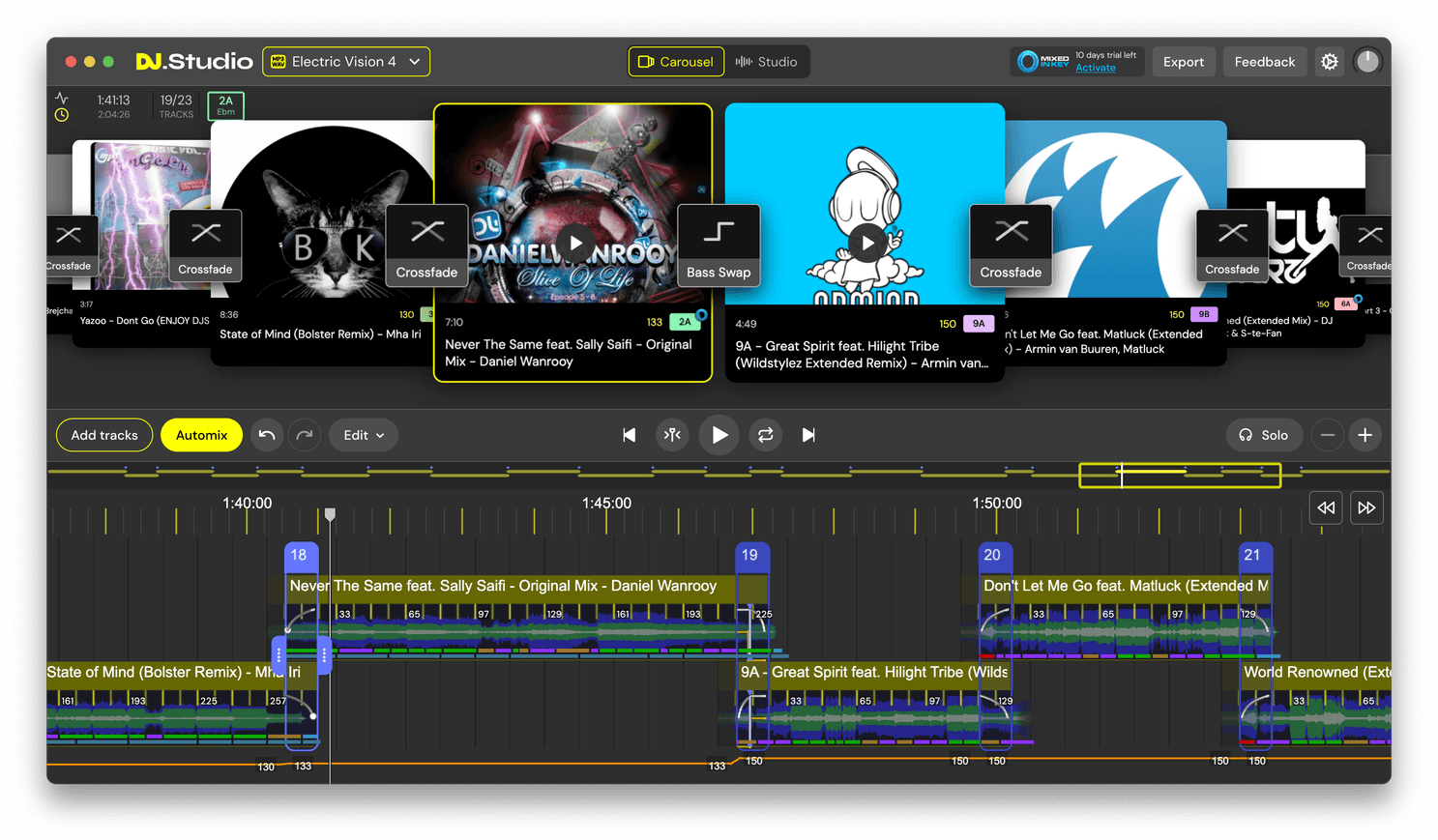 The best choice of DJ software for beginners if you want to get acquainted with the concept of Djing , allowing you to make full mixes in minutes. If you want to play live, you should choose other software.
Price = Free trial available, subscription for $9/29 a month, or a one-time fee of $199/$499.
Hardware Support = Coming Soon
DJ.Studio offers a unique approach to DJ software that moves away from the traditional and outdated approach. I will preface this by saying, that DJ.Studio is not suited for live use - like DJing at a club or party (unless you want to mime). However, this is the ultimate tool for creating DJ mixes on your laptop or in your studio at speed. It's the perfect Mixmeister Alternative!
If you want to discover new music, compile playlists, instantly find the optimal sequence of tracks based on key and tempo, precisely edit transitions, and quickly export your mixes to a range of online platforms, DJ.Studio is the best choice.
Thanks to its unique timeline editor (similar to music production tools), AI-assisted analysis algorithms, and automix functionality, DJ.Studio is the ultimate and most powerful tool for creating DJ mixes. It can even DJ tunes from streaming services like YouTube! This also lets you mix music videos at the same time.
Even more impressively, is that you can create professional-sounding DJ mixes - even for humble music lovers who've never touched DJ controllers in their life. This software is completely revolutionizing the DJ game and is worth checking out for beginners and pros alike.
Pros
A unique and powerful workflow

Automix Software - create a full set in minutes

Build mixes and transitions that wouldn't be possible with standard mixing tools

Quickly share mixes to a range of online platforms including Mixcloud, YouTube, and more!

Ideal for humble music lovers to veterans of the DJ booth!
Cons
Not suitable for live mixing and performances by club DJs

Doesn't give you the 'hands-on' experience of traditional-style interfaces

Won't be any help for scratch DJs.
2) rekordbox#
A great first taste for new DJs which comes with a well-featured free version and is easily expanded as your skills progress.
Price = Free $15/22/40 Month
Hardware Support = Yes, but only Pioneer DJ controllers
Rekordbox is a popular DJ software created by Pioneer DJ. It is a great option for beginner DJs due to its user-friendly interface and comprehensive library management system.
Also, the fact that there is a free version of this DJ app is very attractive. I mean, why not try it out? It doesn't have to cost you a penny, and you can start mixing right away. The only caveat with the free version is that you can't use any hardware controllers, but it's still a good place to start.
There are 4 versions of rekordbox: Free, Core, Creative, and Professional. Each has more advanced functionality as you progress toward professional software, having something suitable for any stage of your DJ journey.
Rekordbox allows users to analyze and prepare their music library, set cue points, and create playlists. It also has a range of performance features, such as beat sync, effects, and loop controls.
One of the major advantages of rekordbox is its integration with Pioneer DJ's hardware, allowing for seamless control over your music. In my experience, Pioneer hardware is the most common type you'll find in nightclubs, so being in this system can have its advantages, and most pro DJs have a rekordbox account.
This is arguably the best free DJ software if you want to go down the live performance route. While the free version is limited, it has everything you need to get started and can help provide a good foundation to move forwards on. You can't complain about a free app!
Check out this full Comparison of rekordbox and DJ.Studio!
Pros
User-friendly interface

Comprehensive library management

Integration with Pioneer DJ hardware - common in most clubs

Range of performance features ideal for club DJs

Affordable pricing and has a free version
Cons
Need to pay higher prices for more advanced features

Slightly old-fashioned interface

Only works with Pioneer hardware
3) Traktor DJ#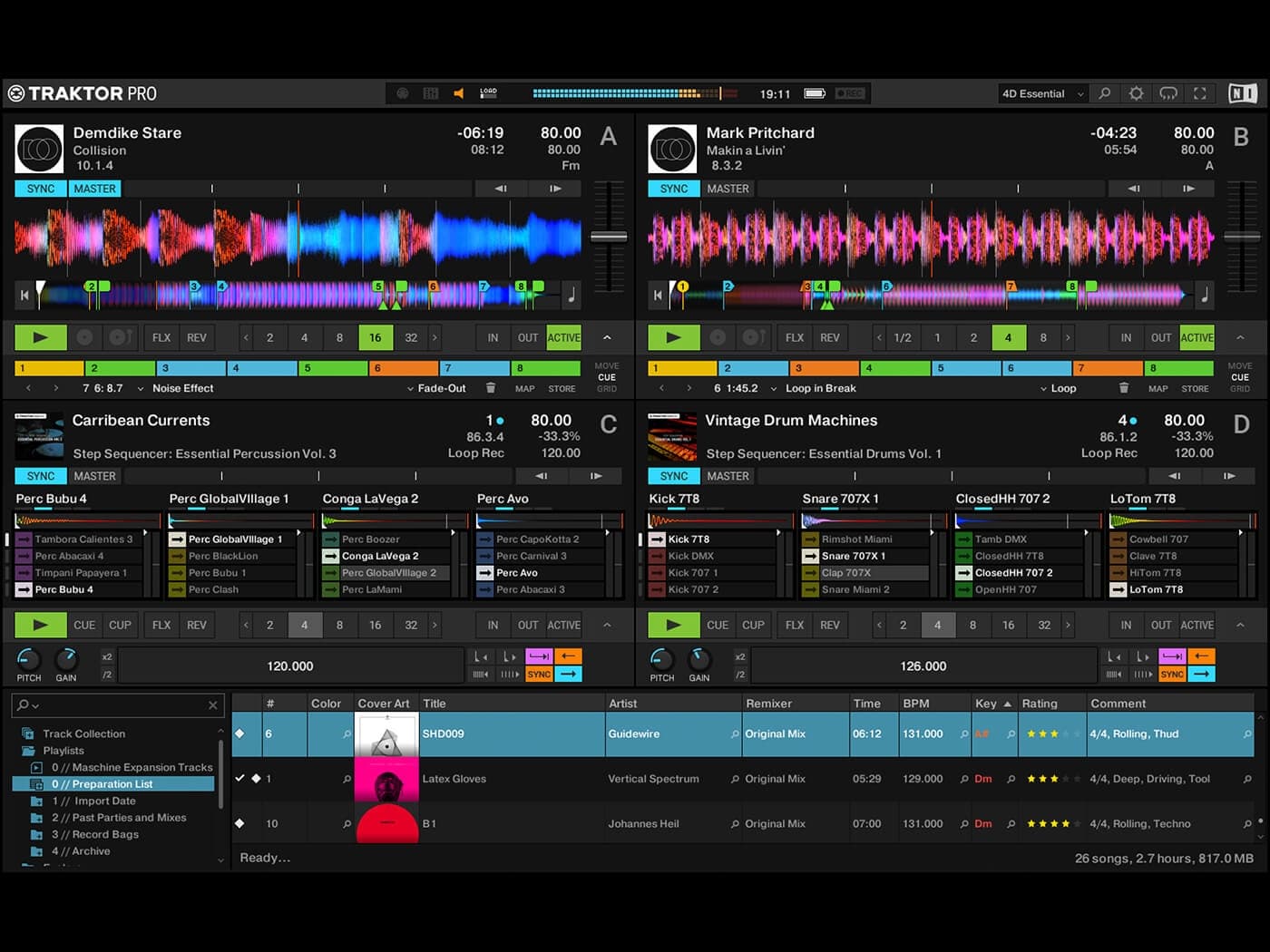 A more affordable software with better hardware compatibility, although limited advanced features.
Price = Free /$100
Hardware Support = Yes, works with many brands
Traktor is a DJ tool developed by Native Instruments and is another great option for beginners. It also offers a free version that has a decent amount of features and can be used to create full mixes. It even offers SoundCloud integration.
There are two other paid DJ software versions of Traktor: Traktor LE and Traktor Pro. Le comes with hardware purchases, and Pro costs $100 to buy outright.
It has a wide range of features, including beatmatching, effects, and loop controls, as well as more advanced features such as sample decks and remix decks.
Traktor's interface can be a bit more complex than some other software options, but it is highly customizable, allowing users to adjust the layout to suit their needs.
Traktor also has a large online community, with many resources and tutorials available to help users get started.
One of the main benefits of Traktor is its ability to work with almost any hardware controller - even obscure ones. You aren't limited to using Native Instrument's gear, which opens up more options for hardware users.
It doesn't have the same level of advanced features as rekordbox Pro, but it is cheaper, and can still achieve the same results.
Pros
Wide range of features

Highly customizable interface

A large online community with resources and tutorials

Supports a wider range of hardware
Cons
The interface may be overwhelming for beginners

No subscription price

Limited features at an advanced level
4) Serato DJ#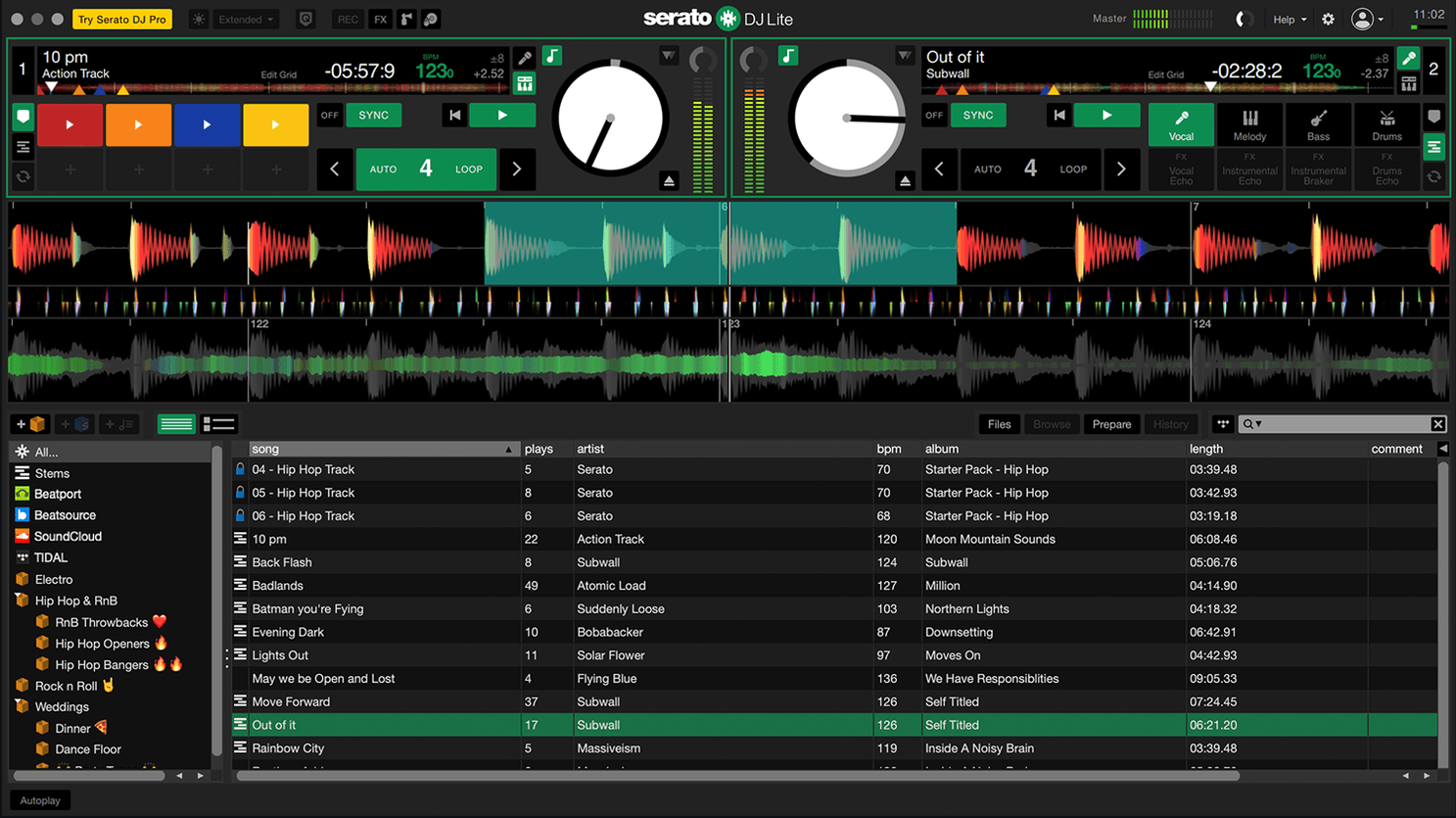 Serato is the best tool for scratch DJs and remix artists. It has a wide variety of hardware connections, although is a little complicated.
Price = Free /$10/15 a month
Hardware Support = Yes, supports Pioneer, Numark, Denon, Rane, and other brands
Serato is a popular and long-standing piece of DJ software that is held in high regard in the scratch DJ and remixing community.
There are three main versions of Serato DJ: Serato DJ Lite, Serato DJ Pro, and Serato Dj Suite. The Lite version is completely free, the Pro version costs $10 a month, and Suite is $15 a month.
The free version includes all the typical features like beatmatching, EQ, filters, and faders, as well as more advanced features such as effects, a sampler, and cool scratching features. Unlike many DJ apps, pro versions even come with sound effects to enhance your set.
The Serato DJ Pro and Suite versions offer a larger range of features and advanced tools. The Suite version is almost a complete digital audio workstation in its own right and is the preferred DJ software tool for making remixes and edits.
Serato also has a range of hardware controllers that are designed to work seamlessly with the software. One of the biggest advantages of Serato is its compatibility with a wide range of hardware and operating systems.
Serato Dj lite is a good place to start and comes at a range of price points for your budget and skill level. Serato Dj lite is the more affordable and basic version, and Serato Dj pro is the premium option which has more features at a higher price.
Serato DJ Pro also has the option to use a digital vinyl system, which simulates the feeling of vinyl mixing, using a special digital record, which lets you use vinyl turntables. This is something that will be more attractive to experienced DJs but is worth knowing about.
Pros
Wide range of features to play music with a DJ controller

Great for scratch DJs and remixing, even comes with sound effects

Strong online community

Broad hardware compatibility, even for Serato DJ lite

Great free version
Cons
Can be over complicated for basic DJing

Expensive when purchasing hardware controllers.
5) Virtual DJ#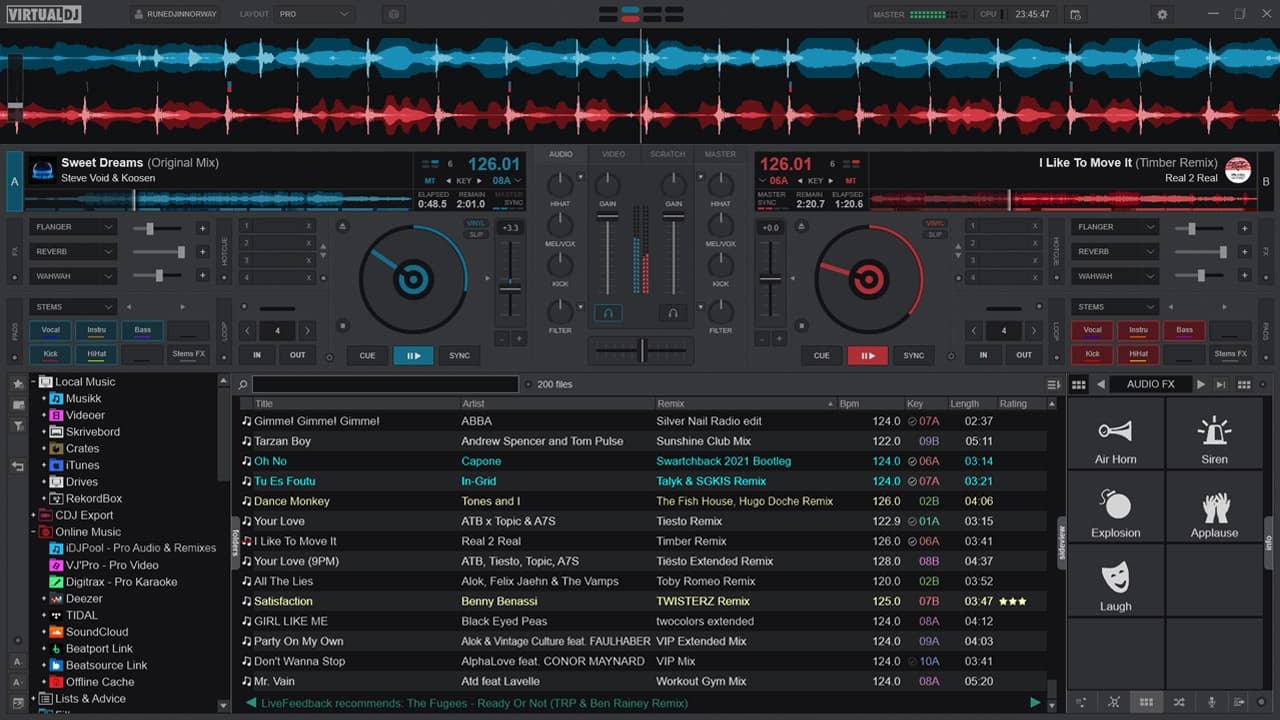 A basic but decent piece of DJ software.
Price = Free or $25 a month (or $99/month for the Business edition)
Hardware Support = Yes, Denon, Pioneer, Numark, and others.
Virtual DJ is a popular DJ software that is often recommended as a good starting point for beginners. This has a reputation for being the 'cheap but cheerful' DJ software, that has been around for a while but is a little dusty.
Like other software, Virtual DJ has all the standard tools you need to mix music tracks together, as well as a few unique features like video mixing and karaoke support, and the ability to use a DJ controller. It even comes with a mobile DJ app.
One of the biggest advantages of Virtual DJ is its affordability, with a free version available as well as a subscription service for additional features. The full version lets you mix music videos too. DJay Pro AI is another DJ app you might be interested in!
Pros
Virtual DJ offers good functionality for free

Decent range of hardware support

Easy to use and play music

Large online community
Cons
Slightly basic compared to others

Outdated interface

Limited effects and creativity
6) Mixx#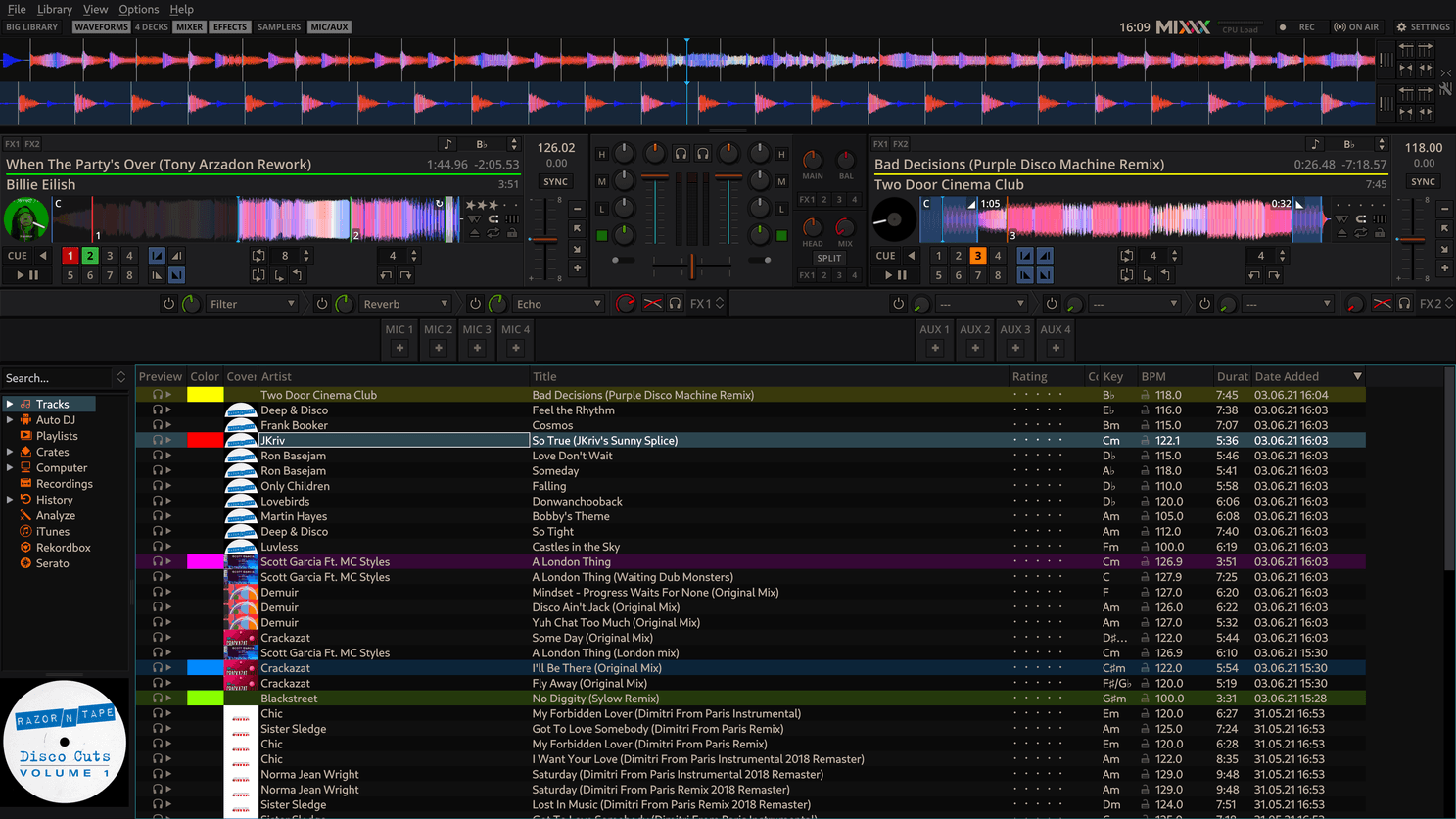 The free, open-source choice
Price = Free!
Hardware Support = Yes, any MIDI or HID device
Mixxx is a free, open-source DJ software that is a great option for beginners.
Despite being free, Mixx has all the features you need to DJ, as well as some more advanced smart features. It has all the typical parts - fader, EQ, auto-sync, looping, and effects.
Some of the cool features are BPM and key detection which can help you to find the best next song to choose. The auto-sync also helps to instantly beat match two songs and is pretty accurate.
Thanks to the clever MIDI mapping system, it can be used with essentially any MIDI-compatible DJ controller - although you will need to spend some time mapping out all the buttons. This is one of the best DJ apps for people on a tight budget, and still has enough complexity to follow a full DJ journey.
Pros
Free and open source

Basic and easy to use for new DJs

Professional features for free

Wide hardware support and great customization
Cons
Some features are more basic than premium software

Some bugs and glitches

Slightly ugly interface
Why DJ.Studio is the Best Place to Start (for most DJs)#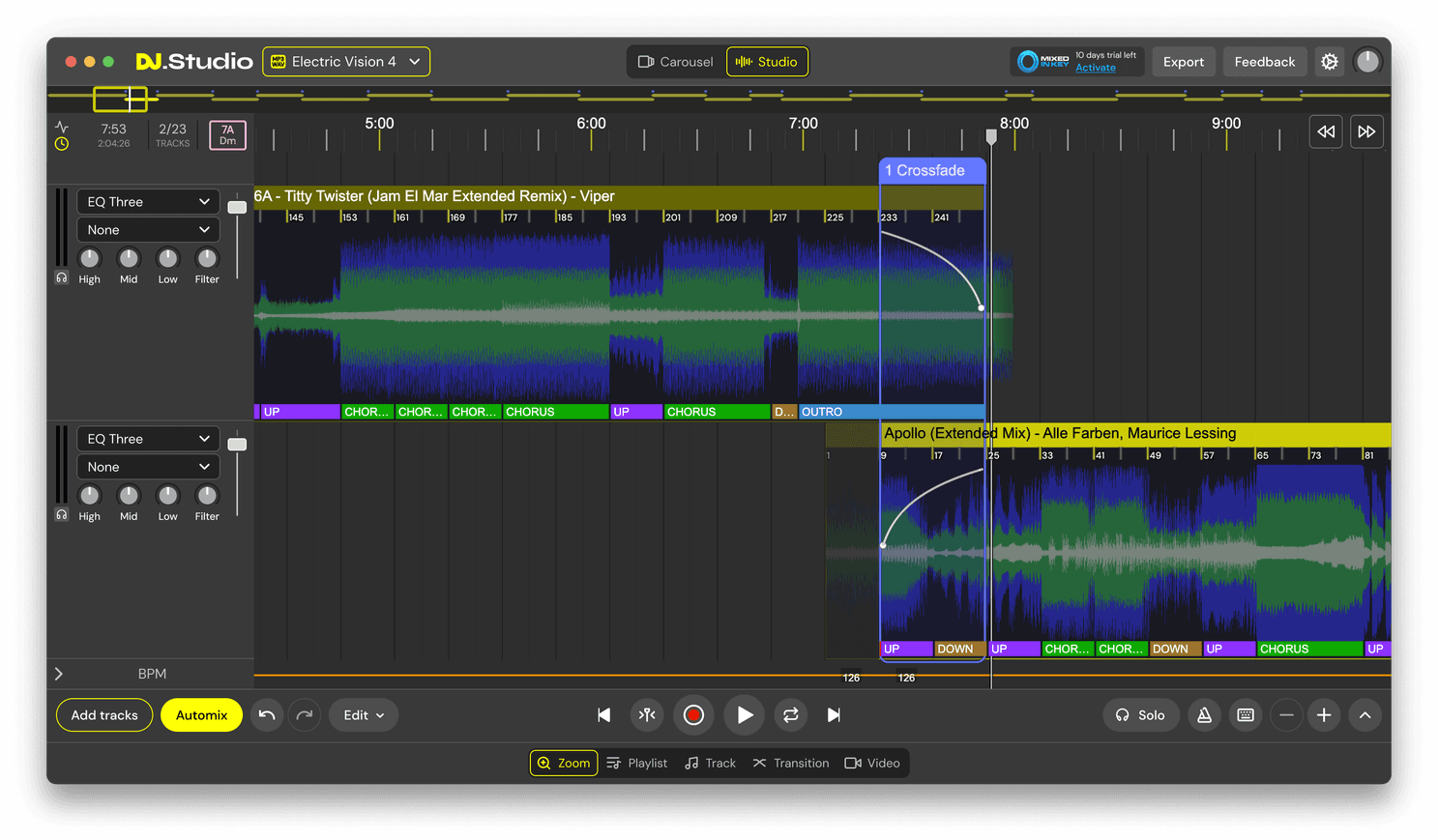 DJ.Studio is a revolutionary piece of DJ mixing software for beginners. It uses a different style of interface and workflow than the antiquated paradigm used by most DJ software and is a fantastic choice for beginner DJ software if you want to quickly level up your DJing game.
Here are some of the features that make it some of the best DJ software new DJs:
Library Manager and Importer#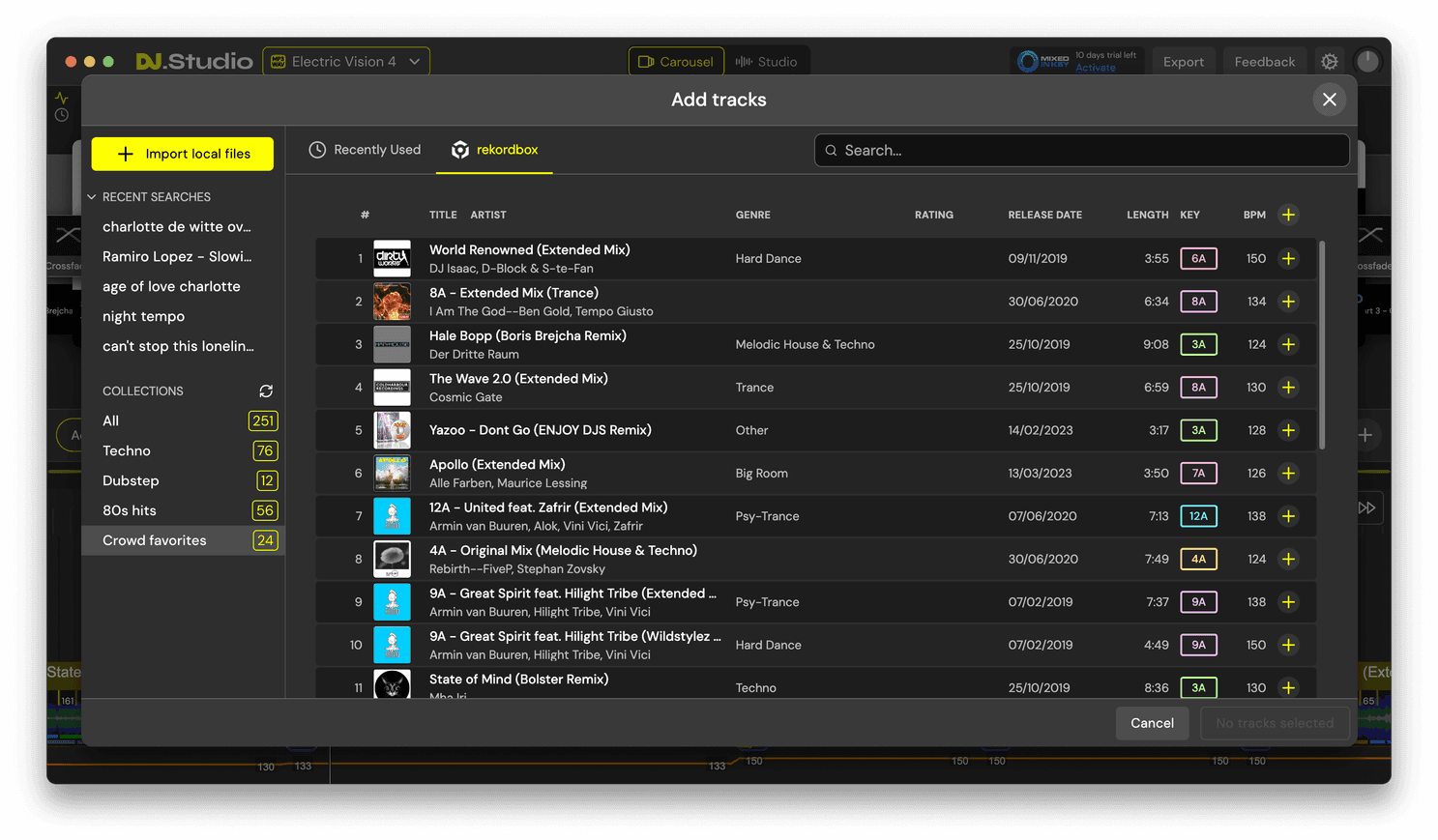 DJ.Studio's library is easy to manage, and lets you import audio from a range of sources. This makes it easier for new DJs who may only just be beginning to create their music collection.
They may have built playlists on youtube and Spotify, but they might not have a large collection of downloaded audio files. Because DJ.Studio works with other software and streaming platforms to import music, this won't hold new DJs back, and they can start creating mixes out of any song they can find on the internet, without even needing to download it.
Automix#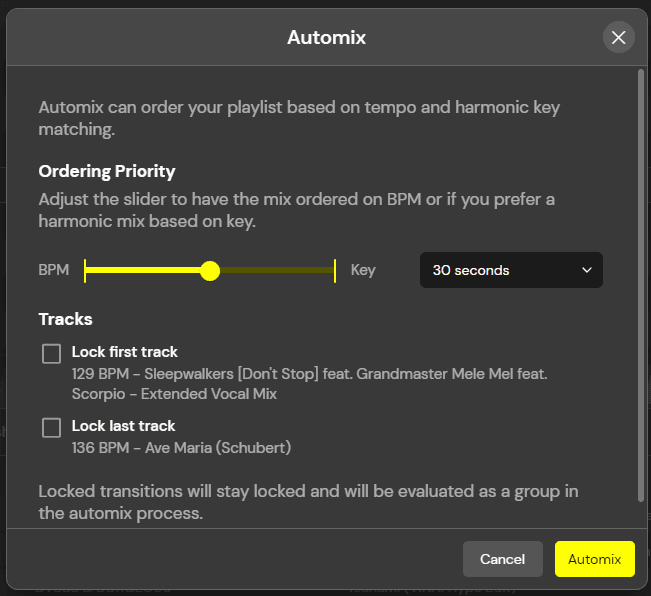 The automix feature will be one of the most powerful tools for DJs, and can help you in a range of dimensions.
For one, if you are creating DJ sets, it helps you find the optimal order at the click of a button. This will mix tracks harmonically, which creates mixes based on harmonic mixing music theory.
This is helpful because beginners might not want to spend ages learning about keys and music theory, but they can use the auto mix algorithm to instantly create mixes that sound harmonically mixed - meaning they will have a satisfying and cohesive feel, without needing to worry about clashing keys which creates awkward mood killing mixes.
Beatmatching#

The beatmatching system within DJ.Studio is also incredibly accurate and ensures that new DJs can create mixes where every song is perfectly aligned with the next. This helps to create seamless mixes, without DJs needing to worry about learning how to beat match.
Also, if you need to record a mix in real-time with traditional gear, beginners are bound to make mistakes when it comes to beat matching, which will make their mixes sound amateur. With DJ.Studio, you can rest assured that every mix will be perfectly in time, and you won't need to spend hours rehearsing or re-recording a mix to keep it free of mistakes.
Timeline Editor#

For precise control and sculpting of the mix. The timeline editor makes it easy to arrange mixes just the way you want. you don't need to worry about recording it live in one take, and you can edit, rearrange, and tweak your DJ sets as much as you want, to perfect them before you share them.
Powerful Transition Editor#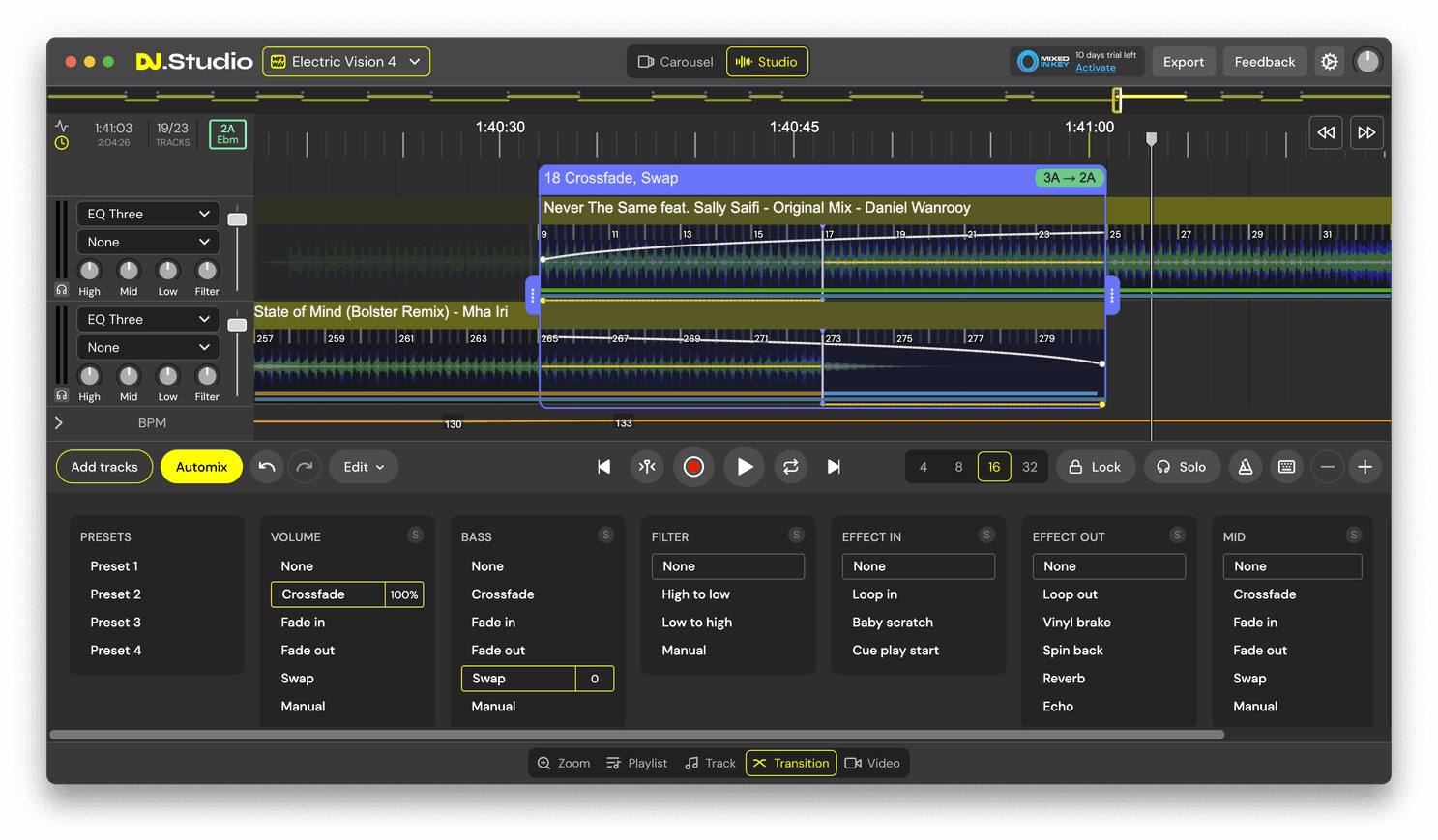 The transition editor gives you control over how each song comes in. This gives you far more control and accuracy than you could achieve by using traditional software and hardware -after all, you can only control two knobs at once (unless you are an octopus).
Faster Recording Times#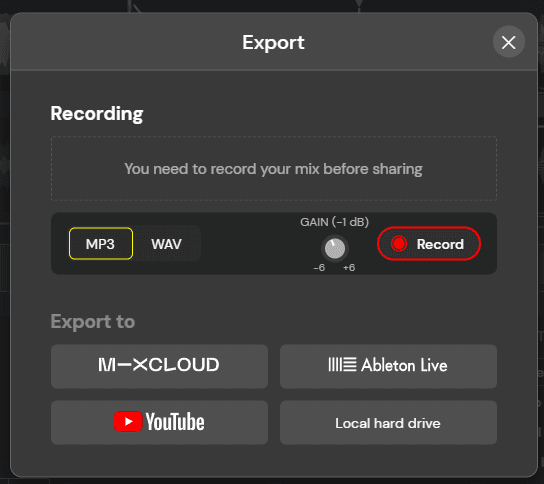 When it comes to progressing your DJ career, one key is to create as many DJ mixes as you can and be prolific. The more content you can create for listeners around the world to enjoy at any moment, the quicker you will build a loyal audience.
The issue here is that typically this takes a lot of time - not only do you have to plan and prepare your mix recording sessions, but you also need to spend the time to record them, and hour mix takes an hour of recording.
Also, if you make mistakes then you'll need to go back and rerecord sections, which adds up more time.
With DJ.Studio, you can record and export your mix in 10 x real-time, and you don't need to worry about mistakes.
This means you can spend more time finding cool music and refining your style as a DJ than worrying about the logistics of creating mixes the traditional way.
This will give you a huge advantage in the competitive music scene, and will also help to build a following faster and more effectively.
Many Export Sources#
With DJ.Studio you can export to a range of different sources at the click of a button - once your mix is created, you can export your mix to a range of locations, directly from the app itself.
This streamlines the process massively compared to other DJ software options out there.
This process is also enhanced, for example, if you export to youtube or Mixcloud, DJ.Studio automatically generates the tracklisting to add to the upload. This saves you time and helps your audience find out the new song they loved from their mix, strengthening their connection with you as a provider.
Designed for Beginners and Professionals#
A set of tools that helps both beginners and professionals alike. If you learn to DJ through DJ.Studio, you will be able to carry this knowledge and experience into a professional career and skill set. Not only is it suitable for beginners, but this is also professional DJ software that helps people at the top of the industry. So when you get there, you'll be prepared.
Tips For Becoming A Better DJ#
Here are some tips I've learned during my path from the bedroom to the main stage... If you are serious about becoming a professional DJ, these tips can go a long way
Share and output as many high-quality mixes as you can - DJ.Studio will help you to achieve this faster. You can share mixes with fantastic quality, at a much faster rate than if you were recording them all manually. This will give you a competitive edge over your peers, and make it seem like you are a DJ with superpowers and a high level of dedication to your craft.

Practice, practice, practice - The more you practice, the better you'll become. Spend time mixing tracks, experimenting with different techniques, and refining your skills.

Listen to other DJs - Listen to other DJs and pay attention to how they mix tracks, their song selection, and how they interact with the crowd. This can give you ideas and inspiration for your own sets.

Build a library of music - Build a library of music that includes a wide range of genres and styles. This will allow you to create diverse sets that appeal to a variety of audiences. Also, find your own unique tastes and vibe that you want to be known for.

Learn the tools - Become familiar with your DJ equipment, including your controller, mixer, and software. This will help you to use it more effectively and efficiently.

Learn music theory - Understanding music theory, such as keys, scales, and chord progressions, can help you to mix tracks more harmonically and create smoother transitions.

Experiment with effects - Don't be afraid to experiment with different effects, such as filters, delay, and reverb. These can add depth and texture to your mixes.

Practice beatmatching - Beatmatching is a fundamental skill for DJs, so practice it regularly. This will help you to mix tracks seamlessly and avoid awkward transitions.

Record your sets - Record your sets and listen back to them to identify areas for improvement. This can help you to refine your skills and develop your own style.

Stay organized - Keep your music library organized and tag your tracks with relevant information, such as BPM, key, and genre. This will help you to find the right tracks quickly and create smoother mixes.
Closing Thoughts - Good Luck!#
Any of these DJ programs will be a great place for beginner DJs to get started. Other than DJ.Studio, they all basically work in the same way, and just have a few different features, compatibility, and interface designs. Starting on software is a great way for new DJs to learn the basics and start DJ Mixing Songs without needing to spend on a full hardware setup.
Good luck with your quest to become a fantastic DJ! Remember, patience and practice are key. The more time you spend DJing, the better you will be. If you want to make it big, use the tips above, and follow in the footsteps of your DJ heroes. These are the software tools to use if you are a more advanced DJ.
FAQs About DJ Software For Beginners
What DJ software to start with?

What is the simplest DJ setup?

What is the #1 most popular DJ software?

How can I learn to DJ by myself?
Related Posts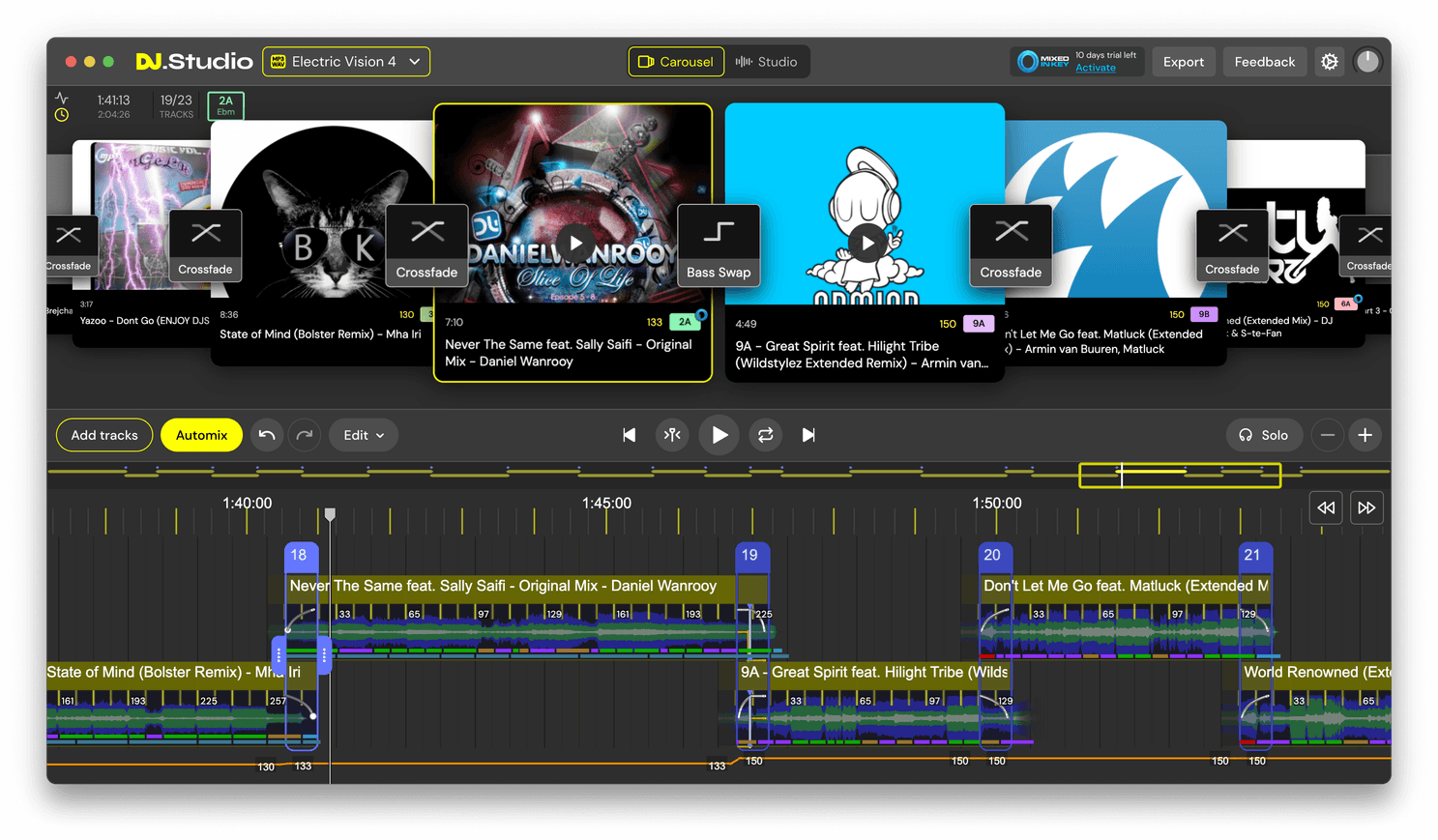 Looking for the ultimate DAW for DJs? You've just found it!
7 months ago
DJ mixing software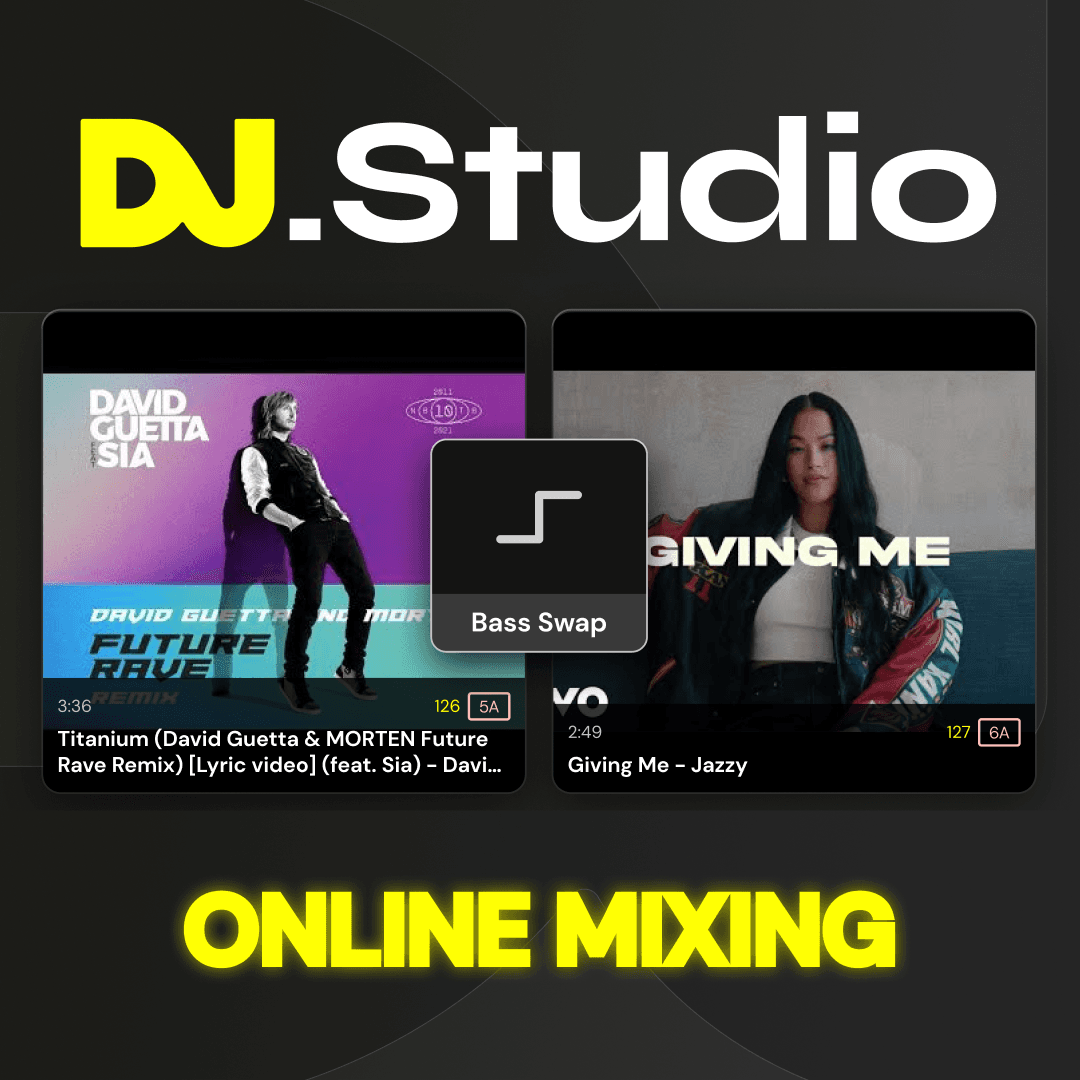 DJs can now take advantage of online mixing software - there's no need to buy any expensive gear! Find out the best online DJ software here.
2 months ago
DJ mixing software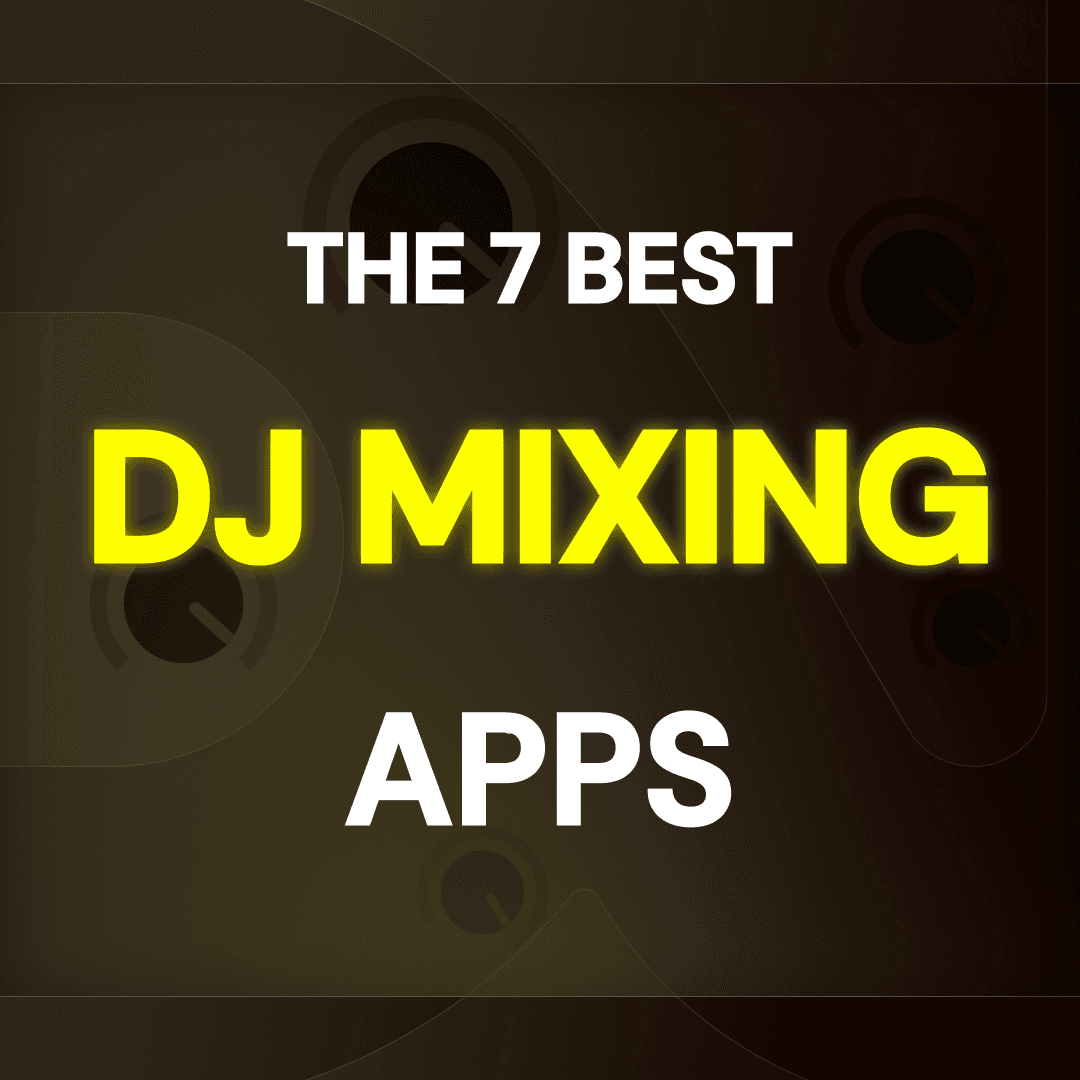 There are countless DJ apps on the market, but which is right for you? Find out all the answers in this comprehensive DJ app comparison.
2 months ago
DJ mixing software