6 Best Free DJ Software and Apps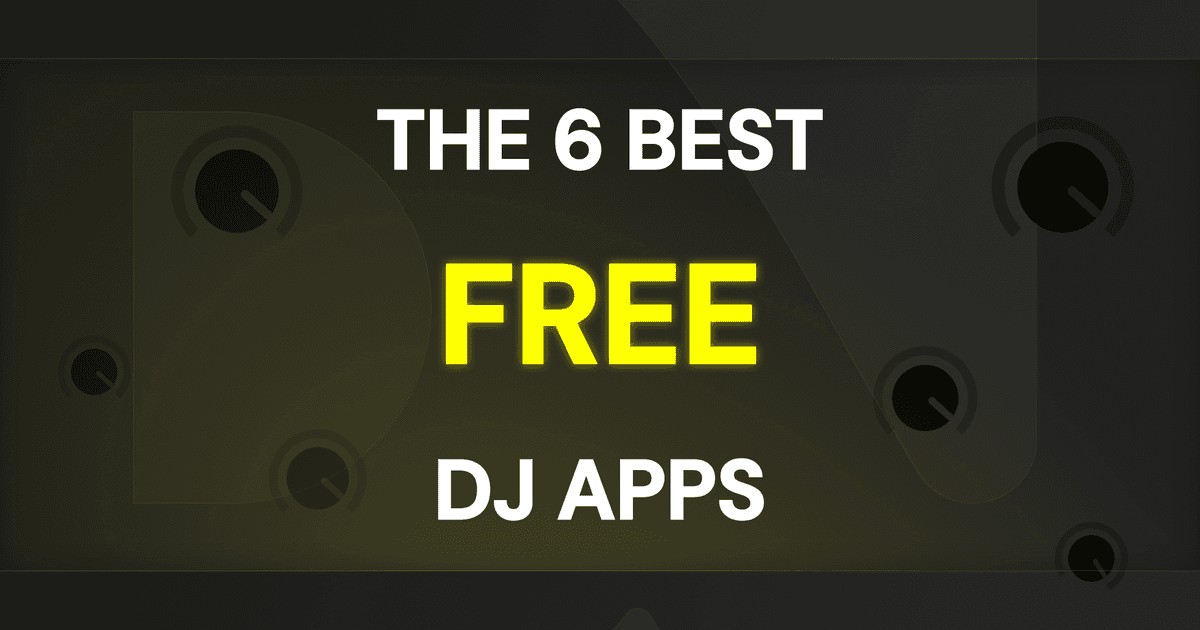 Free DJ software is all over the internet these days - but which is worth your time, and which should you avoid?
You don't need to spend much money to get set up DJing and start making your own mixes, especially with the amount of powerful free DJ software out today.
In fact, all you really need to make mixes is a computer, DJ software, some music files, and the passion to create!
This guide shows you the best free DJ software to get your mixing fingers on, and explains some other cool options!
Is Free DJ Software Any Good (The Truth)#
As the old saying goes - "there's no such thing as a free lunch". When it comes to DJ software and DJ apps this is also true.
While there is a lot of pretty decent free DJ software out there, it mostly has frustrating limitations. Which can even make DJing no fun at all!
In truth, the best DJ software will cost you money. If you want to mix music like a professional, then you'll need to pay for all the features professional DJs need.
Using free DJ apps and free software is fine for total beginners, who might just want to test out if they even enjoy DJing.
But if you want to take DJing seriously, then paying for better DJ software will give you an advantage, and make your life easier and more fun!
You don't even need to spend a lot of money on the pro software, some DJ apps like DJ.Studio offers monthly subscriptions at very affordable prices.
The 6 Best Free DJ Software and Apps#
Here, I'll share the best choices when it comes to free DJ software.
It's worth noting that, not many DJ programs are completely free. Typically, the full version costs money, but you can access a limited 'free version', which is a good place to try it out and see if you want to upgrade to the paid edition.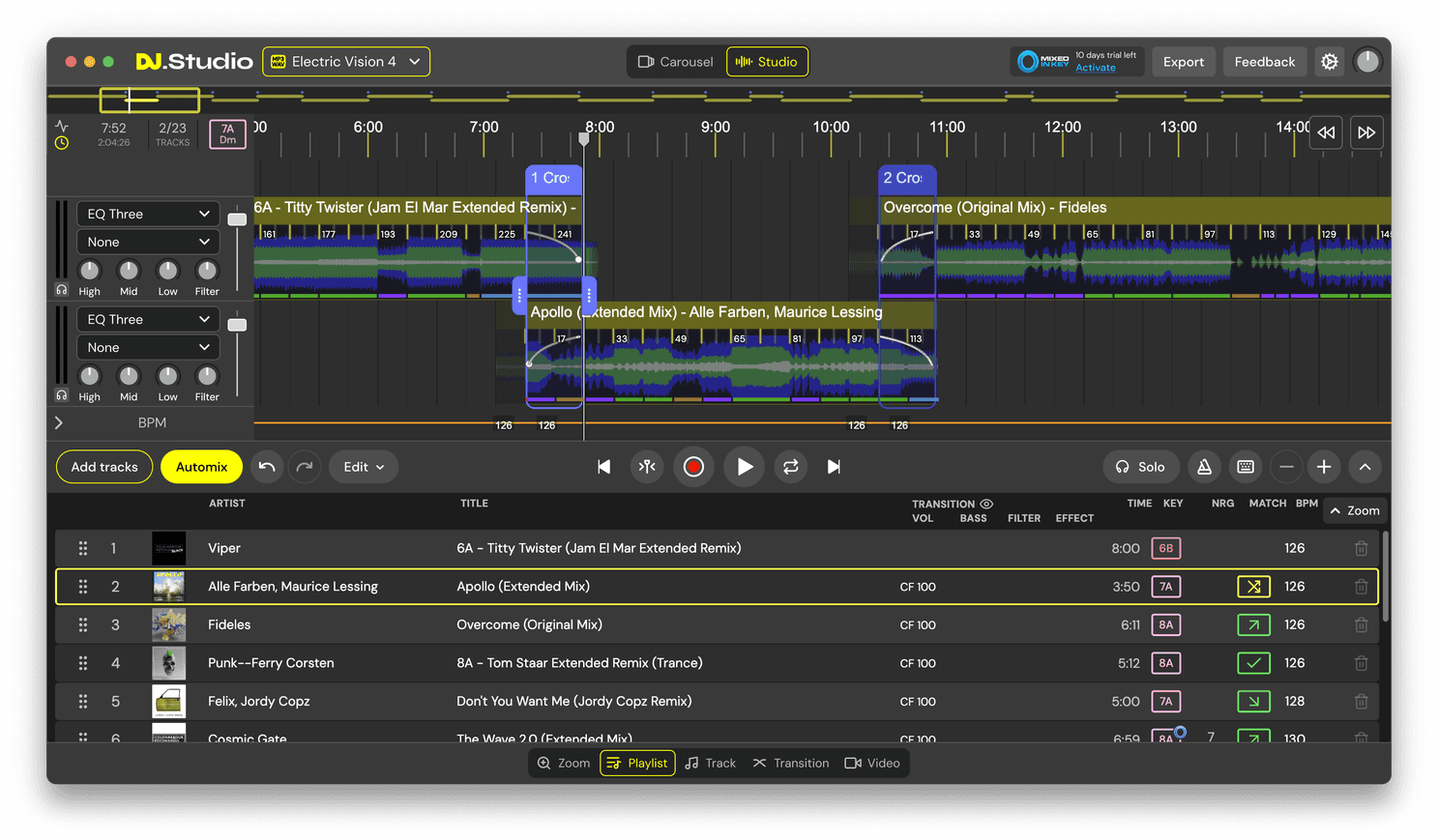 Features
Unique timeline editor for perfectionist DJs

Powerful AI automix to match the key and BPM of your tracks.

Rapid export, to multiple formats

Built-in video mixing to create custom reactive visuals and music videos

Ideal for humble music lovers, all the way up to the most advanced professionals

Mix your favorite songs directly from YouTube
Limitations
2-week free trial period

Limited features for live mixing, better for studio

Currently no hardware support 
Info
DJ.Studio is a unique DJ app that stands out from the crowd - this is a DAW for DJs!
Most DJ software uses the exact same workflow and principles - they try to mimic the techniques of classic decks and mixer-type DJ setups. This setup has been used since the 70s, and while it works for many cases, it's not the most optimal tool for making mixes.
This is where DJ.Studio comes in. This is a unique piece of software that revolutionized the process of creating DJ mixes. This helps you to create seamless transitions with minimal effort - creating the perfect DJ set in record time!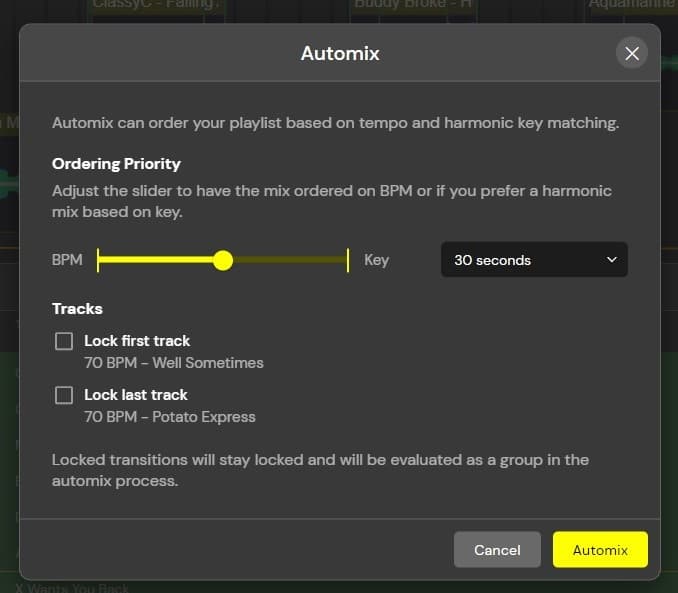 The process is simple, fast, and powerful. It gives you a bunch of tools that make your life as a DJ easier, and enhances the overall professionalism of the final mix.
To understand why it's so good, you should learn how the workflow works:
Import music into the library from your hard drive, YouTube, or other DJ app choices like rekordbox, Serato or Traktor. Most digital music files will work.

Select a bunch of songs you want to use in a mix.

Hit the automix button to get a harmonically ordered playlist where the transitions won't sound clashy.

Check out the arrangement, and re-order songs if necessary.

Create and fine-tune the transitions between each song.

Export your mix to a high-quality audio file, YouTube, Ableton Live, Mixcloud, and more destinations
DJ.Studio offers a free two-week trial. I think you'll want to upgrade to the full version after you try it out for a bit. I'm addicted!
It's also worth noting that the trial lets you use the full version of DJ.Studio, without any limitations (other than the time period). Not many other software trials for DJs let you use the full version, and have big limits. 
DJ.Studio is the Best DJ Software for Beginners, but it also has plenty of depth to make it ideal for advanced professionals too! This powerful AI Enhanced DJ Software will accelerate the way any DJ works!
Find out more in this Interview with DJ.Studio's Creator, or check out how DJ.Studio Compares With Other Software!
2) rekordbox Free Plan#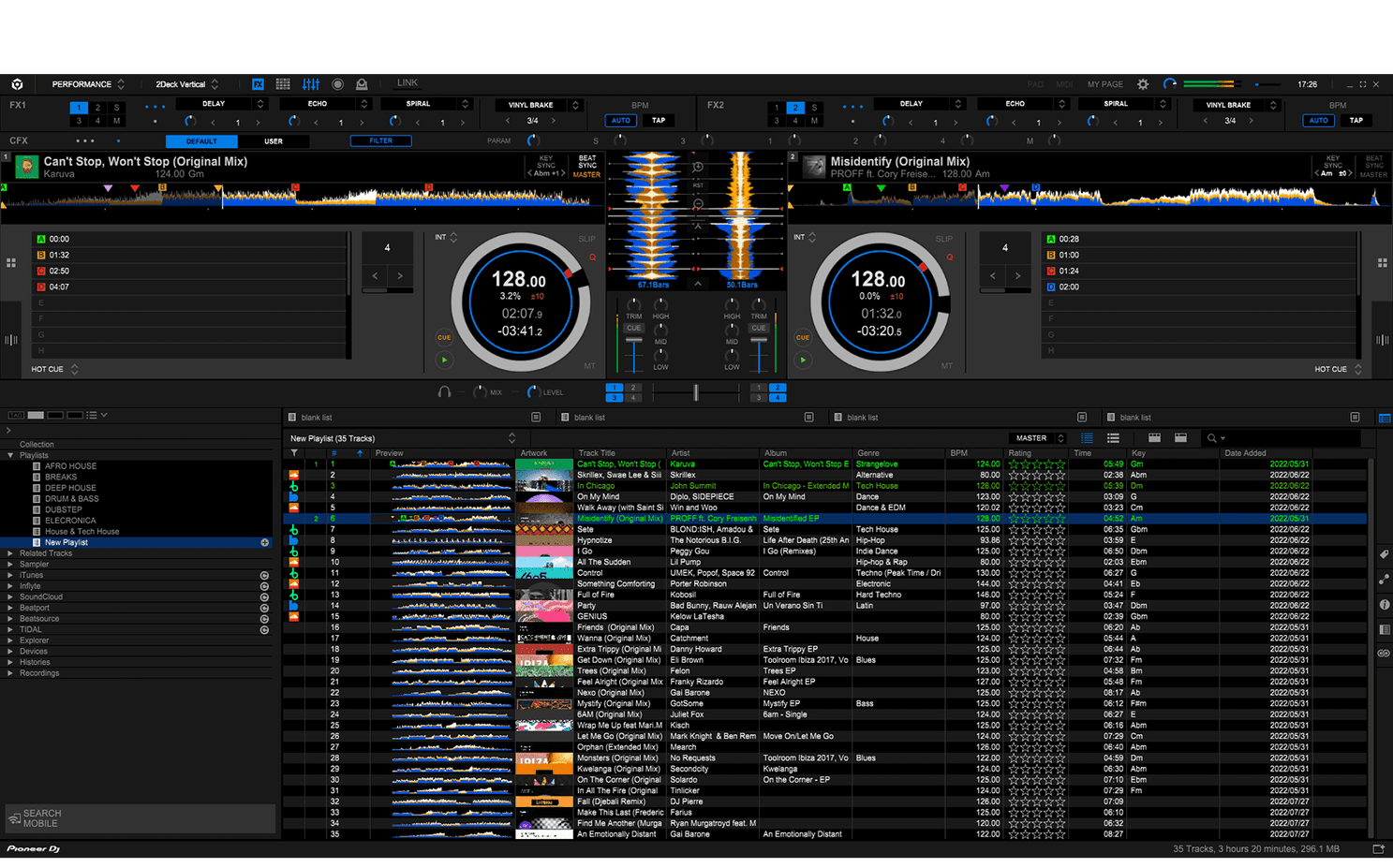 Features
Simple but effective mixing software

Mix songs on two decks

Manage your music library

Auto-sync, so no need to learn beatmatching

Live waveform display

Hardware integration
Limitations
Can't use the free version with hardware and controllers

Limited options for exporting

Can't record

Limited effects
Info
rekordbox is one of the most well-known DJ app choices in the scene, and it has a pretty decent free option. While you can't use the free version with a DJ controller, it gives you all the features you need to get started mixing your own music.
It has a pretty decent user interface and some innovative features like musical key detection. The master sync feature is handy and lets you automatically beat match tracks together.
One downside of the paid version of rekordbox is that it only works with Pioneer-approved DJ controllers, which might limit what you can use it with.
Overall, rekordbox's free plan is a decent starting point if you want to test out DJing with free software. It's a great piece of Mac DJ Software, and also works as PC DJ Software.
3) Traktor DJ 2 LE#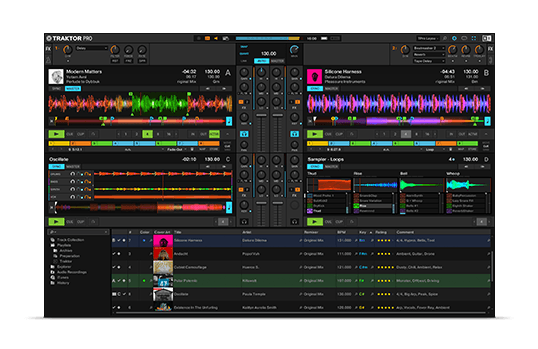 Features
Familiar mixing software

Integrated with Soundcloud Go

Works on iPad

Music library manager

User friendly interface for music mixing
Limitations
Limited cue points

Limited mixer and effects

Lacks tag or metadata editing

No cue/playlist/automix features

No hardware control
Info
Traktor is another one of the other most popular DJ tools around, and it has a loyal user base.
The free demo of this DJ app offers you a stripped-back version of the software. It comes with all of the core features you need to DJ from a PC alone, although it does have a lot of limitations.
You can use it to play music, mix songs, remix songs, listen to your own music, and everything else you would expect. It has all the must have DJ tools too!
This also won't work with any hardware, so you can only control it via a mouse and keyboard - which isn't an ideal way to mix music live.
Unlike rekordbox, Traktor Pro (the paid version) will work with pretty much any DJ controller you can find, making it much more versatile and a better way to mix songs on a budget.
4) Mixxx#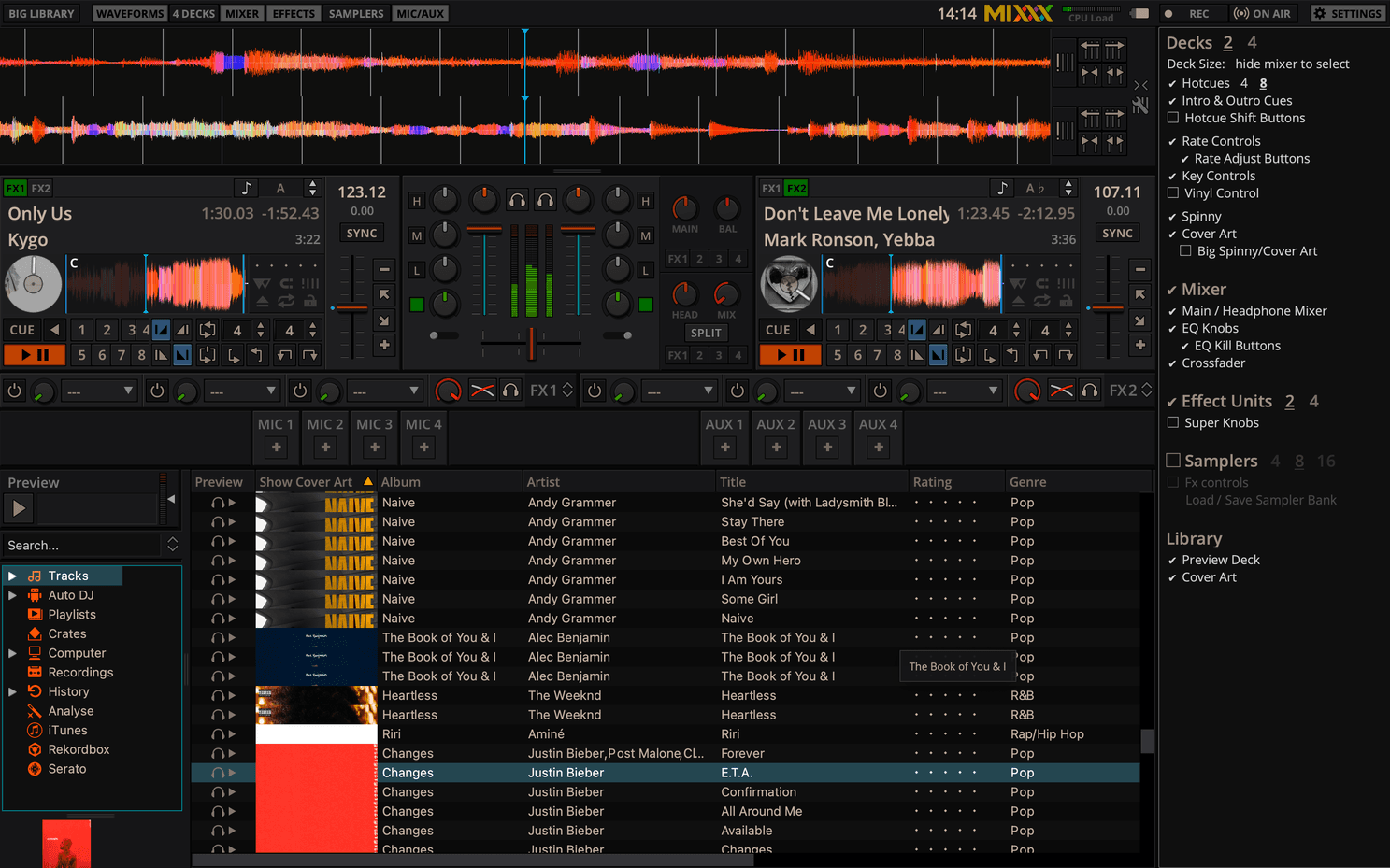 Features
Completely free - open source DJ software

Mix on four decks

Pitch and key control

Beat matching and looping

Master sync

Works with hardware

Decent effects
Limitations
A bit ugly (sorry!)

Many bugs

Limited library manager
Info
Mixxx is unique, in the fact that it's a totally free, open-source piece of software. Maybe this makes it the best free software - as it's the only one here that is totally free!
This gives you a wide range of features, for $0.00! It has enough for beginner and experienced DJs alike.
The only downside is that it's a bit clunky, unrefined, and ugly. That said, it's definitely a viable option for DJs on a budget. It's community-driven, so it might not have the singular vision of a commercial program and does feel a bit scatterbrained.
It will, however, work with almost any DJ controller, as you can simply map out what each button controls.
5) Serato DJ Lite#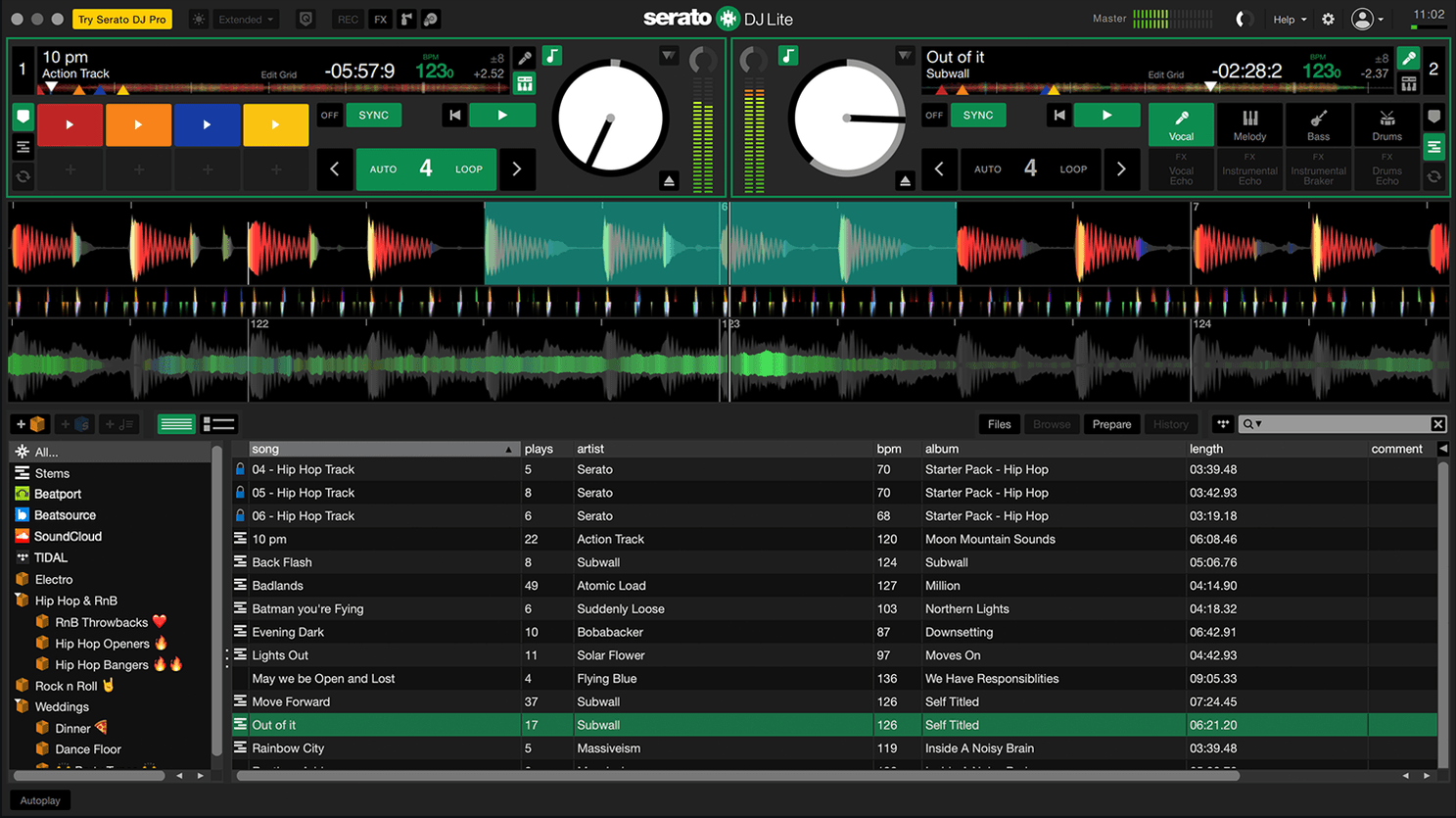 Features
Integrates with streaming services

Use Serato Stems

Mixing, scratching, and effects
Limitations
No recording

Basic sync features

Limited key analysis
Info
If you're looking to learn the basics of Serato, Serato DJ Lite is the place to be! This gives you the basic features of Serato, in a timeless free trial.
It has tools for creating live remixes, including the ability to add sound effects and loops. It even lets you stream music from other websites directly into the app.
Upgrading to Serato DJ Pro gives you a bunch of other cool features, including the ability to use timecode vinyl records, which gives you the feel of mixing on vinyl, but with the flexibility and power of a digital setup.
6) Virtual DJ Free#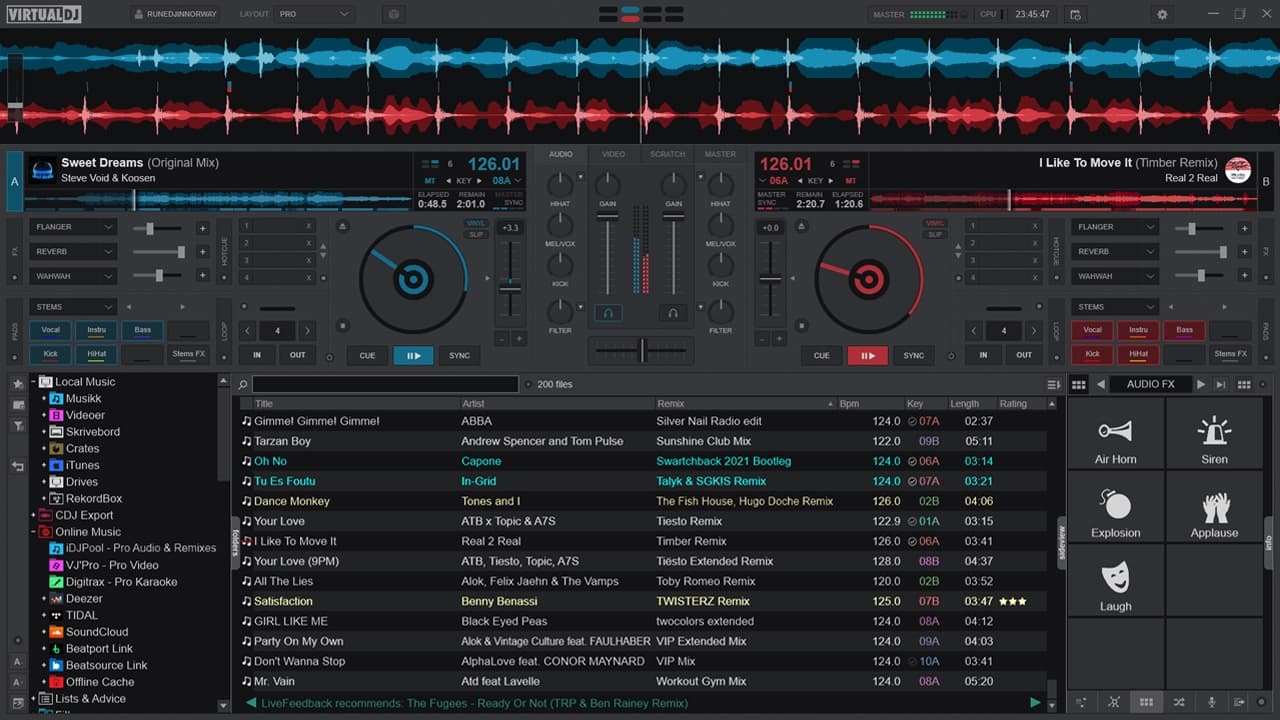 Features
Up to 99 deck mixing

Decent library management

Effects and a good mixer

Virtual DJ Can record mixes
Limitations
No hardware support

Recording is limited

Not allowed for pro use (earning money)
Virtual DJ Info
VirtualDJ is another big name in the DJ software scene and has a feature-full free version that has enough tools for most situations. It doesn't have all the power of a full, professional piece of software, but Virtual DJ is great for new starters.
Virtual DJ has many similar limitations to others, such as lacking the ability to work with hardware, restrictions on the features, and a limited set of effects. Although, Virtual DJ can record your mixes which is a nice addition.
Closing Thoughts#

Now you know about the free DJ software available, you can start your DJ journey. Remember, the free versions are all limited in some way, so when you find out which software you like, it's often worth upgrading to the full version when you need more functionality.
At DJ.Studio, we offer one of the most powerful pieces of DJ software on the market today. We want it to be available to as many people as possible, so we made an affordable subscription for those keen DJs on a budget!
For more recommendations, check out this list of the Best DJ Software for PC.
FAQs About Free DJ Software
Is there any free DJ software?

Is VirtualDJ completely free?

What free DJ software works with Spotify?