9 Steps to create your DJ mix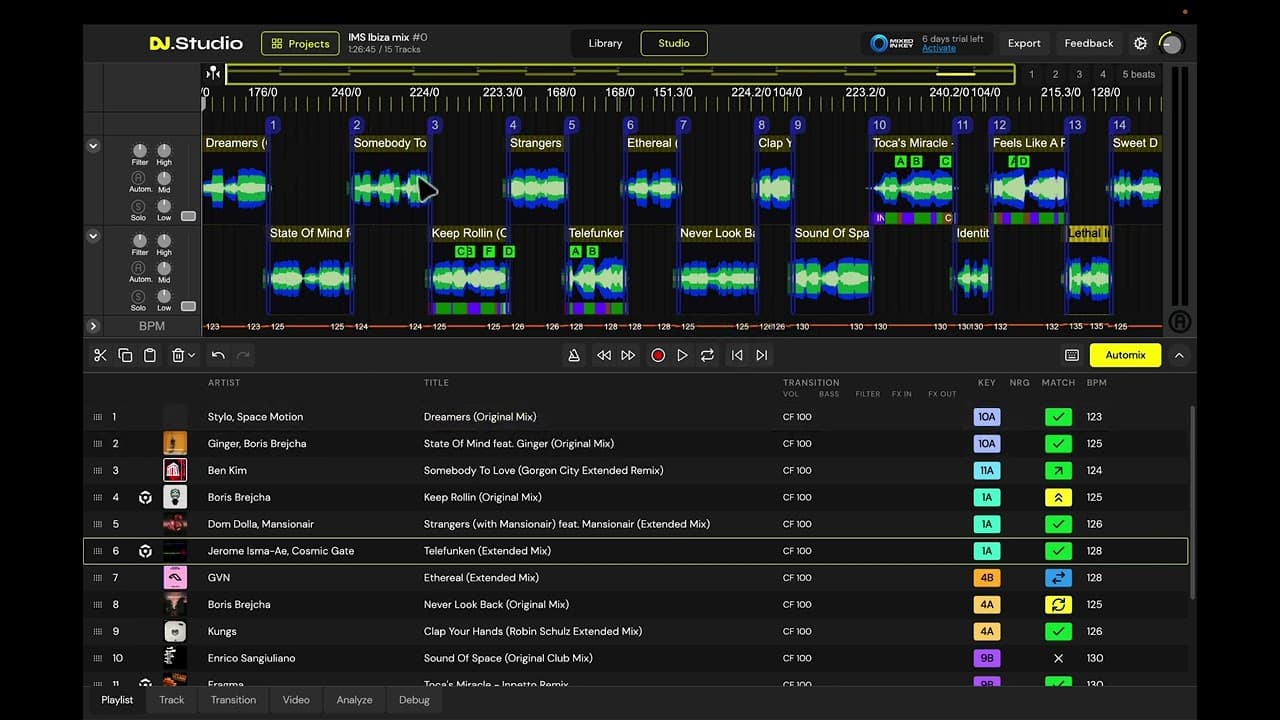 1. Download the App#

The DJ.Studio downloaded app offers the best performance and functionality. You can use it to connect with your other DJ software, and it is more stable with local files. 
The DJ.Studio browser mode is good if you don't want to download anything, although it has more restrictions. 
You can find the download links here > Download DJ.Studio.
djAfter launching, you may want to connect your external software, such as rekordbox, Serato, VirtualDJ, etc. This will allow you to import music from your other libraries. 
2. Start a New Project#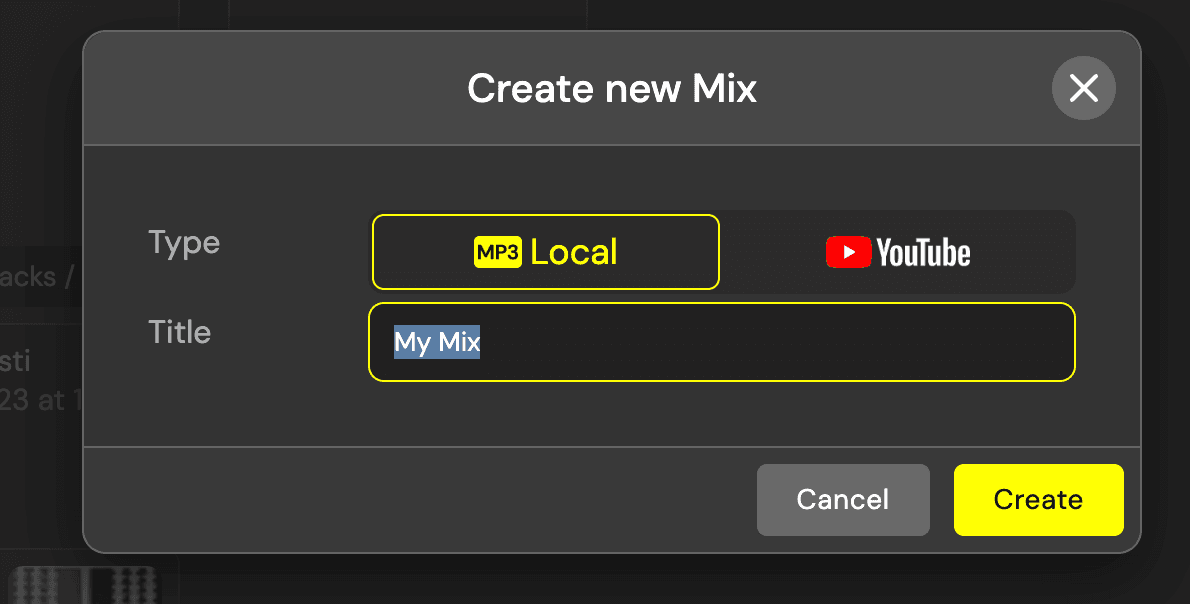 After opening DJ.Studio, you will be taken to the project dashboard. From here, you can start new projects, and manage your existing ones. 
By clicking 'Start New Mix' you can create either a Local Music project or a YouTube project 
Local Music Projects work with files on your hard drive, which can be imported from a range of other connected DJ software. 
YouTube Projects work with audio and videos imported from YouTube or YouTube music. Due to copyright restrictions, YouTube projects cannot be exported, or mixed with local files. 
3. Import Tracks#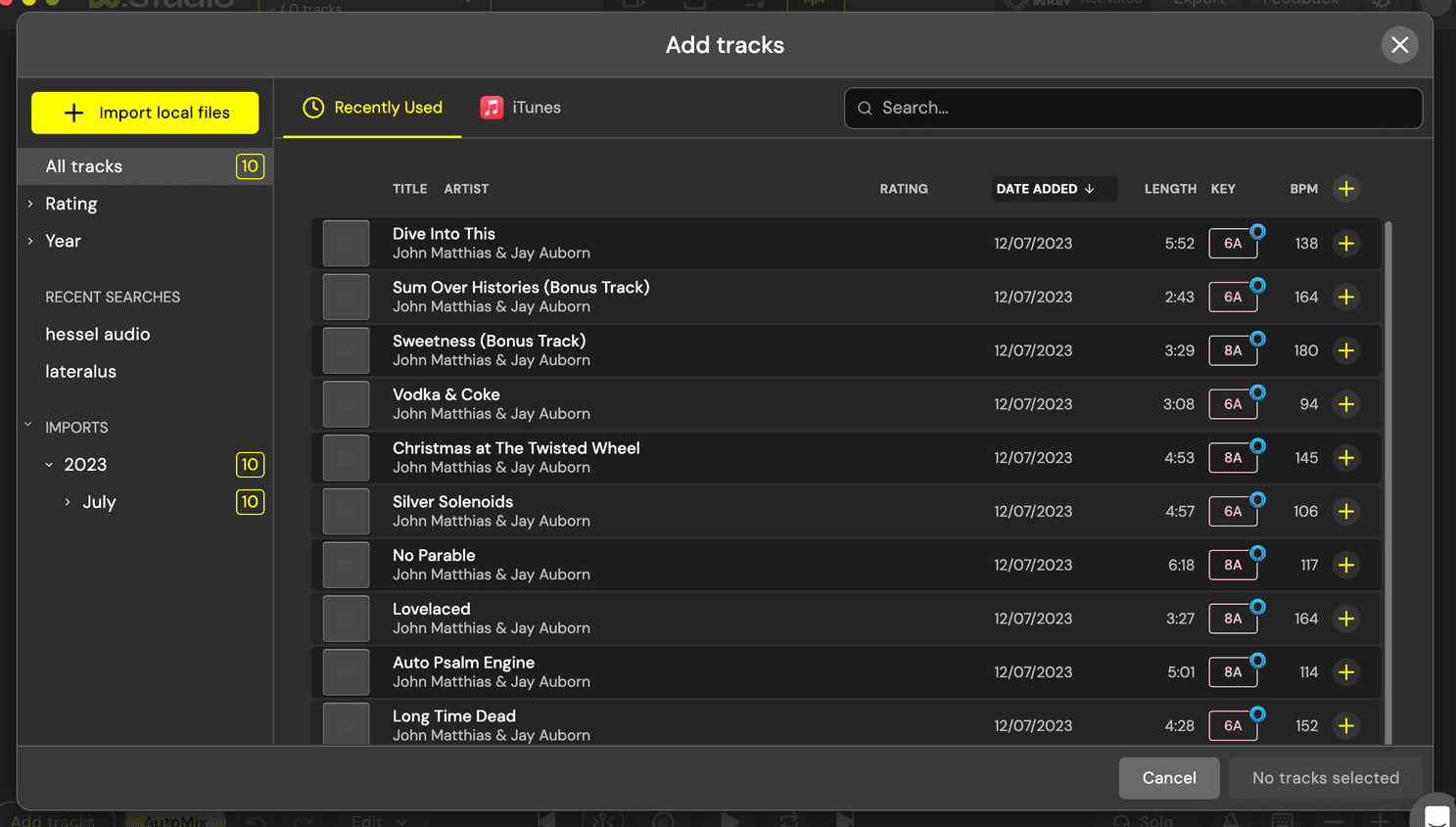 After creating a mix, you will be prompted to add songs to build a playlist. 
If you're using the Local File mode, you can:
Drag and drop audio files into DJ.Studio.

Use DJ.Studio's browser to locate files on your hard drive.

Import music from 3rd party software libraries like rekordbox. 
If you're using the YouTube mode, you can:
Import YouTube songs from search.

Import an entire YouTube playlist. 

Import music from YouTube Music. 
After you've added all the tracks you want to use in your mix, click 'Done', then click 'Automix'. 
4. Automix#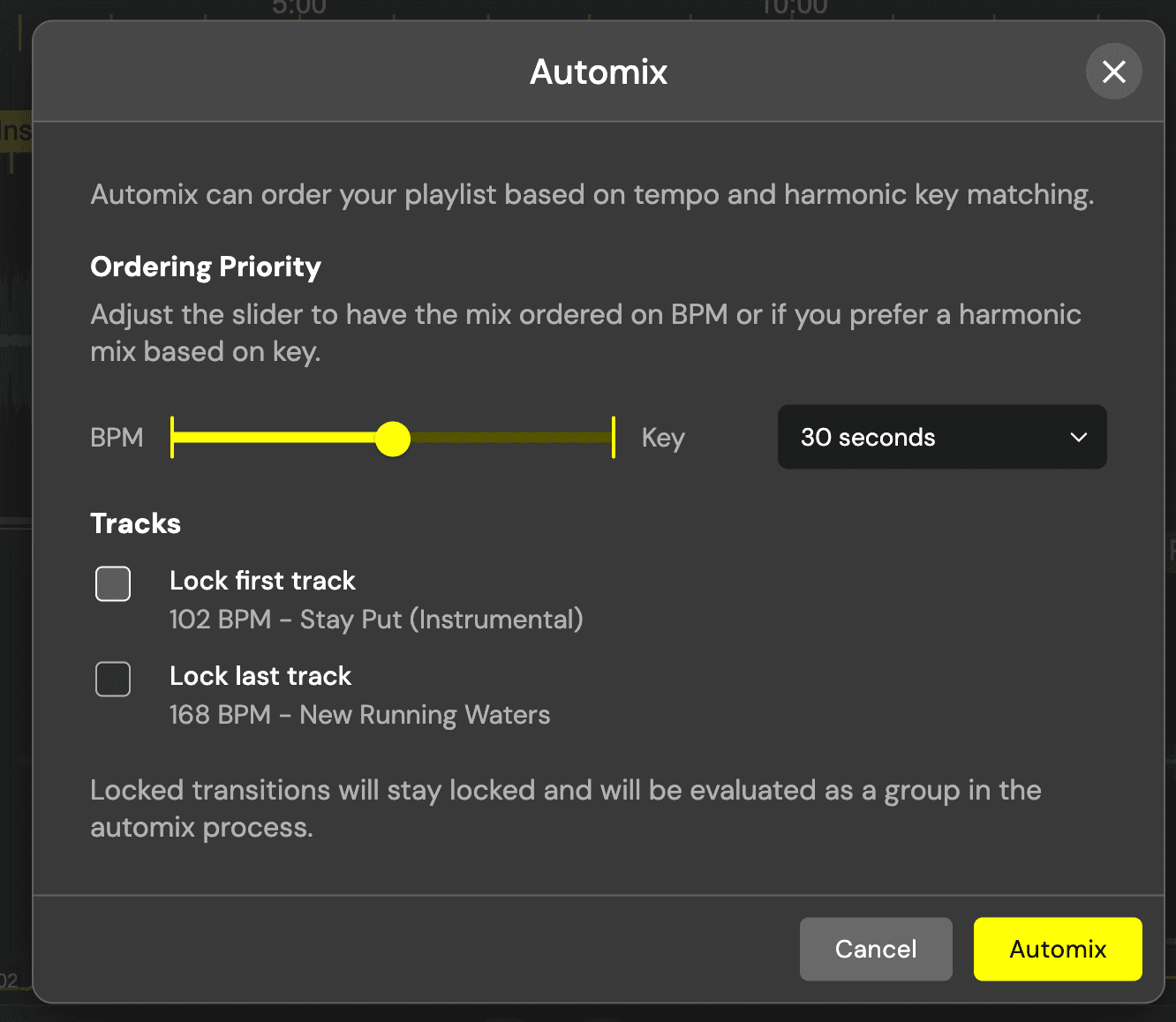 After you've added enough tracks to your mix, you can let DJ.Studio's Automix algorithm work its magic. 

To automix, simply:
If you want the mix to start and end on particular songs, move them into position in the playlist.

Click Automix.

Adjust the options:

Set the priority balance between Key and BPM for automixing.

Toggle whether to lock in the first and last track. 

Choose how long you want the algorithm to calculate. 

Hit 'Automix' to start the process.
Now, just wait for DJ.Studio to calculate the ideal order for your mix! 
5. Adjust Your Mix Arrangement#
When the Automixing is complete, you will be taken over to the Studio Editor view, where you can start to fine-tune your mix. 
Depending on how experienced you are with audio editors, you might want to switch to a different editor view style. The options are:
Carousel - A streamlined view for quickly editing mixes.  

Split - The screen is split between the playlist and timeline windows. 

Playlist - A single view of the playlist for reordering your mix, and seeing detailed information. 

Studio - The most advanced mode, giving your precise control over every element of your mix. This is the most powerful screen for editing. 
Find the view you like, and then start tweaking your mix. 
Before adjusting transitions, you might want to:
Reorder some songs, by moving and changing the order in the playlist.

Change the position of songs, so they start sooner or later against the previous track.  

Solve harmonic issues - by clicking the red alert in the playlist, DJ.Studio can detect a new track to fill a harmonic gap if some tracks cannot be mixed harmonically in your selection. 

Create loops, and cut, copy, paste, and duplicate sections of audio within a track. 

Create automation to add an extra layer of expression between transitions. 
After you're happy with the overall arrangement of the mix, it's time to refine your transitions.
6. Edit Transitions#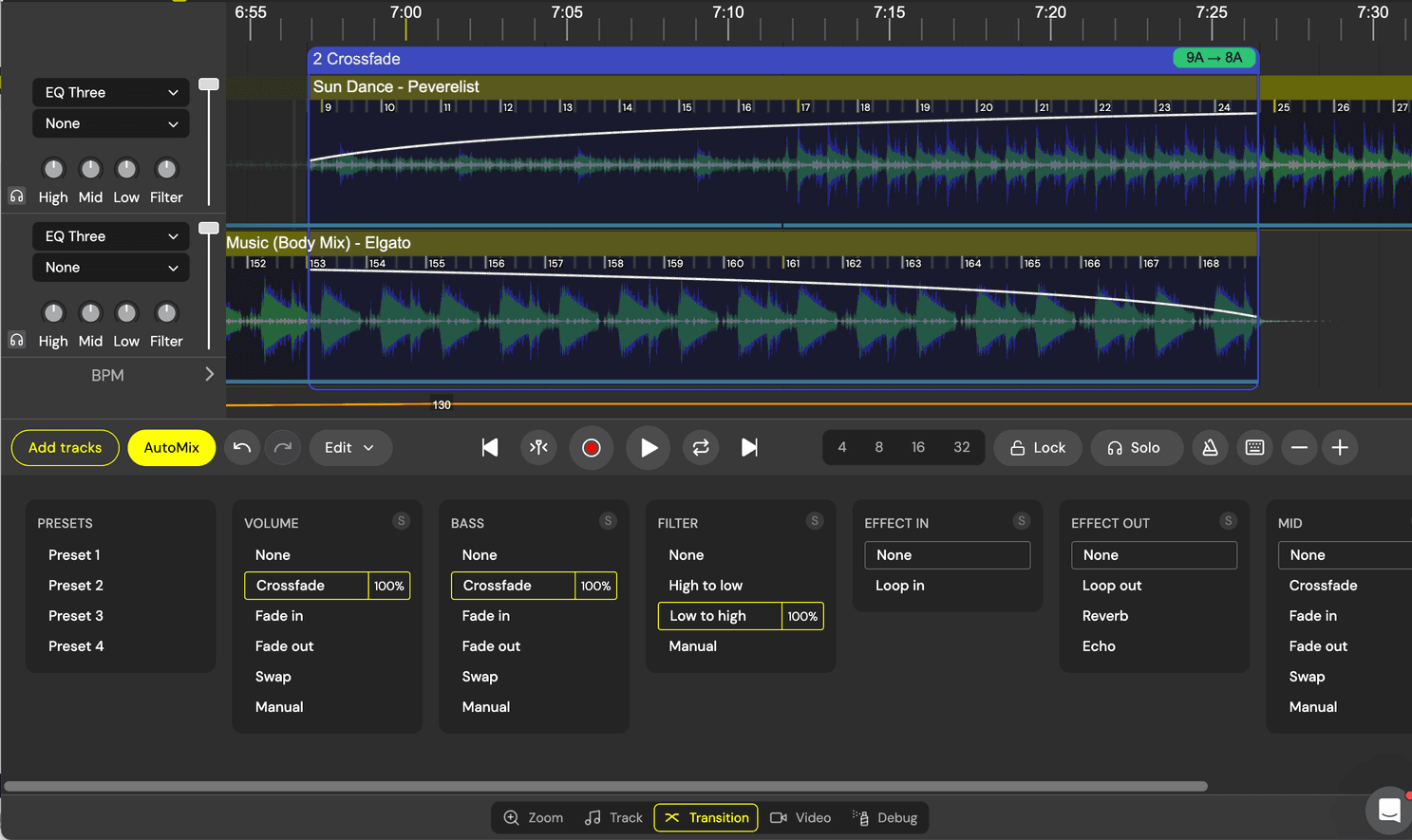 DJ.Studio provides several tools for creating detailed and unique transitions. You can automate all of the parameters simultaneously to make expressive and impactful transitions in infinite detail. 
Open the transition editor from the bottom tab of the Studio View. 

In the timeline, click on the blue transition window of the transition you want to edit. 

Adjust the window edges to change where the transition starts and ends. 

Now, choose some presets for your transition. For example, a volume crossfade, and/or a high-to-low filter. 

Next, experiment with manual transitions. Here you can draw in a custom line for the parameter. 

When you're happy with the transition, click the 'Lock' button to pin it in place.

Move onto the next transition, and repeat!
This explains the detailed process of editing transitions in Studio view. In the Carousel view, the process is a bit simpler. You just select the transition preset from the icon in between two tracks. 
After you're happy with the transitions, I'd suggest having one final run through your mix and making any final adjustments. 
7. (Optional) Use The Video Creator#

Not only is DJ.Studio a futuristic mixing tool, it's also capable of creating audio-reactive visuals to accompany your mix. This is the perfect system for making engaging YouTube videos, or for making some visuals for a party!
Click on the video tab to open the video creation interface. 

For each song in the playlist, choose what type of background you want - animation/image/color/album art.

Add a spectrum analyzer, and adjust the settings. 

Choose how the track information will be displayed. 

Toggle on any other effects, like particles or the audio waveform. 

Adjust the transition animation for each track. 
Voila! It really is that simple. After a few clicks of the mouse, you can create a completely unique video that reacts in time to the beats of your music. This will hypnotize your viewers even more. 
The video is optional, and you can still just create a pure audio file if you want!
8. Save your Project#

DJ.Studio automatically saves as you work, meaning you won't lose much time if your computer crashes or if you have a power cut! 
That said, it's also a good idea to save your project regularly, especially when you have finished making it. You might also want to save it as an extra file, so you can work on different versions if you make large changes. You can also restore old versions using the project manager if you want to go to an earlier state. 
9. Export and Share your Finished Mix!#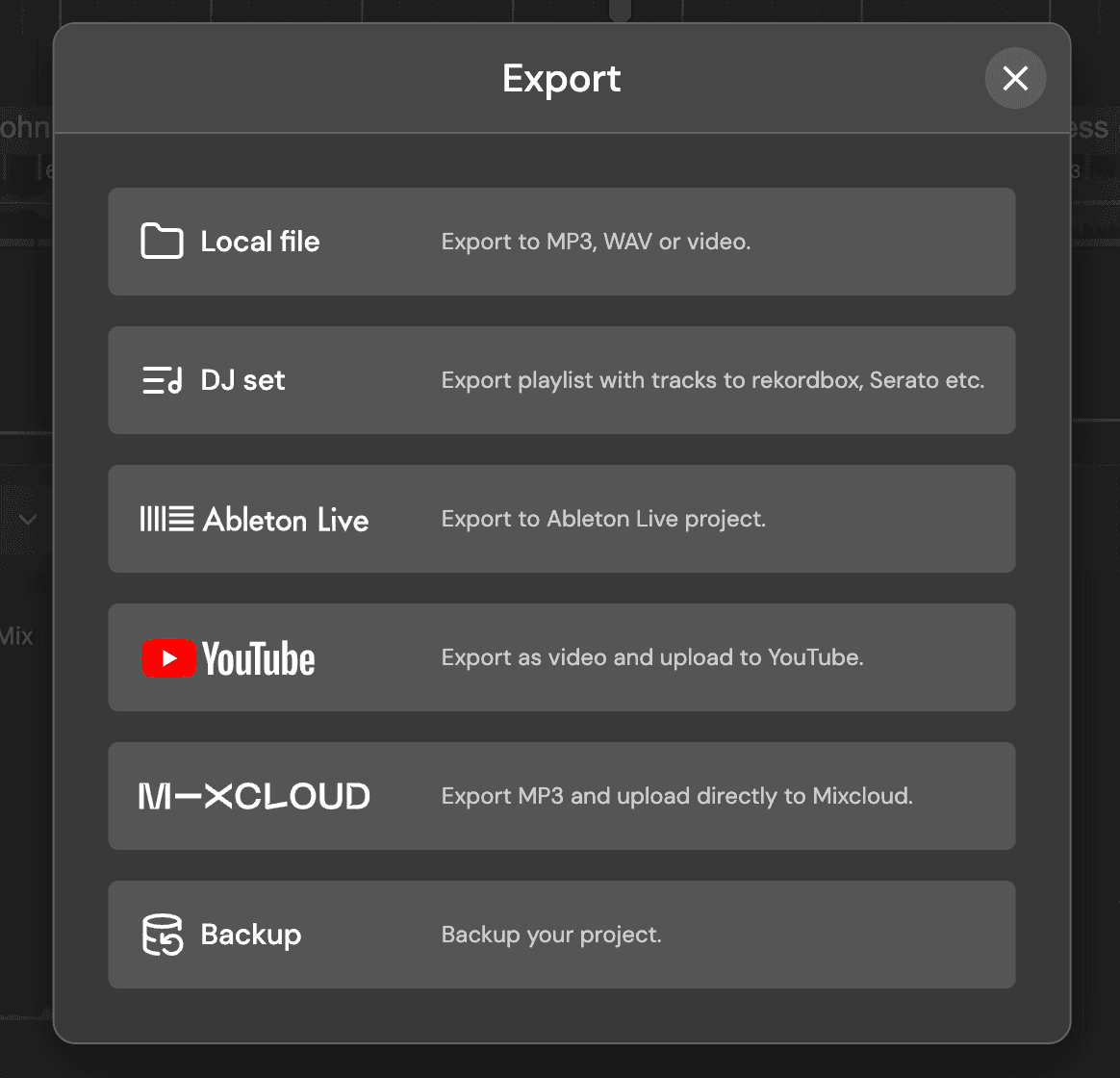 When you are happy with your mix, it's time to export it out of DJ.Studio and onto the next stage. 
DJ.Studio offers a couple of export destinations, all of which can be accessed by clicking the 'Export' button in the top-right corner. 
The export destinations include:
Local File - This creates either a WAV or MP3 audio file of the recorded mix. You can select the quality and set the final output gain. 

DJ Set - Export your mix as a DJ set file, which can be imported into other software like rekordbox or Serato. This will include all information regarding the order of the playlist. 

Ableton Live - Export the mix as a multitrack Ableton Live file for further editing. This is ideal for radio show producers who might want to add some extra audio jingles or voiceovers. The Live set will include all transition and automation parameters, recreated using Ableton's effects!

YouTube / Video - Export the video content, either directly to your hard drive or uploaded straight to YouTube. You can choose the video quality from 720p to 2160p.

Mixcloud - Record your mix and upload the audio file directly to your Mixcloud account!

Backup - Create a .DJS file, which can be stored on your hard drive, or sent online. A .DJS file can be imported back into DJ.Studio to restore your projects. 
Congratulations! You just completed your first DJ.Studio mix project from start to finish!
Make sure to check out other resources in the DJ.Studio Academy to learn more tips and tricks!