11 Best DJ Software for Mac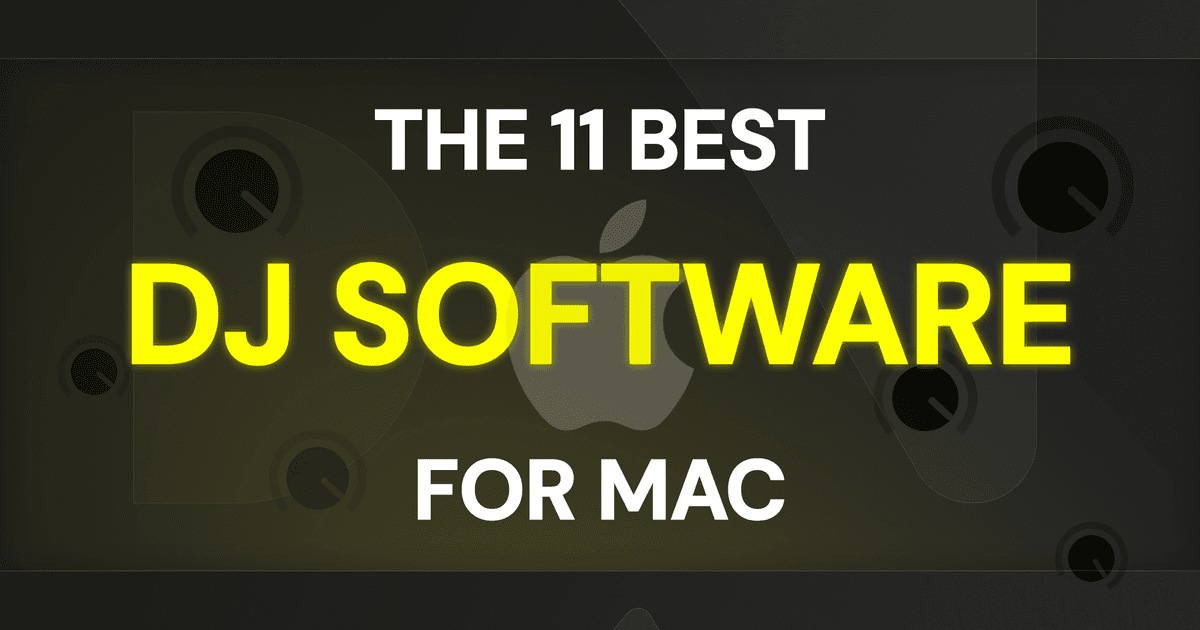 Looking for DJing software to use on your Mac? If so, this is the guide for you.
With so many different DJ apps for Mac users out there, it can be hard to know which is the best choice. While most work in the same way, there are some differences between them, and some stand out from the crowd.
As experts in DJ software, we've put together this guide full of the best DJ software apps for Mac. There are a tonne of choices out there, so we've searched through them all to bring you the cream of the crop.
Ultimately, the best choice depends on what kind of situation you're making your mixes in, and what kind of features you need. Make sure you check out the second half of this article where we discuss important considerations to make when choosing software.
If you're also a Windows user, you should check our list of the Best Windows DJ Software!
TL;DR - Macbook DJ Software#
There is a wide range of DJ software for Mac, although most work in the same way.

DJ.Studio moves away from traditions and offers game-changing new features.

Make sure you take the time to work out what kind of software suits your needs the best.

Many DJ apps have free trials - which you should test before buying.
The 11 Best DJ Software For Mac#
Beloiw are the best DJ software options for Mac. You might also be interested in this list of DJ Software for Beginners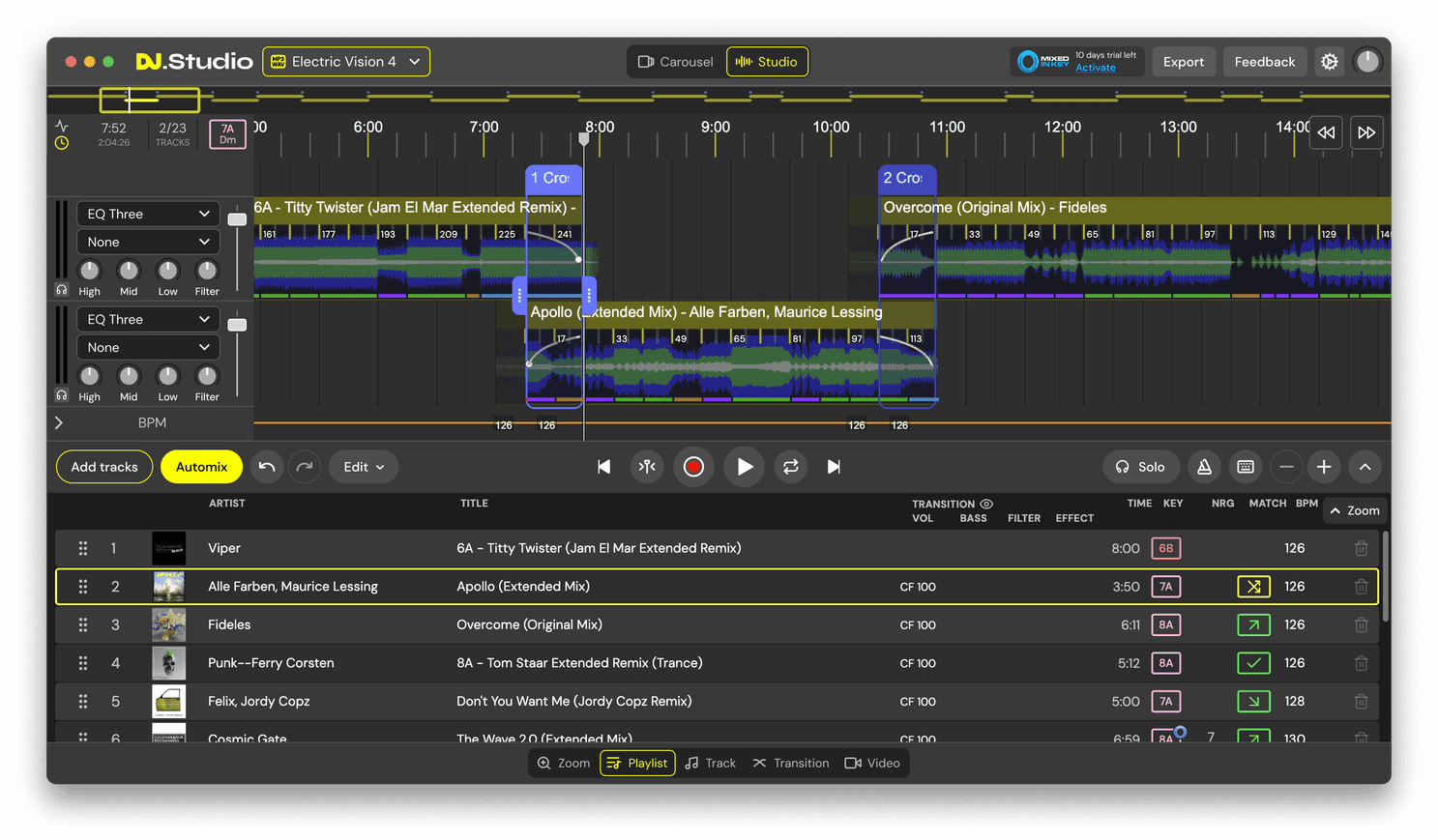 Pros
A Powerful and unique workflow

Use cutting-edge AI to harmonically mix and beat-match your tracks

Create more expressive and creative transitions than possible with live mixing

Save time, and make more impressive mixes
Cons
Not yet designed for live performance

Currently no hardware support
About
DJ.Studio is a unique option on this list. It moves away from the traditional paradigm of DJ software - where the standard approach is to create a program that simulates the setup offered by decks and a mixer.
Instead, DJ.Studio offers a workflow that is closer to the timeline system of a digital audio workstation, with the biggest difference that it is made with DJs in mind, rather than music producers.
DJ.Studio is totally different from other DJ software - it's specifically designed to make complete, seamless mixes in record time, thanks to a unique set of powerful and cutting-edge tools.
Currently, DJ.Studio isn't the solution for you if you want to mix music live - for example in a nightclub or party. However, in any other situations where there is no need to mix music live, then DJ.Studio is the best choice.
Unlike most DJ software, DJ.Studio has a bunch of features which help you to make mixes way faster than in real-time. You no longer need to worry about making mixes and having to re-record or edit them when you make mistakes.
It also helps you to sound more professional, as you can tweak and perfect your mixes and transitions in infinite detail. It has built-in tools for helping you to mix harmonically, which can take years to master, but makes a huge improvement to the sound of your mixes.
To fully understand the power offered by DJ.Studio, let's explain the workflow process from start to finish.
Connect your DJ Software, and Import Music - DJ.Studio can mix music from a range of sources. You can import many file types from your hard drive, and also connect other DJ software, like rekordbox, Serato, Traktor, etc. You can even mix music from streaming services like youtube and youtube music.
The first step is to bring some music files into DJ.Studio, so you can use any of the above methods. 

Pick your playlist - Select a bunch of music from your library to make a playlist to use in your set. You can also directly copy a playlist from other software, so if you have some mixes organized in rekordbox or Serato, you can instantly use them in DJ.Studio. 

Automix - Hit the automix button, and select the algorithm preference - either key, BPM, or both. Now, let the automix AI work its magic. DJ.Studio will scan through every possible combination (literally millions per minute), to work out the optimal track sequence based on your choices. This will give you a perfect harmonic sequence, or an ideal progression of BPM.

Tweak the arrangement - You can now adjust the arrangement as needed. If some transitions are not harmonic, you can use DJ.Studio to automatically scan your library to pick a track that would help bridge the missing gaps.

Adjust transitions - DJ.Studio's powerful transition editor lets you create the perfect blends between tracks. You can automate and adjust any of the parameters simultaneously. This lets you create incredibly detailed and creative transitions that otherwise wouldn't be possible to perform with two hands and standard DJ gear.

Record - When you're happy with your mix, you can record it in a single file. The rendering process is much quicker than manually recording the mixes at a 1:1 time frame, meaning you can save time on the logistics, and spend more time being creative.

Export - You can export your finished mixes to a range of locations, including Mixcloud, other DJ software, or even as a multi-track project for Ableton Live.
Another notable feature of DJ.Studio is the built-in video creator. This lets you produce audio-reactive visuals for your mixes, making another extra layer of interest and entertainment for your audience. These can then be uploaded to Youtube, which also includes all the timestamp information to automatically add chapter dividers to your mix.
You can see an example of a visualized mix made in DJ.Studio here >>> Visualized DJ Mix
These videos can also include the track information and album artwork, which is a nice touch.
Overall, DJ.Studio is a powerful piece of DJ software that offers a range of advantages over other programs. It also works really well with these programs, as you can use DJ.Studio's AI to find the perfect harmonic order for a bunch of tracks, gives you ideas how to make great sounding transitions and then mix them live in another piece of software like rekordbox.
It offers the benefits of DJ software, with the speedy and refined workflow of DAW-style audio editors. This creates a powerful DJing experience like no other. Check out this Interview with the Creator of DJ.Studio for more information.
Test out this software for yourself with the free two-week trial!
2) rekordbox#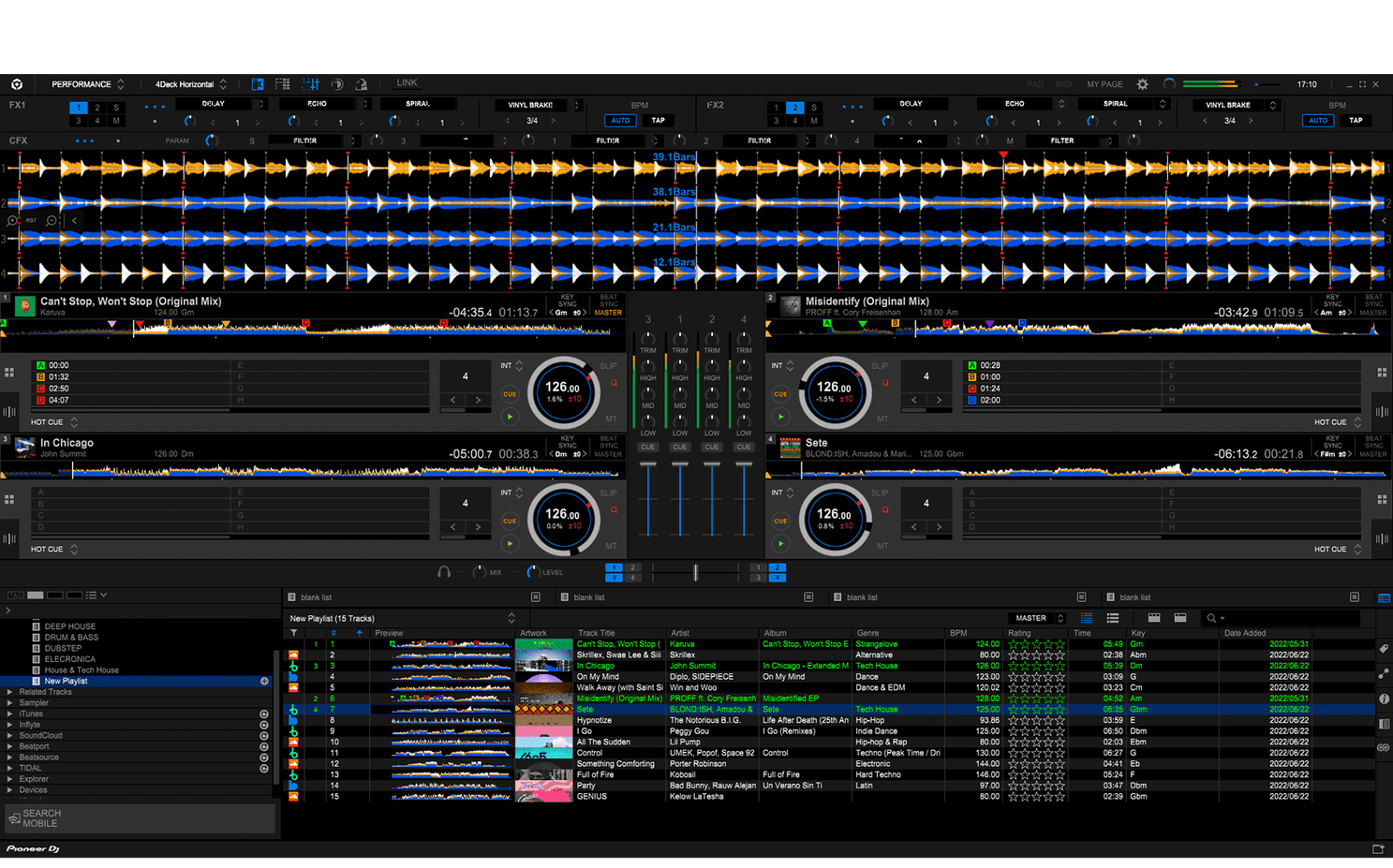 Pros
Widely used in clubs and other DJ setups

Easy to use

Fully featured

Decent free version
Cons
Limited hardware support

Slightly outdated features

Need to pay to be able to record mixes
About
Rekordbox is one of the more commonly used pieces of Mac DJ equipment and comes in a range of versions. If you're looking for some free DJ software, rekordbox has a decent free version, although the paid versions offer even more features.
One of the main limitations is the fact that you can't use the free version with hardware controllers, and you can only use the paid version with official pioneer controllers.
But, as far as live mixing software comes, rekordbox is one of the best options out there. It has almost everything you need as a live DJ.
The library manager is well-featured and easy to use. You can quickly organize your tracks and create new playlists. The overall mixing interface is intuitive and lays out all the information in a single, easy-to-view layout.
rekordbox is packed full of effects and tools for making your mixes more expressive, although many of these features are locked into the more expensive versions, although you can still make a killer mix with the basic versions.
Overall, rekordbox is one of the better pieces of Mac DJing software out there, alongside DJ.Studio, Serato, and Traktor.
3) Traktor#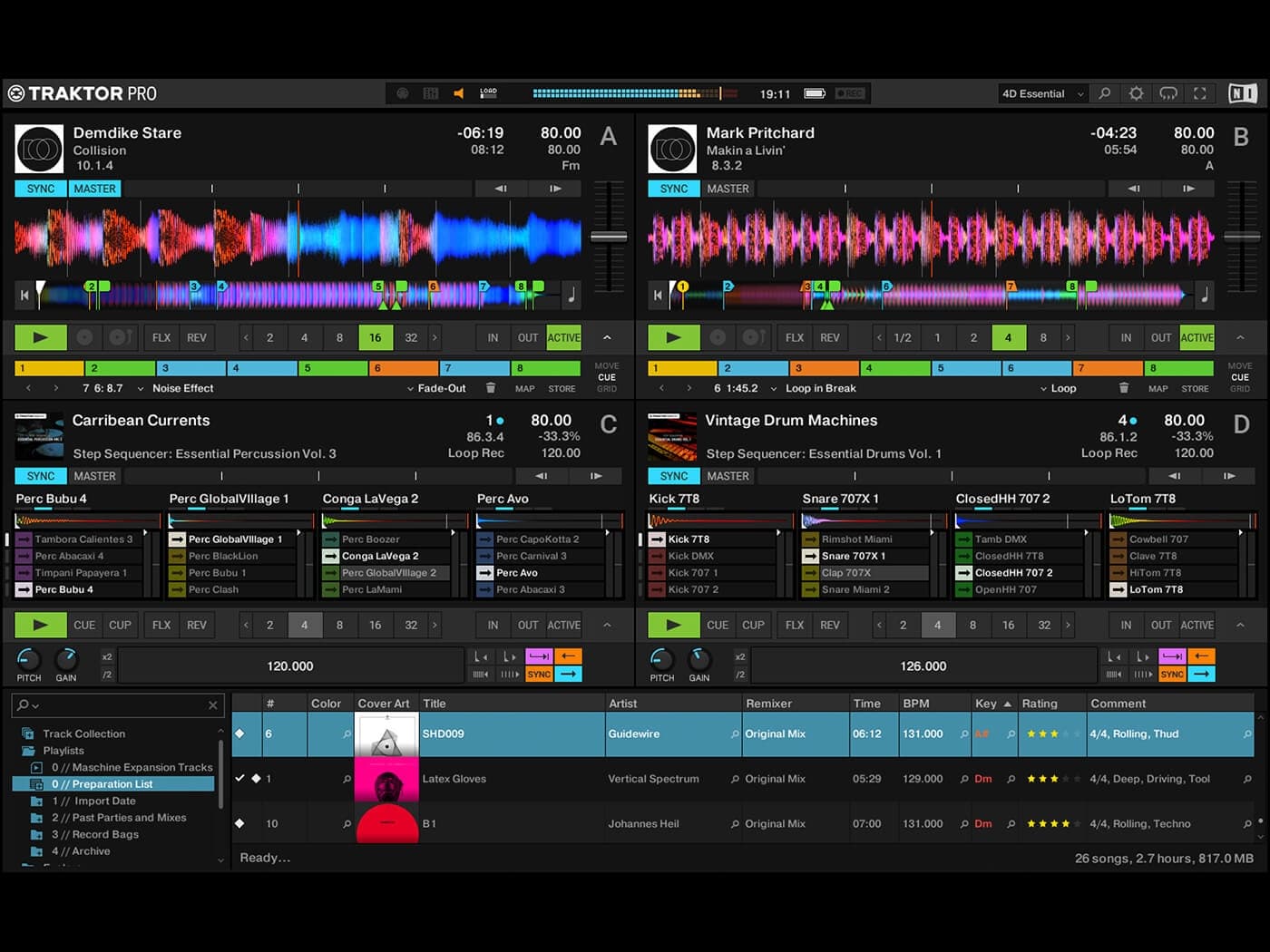 Pros
Easy hardware integration

Great free version

Mix 4 tracks
Cons
You'll need to pay for updates

Frequency information is not displayed in the waveform

Some bugs
About
Traktor is a high-quality piece of DJ software that many Mac-using DJs will suggest. If you're looking for a comprehensive piece of live DJ mixing software, Traktor is a great choice.
It has all the normal mixing features you'd expect, and several advantages over other software.
One of the most notable features of Traktor is the ability to use it with almost any type of hardware DJ controller. This means you can use it with cheaper equipment, and it's more versatile.
That said, you can also use it without hardware, although if you're mixing with a mouse and keyboard alone, you might not get the best experience or mixes. If you're not using any hardware and don't need to mix live - then you're better off using studio-type software like DJ.Studio.
4) Serato#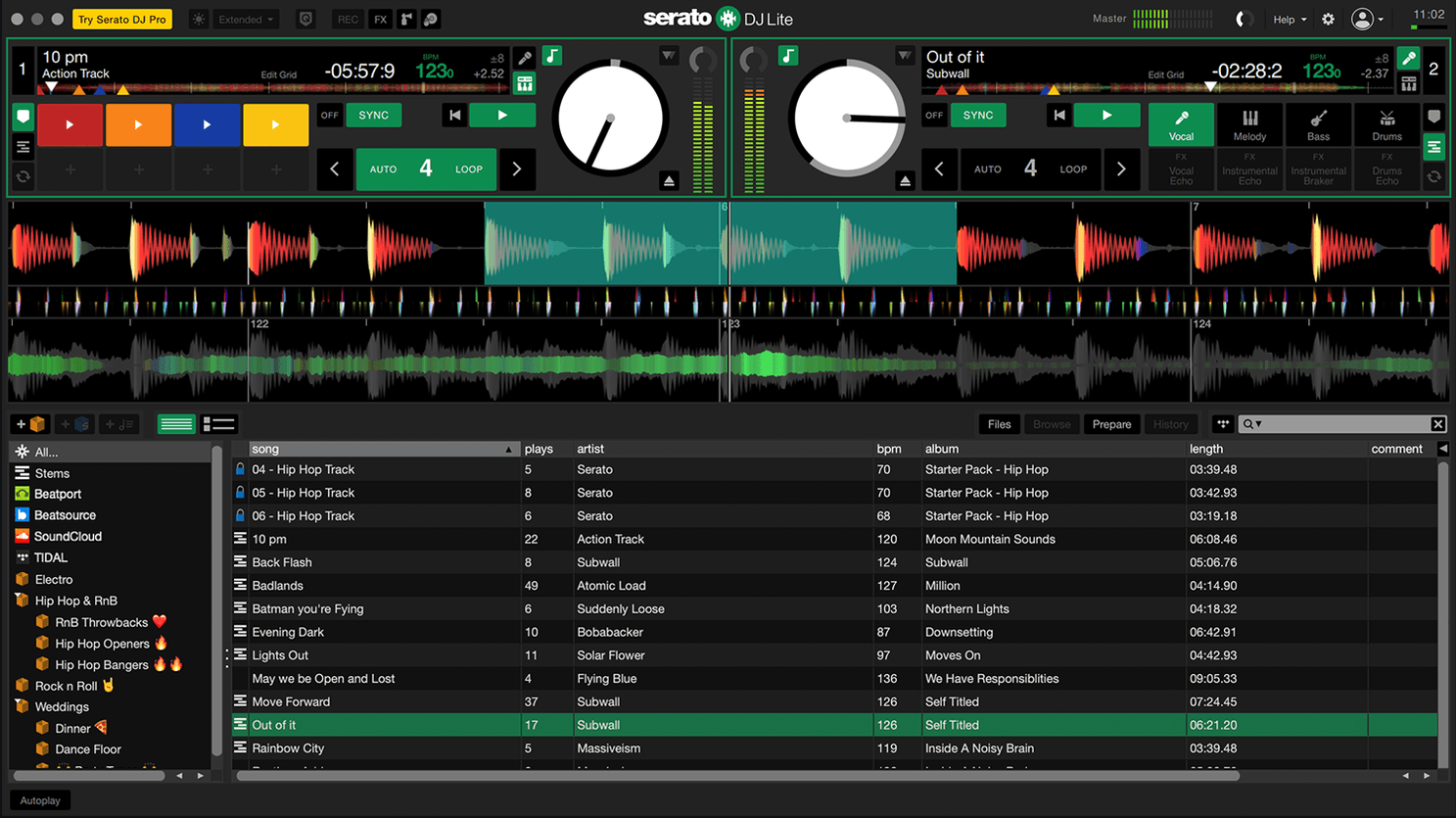 Pros
Ideal for creating live remixes

Works with digital vinyl systems

Comprehensive hardware support
Cons
Limited hot cues and looping

Restricts the functionality of some controllers

Can't record in Free or Lite version
About
Serato is another popular piece of DJ software that is ideal for beginners and pros alike.
You can find a version of this software that suits your budget and skill level, no matter how long you've been DJing. Serato DJ Lite is the free version, which lets you get a taste of the mixing features without needing to spend any money. You can also pay for Serato DJ Pro if you need more professional DJ software with better features for serious DJs.
Some of the versions of Serato include support for streaming services, and you can also buy expansion packs which give you a bunch of loops and DJ tools to make your life easier.
Another cool feature of Serato's Pro version is the ability to use it with a Digital Vinyl System (DVS). This lets you use traditional turntables and vinyl to control your digital music library - giving you the fun, hands-on feeling of mixing vinyl, with the flexibility of software.
5) Mixxx#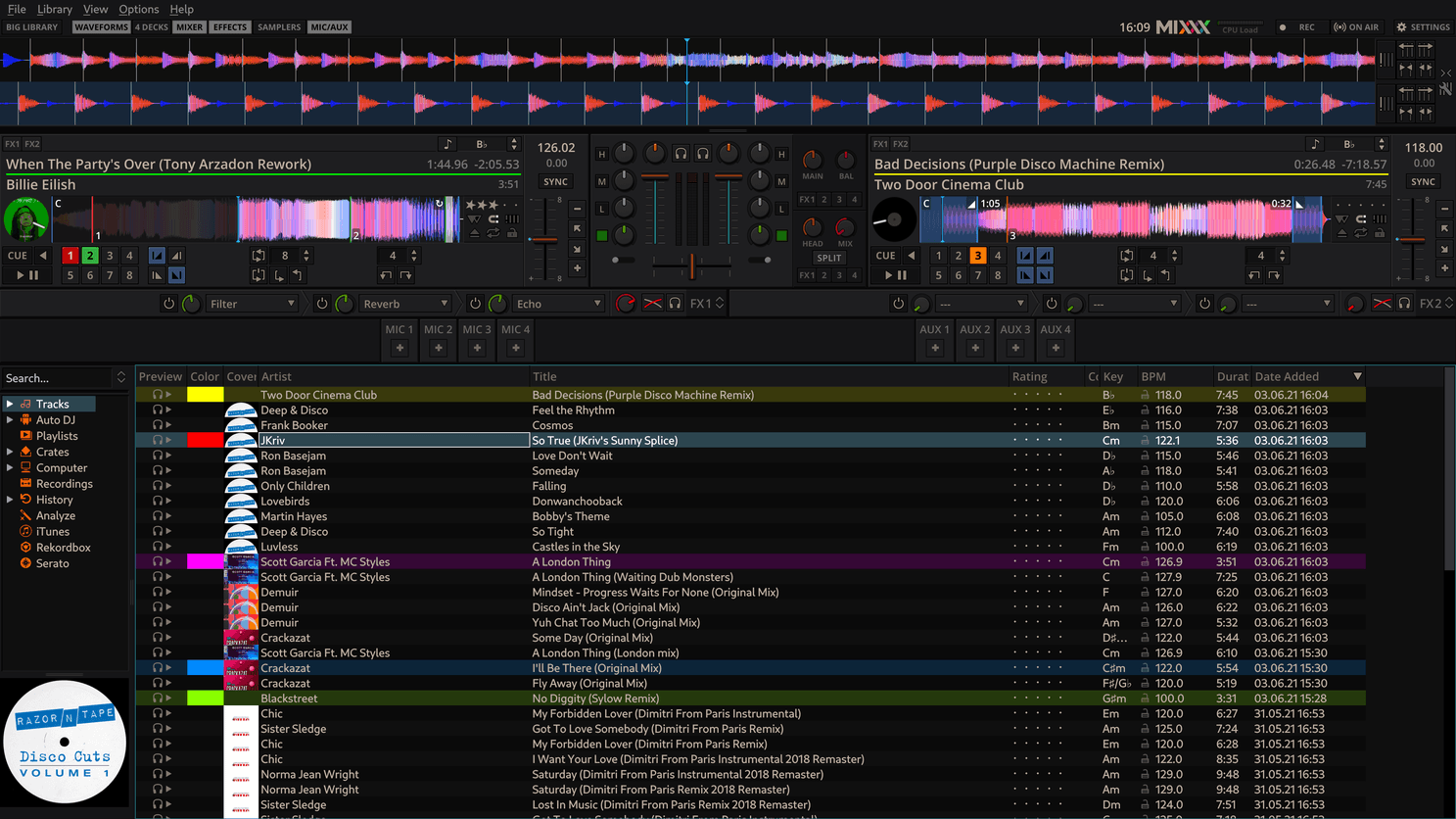 Pros
Totally free and open-source

Updated regularly for free

Works with many hardware controllers
Cons
A bit clunky

Audio effects have limited sound quality

Not as polished or professional feeling as other apps
About
The main standout feature of Mixxx is that it's a completely free, open-source piece of software. This means it is developed by the community, and not for profit. This has some advantages, making it highly flexible, totally free, and customizable.
You can use it with almost any midi controller, and there are no paywalls. However, being open-source and community made, it does have several downsides. The most noticeable is that it feels a little rough and unpolished, as well as suffering from some instability issues, which could be embarrassing in a live show!
If you are looking for some completely free software, and don't mind the quirkiness and rawness of a community made project, then Mixxx might just be the best free DJ software for you!
6) Algoriddim DJay Pro#
Pros
Loads of compatible hardware

Relatively low-cost

Good for remixing

Mobile and tablet support
Cons
No looping features

Takes more time to set up than others

Slightly basic feeling
About
DJay Pro is another great piece of Mac compatible DJ software, that works just like most of the software on the market.
A unique feature of this software is its stem separation technology. This gives you the ability to separate out musical elements and remix them within a track. For example, you could pull out a vocal to create an a capella, or you could isolate a groovy drum section from one track, and swap it with another. This opens up more options when it comes to creating unique and fun remixes on the fly
7) Virtual DJ#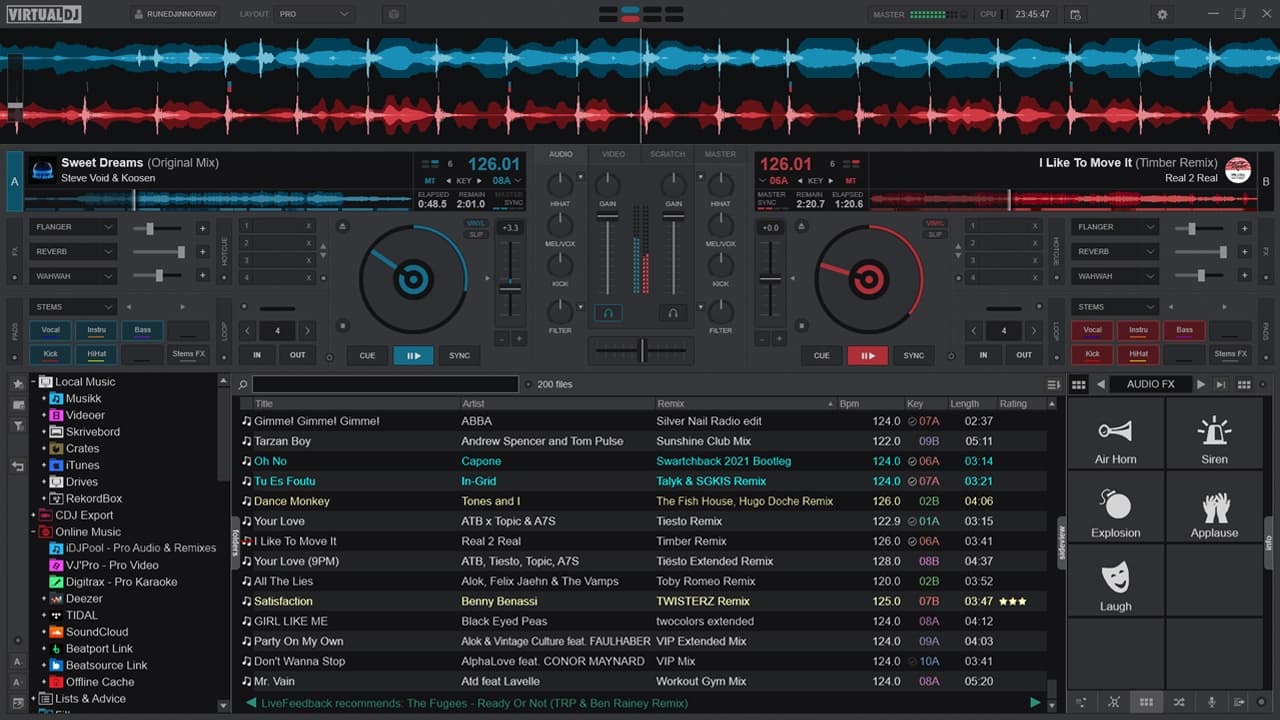 Pros
Supports loads of hardware

Can use custom keyboard mappings

Optional video mixing functionality
Cons
A little overcomplex for beginners

Takes a while to understand

Cluttered and confusing interface
About
Virtual DJ is another popular and longstanding piece of Mac DJing software that is used in clubs all over the world.
Like many other DJ apps, this comes in a range of pricing versions and comes with a free edition if you're on a tighter budget. Although the free version doesn't work with hardware which might be a bit of a deal breaker.
It has the whole feature set you need for DJing, including a decent library for managing your digital music files, effects, looping, a cool mixer, and more. You can even mix up to 99 tracks simultaneously (for whatever reason you'd want to do that...)
This is one of the few DJ software programs that gives you the ability to mix videos, which can add an extra layer of interest to your live performances.
8) Beatport DJ#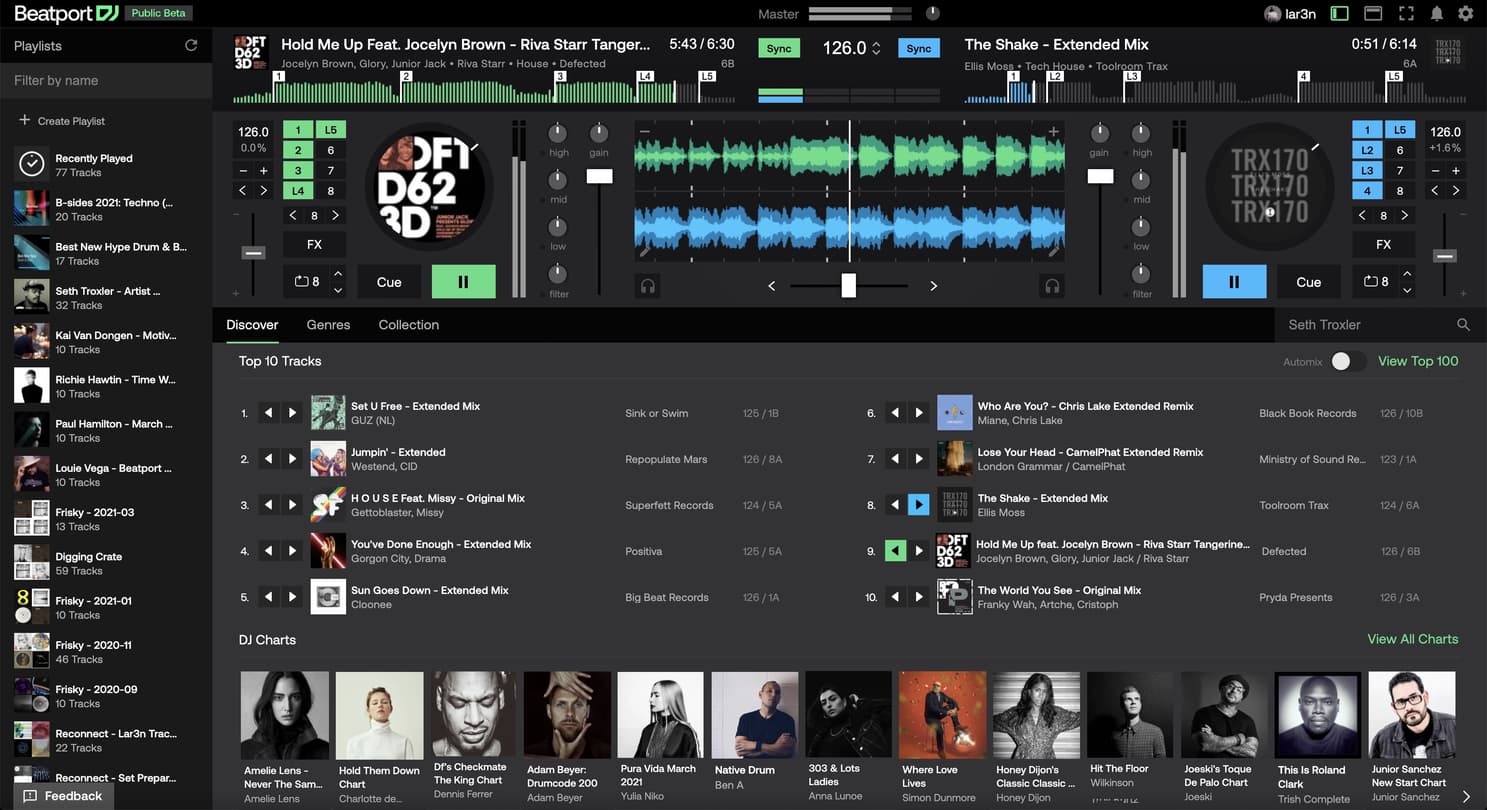 Pros
Mixing in the cloud

DJ with any music on Beatport

Build playlists on mobile, mix them on your pc
Cons
Not comprehensive enough for professional DJs

Can't use external audio files

Limited mixing features and effects
About
This is a slight diversion from most other software, as it's designed as a direct integration with online streaming libraries, rather than working as a standalone piece.
This is great in some situations, but not ideal in others. The main attraction of this software is to be able to mix with any music on the platform. This makes it a great tool for trying out new music in your mixes and discovering new tracks and artists to add to your library.
However, being online-only, it isn't suitable for live performances in a club. You also can't use external music, although it can be connected to Virtual DJ and some other programs to harness the best of both worlds.
9) Ableton Live#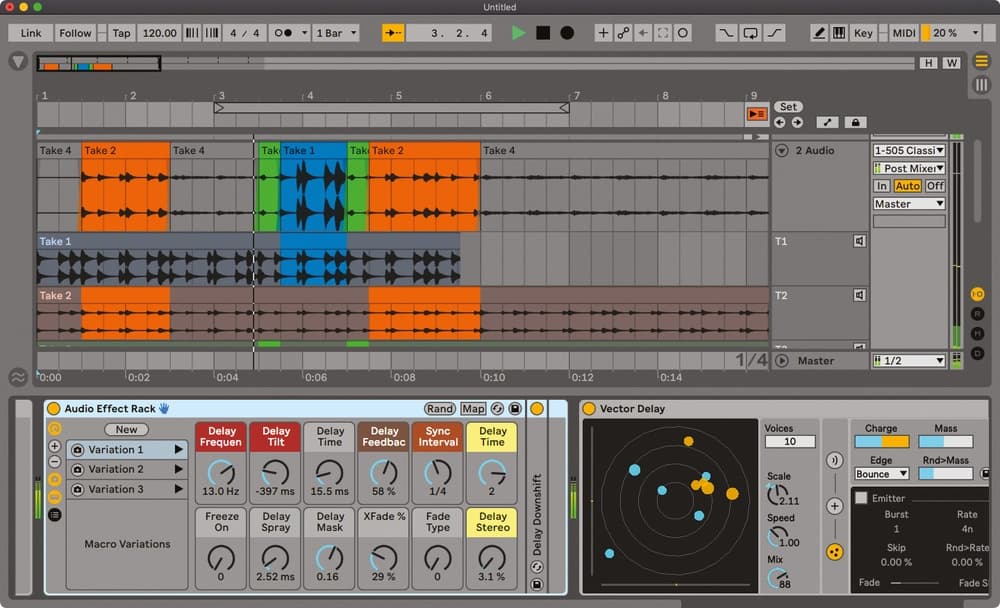 Pros
Comprehensive music production suite

Super powerful for remixing

Highly customizable
Cons
Overcomplex for DJing alone

More expensive

Hard to understand if unfamiliar with DAWs
About
While Ableton Live is designed as music production software rather than for DJs, you can still use it for DJing.
If you want some software that lets you create remixes, edit music on a timeline, and work as a live performance tool for electronic musicians, then Ableton Live is worth checking out. This is by no means an ideal choice for DJs, but it can still work and can open up other creative options. I'd recommend using this on the side of other DJ software if you want to take DJing and music production more seriously.
For example, many high-end DJs will use Ableton Live on the side of DJ software during live performances. This means they can trigger samples, and use more advanced live effects as an addition to mixing tracks with some traditional DJ software.
The full version of Ableton Live is pretty expensive, so I'd recommend checking out the Lite or trial versions first. Although, if you want to take music production further, then a DAW like Ableton Live is a must-have. That said if you want to focus more on DJing than production, DJ.Studio is a revolutionary 'DAW for DJs' that you should check out.
10) Cross DJ 4 Pro#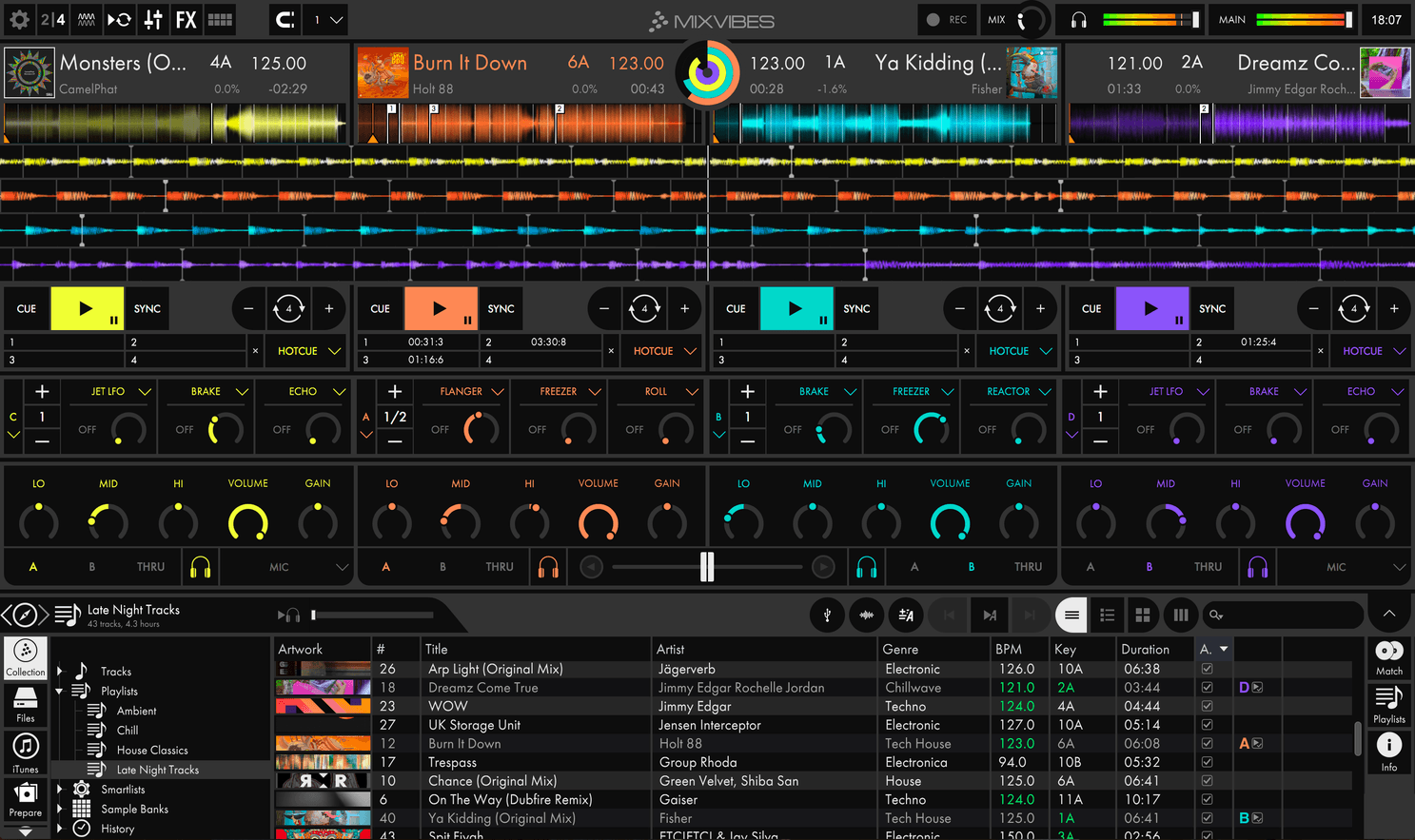 Pros
Highly customizable interface

Integrated with Soundcloud Go+

Connect to Ableton Live with Link

Wide range of compatible hardware
Cons
Some instability compared to bigger names

Relatively ugly interface

Limited features for professionals
About
Cross DJ 4 Pro is another viable option when it comes to Mac users looking for DJ software.
It's a highly customizable piece of software and lets you customize the interface in a wide range of ways so it suits your style perfectly. This is a nice feature for DJs who like their setup to look a certain way.
You can mix up to four decks at the same time, and customize exactly how you want the controls and waveforms to appear. The beat sync function works well, so you don't need to worry about manual beat matching. It also shows you information about each track's key, helping you to get into harmonic mixing without needing to manually analyze the keys of your music library.
It comes with a bunch of built-in audio effects, including delays, echo, loop rolls, flangers, phasers, and a bunch of others!
Another cool feature is the ability to connect it to your Soundcloud Go+ library, essentially meaning you can stream a huge range of tracks without needing to download them.
Additionally, it can sync up with Ableton Live via Ableton Link. This makes it super easy to layer in extra samples, loops, and vocals from Ableton Live, giving you the ability to create more interesting remixes on the fly.
It comes in two price versions - Cross DJ 4, and Cross DJ 4 Pro, which offers more functionality at double the price.
11) Neural Mix Pro#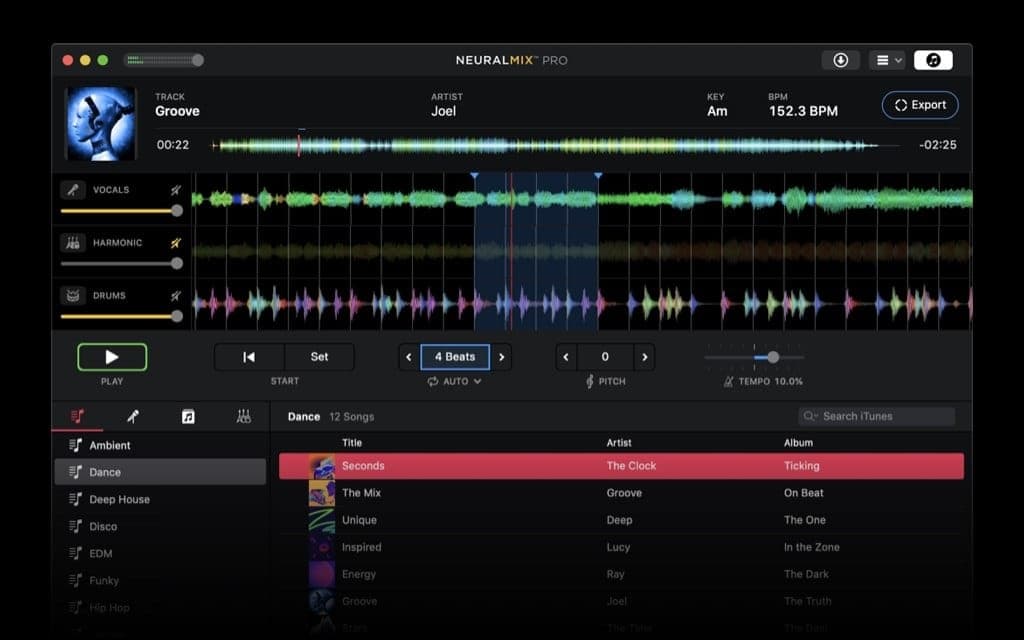 Pros
Excellent stem separation

The foundation for creating unique remixes

Clean and powerful processing
Cons
Not enough on its own to DJ

Needs other software

Some of its features are already in other apps.
About
Neural Mix Pro by Algoriddim is an interesting piece of software that is designed to help DJs create sonic elements for remixes. Rather than being a full piece of DJing software, Neural Mix is closer to music production/sampling software. It allows the users to separate, isolate, and strip out certain parts of tracks to create new, independent audio files.
It's not enough on its own to create DJ mixes, as it doesn't have the multitrack, a mixer, or other things needed to DJ. However, this is an excellent piece of additional software to pair with your main DJ app.
Neural Mix makes the process of sampling, creating acapellas, or slicing loops super easy. So if you want some additional software to make your DJ mixes more unique and interesting, this could be the perfect addition to your toolkit, although it's not enough alone!
How To Choose Mac DJ Software - Buyer's Guide#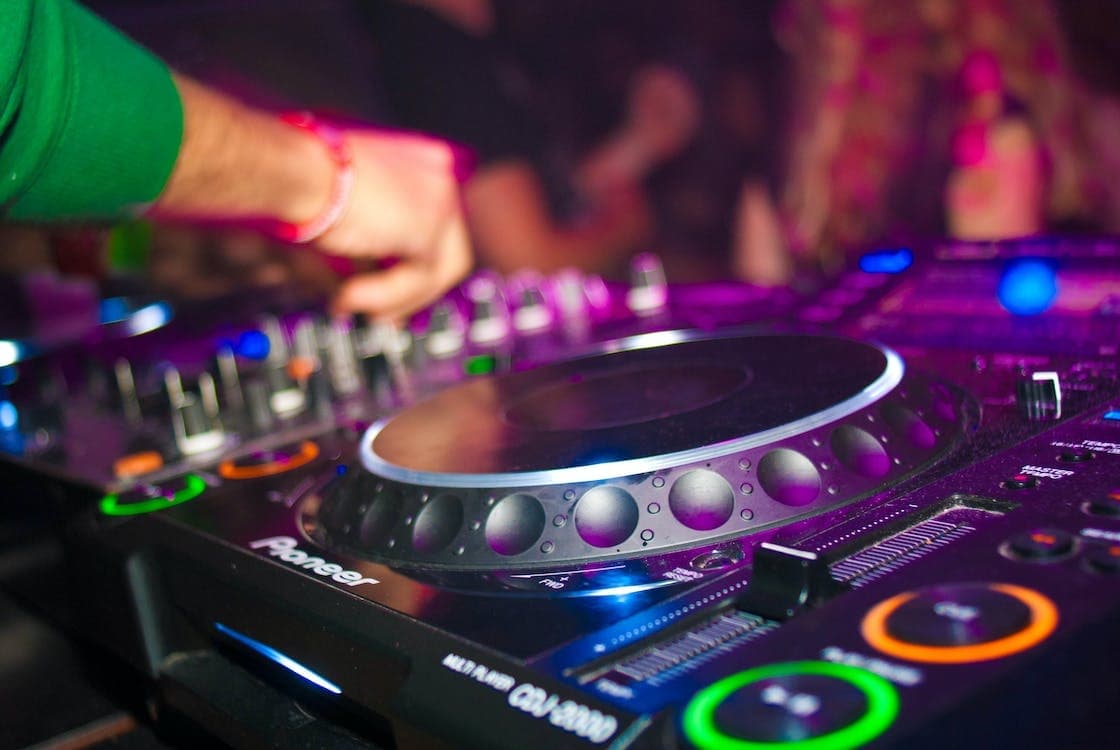 With so much different Mac DJ software out there, you should take some time to consider your needs and style. This will ensure you find the best option for you!
Take a look through this list to understand the range of approaches that DJs can take, and how each app can be slightly different. This way, you'll be able to work out what features and style suits you.
Type - Live or Studio#
One of the first considerations is to understand whether you want studio or live-type software. There is a common distinction between the two, with studio software being a more modern method that is rapidly storming the DJ scene.
Live software has the exact purpose you would expect - mixing live. This type of software mimics the setup of most DJ hardware, having multiple decks and a mixer to blend between tracks. This is great when a live DJ performance is required, like in a nightclub, party, festival, etc.
The majority of DJ software revolves around this method. There is really one modern type of studio software that is explicitly designed for DJs (DJ.Studio) - and everything else is live.
DJ.Studio uses an approach to making mixes that is closer to a DAW (music creation software), using an audio editor timeline, with automation, and non-linear editing.
This is the best type of software to use when you need to make a mix, but don't need perform it live. Some examples of this include for radio shows, events, background music, car journeys, online promotional mixes, fitness classes and for pre-recorded shows. There are countless examples where it makes more sense to build a mix in a timeline, rather than recording it live.
This type of studio software has a bunch of advantages over live software:
You don't need to record in real-time. This means the overall process can be simplified, as you don't have to listen to each song in its entirety when mixing.

You don't need to rehearse a mix before you record it. If recording the mix live, you'll want to practice the transitions and learn the tracks in more detail. With studio software, you don't need to rehearse the mix, as you can spend time refining the transitions and arrangement without needing to worry about making mistakes.

Talking of mistakes, when using studio software you don't need to worry about wasting time when you mess up. If you're recording a mix live, then you'll need to correct any mistakes if you want to sound professional. This could mean that you need to drop the mix into an audio editor, or rerecord.

Studio software lets you be more expressive and creative. With traditional live software, you are limited by the number of parameters you can control when mixing. However, when using studio software you can tweak an unlimited number of parameters in as much detail as you like. This means you can get more creative and expressive with your mixes, as you don't need to be confined by the limits of mixing live with only two hands.
Overall, both of these types of software have their strengths and weaknesses. Both have situations where they are more suitable. That said, the best choice is to have access to both types of software - as this covers all the bases as a DJ. You can mix live when you need to, and you can use the studio software to create more refined mixes with more detail and perfect transitions!
As far as studio DJ software goes, DJ.Studio is by far the best choice for Mac (and Windows) users, as it has the most functionality, and is full of cutting-edge new features.
Hardware Support#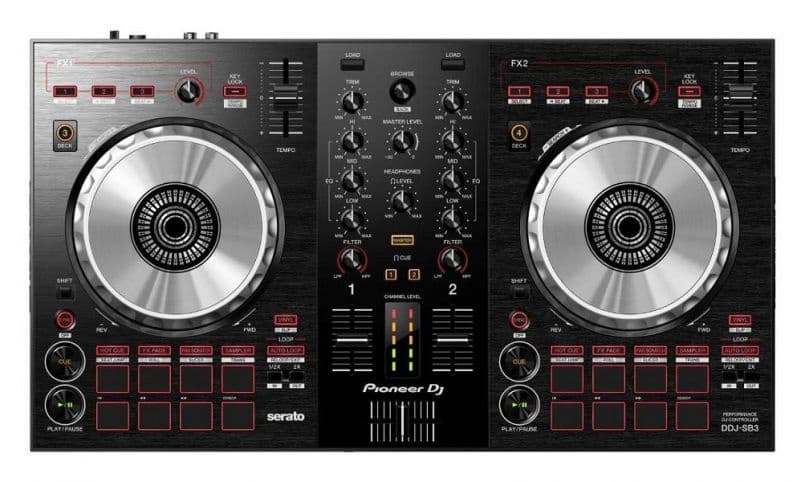 Another important consideration is the type of hardware supported by the software. Certain software has limitations on the types of hardware it can work with.
If you plan on using DJ controllers, then make sure you pick software that is compatible with the type of controller you own or plan on buying.
Some software, like Virtual DJ, Serato, and Traktor, can work with any software. You can easily configure and map MIDI controllers to control the software - making these programs more flexible.
But, some are limited, for example, rekordbox only works with Pioneer-approved hardware. This is important to take note of!
Support Services#
If you are new to DJing, or using software more professionally, then having access to a responsive and knowledgeable support team can be super helpful.
This is another factor where there can be a huge variation from software to software. Check out the reviews to get a better understanding of which has a good support base.
Some software has really great support, including detailed knowledge bases and live chat teams, however, others are neglected, and you'll end up relying on a community forum to find the answers you need.
Price#
DJ software comes in a range of prices, and pricing models.
One of the first things to think about here is whether you would rather use a subscription or a one-off price system. Subscriptions mean you can get into the software for a lower up-front cost, although will end up being more expensive over time.
One-off purchases are good if you know that you love the software, and can afford the higher up-front cost. Although, it can be risky if you aren't sure about the software and may end up wanting to try something else.
A key tip to follow is to make sure that you test out the free version or more advanced trials where you can. Many DJ apps offer a limited free trial or have a completely free trial version that lets you test out more advanced features for a limited time.
Closing Thoughts#
You should now be aware of all the best options for Mac-compatible DJ software. There are tonnes of DJ apps out there, so make sure you check out our tips above which help you to work out the best one for you.
Ultimately, most DJ software is the same. There are only minor differences between rekordbox, Traktor, Serato, etc, and they all revolve around the same foundational concept.
If you want to use some software that is more efficient at creating finished mixes, and lets you shape your sets in more detail, then DJ.studio is a uniquely powerful option. You might also be interested in this list of The Best DJ Software.
Check out the free trial version now!
FAQs About Mac DJ Software
What is the #1 most popular DJ software?