DJ Mixing Online - Is This The Best App?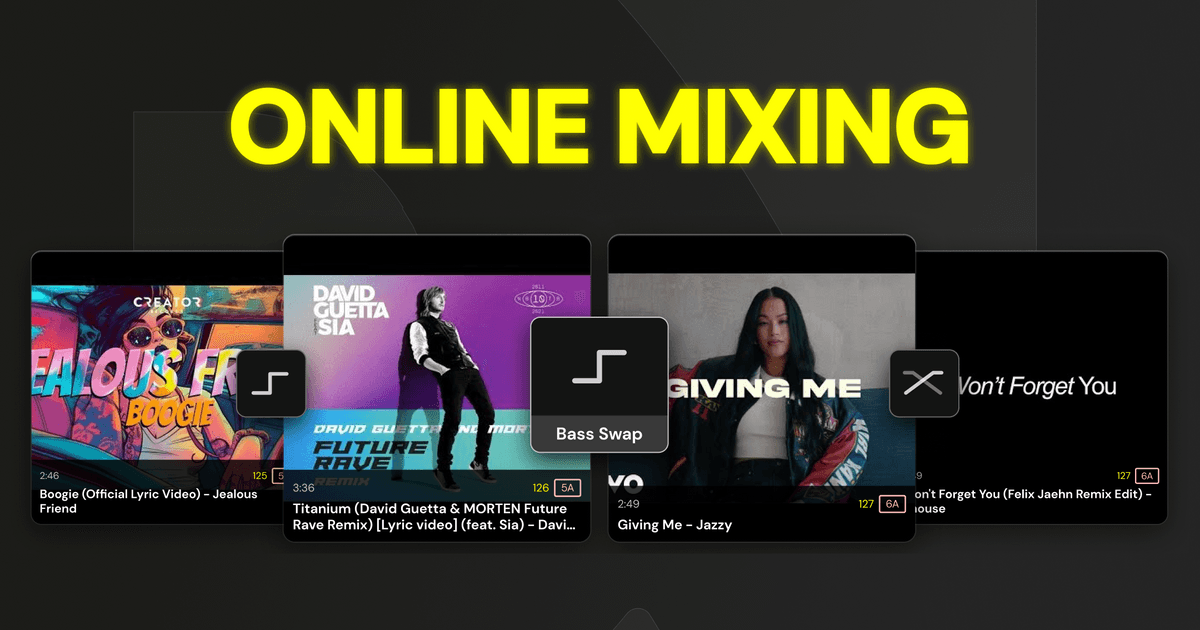 Long gone are the days of DJs needing a pair of decks and a mixer (or any hardware) to start creating DJ sets.
Thanks to modern technology, DJs can now create complete mixes from a web browser alone, you don't even need to download any music.
It's true! While you might struggle to believe this, thanks to recent technology, and software like DJ.Studio, you can create DJ mixes online that match (or even beat) the quality of live hardware DJing.
Find out the best online DJ Mixing Software below!
TL;DR - DJ Mixing Online#
DJs can now make complete mixes online - without ever leaving their web browser.

With the right DJ software, you can mix music online with incredibly professional results.

Some online DJ mixing software is terrible, others are better than hardware mixing!

DJ.Studio lets you mix music from anywhere even letting you DJ with YouTube videos.
Pros and Cons of Online DJ Mixing#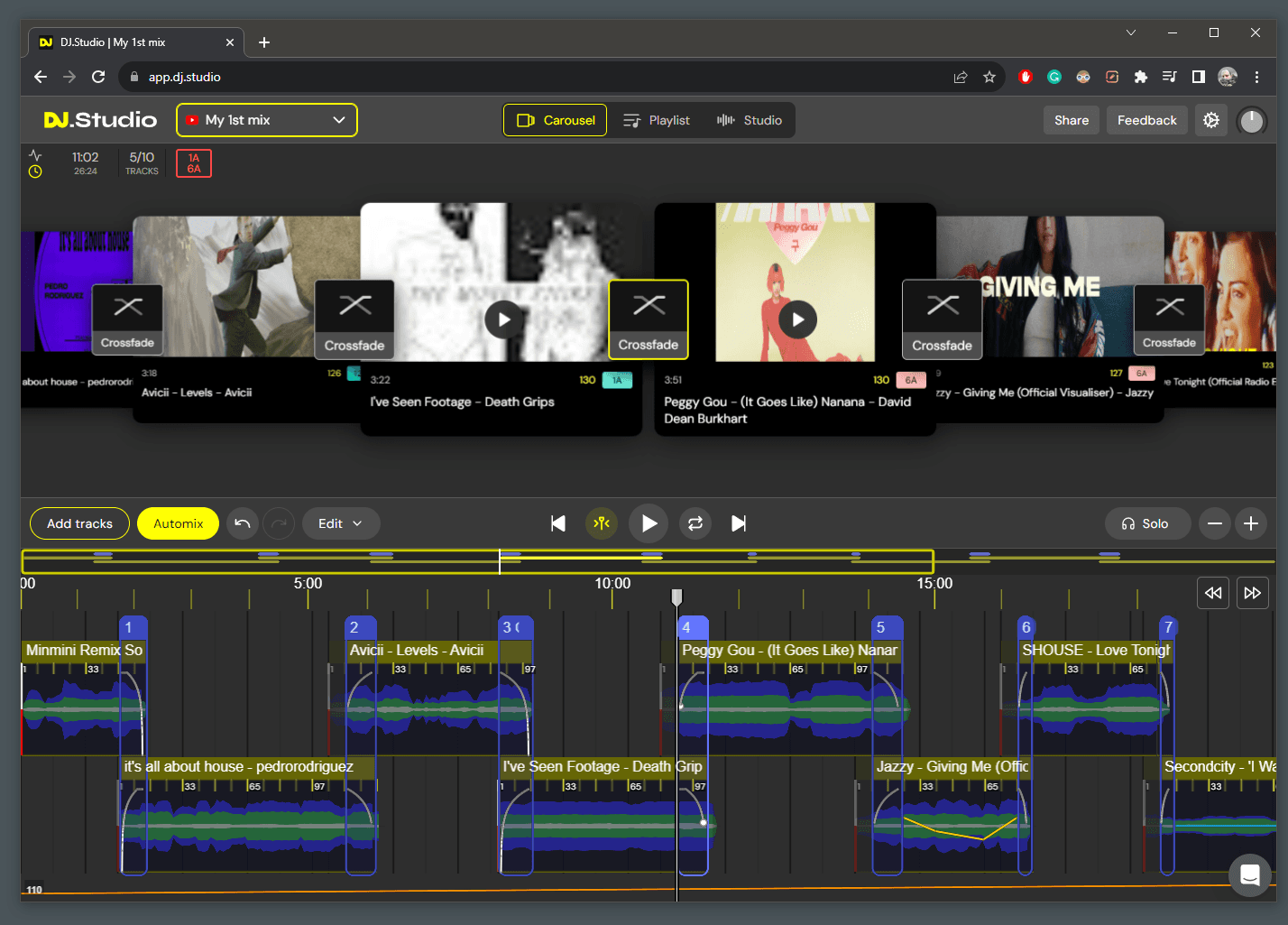 Online DJ mixing has come a long way in the last few years, and more is possible now than ever before. You can easily mix from a laptop alone!
That said, it isn't without its flaws.
These pros and cons explain some of the gains and pains of mixing online compared with using an installed app.
Note, that not all of these points are relevant for all apps - as they all work slightly differently, but these are some common problems.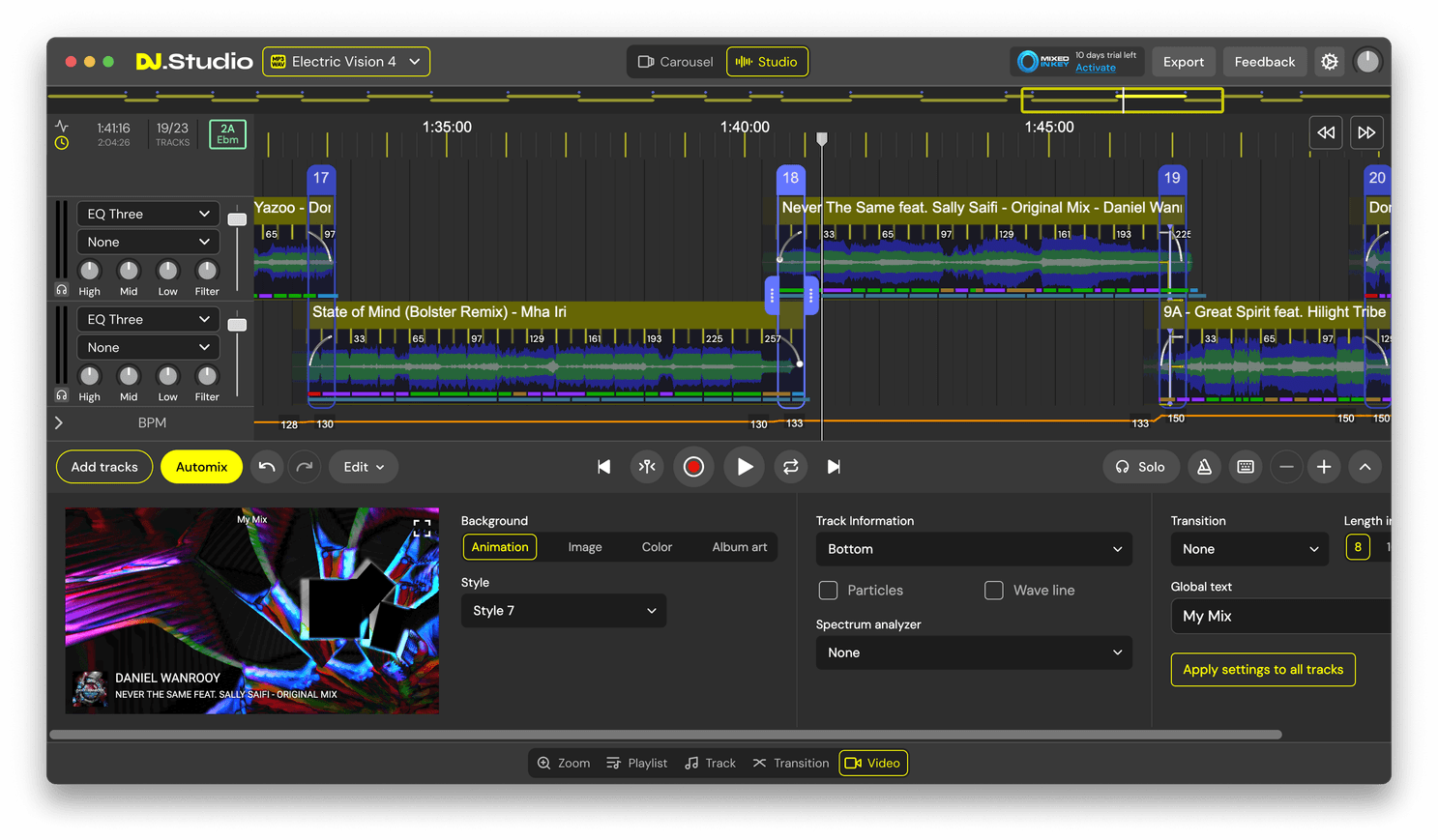 Pros
Portability - You can use these anywhere, all you need is internet access!

Speed - No need to wait for the program to be installed on your PC.

Hard Drive Space - Save space by running your app in the cloud, rather than installing it. 
Cons
Stability - Many online DJ apps are prone to bugs, glitches, and crashes. Downloaded and installed apps tend to offer better performance, although you can find relatively stable online DJ software.

Hardware Limitations - Most online DJ software won't work with hardware controllers.

Requires Internet - You can't use these programs offline :(

Unprofessional - They typically don't have the features or controls needed to produce pro-grade mixes

Compatibility - They often are limited in filetype compatibility.
Software & Websites for Online DJ Mixing - Reviewed#
Here is a list of some of the available online DJ mixing options.
DJ.Studio#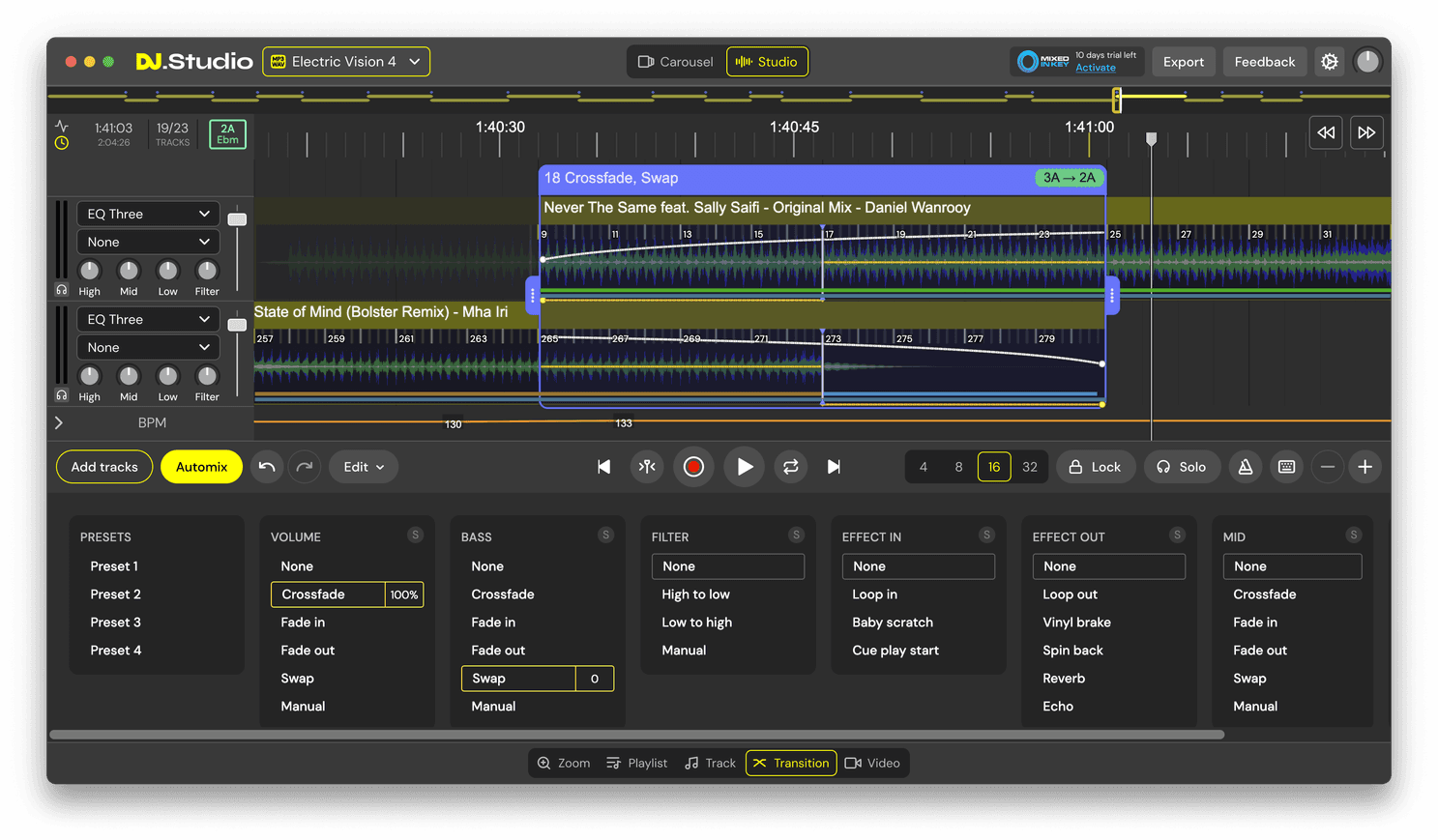 DJ.Studio is by far the most powerful online DJ mixing solution, although it uses a different workflow than other software, and won't be the right choice for everyone.
Rather than being used for live mixing (replicating the decks and mixer process), DJ.Studio uses the studio mixing method and acts as a Digital Audio Workstation for DJs. This means you edit the mix on a timeline rather than mixing live.
This has a bunch of advantages over live mixing, and essentially means you can create mixes in more detail, without making any mistakes. Saving time and effort, and allowing you to be more creative.
You can even mix with YouTube videos!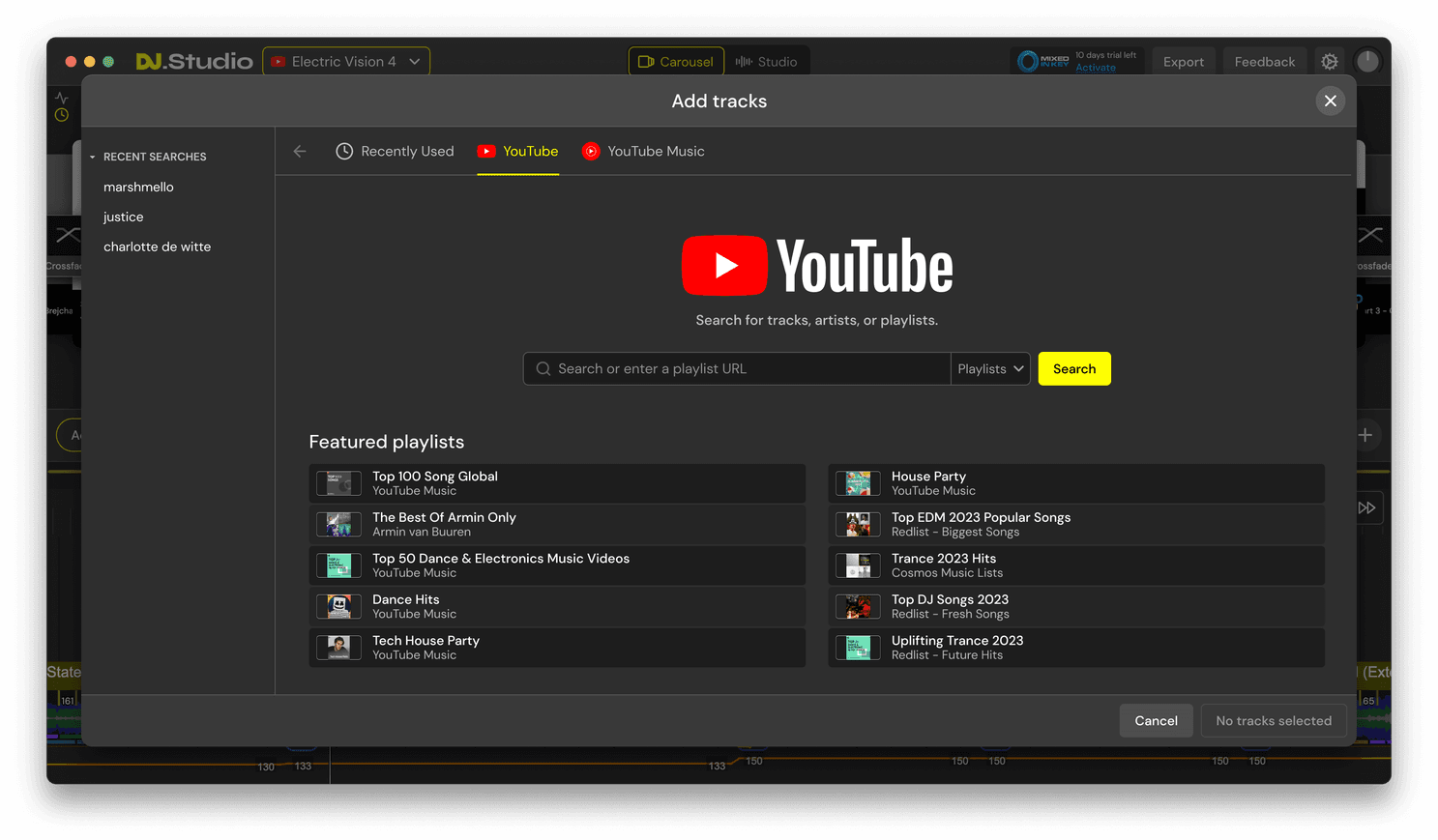 DJ.Studio is also packed full of cutting-edge tools and technology, which makes the DJ process easier, boosts your workflow, and helps users achieve incredible results with minimal effort.
Being ideal software for beginner DJs and professional DJs alike, this online mixing software will supercharge your mixing skills. Letting you beat match, and harmonically mix your sets like a pro.
You can run DJ.Studio in the browser, or download the DJ app to use it offline and unlock more features.
To get a sense of why DJ.Studio is so powerful, check out the tutorial in the next section!
You can test it out yourself with the free 14-day trial!
How To DJ Mix Online Using DJ.Studio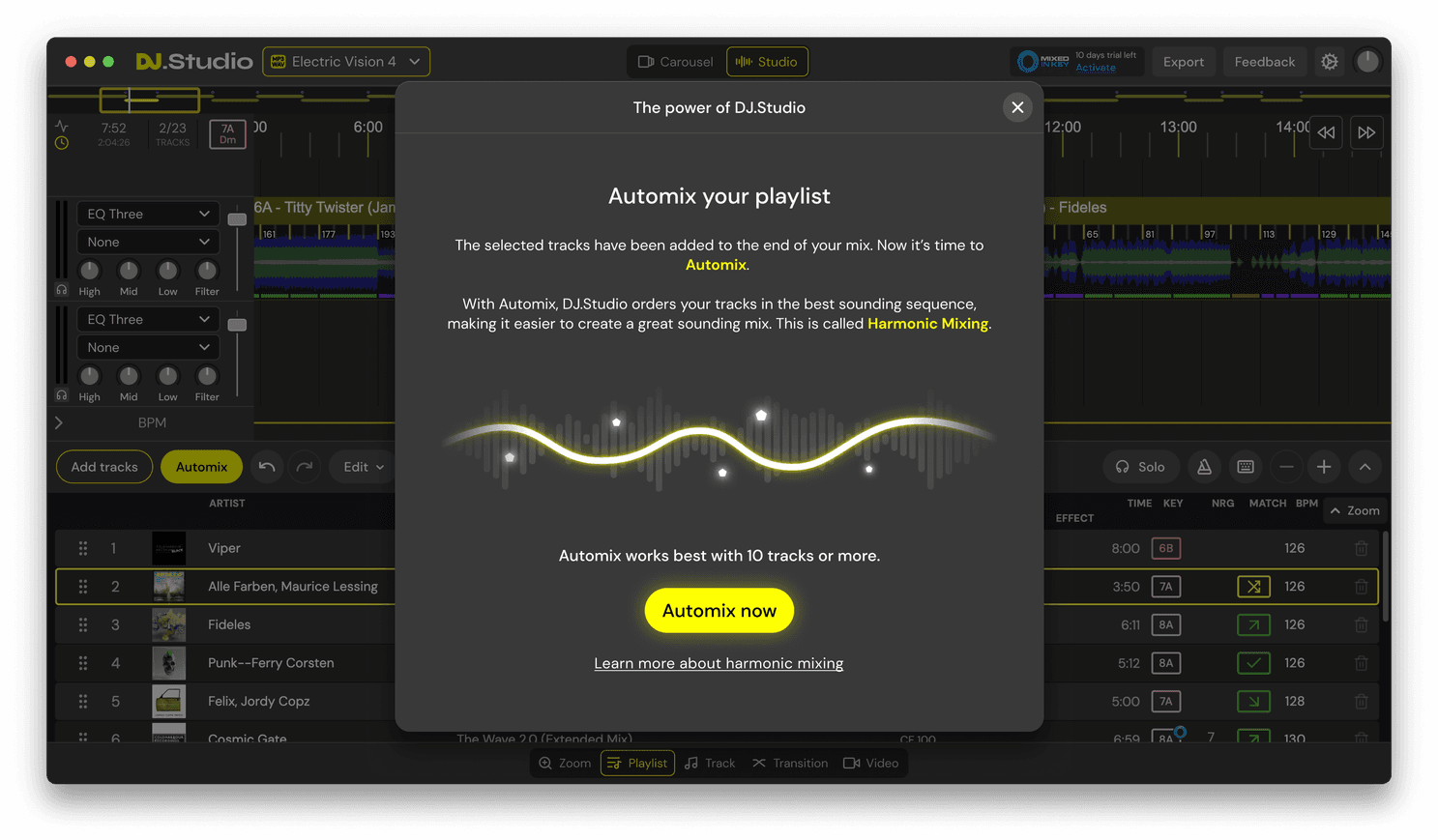 This step-by-step guide shows you the basic process for creating a mix in DJ.Studio - all online in your browser!
Open the DJ.Studio browser app and register an account.

Create a new mix, either using the local file or YouTube mode.

Add songs to the mix.

Use the automix function to automatically arrange tracks on the timeline in the best order, based on key and beat matching.

Fine-tune the transitions, arrangement, and effects.

Share your finished mix with the world!
This only scratches the surface of what's possible with DJ.Studio, so make sure you have a look around this website to see the other DJ powers it gives you!
Beatport DJ#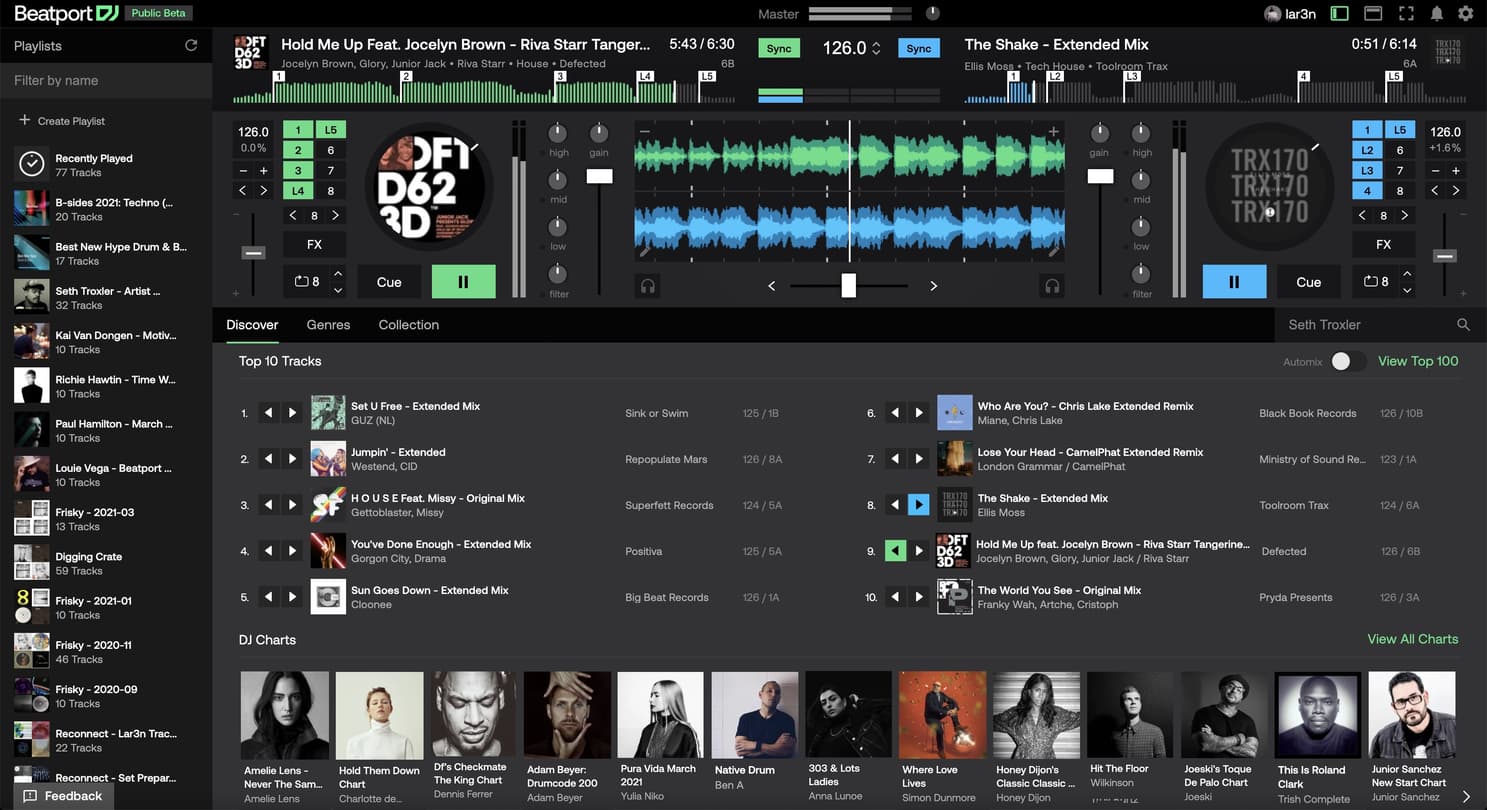 Beatport DJ is an offering from music library giant Beatport, and has some attractive features - most notably, the ability to DJ with any music listed on Beatport.
This comes in three pricing tiers, each offering more features - some even offering free downloads. One of the best functions of this software is the ability to connect it to hardware controllers - letting you even use custom mappings with MIDI controllers.
Other neat, pro-grade features include the ability to use the external mixer output to connect it to other hardware - letting you integrate with turntables and CDJs. It also offers multichannel sound card output for connecting to a hardware mixer, so you can separate the two tracks into two channels on your mixer.
If you want to mix live, using an online service, Beatport DJ is one of the best choices - although there is no free version.
YouDJ#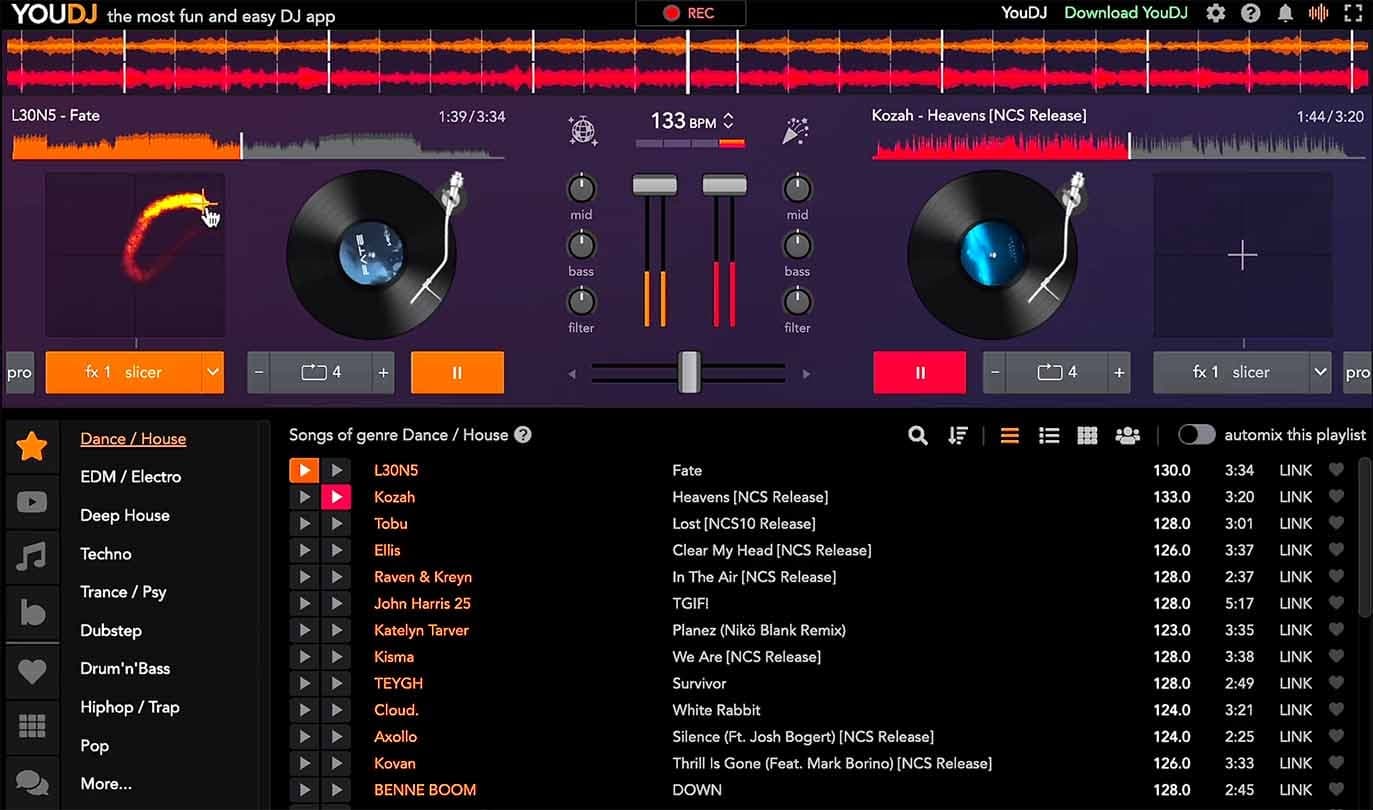 YouDJ is an online DJ mixing app, which comes with a few useful features. It's pretty fun to mess around on, although being made by a solo programmer, it has a lot of limitations and isn't suitable for any professional use.
There are three ways to use YouDJ: in the browser, using the YouDJ desktop, or the YouDJ mobile app. It even offers a free Chrome extension. This app lets you mix two songs from YouTube or other sources together, and can all be done online.
However, it's worth noting that it's generally pretty basic and restricted, and you can't use most of the features without paying. You also need to pay to add DJ controls like changing the speed and using the EQ.
It does offer realistic vinyl scratching, and can be used for making daily funny DJ videos to share on your social media - if you want to make some silly mashups without much effort.
Unlike DJ.Studio, you can't integrate YouDJ with other DJ software, so the overall mixing process is very limited.
In summary, it's a good website to have some quick fun with, although isn't worth looking at if you want to take mixing more seriously.
Transitions DJ#
Transitions DJ is a free online DJing app that has a decent range of features for $0!
Of course, at this price, you can't expect the best quality, although it's still impressive what you get for free.
It basically has all the tools you need to mix live, including a mixer, EQ, two decks, and even a beatmatching sync control. (Although the beatmatching is a bit inaccurate).
It connects with Soundcloud and also lets you import files from your hard drive.
Again, this is fun to mess around with, although is a bit fiddly - it's really hard, near impossible, to create a professional-sounding, seamless mix or transition on this app.
Summary#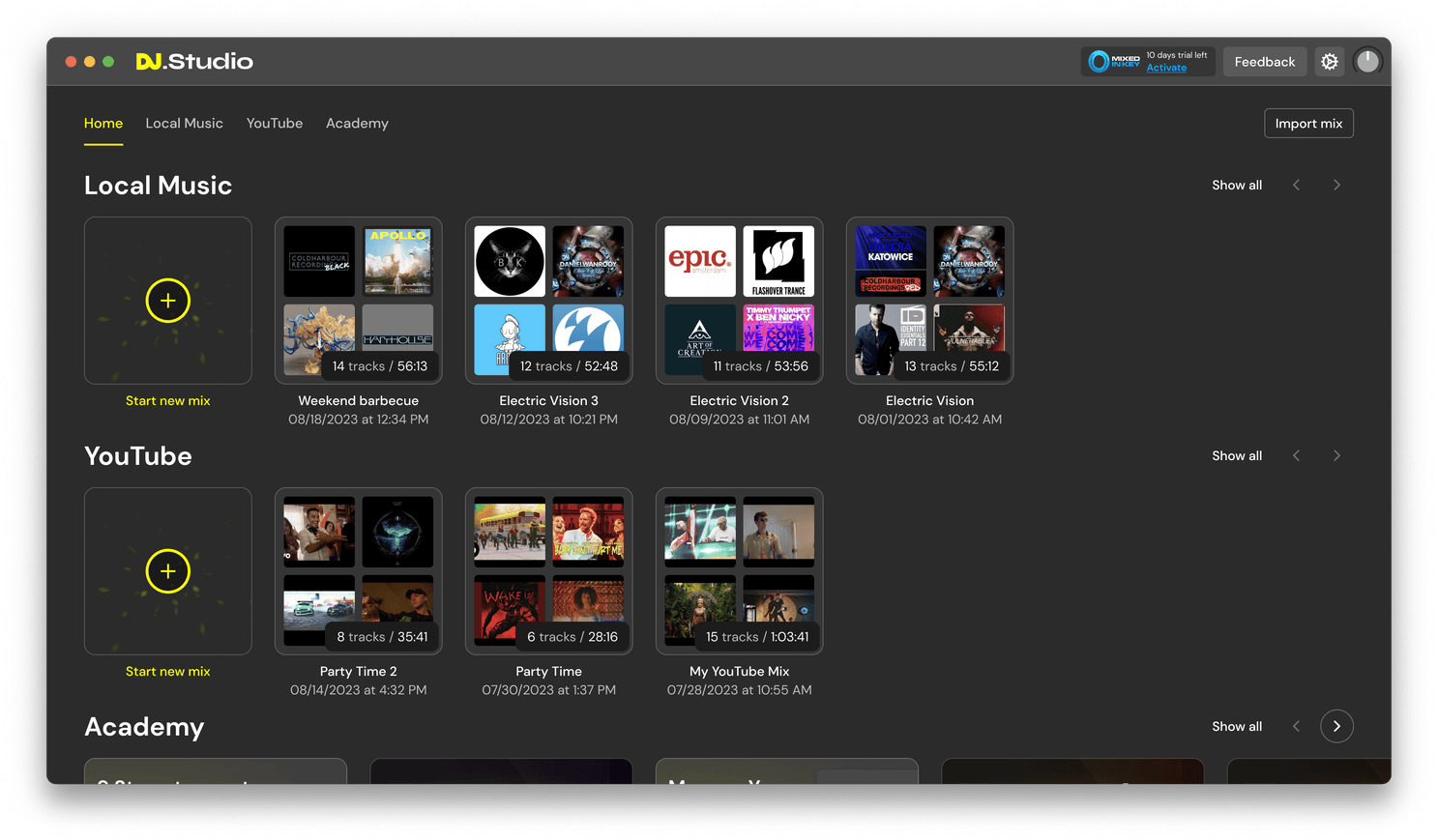 You should now have a good idea of the options available when it comes to mixing music online.
Ultimately, the best choice depends on what your needs are.
If you are looking to mix live, Beatport is a good choice as it offers hardware integration.
However, if you just want to create finished mixes to share online, then DJ.Studio is the prime pick, as it comes with a bunch of unique and powerful tools that make your mixes sound super professional. You can test it out completely free today!
FAQs About DJ Mixing Online
Can you DJ using YouTube?

What is the website to mix songs for free?
Related Posts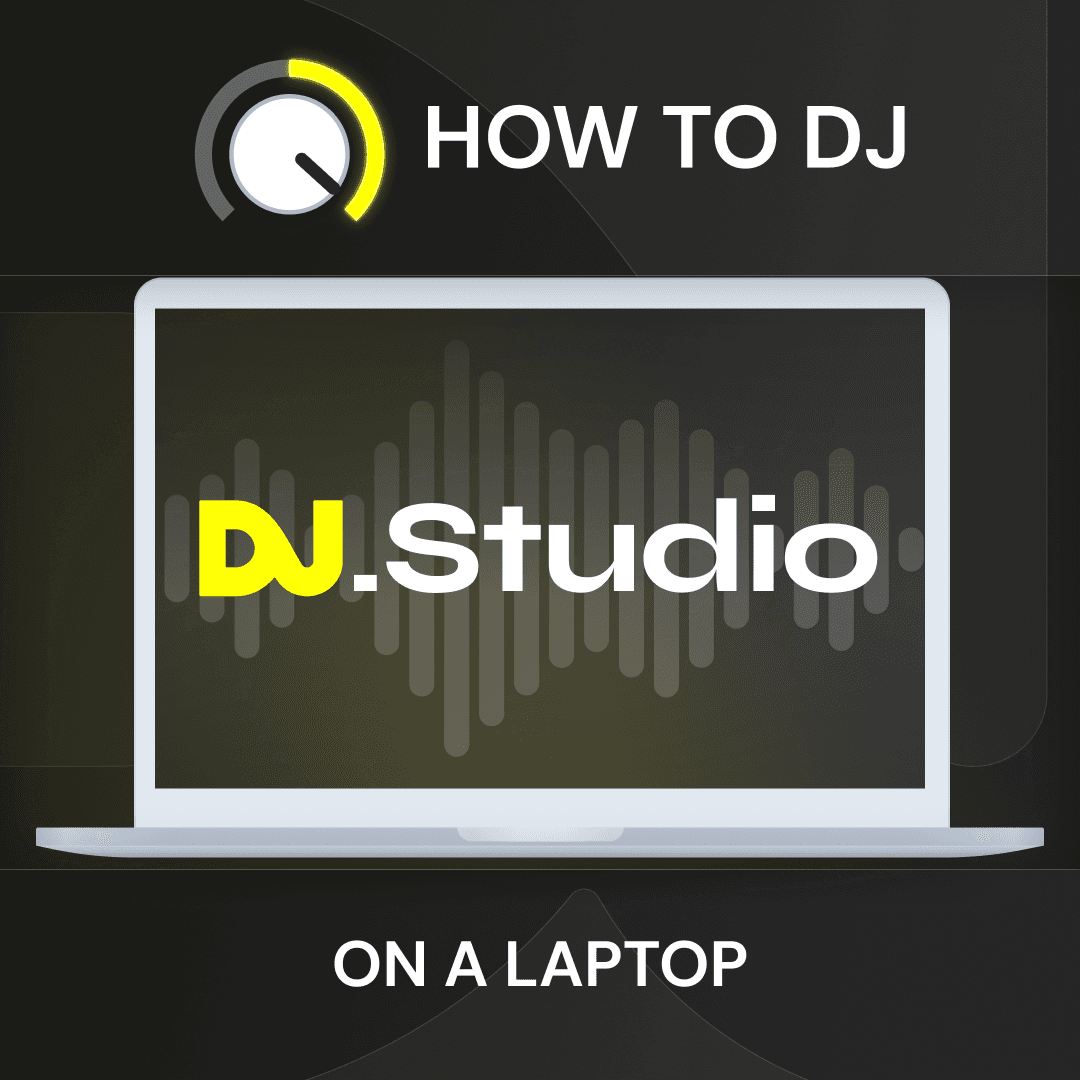 How do I DJ on a laptop? Find out what to consider when beginning your journey as a digital DJ. Discover which laptop, software and hardware you need
6 months ago
How to make a DJ mix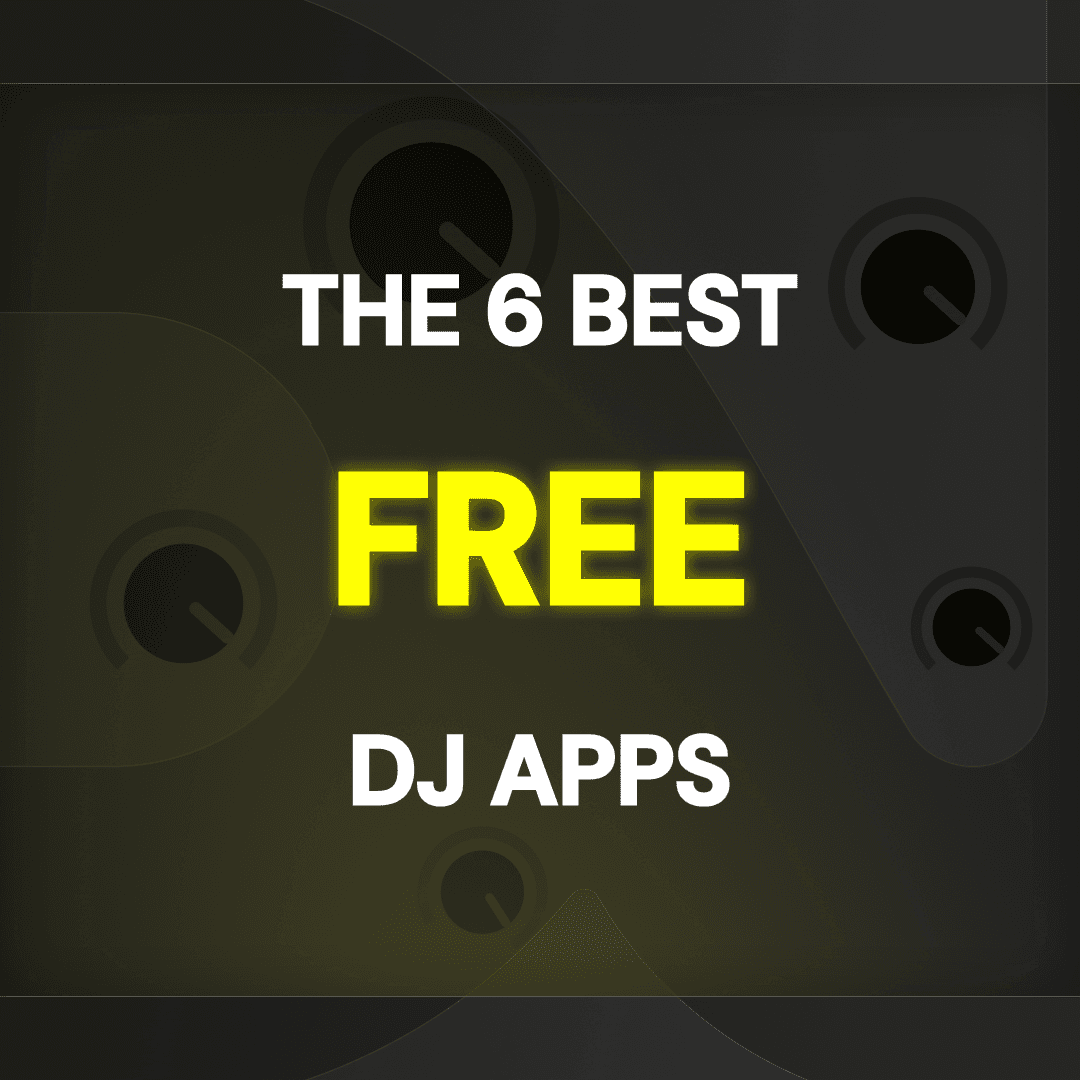 Looking for some powerful free DJ software? This review shows you all the best choices, and helps you find the right pick!
3 months ago
DJ mixing software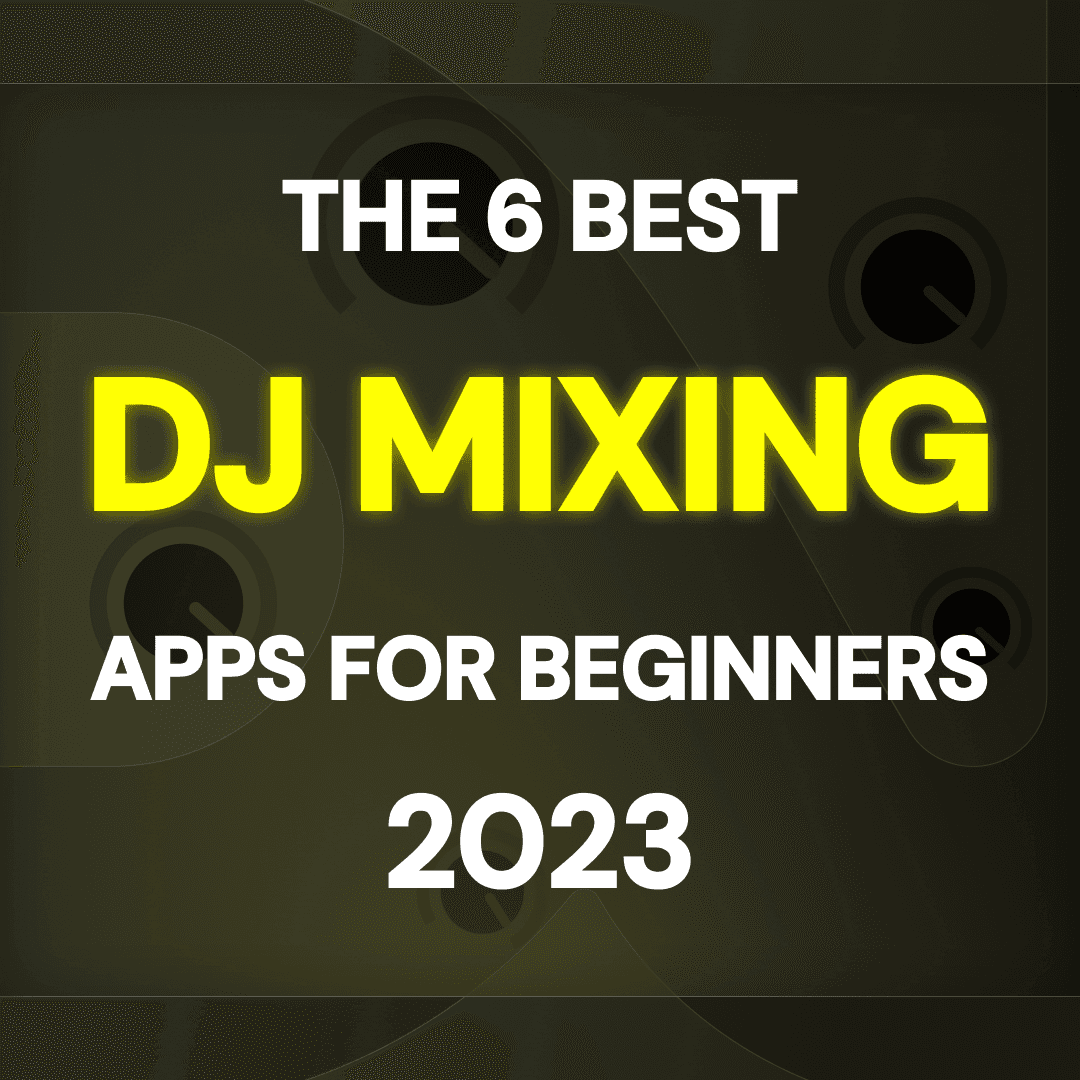 Are you a new DJ looking for the best mixing software? Click here to discover the best choices! There are lots out there, so find help in this guide!
5 months ago
DJ mixing software