Why you need DJ.Studio
DJ.studio is revolutionary new DJ Software which helps you create professional DJ mixes
Next level Harmonic mixing
Create the ultimate mix sequence using built in Camelot Wheel Harmonic Matching for the smoothest transitions.
Create Studio DJ mixes fast
Craft studio-quality radio shows and podcasts without the need for live recording. Unlock the power to produce polished mixes quickly.
Your Ultimate DJ Mix DAW 
Unleash your mixing potential. Infuse artistic finesse into transitions using detailed Automations and export a high-quality masterpiece.
Prepare your live DJ sets
Optimize your playlist within 30 seconds and experiment with seamless transitions for your next live performance.
DJ.Studio is a great tool for quickly assembling mixes--and for finding which tracks work well together for live DJ sets ... It solves a lot of problems for busy DJs and helps me get through more music.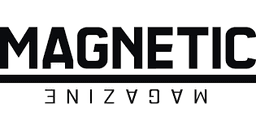 David Ireland
Founder Magnetic Magazine
⁠Download the app and get one month of DJ.Studio for free when you buy DJ.Studio Exclusively for Mixed In Key 10 Users
⁠With the app you can connect DJ.Studio to your favorite music library
Unleash DJ.Studio's full potential with Mixed In Key
Available for Mac and Windows.
Key and BPM detection
Experience the full potential of Mixed in Key's world-class key detection in a studio that takes harmonic mixing to the next level.
Energy segments
Find the perfect moment to blend tracks together with Mixed In Key's insights into track energy levels, right there on the timeline of your mix.
Cue points
Drag and snap your transitions to Mixed In Key's suggested cue points to take your mixing speed to the next level.
Get 1 month of DJ.Studio for FREE with Mixed In Key
Get an additional 1 month DJ.Studio for free when you buy DJ.Studio and enter your Mixed In Key VIP code.

Immediately access your Mixed In Key Library from within DJ.Studio to make brilliant DJ mixes with ease. 
Start your FREE trial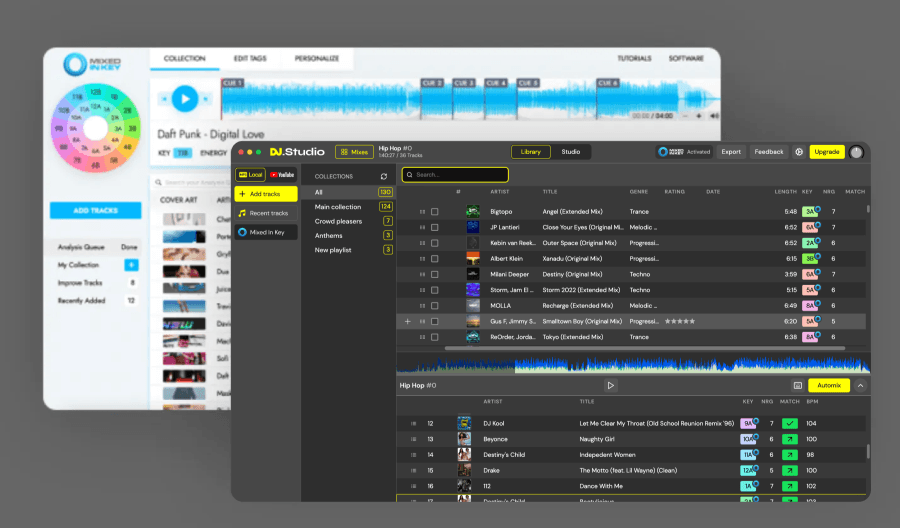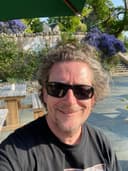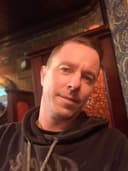 Automix your Playlist
Utilizing the principles of the Camelot Wheel by Mixed In Key, a sophisticated AI will analyze your playlist and recommend the ideal mixing order. This enhances your creativity with integrated beat matching and harmonic mixing. 

Solve complex transitions
Receive instant recommendations for tracks that will make your transitions smoother and more harmonically aligned. DJ.Studio scans your library to identify the ideal songs to incorporate into your mix.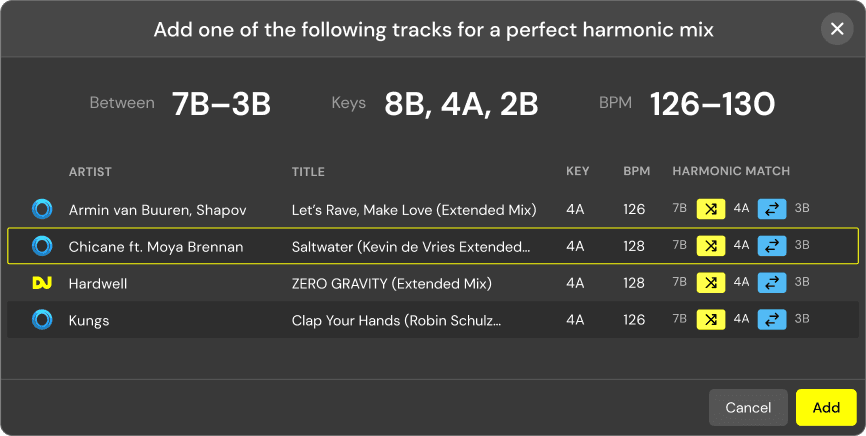 The spotlight awaits
From Bedroom DJ to Stage Sensation. It's time to enter the studio.