Development Update #2 - DJ.Studio 2.0 Release!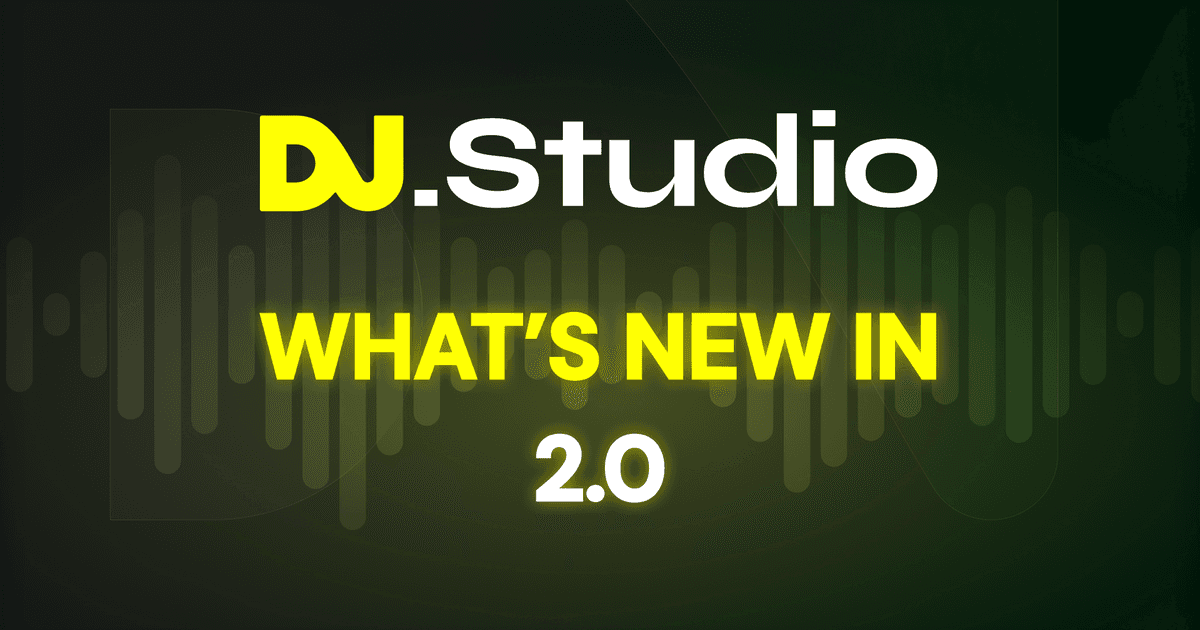 Welcome back to the second DJ.Studio development diary, the August 2023 edition. 
In this issue, we are delighted to share details of a huge new update to DJ.Studio. An update so epic, we had to call it DJ.Studio 2.0! The update was released earlier this month, so all DJ.Studio users can start enjoying the new features today.
Before getting into it, we'd like to give a huge thanks to everyone who has been riding with us on the DJ.Studio journey so far! We are incredibly grateful for all the feedback, ideas, and encouragement the community has shared with us, and are excited to see where the project will go from here. Thank you!
Get comfortable, because this article takes you through all the new features - which is a lot!
DJ.Studio 2.0 Update Overview#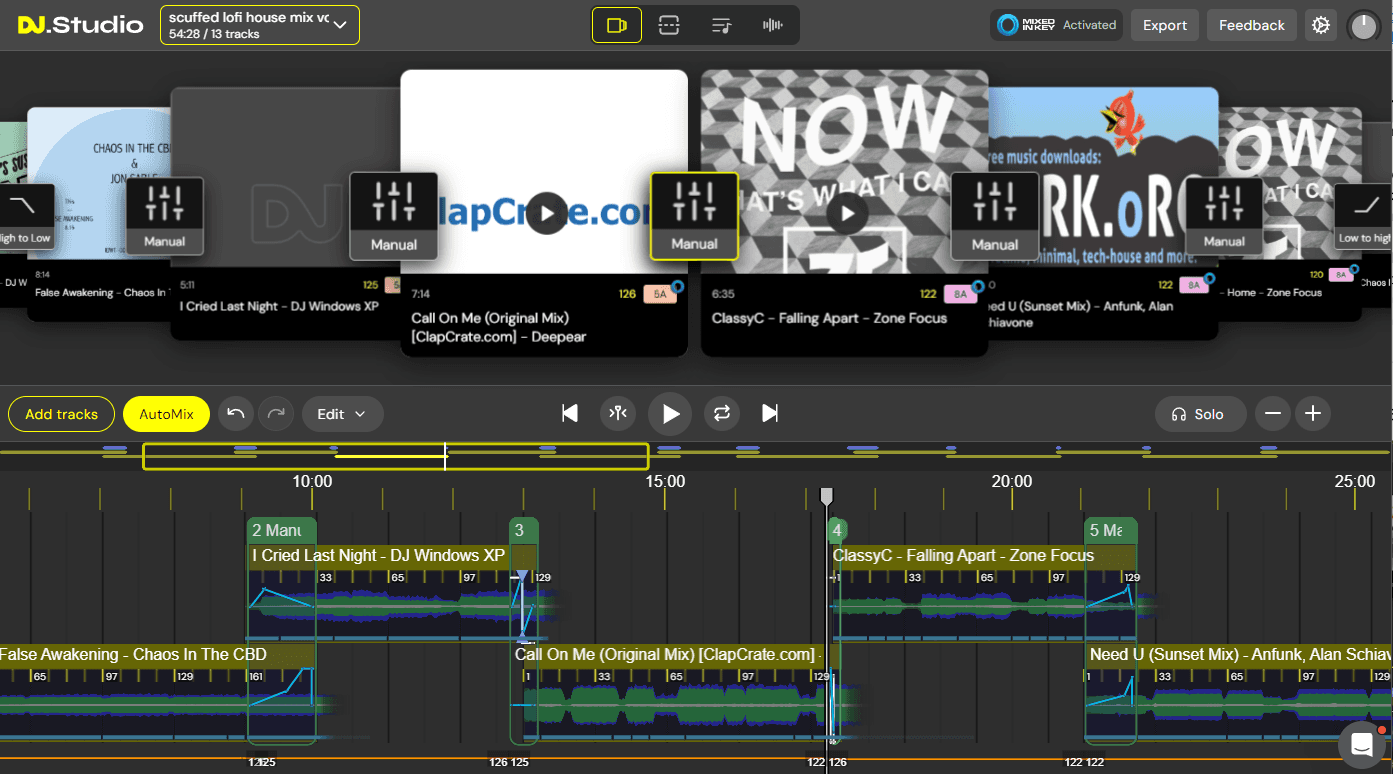 Anybody who has used DJ.Studio over the last few months will immediately see how large this update is. 
We have had a complete overhaul of many elements of DJ.Studio's interface and workflow to make the interaction more intuitive, streamlined, and versatile. 
Here is an overview of the update, but keep reading for more details.
> DJ.Studio 2.0 Overview Video <
DJ.Studio 2.0 Updates#
A redesigned mix creation and management workflow, revolving around a new project dashboard. 

A completely reworked mixing system, including:

A new Carousel view, streamlining the editing process.

An improved Studio editor, with more flexibility and functionality. 

Upgraded automation, which is now more intuitive and accurate. 

Updated graphics - DJ.Studio has a shiny and sharp new interface. 

Performance upgrade - enjoy a more responsive feel, with higher stability. 

Expanded software integrations - connect with Traktor and Virtual DJ. 
And in case you missed it: Engine DJ was added a few weeks ago.

Additional video creation tools - spice up your visuals with transitions, and more effects. 

A range of quality-of-life improvements, including:

Higher quality audio export option. 

A refined save system. 

More stable and faster integration with third-party software. 

Many more improvements and bug fixes!
The New Project Dashboard#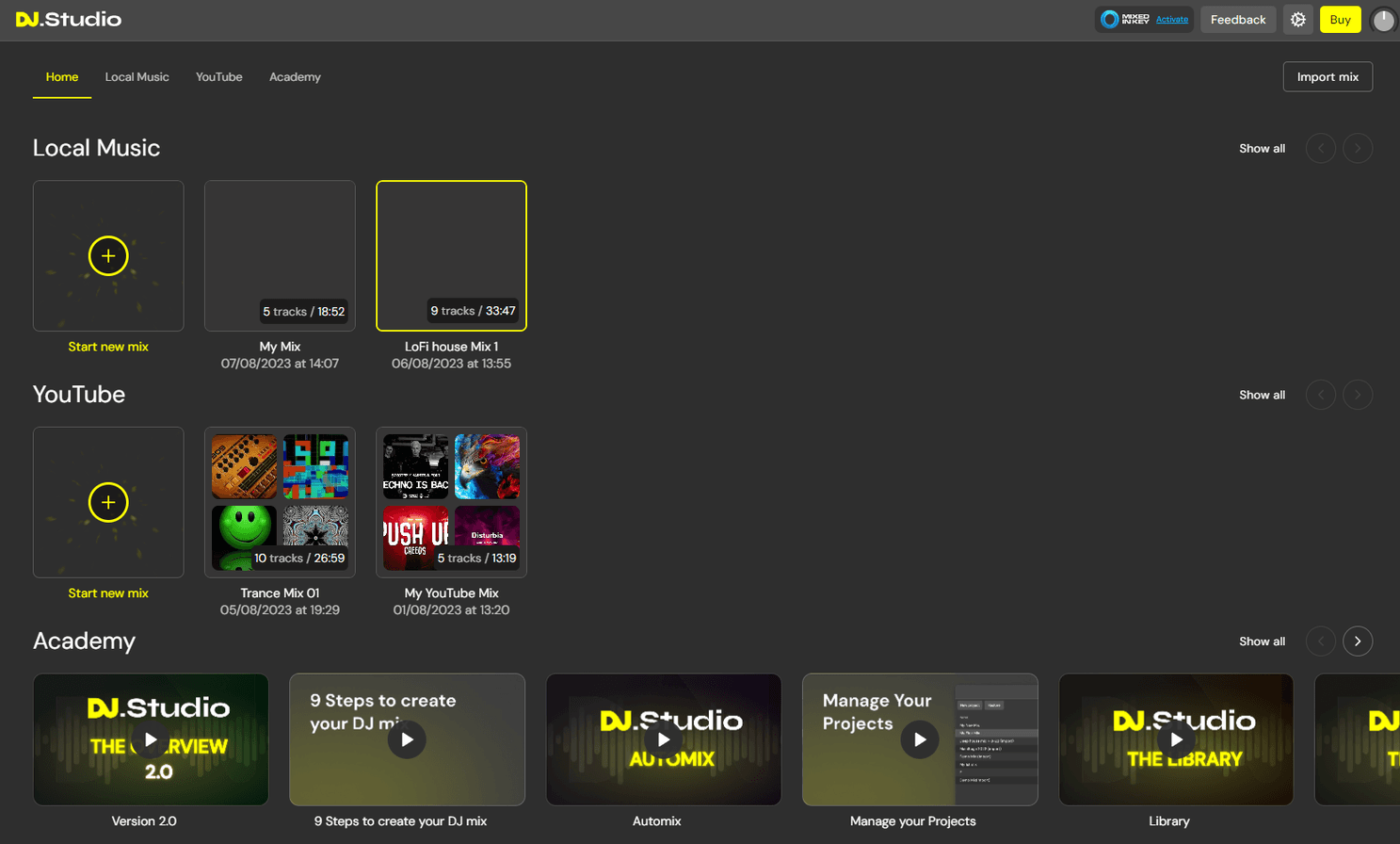 One of the most noticeable differences is the redesigned project management dashboard. This makes it easy to get an overview of your projects as soon as you launch the app.  
We also added shortcuts to the DJ.Studio Academy, so you can instantly access useful videos and tutorials helping you to make the most of the software!
From the project dashboard, you can perform a range of actions to your mixes, including:
Create new mixes, using Local File or YouTube mode. 

Load your in-progress mix projects. 

Manage your projects: edit their details, duplicate projects, delete unwanted sessions, back up your projects, and more. 

Import backed-up mix files to restore saved sessions from other computers or hard drives. 

Find useful tips and tricks from the DJ.Studio Academy. 
This home screen should have a more familiar interface for most users, making it easy to understand and navigate. 
New Editing Modes & Studio Improvements #
Another huge set of improvements revolves around the editing interface and functionality. 
We have created 4 separate views for editing and arranging mixes, giving users more variety in how they work. 
The editing process is now divided into 4 main view modes:
Carousel - A simplified view for quickly editing mixes. 

Split - Shows the playlist and timeline in a single window. 

Playlist - Displays the playlist of your set, making it easy to reorder. 

Timeline - The advanced editor (an upgrade of the previous 'Studio' view), lets you edit your mix with precise accuracy and detail. 
Now, let's have a look at these modes in depth:
Carousel Mode#
We wanted to create a streamlined editing interface that made it easy to quickly fine-tune mixes, without needing you to be too precise or experienced with timeline editing. 
The revolutionary Carousel mode is designed to be intuitive and simple, letting users rapidly interact with their mix to refine the positions, transitions, and automation. 
You can think of the Carousel as a horizontal playlist, in between each track you can select a transition preset, then skip to the next transition. With this workflow, you can have the rough arrangement and setup finished for your mix within a matter of minutes. 

While this interface is designed to be intuitive for beginners, it also offers increased speed for the advanced users, and still enables a detailed level of interaction thanks to the lower timeline editor. 
And… this carousel mode is a great way to prepare your mixes on a tablet or iPad as it is optimized for touchscreen devices.
Split Mode#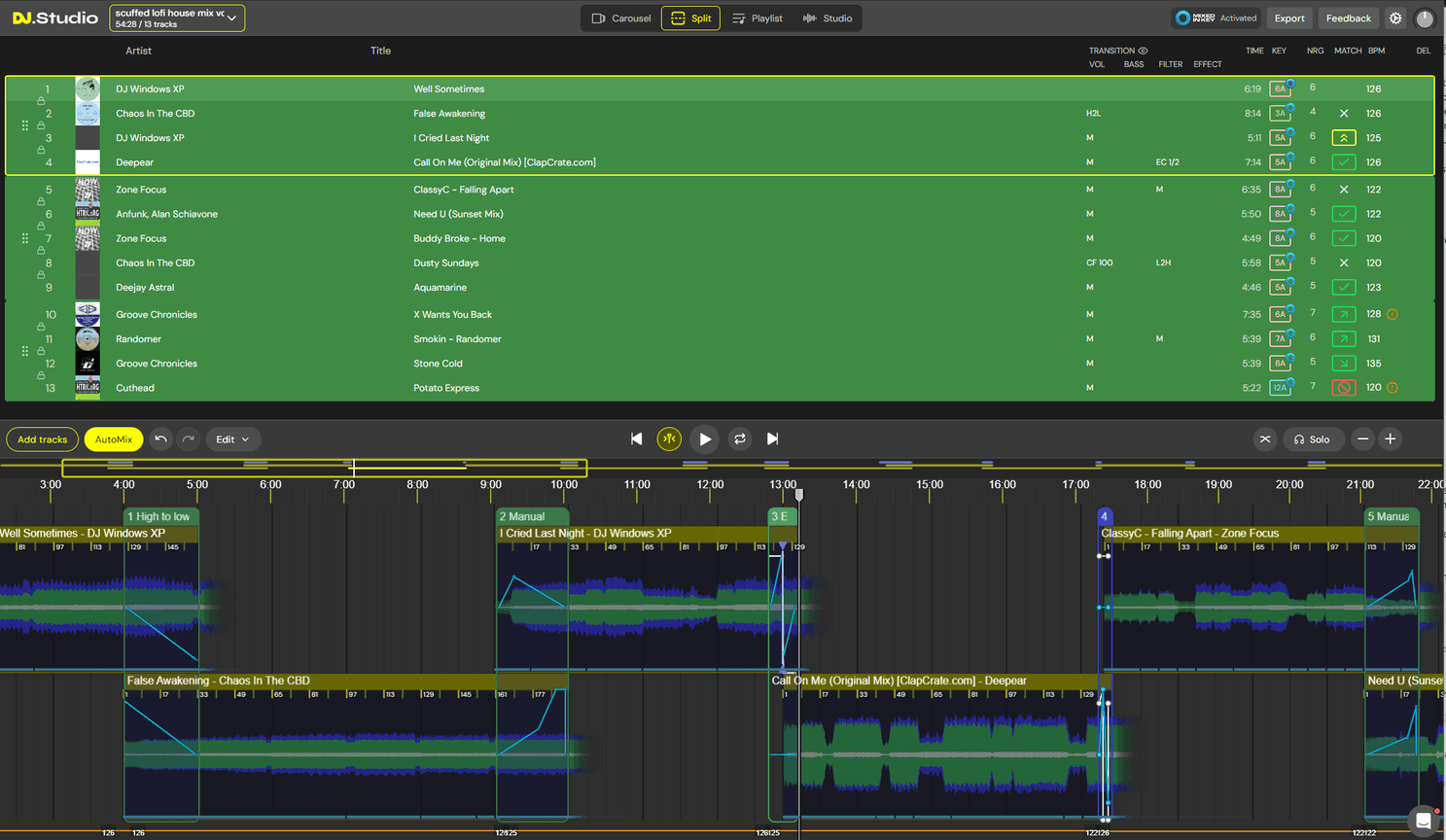 This mode lets you harness the power of the playlist and the timeline from the same window. 
Use the drag handles in front of the track numbers to shuffle tracks around in your playlist, and see the useful playlist information, all at the same time as making precise edits, automation, and transitions in the timeline editor. 
Playlist Mode#
The playlist mode focuses purely on the… playlist, as you might have guessed. 
This handy mode gives you an overview of the structure of your mix and shows you all the information you need to see in a single, table-like screen. 
From here, you can see how well tracks mix together in terms of harmonic matches - with handy indicators. You can also see how much BPM adjustment is needed, as well as the transition parameters. You can solve harmonic incompatibilities by opening our automagic Solver with the 'X' indicator next to non-matched tracks.
This view also lets you change the track order by simply dragging and dropping tracks into their new place. Or if you're not feeling the vibe, you can also remove tracks from the set. 
Timeline Mode (aka Studio)#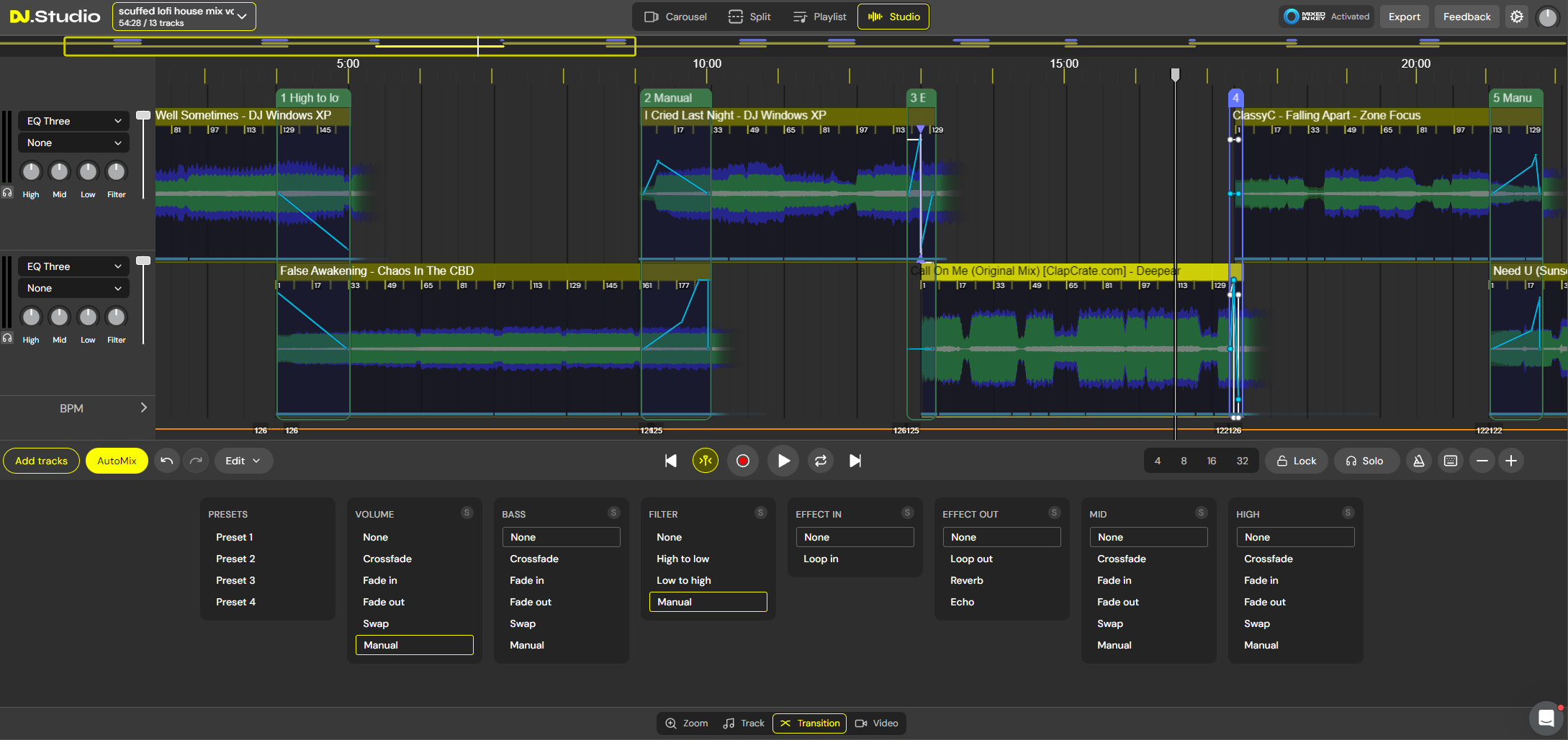 Any DJ.Studio users who have tested earlier versions of the software will be familiar with this view, although you will notice a range of improvements. 
Firstly, the graphical interface has been redesigned, giving it a more polished, crisper aesthetic. This is paired with some under-the-hood changes which create an increased responsiveness, making a smoother feeling with a higher framerate. 
Timeline mode has 4 additional tabs at the bottom for changing the appearance:
Zoom - Get a closer look at the timeline for making detailed edits. 

Track - See and change information relating to the selected track. 

Transition - Select and combine transition presets for blending tracks. 

Video - Use the visual creator to make reactive videos for your mix. 
Beyond the visual upgrades, there are several other improvements to the Timeline/Studio view. 
Video Editor Upgrades#
Based on your feedback, we added a couple of extra upgrades to the video editor.  
New video transitions - choose how the visuals shift from one style to the next, with 5 groovy presets. 

Global Text - Add your mark to a video with a consistent text label. 

More features coming soon!
Improved Automation Editing#
The automation system has been reworked. It is now much easier to create detailed automation, removing some of the 'fiddliness' of the old version. The automation system now feels very fluid and is fun to use. 
We made it possible to manually automate parameters throughout the whole track, rather than just the transition periods. This lets you get even more creative and expressive with your DJ.Studio mixes. 
There are now keyboard shortcuts for creating automation points for the main parameters, and a right-click menu, helping you to speed up your automation workflow!


We also added some automation selection drop-downs to select which value you want to edit in the timeline. You may notice that the dropdowns are looking a bit empty… well, watch this space… there are some more effects on the way!
Additional Software Integrations - Traktor & Virtual DJ#
If you use other DJ software - it often works as the perfect accompaniment to DJ.Studio. You use your other software as a library manager, and the 'brain' when mixing a live performance. But you can also use it as the back-end for building your perfect DJ sets in DJ.Studio. 
We have been busy adding more compatibility with external software. 
This month, we have added Traktor and Virtual DJ to the list of programs that can be connected to DJ.Studio. 
Export Improvements#
Based on your feedback, we've made some improvements to the export system. 
We've also added a new export option - Repitch Audio. This changes the way the export works by providing a high and low-quality version. The high-quality option takes more time to process, but massively improves the quality of exported audio, thanks to a clever repitching process.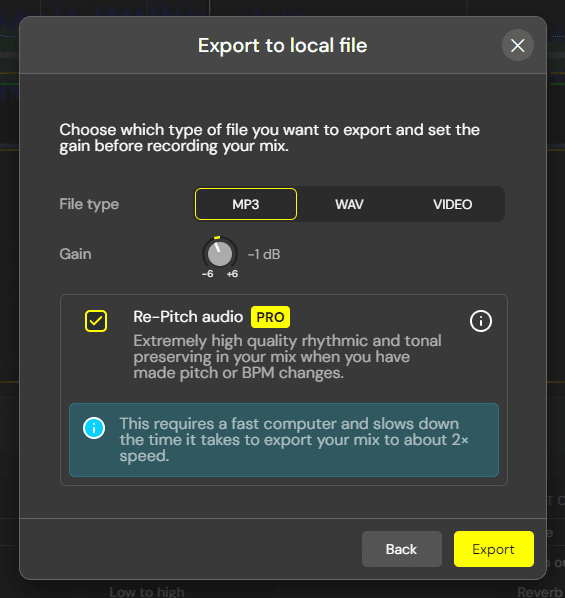 This preserves the rhythmic and tonal qualities in mixes, minimizing artifacts when heavy pitch and BPM changes have been made. You only need to use this if you made large BPm changes to tracks. 
Alternatively, you can use the faster standard-quality mode.  
Finally, we added the option to export your mix as a backup .DJS file to the export menu. This makes it super easy to copy your projects to a safe location or share them online with other DJ.Studio users for collaboration. 
A Familiar 'File' Menu#
We changed the saving workflow to be more familiar to other software.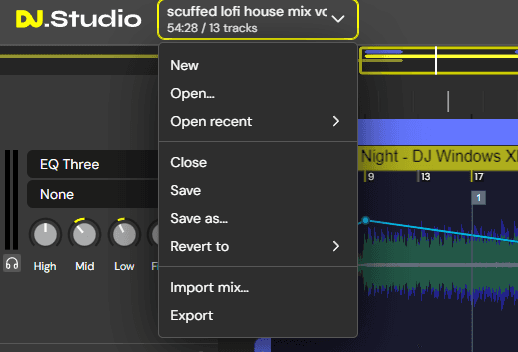 The new 'Mix Menu' gives you all the common actions you would expect to find in a 'File' dropdown, including:
Creating a new project

Opening recent projects

Save (or Save As) the current project

Close the session
The drop-down also displays the total set time for your mix and the track count. 
Coming Soon!#
We have a wide range of features planned for future updates!
Some features we are looking to introduce soon include:
Choose your export location

Choose the location of your DJ.Studio database, for example on an external harddrive

More TBA soon!
Do you have other ideas for features we should work on? 
Log in to the feedback center and share your ideas, we take most of our direction from the DJ.Studio community!
Featured Monthly Mix - NoahFK: Deep Garage #
This funky mix explores the deeper side of UK Garage and House. Full of euphoric, bouncy grooves with dubbed-out effects, this is the perfect mix to enjoy on a summer afternoon (or even late into the night).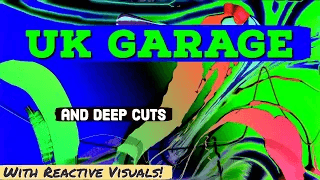 The mix was made entirely in DJ.Studio, and showcases some hypnotic visuals created by our video engine!
Think you have a mix worth sharing? Share it on social media with the hashtag #DJStudio Our favorite mix will get shared in each diary update. 
Thanks!#
You've made it to the end of the second DJ.Studio development diary - this was a big one! 
Again, thanks to everybody in the DJ.Studio community, we couldn't do it without you. 
We wish you the best of luck in your DJ endeavors, which will be even more fun with DJ.Studio 2.0 by your side. 
Enjoy!
  ~ The DJ.Studio Team
Related Posts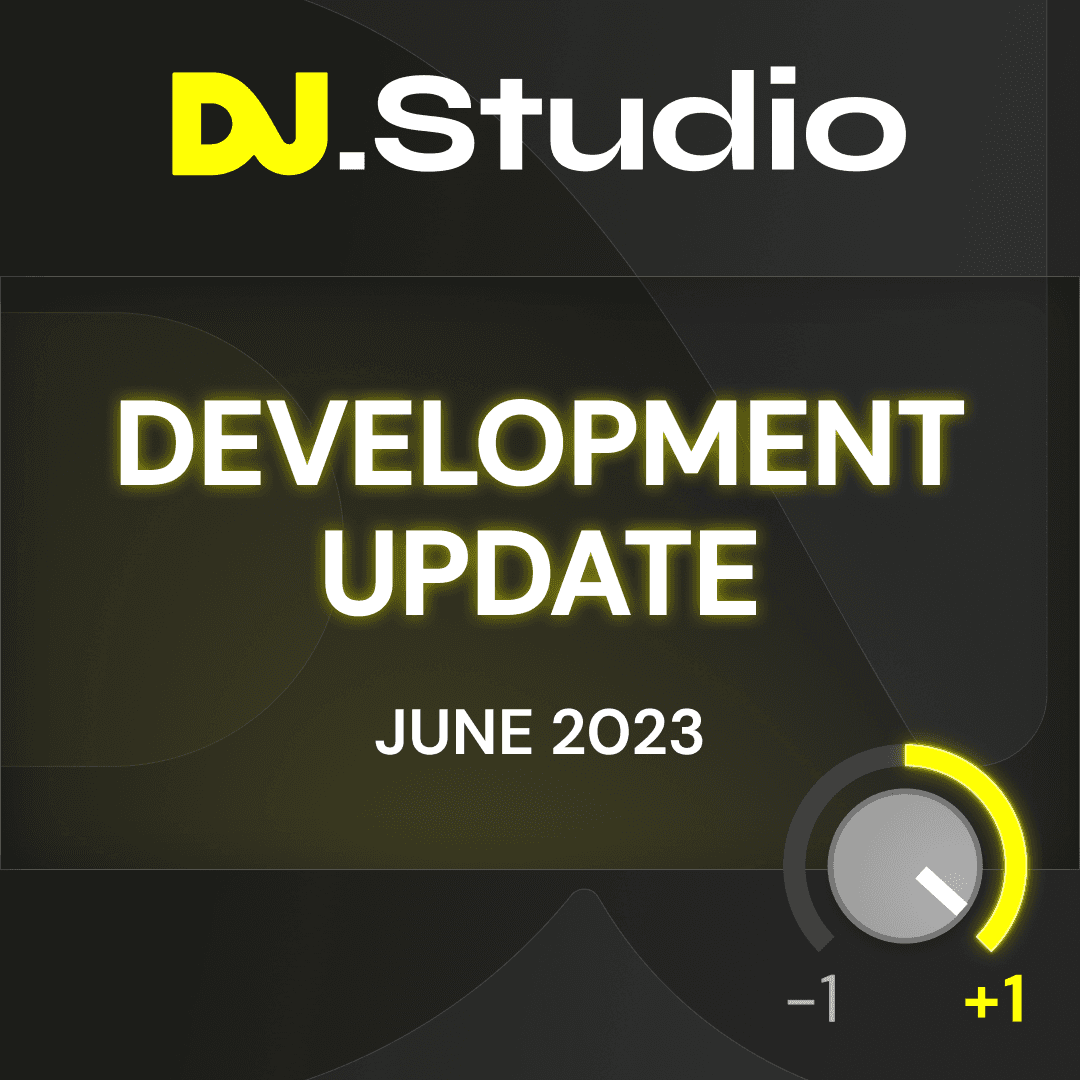 In this first DJ.Studio development update, you'll discover the latest updates of DJ.Studio and about our exciting trip to IMS Ibiza.
3 months ago
Product updates