Development Update #3 - YouTube Player, 1001Tracklists, ADE!
Welcome to the October 2023 DJ.Studio Development Diary. 
This month, we are sharing some news about new YouTube features in DJ.Studio, an exciting partnership with 1001Tracklists, and announcing our attendance at the upcoming Amsterdam Dance Event 2023!
We'll also explain some of the other recent improvements, and upcoming upgrades!
As always, thanks for your involvement with DJ.Studio, particularly your feedback on the Version 2.0 release! 
The community has been growing well, and we are thrilled by all your positive feedback. We continue to strive to make DJ.Studio is the best piece of software it can be - so please let us know your thoughts in the feedback hub!
Now, let's get to the DJ.Studio news…
YouTube Player - Share your YouTube Mixes Today!#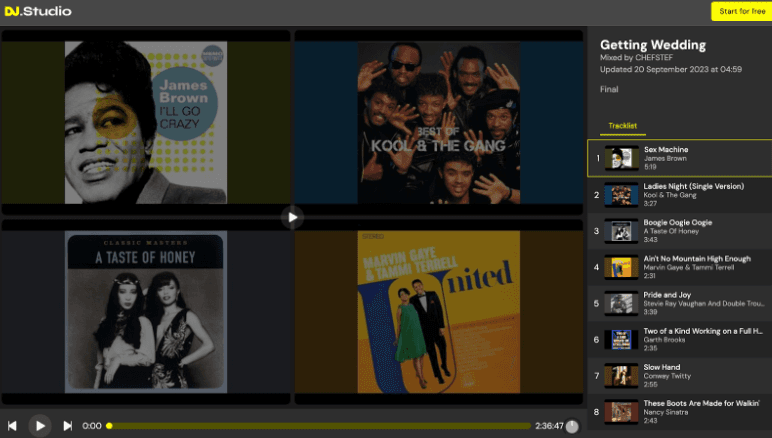 One of the most common questions you had for the team was - "how can I download my YouTube mix?"
While downloading YouTube mixes will never be possible due to legal reasons - we created a solution…
You can now share your custom YouTube DJ mixes through DJ.Studio's new player system! 
This means that any mix you create through DJ.Studio can now be enjoyed by your friends, family, and fans. 
The process is super simple and can be instantly shared with your audience via a streamable URL link.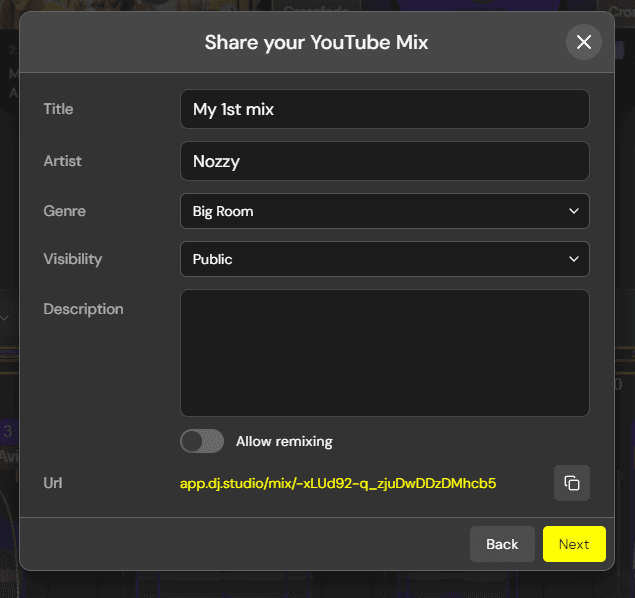 To see how easy it is, these are the steps you need to take: 
Open your YouTube mix project in DJ.Studio

Click the 'Share' button in the top right corner.

Enter information about your mix, including the mix and artist name, genre, and description. 

Click 'Share' again, and your mix will be exported to a shareable URL link which you can copy from the interface. 

Send this link to your listeners.
It really is that simple! 
The video will be streamed from YouTube to make sure all the artists are credited inside the player - which is also mobile-friendly and can be used anywhere in the world with an internet connection. 
Check out this example mix to see what the player looks like. 
1001Tracklists Partnership#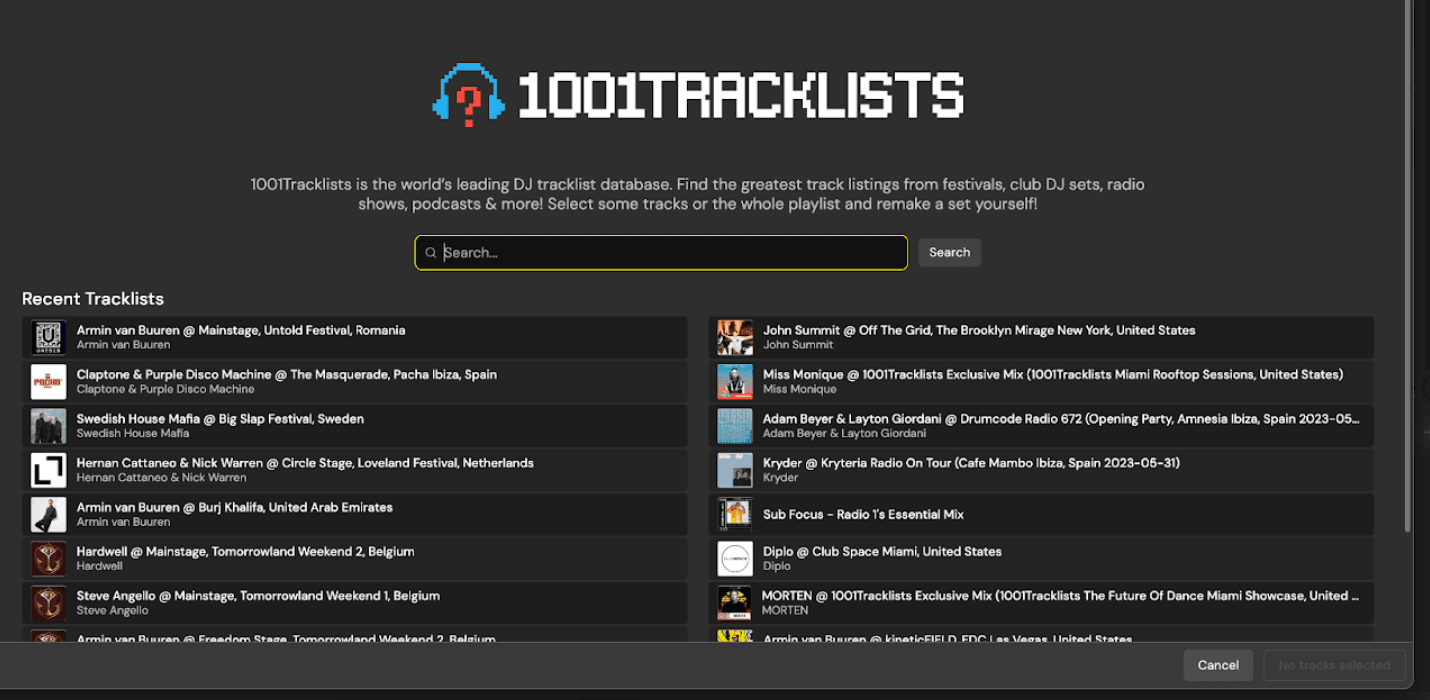 Get ready for another exciting update… we're proud to share our new collaboration with 1001Tracklists - the world's leading DJ tracklist database!
1001Tracklists shows you thousands of popular and new DJ mixes from the biggest names in town! It also gives you exact tracklists for mixes - so you can instantly find inspiration for your next set.
We are adding a feature where you can directly browse mixes from 1001Tracklists within the DJ.Studio app, and then add songs from those mixes to your own YouTube DJ.Studio project. 
This means you can transform a DJ set, or pick out some new tracks from your favorite DJ's set. This also makes it very easy to replay your favorite set of your favorite DJ!
Because the project is made from YouTube streams, you don't need to buy the songs before you share your mixes with friends via our YouTube player!
Propose rewrite (very minor tweak): Additionally, DJ.Studio is partnering with 1001Tracklists for their 101 Top Producers event in Amsterdam on the 16th of October - find out more here!
This party is during Amsterdam Dance Event, and on that note…
See you at ADE?#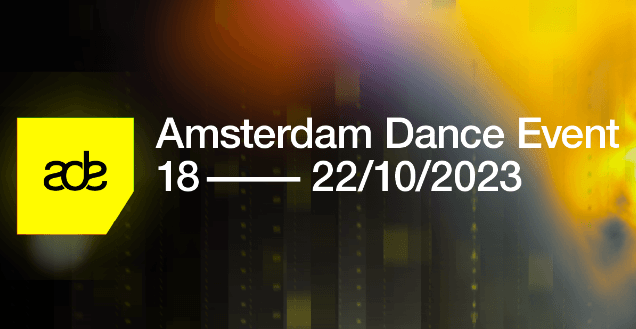 The DJ.Studio team is making the journey to the Amsterdam Dance Event 2023 this October! 
ADE, the Amsterdam Dance Event, is the biggest electronic music conference and festival in ... you guessed it... Amsterdam! Did you know that the DJ.Studio HQ is located close to Amsterdam?
Of course DJ.Studio will be at ADE, so you can meet us in person and we can answer all of your questions.  You can find us:
In the Gear Test Zone at the ADE lab from Wednesday, Oct 18 - Saturday, Oct 21 between 10:00 AM and 6:00 PM.

During a masterclass by our CEO Siebrand Dijkstra on Wednesday, Oct 18 at 13:30

And… we will also be part of an exciting session with a very famous DJ. We will let you know when the exact time is confirmed.
On October 19th, during ADE, we will celebrate this year's Top 101 Producers, which features the artists whose tracks were most supported by DJs around the world. Want to join us? RSVP now!
Other Updates and Fixes#
As always, we've made a bunch of bug fixes and improvements to the software this month. 
Some of the notable updates include:
An upgraded BPM editing system, lets you change the BPM mode of the project. There are now presets for selecting how BPM transitions from track to track. 

Improvements to the beat-marker system, including giving you the option to set the location of a track's first beat in the waveform. 

Stability improvements project management code - solidifying the performance of saving, auto-saving, restoring, and deleting projects. 

Expanded the maximum track limit per project from 60 to 200 - although this will require a larger amount of RAM in your PC (32GB+). 

Changed the Home Dashboard to make room for new upcoming project types. 

Several bug fixes to the interface and performance. 
You can find the full list of changes here - DJ.Studio News.
Coming Soon To DJ.Studio…#
As always, we are working hard to bring exciting new features to DJ.Studio. 
Here are some future DJ.Studio updates coming on the horizon:

Return of the library management system. 

Launch of the 1001Tracklists integration. 

Integration with other streaming platforms (very exciting!)

The ability to layer in audio samples/voiceovers/effects on a third audio track.
Keep your eyes peeled for more exciting news!
Mix Of The Month: Melodic Techno by Jockkie#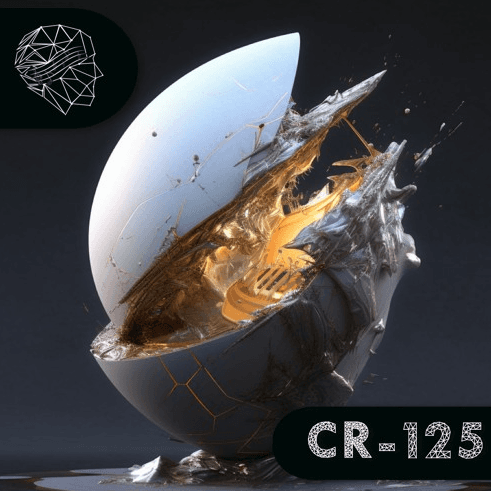 This month's featured mix is from DJ Jockkie, an expert in techno and melodic techno. This mix was completely made with DJ.Studio and was featured on Chimère Radio. Enjoy!
Think you have a mix worth sharing? Share it on social media with the hashtag #DJStudio Our favorite mix will get shared in each diary update. 
Thanks Again!#
Looking at our recent statistics we have seen that over 1000 mixes are made with DJ.Studio each day! We are glad to serve the DJ and music enthusiast community. 
That's all the updates for this post!
Thanks again for all your feedback. We are super happy to have helped thousands of you make sweet mixes and will continue to expand the software. 
Until next time!
  ~ The DJ.Studio Team