A Guide to Playlist Makers for YouTube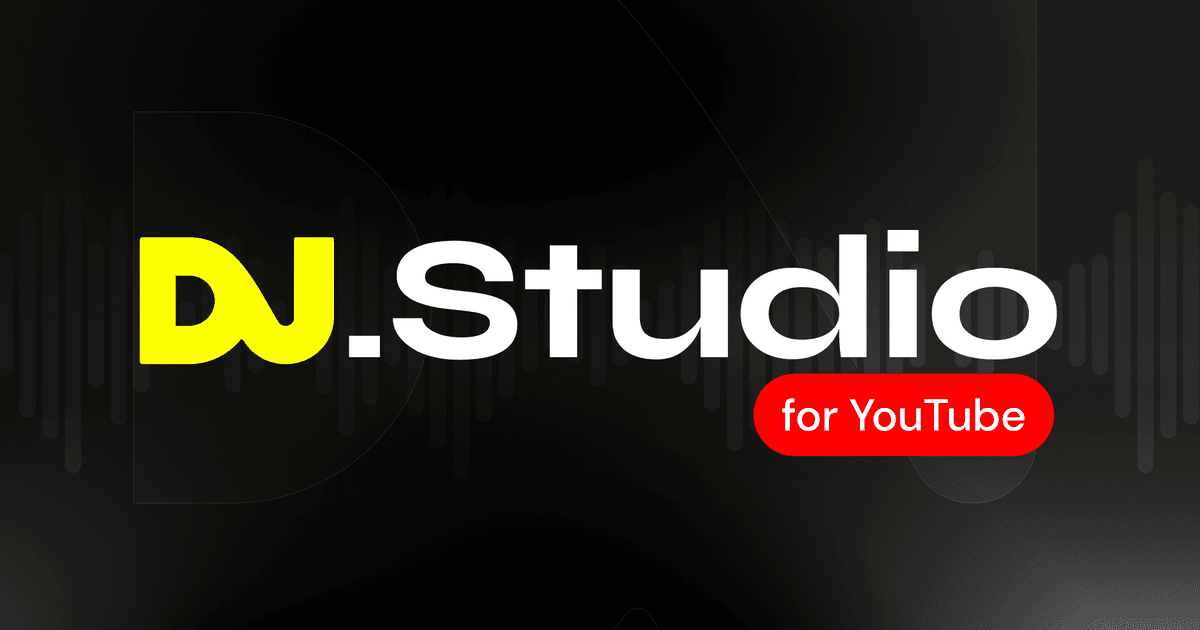 Dive into the world of endless entertainment and creativity by curating your very own YouTube playlists!
YouTube, a treasure trove of captivating content, offers an array of music and videos waiting to be explored.
While its built-in playlist feature is handy, external tools can elevate your playlist game, offering enhanced functionality and creativity.
Picture this: transforming your ordinary playlists into a seamless, shareable mix that keeps the excitement flowing. With innovative tools like DJ.Studio, you can elevate your YouTube playlists into immersive experiences that captivate your audience.
Stay tuned to uncover the ultimate secrets behind crafting compelling YouTube playlists and unlock the door to a realm of cool playlist tools!
TL;DR - Youtube Playlist Maker#
Making YouTube playlists is super easy, and is a great way to collect and store music.

YouTube has decent tools for making playlists, although some people prefer 3rd party tools.

I'll recommend a useful YouTube drag-drop playlist creator!

DJ.Studio integrates with YouTube playlists and turns them into seamless mixes!
How to Make YouTube Playlists: The Basics#
This section explains how you can create and manage your playlist on YouTube.
First, create a YouTube user account, or sign into yours if you have one already.

Next, find a video or song that you want to put in your playlist. Simply search for it in the YouTube browser.

If you find a song you want to put in a playlist, simply click the '...' icon, then click save. From here you will see a list of your existing playlist and the option to create new playlists.

Create a new playlist - You will be prompted to choose a playlist name, and the visibility settings.

Your playlist is now created! It's just a matter of going through YouTube and adding as many songs and videos as you want to use in your playlist
If you want to edit your playlist later on, you can find it in the left-hand tab of YouTube. From here you can re-order the playlist, delete tracks from it, or change information, including the visibility settings, name, and description.
YouTube Visibility Settings Explained
There are three visibility options, which determine the privacy and discoverability of your playlist:
Public - Anybody can watch your playlist, or find it via YouTube search.

Unlisted - Only people who are sent a copy of the playlist URL link can watch it. It won't be shown in a YouTube search.

Private - Only you can watch the playlist.
You can easily share your playlist by clicking the 'Share Playlist' button, or by copying the URL from your browser's address bar.
Drag and Drop YouTube Playlist Maker#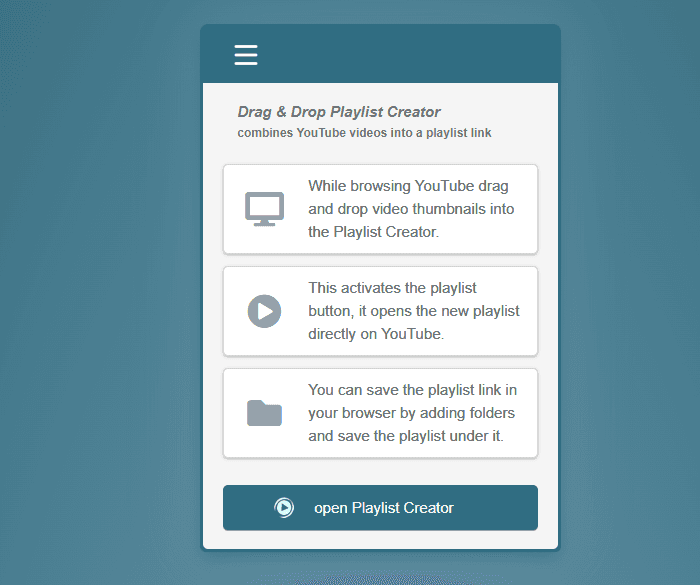 If you are looking for an easier way to make YouTube playlists - I recommend playlists.at
This simple website lets you create YouTube playlists by dragging and dropping links into the interface. Some people prefer this way of working!
It works by connecting to the YouTube API and creating playlists in your account. You can then save the playlist data to your account and use the playlist however you want!
The Best Way To Share Your YouTube Playlist: DJ.Studio#
YouTube playlists are a convenient feature, but let's face it—they can feel somewhat confined when it comes to offering a truly immersive and dynamic listening adventure.
Enter DJ.Studio, your ticket to a world of endless musical creativity. This innovative tool allows you to craft meticulously mixed playlists, complete with customized transitions between tracks, ensuring a seamless flow of music that captivates your senses.
One standout feature? The ability to import your favorite YouTube playlist and effortlessly transform it into a continuous, flowing mix. The best part? You can effortlessly share this musical masterpiece with the world, elevating your playlist game to a whole new level.
Imagine the thrill of crafting personalized mixes that go beyond the ordinary, creating an experience that's as unique and vibrant as your taste in music. DJ.Studio turns this vision into a reality, redefining the way you enjoy your favorite tunes online.
To transform your YouTube playlist into a seamless mix using DJ.Studio, follow these steps:
Launch DJ.Studio: Open the DJ.Studio app, whether it's the downloaded version or the one accessible from your browser.

Create a New Mix: Start a new mix in the YouTube project mode within DJ.Studio.

Import Your YouTube Playlist: Copy the URL of your YouTube playlist from your browser and paste it into DJ.Studio's import wizard. You'll see a list of all the playlist tracks. Choose to add all tracks or select specific ones.

Choose Your Mix Order: Utilize DJ.Studio's automix algorithm to automatically arrange tracks based on key and tempo. Alternatively, you can manually arrange the tracks according to your preference.

Edit and Enhance: Access the timeline editor to refine your mix's arrangement. Adjust transitions and apply DJ effects like loops, filters, and EQ to enhance the overall experience.

Finalize and Share: Once you're satisfied with your mix, click the share button. Add relevant information about your mix, then proceed to the export dialogue. After finishing, you'll receive a URL link that you can share with others, allowing them to enjoy your creative musical creation.
Check out this demo mix to see how these finished mixes look.
Transforming your ordinary YouTube playlist into an extraordinary musical journey has never been easier, thanks to this intuitive and user-friendly tool. DJ.Studio empowers you to craft dynamic, blended mixes that breathe life into your playlists, offering listeners an immersive experience that surpasses the traditional playlist format.
Unlike standard playlists with abrupt gaps between songs and mundane intro/outro sections, DJ.Studio allows you to seamlessly merge tracks, highlighting the best segments of each composition. This uninterrupted flow captivates listeners, ensuring they stay engaged throughout the entire musical adventure.
The ability to create these seamless mixes is just one of DJ.Studio's groundbreaking features. If you're passionate about curating exceptional YouTube playlists, exploring DJ.Studio is a must. Discover the transformative power it brings to your music, and elevate your playlist creation to new heights!
Summary#
When you came to this article, you probably had no idea that your eyes would be opened to a whole new world of playlist potential!
With these new tools at your disposal, you'll be able to create more entertaining playlists than ever before.
Check out this DJ.Studio demo mix to see what you can turn your humble YouTube playlists into!
DJ.Studio is also packed full of tools for music discovery - helping you to find exciting new music to listen to.
DJ.Studio for free DJ.Studio for free with a 14-day trial today - don't miss out
FAQs About YouTube Playlist Maker
Is there a way to create a YouTube playlist?

Can I create a playlist on YouTube Music for free?

Where can I make a free playlist?