Tutorial: How To DJ With YouTube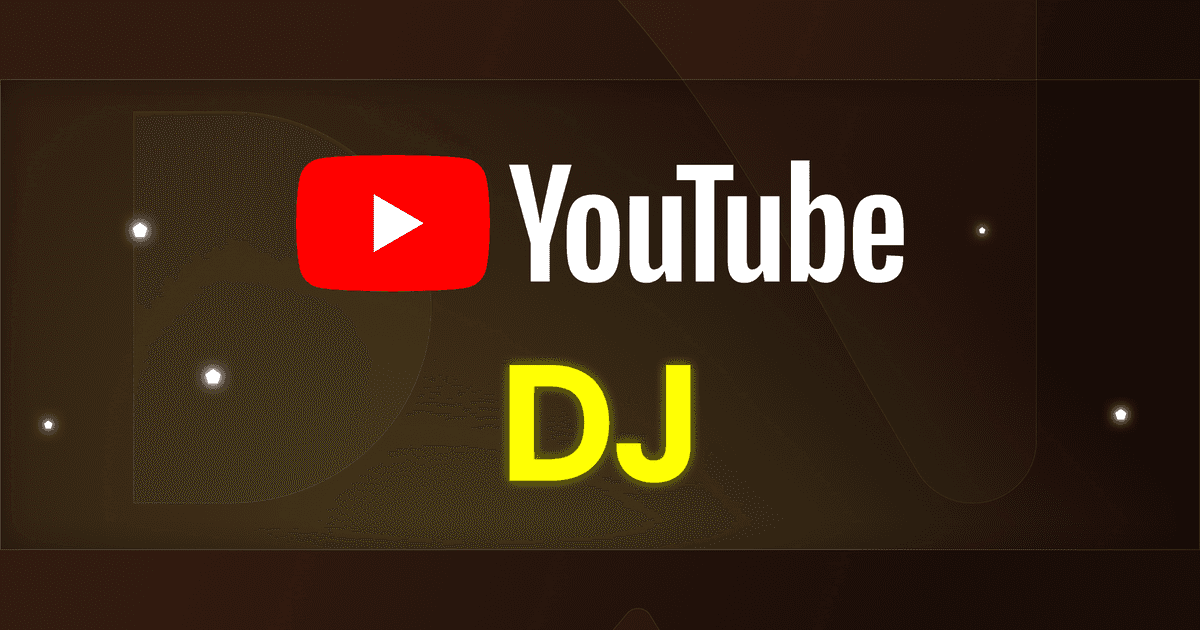 DJ technology has come a long way since the dawn of DJing, and now we have access to the most fluid and powerful tools to date.
You're no longer limited to creating sets based on what vinyl you own, your CD collection, or now, even your downloaded files. Today, you can create DJ mixes from YouTube alone!
This means that you can mix any song that's been uploaded to YouTube, without needing to pay for a download! Thanks to this, the job of a DJ is now easier than ever before. 
To add to your excitement, there is now new DJ software that makes the process of creating YouTube DJ sets highly expressive and efficient.
Keep reading this free guide to learn how to start mixing tracks on YouTube today, using DJ.Studio!
TL;DR - Mixing Music From YouTube#
Thanks to modern software, you can now use YouTube as your DJ music library.

Imagine being able to make mixes with any music or video from YouTube.

DJ.Studio helps you create mixes using YouTube videos with powerful automixing and expressive editing.

We're giving you a free 14-day trial to test out DJ.Studio!
Advantages of DJing With YouTube#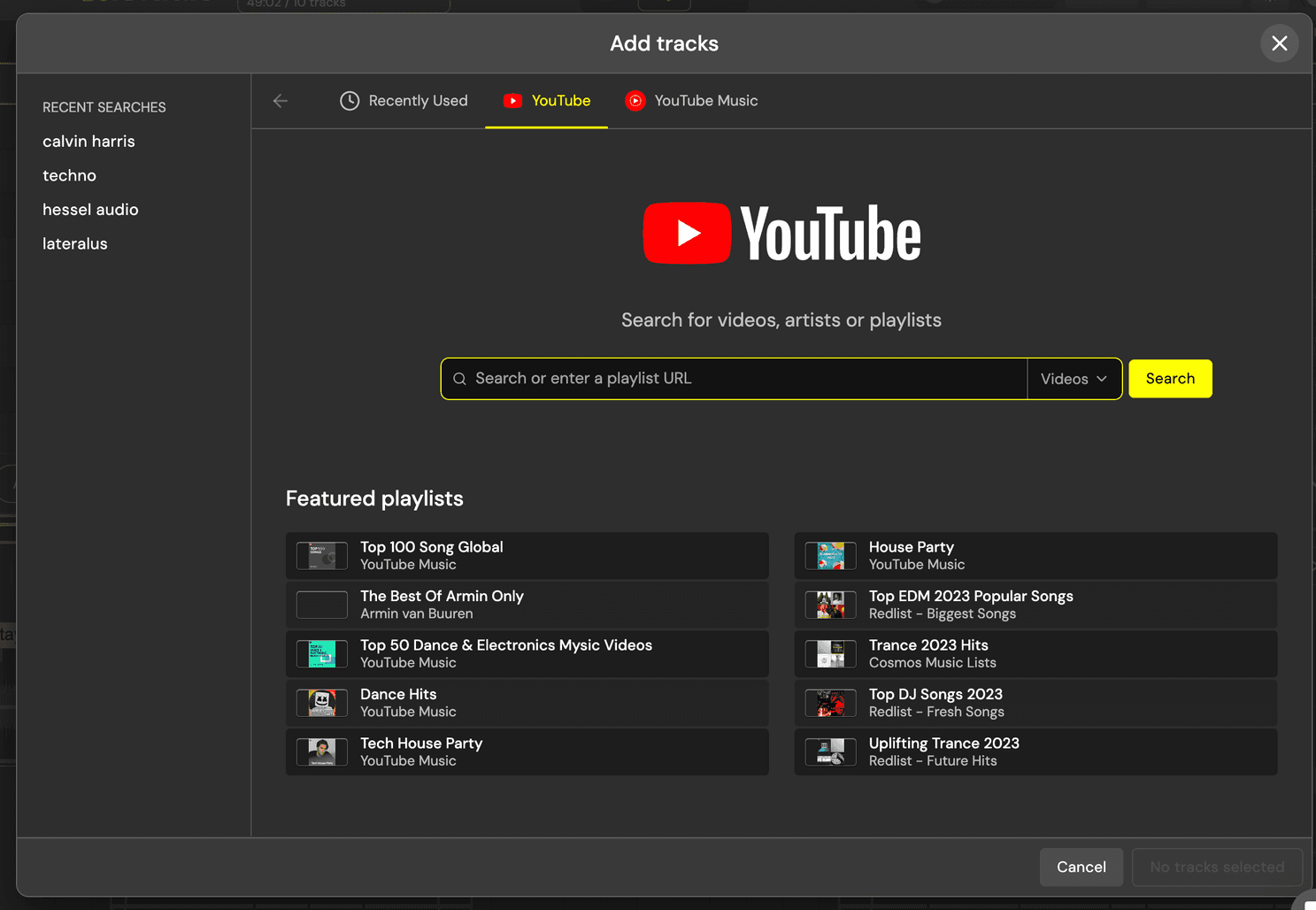 If you've tried DJing with traditional tools - vinyl, CDs, or even downloads, you'll know how much of a pain it can be to organize a music library.
Vinyl is obviously the biggest nuisance, but even managing a large collection of downloads can be a headache.
This is one of the main advantages of DJing with YouTube. Not only is it super easy to find pretty much any song you can imagine, but you also don't need to worry about buying tracks, managing downloads, or organizing your collection.
Up until recently, DJing with YouTube was tricky for several reasons. If you're like me, then you might remember the awkward days of lining up two YouTube tabs and trying to quickly use the mouse to turn the volume down on one video while you turned up the next. 
It was impossible to create a professional-sounding mix - because there were no tools for beat matching, and also it was awkward to mix volume in this way with a mouse.
This issue is now a problem of the past, as we are excited to share some new DJ software that makes it easy to create a DJ set using tracks from any YouTube channel. You don't even need any DJ gear!

DJ.Studio is the first app in the world that lets you DJ and beat match with YouTube videos! All you need to do is import some tracks, easily arrange them using our powerful toolset, and enjoy your seamless mix. 
Not only can it mix individual tracks together, but it can do the mixing in an incredibly accurate, detailed, and flexible way - giving you all the tools you need to create a complete mix from YouTube tracks alone!
This method of YouTube DJing can save a huge amount of time, energy, and money. It also gives you the opportunity to experiment with tracks before buying them - so you won't waste any money buying the wrong beats. This is a great way to get into laptop DJing!
What You Need to DJ With YouTube#
Another benefit of DJing with YouTube is that you don't need much DJ equipment to get started. 
You can start creating professional sounding mixes with a minimal amount of gear. You don't need any expensive controllers or turntables, and can basically get by just with a laptop alone!
All you need to DJ with YouTube is:
A laptop or computer

Some DJ software (specifically, DJ.Studio)

Some speakers/headphones

That's it!
You don't even need a library of music. It probably helps to have an idea of what songs you want to mix, although it's not necessary, as YouTube can recommend songs based on a genre! Even just having a few YouTube playlists saved is a great starting point!
Provided you already own a computer, then you can start mixing with YouTube completely free of charge today - thanks to our free 14-day trial of DJ.Studio! Find out more about the history of DJ.Studio in this interview with DJ.Studio's inventor, Siebrand!
The next section will guide you through the exact process - you can quickly have a mix finished and running within an hour.
How To DJ With YouTube - Using DJ.Studio#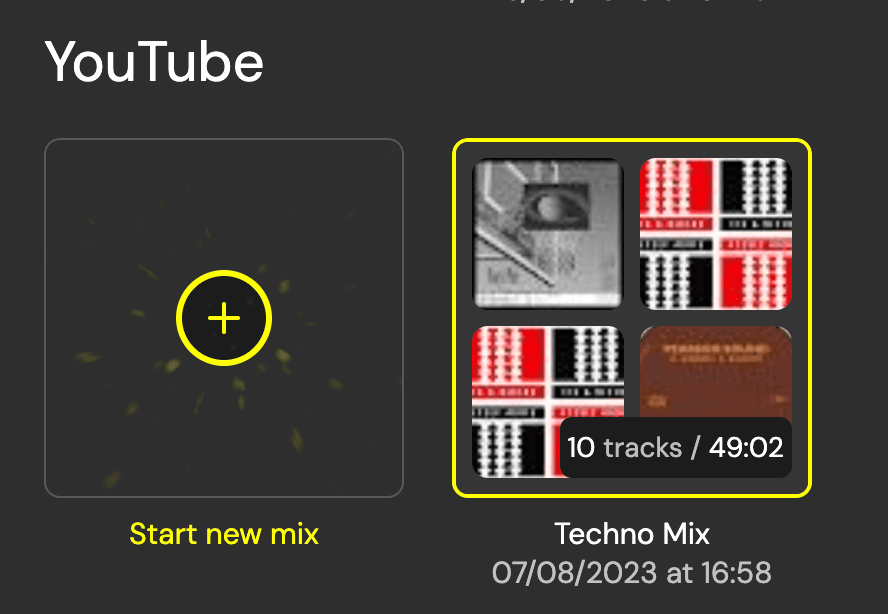 DJ.Studio makes it super easy to mix music from YouTube videos and YouTube music. This software is designed to completely revolutionize the mix creation process. 
It's intuitive enough to be used by complete beginners but also has a deep level of functionality and customization that will please professionals.
Follow these instructions to create your own YouTube DJ sets!
Either download the DJ.Studio app, or run the browser mode.

Sign up for a DJ.Studio account - we offer a 14-day free trial with no strings attached!

From the Project Dashboard, select, 'Create a New YouTube Mix'.

You will now be taken to the DJ.Studio YouTube search window.

Now, it's time to search YouTube for tracks you want to use in your mix, to do this, you can:

A. Directly search for tracks in the DJ.Studio YouTube search bar - either using YouTube (the video streaming service) or YT Music (the YouTube equivalent of Spotify).

B. Enter the URL of a YouTube playlist, to be shown every song in the playlist so you can add them all to a mix

C. Use Playlist Search mode to find playlists on YouTube, giving you a big list of tunes to import.

D. Look through our featured YouTube playlists to find some inspiration.

When you find a song you want to use, simply click the '+' button to add tracks to the set list. We recommend starting with around 8-10 tracks for your first mix, although you might want to start with less to get used to the software.

After you've added all the songs, it's time to click automix (don't worry, you can add more songs to your mix later).

The DJ.Studio's automix system uses AI to work out the best order of all the tracks in your mix. This AI-powered DJing tool takes into account the BPM and key of tracks. The algorithm then automatically harmonically mixes and beat-matches your tracks, creating a seamless mix.

After the automixing is finished, you can edit and tweak your mix in the carousel editor. You might want to change the position of the songs or shuffle the order a bit.

Next, you can refine your transitions. Look through the transition presets to find some quick blend types - you can choose from a volume crossfade, a bass swap, or two types of filter transition.

After, you can edit the transitions in even more detail using the timeline editor. This gives you a huge amount of creative expression that otherwise couldn't be achieved with two hands and a DJ mixer. The manual transition type lets you draw in the automation values into the timeline, letting you create expressive transitions however you please!

When you're happy with the transitions and mix arrangement, it's time to save your project. You can now load your project and enjoy a seamless mix of your favorite music on YouTube. Whenever you want to play your YouTube mix, simply open up the project in DJ.Studio and hit play!
From the list above, you can see how easy it is to make a complete YouTube mix on DJ.Studio. This software offers users a new way to interact with audio and make DJ sets. 
No other software will provide this level of power and professionalism when you are creating mixes.
A really cool feature of DJ.Studio is the automixing tool. This helps you to make mixes that sound incredibly professional - even if you've never touched a pair of decks in your life. 
Because it uses harmonic mixing analysis and BPM matching, your mixes will sound very seamless. DJ.Studio will make sure that each following track is in a compatible musical key where possible, so there are no clashing key changes.
Additionally, the auto-beatmatching makes sure that the groove stays in time, and there are now mismatched beats! 
Beat-matching is the process of aligning the tempo (BPM/beats per minute) of two track so the beats are in time, and aligning them so they are synced correctly - e.g. the beats are counted in the same position.
Another fun feature of DJing with YouTube videos is that you can also watch the videos as the tracks play!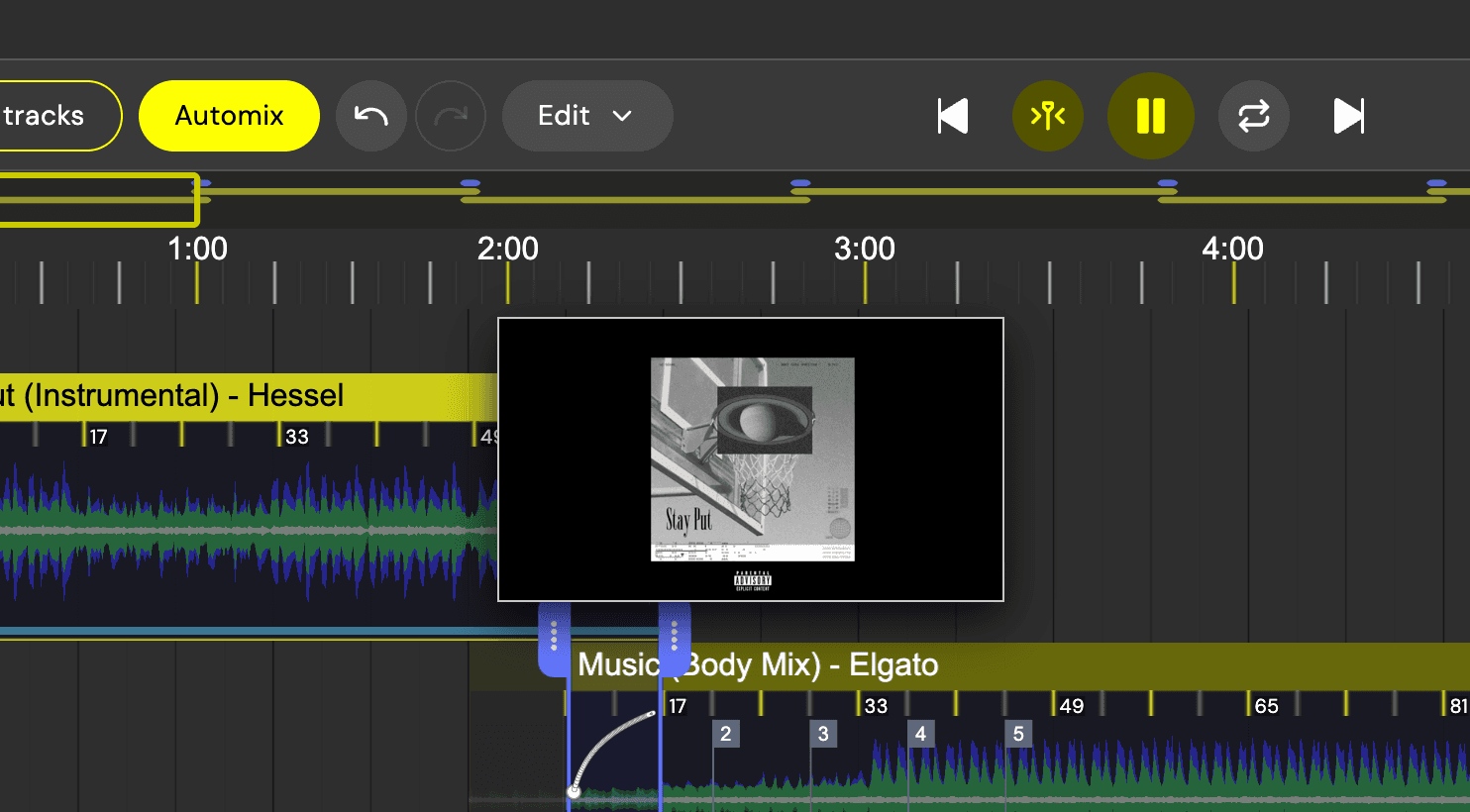 There will even be transitions between the video recording for each chosen track. This makes a great accompaniment to a party, where you can put the mix on a big TV and your guests can enjoy a continuous mix of music videos!
If you want to take DJing more seriously, you should consider using DJ.Studio in the local file mode. 
The YouTube mode is a great way to test out ideas and experiment with tracks before buying them, but there are some legal restrictions.
To make the most out of DJ.Studio, you should download the tracks you want to use. 
In the local file mode, you can create your own videos, (which can be uploaded to YouTube), and export your finished mixes as a downloadable audio file!
Extra Things To Know About DJing With DJ.Studio#
Because this DJ.Studio and it's YouTube mixing features are so new - they are unexplored territory. So when using such a new tool - you should understand the following factors to get the best outcome from it.
The Difference Between YouTube and YouTube Music

There are some differences between standard YouTube and YT Music. Standard Youtube is the video streaming service, so all of the imported tracks will have an associated video. 
Also, most songs you find here will be the music video version, which might be a different edit to the 'album' or release version - which would be easier to find on YouTube music.
Youtube music is similar to Spotify, in that it is an audio-only streaming service. 
Many artists release their own music on YT Music, and often it uses the original files so the quality will be higher.
In DJ.Studio option you can mix music from both platforms in the same set. When you are searching for music, make sure you check between both tabs to see what versions of the song are available!
The Difference Between Playlist and Video Search

Thanks to feedback from our community, we implemented the option to search and import both individual videos, or YouTube playlists. 
You should take a moment to understand the two search modes available (for both YouTube and YT music).
You can either search for videos or playlists - each has its own use case.
When using the Video search mode, DJ.Studio searches for videos and artists with the name you searched for. 
For example, 'Calvin Harris' will return a list of Calvin Harris songs that are uploaded as videos or YT Music audio, and any DJ livestreams the performer has recorded.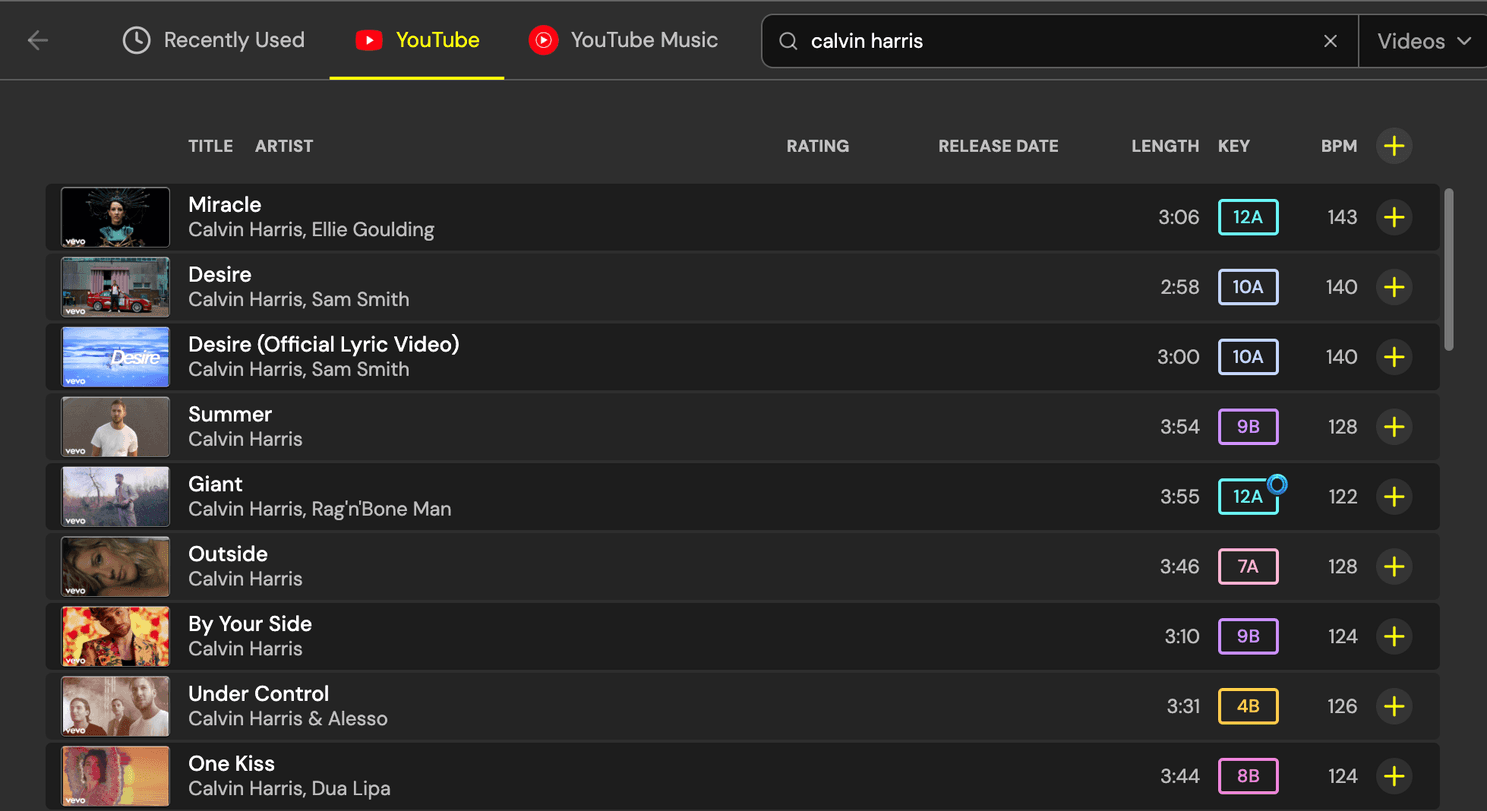 Using the Playlist search mode instead searches for playlists. For example, you can search 'Techno', and DJ.Studio will find YouTube playlists with the word Techno in the playlist title. 
When you click on the playlist, you will be taken to a second window that shows all of the videos contained within the playlist.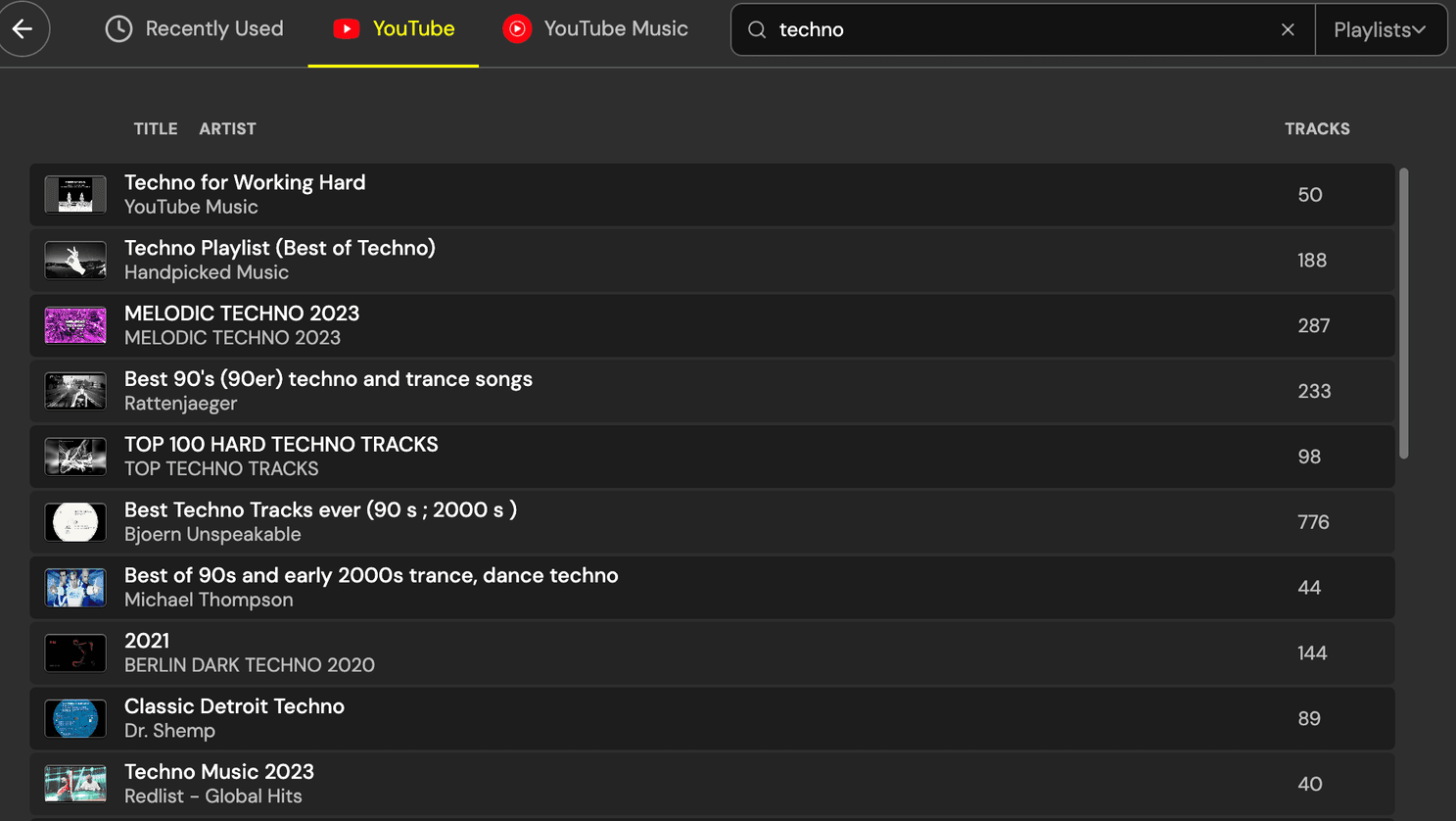 This is useful as it helps to find an entire playlist of music, so you don't need to find every video individually.
A final tip, is that you can also enter the URL for either a single video or a playlist. When I'm creating YouTube mixes in DJ.Studio, I use this workflow.
Head to Youtube.com

Create a new playlist.

Search for tracks, look at suggested tracks, and add what I like to the new playlist.

Open my playlist in a new tab - copy the playlist URL address.

Paste the playlist URL into DJ.Studio, and import all the tracks from there.
In essence, If you want to find specific songs, then use video mode. If you just want to search for a broad genre (or artist), then playlist mode is better as you can find inspiration in playlists.
Featured Playlists
As a gift to our users, we have added a bunch of 'Featured Playlists' to the front of the YouTube search panel.
This makes it easy to jump straight into DJ.Studio and start experimenting with YouTube DJing, even if you don't have a list of tunes in mind to use for your mix. 
By giving you a range of different playlists and genres to start using, you can start testing DJ.Studio without needing to think about finding music! Of course, you can still add your own tracks to a mix.
Carousel View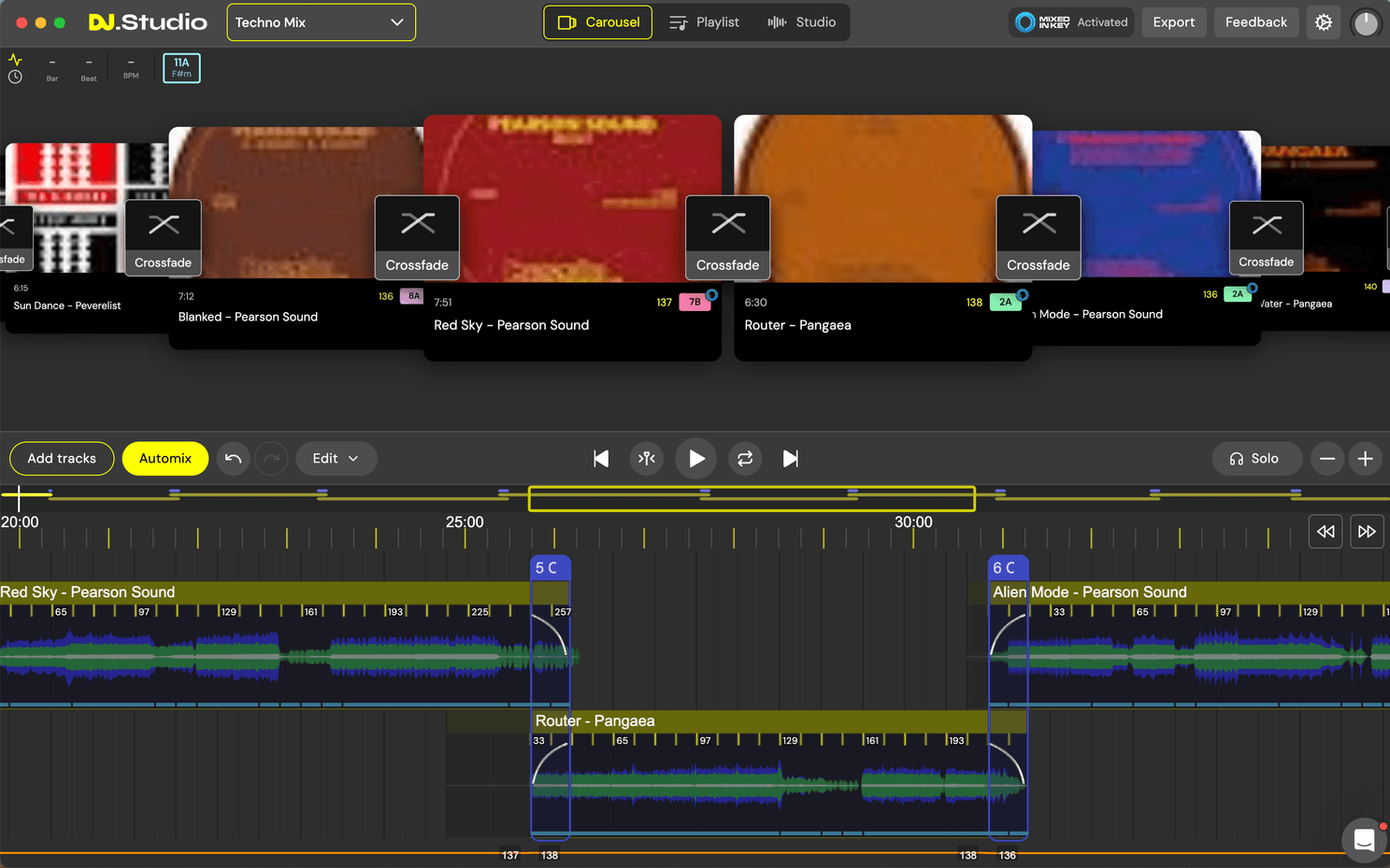 The Carousel view is designed to be intuitive and simple, letting users quickly craft their YouTube mix, and is great for editing when you are not an experienced DJ. Alternatively, the 'timeline mode' will give more advanced DJs all the tools they are looking for, letting them edit their mixes in more detail.
Carousel mode lays out your mix in a clear and easy-to-understand way. You can easily create clean, smooth transitions using the presets, or go a bit deeper and manually edit them if you want to make more original blends. By swiping from left to right, you can navigate through your mix and change the transition for each song
This mode is also designed to be used on a tablet or touchscreen, making it ideal for use at a party and the perfect interface for creating a YouTube mix. You can think of this as your portable YouTube Studio for DJs!
Limitations of YouTube DJing#
Due to legal complications of streaming audio from YouTube, there are some limitations that have to be implemented to avoid copyright issues.
The original YouTube video must be displayed on the screen when the audio is being streamed. Unfortunately, you can't hide the video, but you can shrink it and move it to the corner of the screen.

You cannot export mixes made from YouTube streamed audio. Due to laws around streaming copyrighted material, you cannot record and download your finished mixes - even if you are the original music producer. However, you are welcome to stream them at any time. We recommend you use this mode at a party. First, prepare your YouTube mix sets, then when the party gets going, put the video on a big screen and turn the speakers up!

You can't mix with files from your own music collection. Due to limits with the YouTube streaming platform, you cannot mix audio files with YouTube audio in the same DJ mix in DJ.Studio.

You can't use DJ.Studio audio visualizer/video creator, as the YouTube video is using the video engine. If you want to create your own video visualization, you need to buy and download the original audio tracks.
These issues don't have a large effect on the experience, and won't stop you from creating fun, seamless mixes out of YouTube videos.
To overcome these limitations, you should consider switching over to the 'Local File' mode. You will need to use downloaded audio files to use this mode, however, you won't find any restrictions. 
By having access to both online and local modes, you can split your workflow between discovery/experimentation with YouTube, and final production with Local mode. Use YouTube to find and test your tracks, then buy the ones you like and finish off your mix. 
This way, you can 'draft' the perfect mix without wasting any money buying tracks that you won't end up using. Not only will this save you money, it also helps to create more refined sets, as you don't need to make any compromises. 
Extra Tips For YouTube DJing#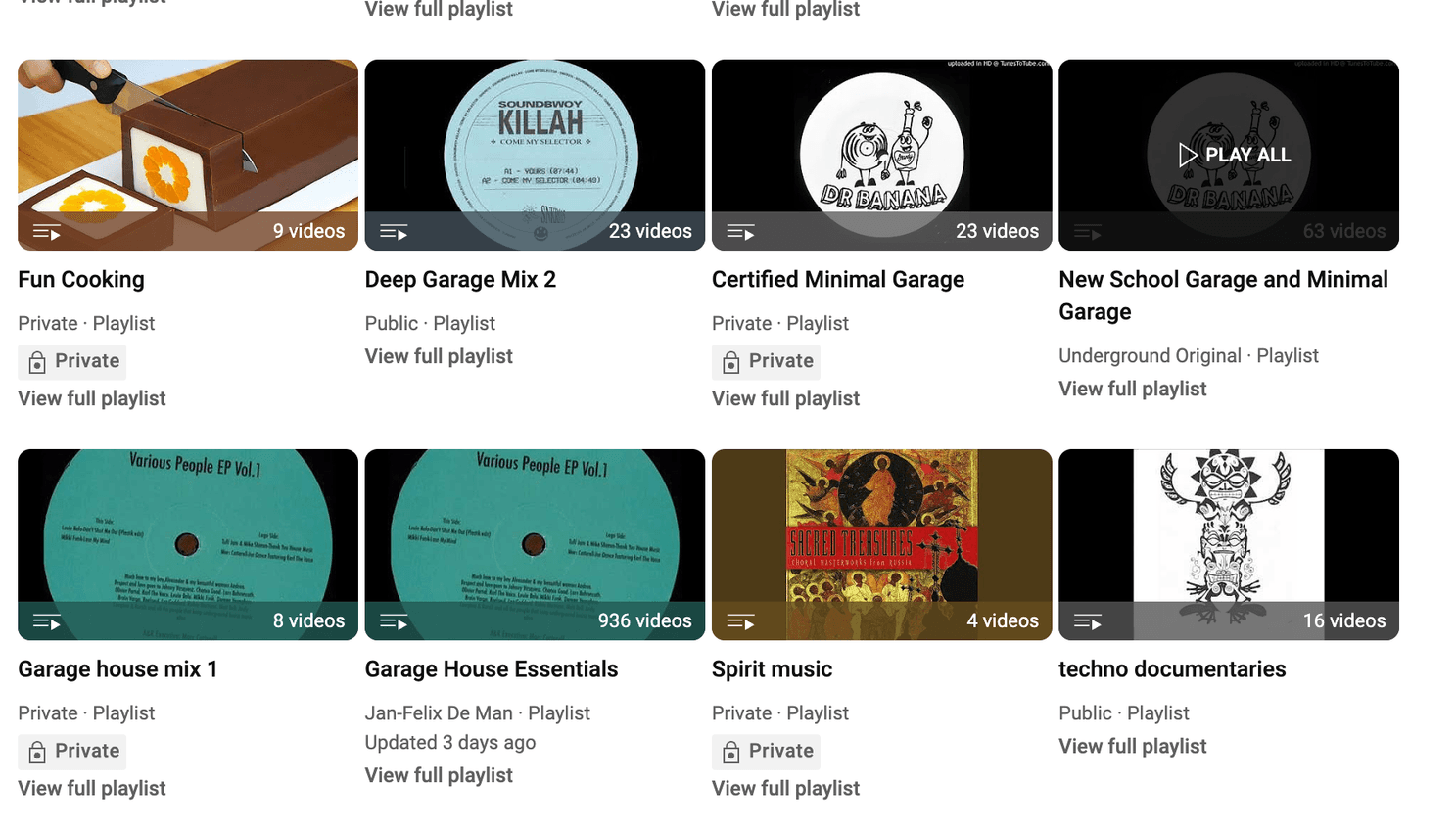 Here are some handy tips for making mixes with music from YouTube in DJ.Studio.
Make your own YouTube playlists first. Before getting into the mixing, we recommend that you spend some time finding your favorite tunes on YouTube, then adding them to a YouTube playlist. Because it's so easy to import playlists into DJ.Studio, this is a great way to save time and manage your music library. Use your YouTube playlists as 'virtual vinyl crates', so you can quickly pull up your favorite tunes.

Make themed playlists - On the topic of playlists, it's a good idea to make themed playlists of your favorite music. This makes it easy to find tracks with the right vibe or genre that you need. YouTube is the perfect website for building and managing a music library

Think about the video you use - often you will find multiple versions of the same song on youtube. Some of these are the music video version, which often includes an unnecessary intro to fit the video - which doesn't actually have music. You'll probably want to look for the radio edit of these types of tunes, which is easier to find on YouTube music.

Make a wishlist - if you want to export your videos and upload your own finished mixes to YouTube, you should make a list of the songs you want to use. Download the tracks and use DJ.Studio's local file mode. This gives you many more options and can be used to export finished mixes as videos or audio files.

My Techno Wishlist
DJ.Studio is the best and only choice when it comes to making YouTube mixes - this is a fantastic piece of Mac DJ Software, and it also works as Windows DJ Software too! This software will give you new powers to impress your friends and audience as a DJ!
Summary#
Now you understand how to DJ with YouTube, it's time to get stuck in and start mixing your favorite music.
DJ.Studio makes YouTube mixing super easy! Even if you have no experience DJing before, you can enjoy the ability to create perfect mixes with seamless beat matching and funky transitions. This software takes care of many of DJing's more complex processes, like harmonic mixing, so you can sound like a professional - even if you've never mixed before.
Once you get to grips with the software you will be able to create expressive mixes in no time. I recommend you start by making YouTube mixes, and then download files when you get more confident.
Start putting your favorite music together in a mix using the DJ.Studio's free 14-day trial today!
FAQs About DJing With YouTube
Can you DJ using YouTube?

What DJ program works with YouTube Music?

How can I mix songs together for free?