Pacemaker App Alternative: Spotify DJing
Pacemaker was once the most popular app for DJing music from Spotify. This app let you stream tracks from Spotify and mix them in real time - with DJ deck style controls.
It was a great app, but sadly it has been discontinued after Spotfiy changes its programming interface. This has left thousands of Pacemaker users without their favorite Spotify DJing app...
But there's no need to cry anymore because DJ.Studio is here to save the day!
As you will learn in this article, DJ.Studio is a powerful new piece of DJ software which lets you create complete, shareable DJ mixes using tracks and playlists from Spotify!
Keep reading to find out why DJ.Studio is the ultimate spiritual successor and replacement to the now-dead Pacemaker...
TL;DR - Pacemaker Alternative#
Pacemaker used to be the best app to mix music from Spotify.

Sadly, Pacemaker has been discontinued, and cannot be used anymore.

We made a new solution for DJing with Spotify...

Say hello to DJ.Studio - the ultimate tool for making mixes from YouTube, Spotify, and other streaming sites.
What Happened to the Pacemaker App? Background#

Pacemaker was a popular iPhone and Android app which featured integration with Spotify. Launched in 2014, this pioneering app enabled users to DJ with music from Spotify in real time. This was an exciting and unique prospect at the time, and let users throw groovy parties with Spotfiy alone!
Some of the features of Pacemaker included:
The ability to mix two tracks together from Spotify (or other music libraries).

Familiar DJ-style controls, including decks, a mixer, and a range of effects.

The ability to beat-match tracks using the pitch slider and sync.

An auto-mix tool, for automatically creating a continuous playlist
Sadly, in 2018, Spotify discontinued their DJ integration - essentially killing Pacemaker. This change to Spotify's system meant that Pacemaker would no longer work with Spotify - and all other Spotify-based DJing apps would also be broken. This was partly due to changes in the music industry, and partly due to Spotify's business practices.
Additionally, in 2023, Pacemaker was acquired by Tuned Global. They have said that they are not planning on finding a commercial fix, and are instead commited to using the tech developments behind Pacemaker to provide business-to-business solutions for other music and streaming platforms.
Ultimately this means that Pacemaker is gone for good.
Other than DJ.Studio, the only other Spotify DJ app is Mixonset. However, this is very limited, and does little more than create faded transitions between songs - it lacks any true DJing tools like beat-matching, EQ, effects, and essentials.
This meant, that until earlier in 2023 - there was no good way to DJ with Spotify.
That all changed with the release of DJ.Studio...
Pacemaker App Alternative: DJ.Studio#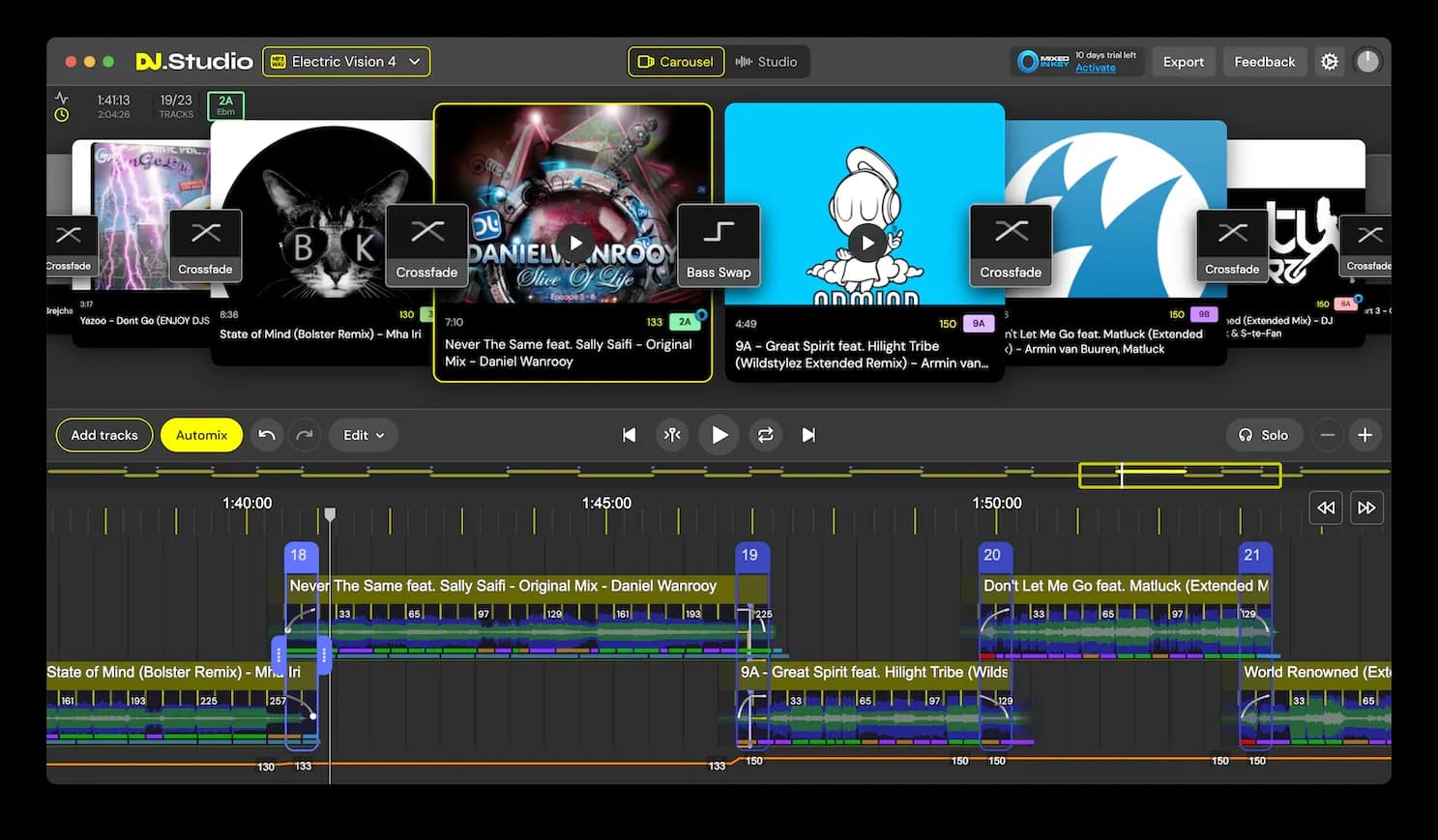 DJ.Studio is a new solution for anybody who wants to make mixes using music from Spotify, YouTube, and other streaming sources.
It's packed with other extra features too - and is more than just a Spotify DJ app.
There were several factors that contributed to the invention and creation of DJ.Studio. Many of the reasons revolved around other software becoming defunct or unsupported - leaving users stuck without a paddle.
The death of Pacemaker was a reason why we looked into working out how we could integrate Spotify with DJ.Studio.
This wasn't an easy task, as Spotify are trying hard to make this not possible - however we found a couple of workarounds - namely converting Spotify playlists into YouTube videos!
This means that you can now create full-length, seamless, and professional-sounding mixes using tracks and playlists in your Spotify library. You don't need to pay for a single download!
First, we'll share some exciting features of DJ.Studio, then we'll explain the workflow so you can start making your Spotify DJ sets straight away!
DJ.Studio Features #
Here are some notable features in DJ.Studio:
A range of library integrations - Use your own music files, YouTube music, Spotify, and connect with other DJ software libraries.

A DAW for DJs - DJ.Studio is unlike any other DJ software on the market. Rather than following the overdone paradigm of replicating decks and a mixer, DJ.Studio uses a DAW-style timeline editor. This non-linear system is more efficient, detailed, and productive than traditional tools.

AI DJ tools - DJ.Studio is the ChatGPT of DJing! This software is fitted with a uniquely powerful AI automixer, which takes care of the beat matching and harmonic mixing of your DJ set - creating a pro sounding mix, and letting you focus on creative expression!

Intuitive Interface - There are a range of interface styles in DJ.Studio. You have the quick and easy carousel mode, or you can get stuck in deeper with the Studio Editor view. No matter your level of DJing skills, DJ.Studio has a mode that will suit you - helping you to make the most pro-sounding mix you've ever created!

Transition Editor - Sweet transitions are one of the main ingredients of a memorable DJ mix, so we created the ultimate transition editor to help you keep your audience engaged and excited. This lets you pick some instant presets, or get in deep and create infinitely unique custom transitions.

YouTube Mode - A unique feature is the ability to create sharable DJ mixes from DJ.Studio. This completely legal method means you can share your finished YouTube mixes with your fans and friends using our special online player!

Many Integrations - DJ.Studio is integrated with a bunch of other platforms and DJ software. No matter what kind of DJ setup you are using, you probably use something that connects with DJ.Studio. You can even export your finished mixes as playlists to use on your main decks!

Diverse Exports - If you use local file mode, you can export your mixes to a range of locations. You can share your mix with Ableton Live, or even create an animated music visualizer video from directly within the software! This makes excellent content to share with your mixes on YouTube!
This only explains some of DJ.Studio's powers. So make sure you check out the rest of the website for more info - or explore the app yourself with the free 14-day trial!
How To Mix Spotify Music Using DJ.Studio: Step-by-Step#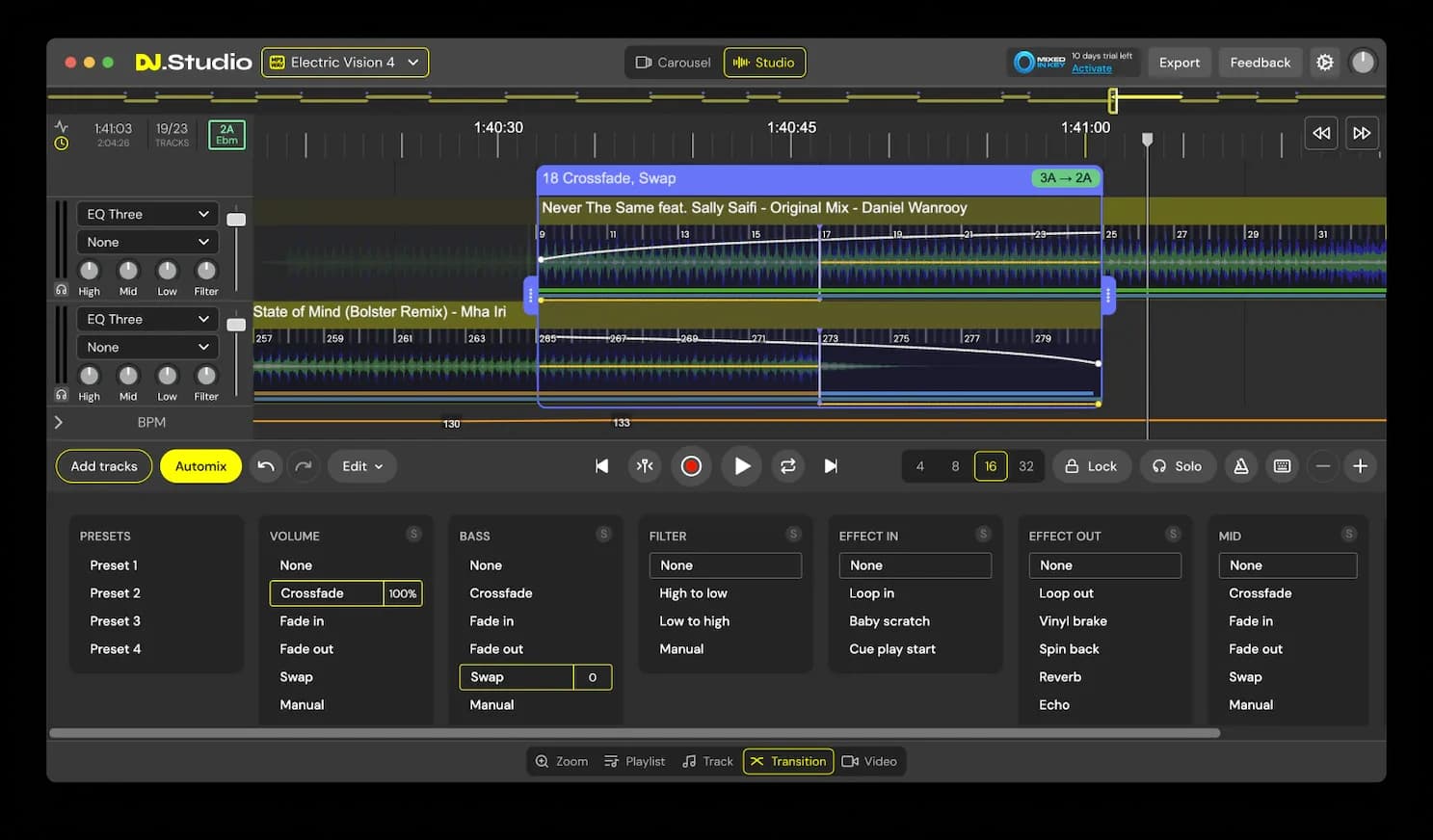 Now that you understand some of the features of this powerful new software, it's time to have a look at exactly how you would use it!
Note, that when starting a new project, you are given the choice of using either a Local File or YouTube-type project. The core features are the same, there is just a difference in where audio is sourced, and how can you export your music.
To use Spotify music, you need to be working in YouTube mode - so we'll use this in the example. (Although you should definitely check out the cool features of Local File mode too!)
Follow these steps to start making DJ mixes with Spotify music in DJ.Studio:
Open DJ.Studio - You can either use the installed app, or run it in your browser.

Create a new project - In this case, we'll use YouTube mode.

Add songs - Click the Add tracks button to open the import wizard. From here, you can add music from a range of sources. If you want to add Spotify music, click the Spotify tab, then paste the URL of a Spotify playlist into the search bar. From here, you can select any songs in the playlist and add them to your mix - they get turned into YouTube videos, bypassing issues caused by streaming Spotify. You can also combine this with music from YouTube, or use 1001Tracklists to find more music!

Automix - After your tracklist is full of songs, it's time to use the automixer. This unique AI tool uses our secret data analysis to work out the perfect order of your tracks, matching their keys and tempos like only a professional DJ could. Then, it arranges them on the timeline for you to edit. This means your DJ set is already beat-matched and harmonically mixed.

Editing Phase - Now, you can jump over to the timeline editor and start refining your mix. You have total creative freedom here. You can change the order, positioning, and arrangement of your mix, as well as adding effects and loops (and add in new tracks if you need to)!. You can get stuck in deep with the mixer automation, and use the transition editor to create the most exciting and seamless transitions you've ever heard.

Final checks - Before you share your mix, make sure to listen through and check that you are happy with everything...

Share! After your mix is finished, it's time to share it. DJ.Studio makes this process super easy, and has a solution that no other DJ software offers in terms of sharing YouTube and Spotify mixes. Simply click the share button, enter the relevant details, and you're good to go! You'll be given a URL link, which is all you need to share your mix with fans. No need to upload any files or fiddle around. Just give them the link, and they can enjoy your mix online withhout needing to download anything or sign up for an account.
You can see what a shared YouTube/Spotify mix looks like here: Demo DJ.Studio Mix
It really is that simple!
DJ.Studio has all the tools you need to make super professional sounding mixes faster than ever before - and you can do it all with a Spotify playlist!
This makes it the only tool on the market that can achieve such professional results.
But you should know that DJ.Studio is so much more than a tool for making Spotify mixes - it's a fully featured, uniquely powerful piece of DJ software that revolutionizes the mix production and DJ workflow.
Whether you are a total beginner or a seasoned professional - DJ.Studio is a tool that belongs in your kit. It helps with many different stages of DJ production - from discovery to distribution. It helps you to find new music, quickly make seamless mixes, and then share them in a range of ways - all of which will help to promote you and increase your social reach as a DJ!
Summary - Try DJ.Studio Free#
DJ.Studio is revolutionizing the industry, and is a perfect replacement (and improvement) over the lost offerings of Pacemaker.
If you miss Pacemaker, you'll have no sadness after you test DJ.Studio. You'll instantly be able to see that this is capable of everything Pacemaker was - and much, much more.
You can create sharable mixes from Spotify - what more do we need to say?
Try DJ.Studio yourself now with the free 14-day demo!
FAQs About Pacemaker App Alternative
How does Pacemaker DJ app work?

Is the Pacemaker app free?

What is similar to Pacemaker app?