DJ Transition App - DJ.Studio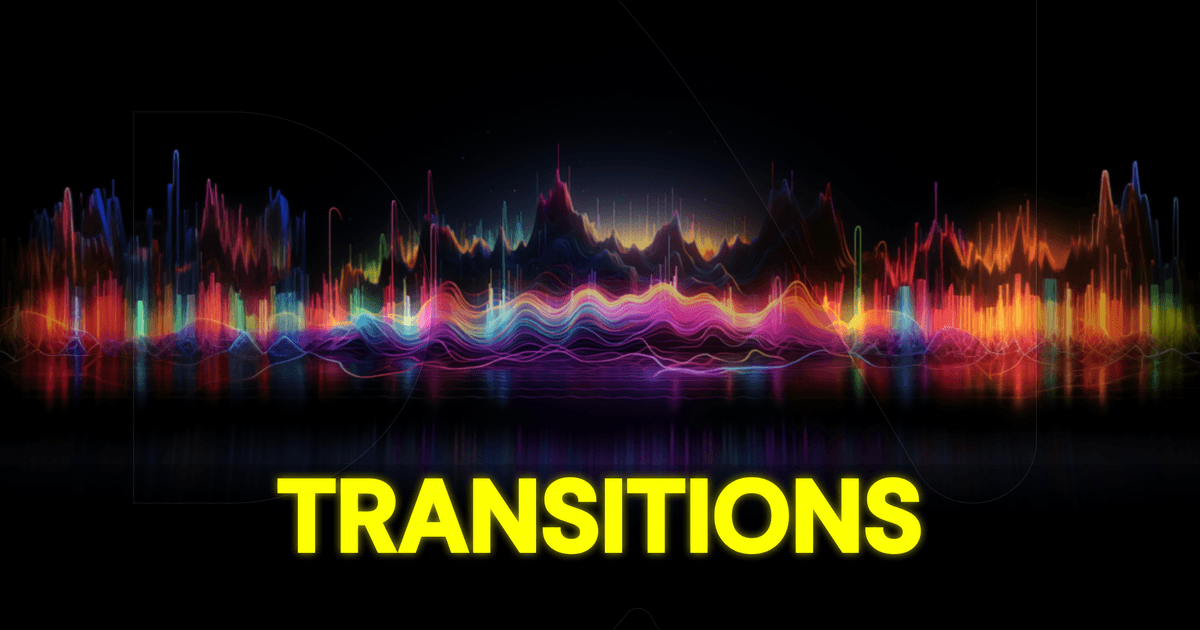 Transitions are one of the most important tools for making seamless and engaging DJ sets. But, if you don't know the tools of the trade, you'll struggle to make the cut! Fortunately, there are some powerful pieces of software out there that make it super easy to create DJ sets and mixtapes with clean and expressive transitions.
Learn here why DJ.Studio is one of the best DJ apps for making transitions, and how you can use it to enhance your workflow as a DJ!
TL;DR - DJ Transition App#
Transitions are a core part of mixing music.

There are loads of transition apps out there, although they aren't made equally.

DJ.Studio offers a powerful new method for creating mixes - with a next-level transition editor.
What is a DJ Transition App#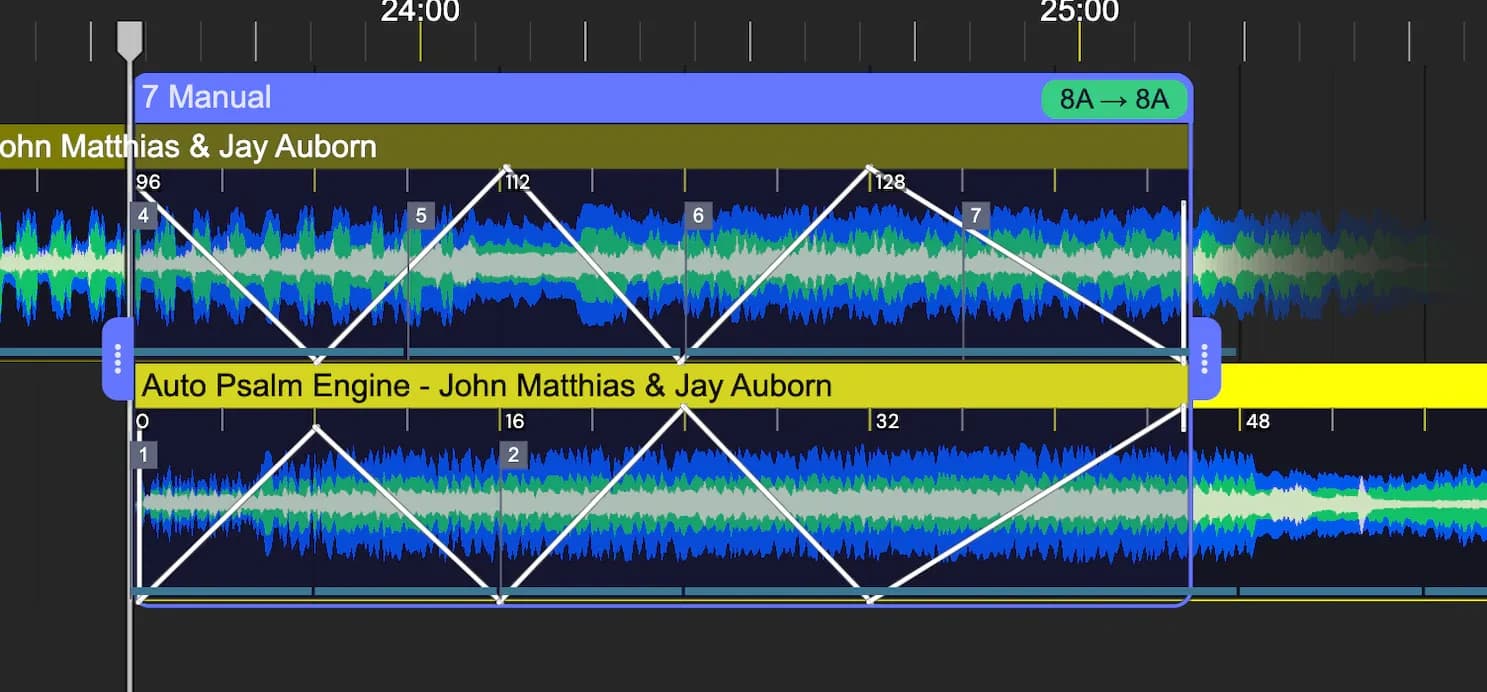 A DJ or song transitions app is audio software that lets you create transitions between songs. The exact way the software lets you do this is different depending on what style of app you use. Most DJ software lets you create transitions by connecting to a hardware controller and then performing it in real-time.
Other audio software (DAWs or Digital Audio Workstations) which are traditionally used for editing, let you manually edit your transitions on a timeline. DJ.Studio sits somewhere between the two, offering the most optimal workflow for creating mixes with seamless transitions.
DJ.Studio - The Best Transition App#

DJ.Studio is by far the best way to mix music and make transitions. The only time I would suggest looking at other software would be when you want to mix to a live audience. If you want to create DJ mixes or mixtapes with seamless transitions, DJ.Studio has all the tools you need and more. It makes the process of mixing music incredibly smooth and expressive.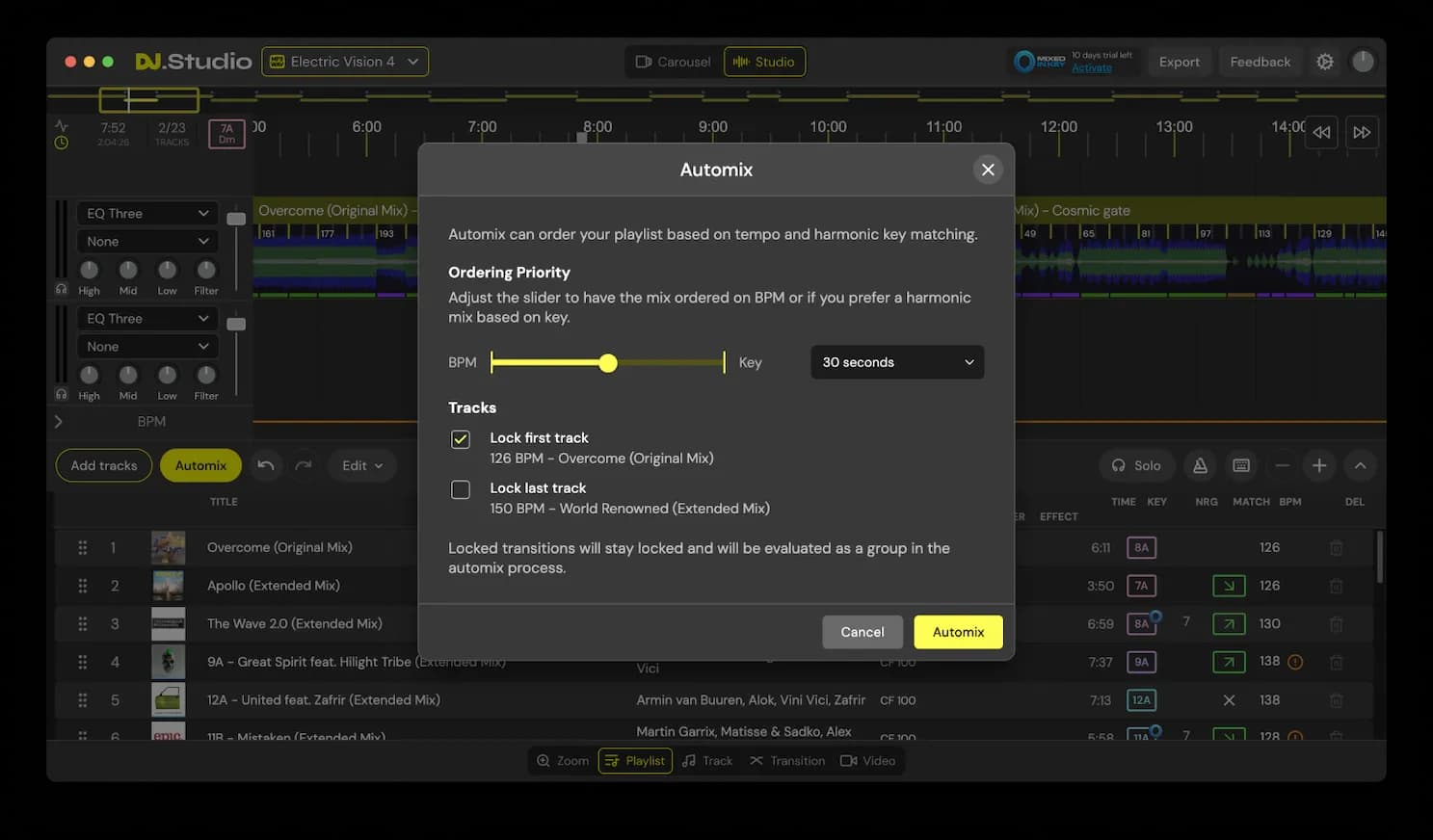 DJ.Studio helps make the perfect transitions for several reasons. Not only does it have a powerful and dynamic transition editor, but it also helps you to make sure the fundamental concepts (harmonic mixing, beat matching, and phrasing) are accurate, giving you the perfect foundations for creating seamless transitions.
Some of the reasons DJ.Studio is so good for making transitions including:
Helps you beat match, harmonically mix, and phrase mix your tunes - giving you the perfect technical base and logistics for a decent transition.

Offers a powerful transition editor - letting you choose from a range of presets, or customize transitions manually using automation lines.

Lets you create transitions that aren't possible in other software, as it gives you the ability to automate all effects and parameters simultaneously.

Packed with other features to accelerate your mix production workflow.
DJ.Studio offers a unique workflow, taking the best features of DJ software and traditional DAWs, and blending them into a 'DAW for DJs'. As you will see in the next section, DJ.Studio makes it super easy to create mixtapes and DJ sets with perfect transitions.
(It can even make custom videos with album artwork or music visualization!)
How To use DJ.Studio to Make Transitions#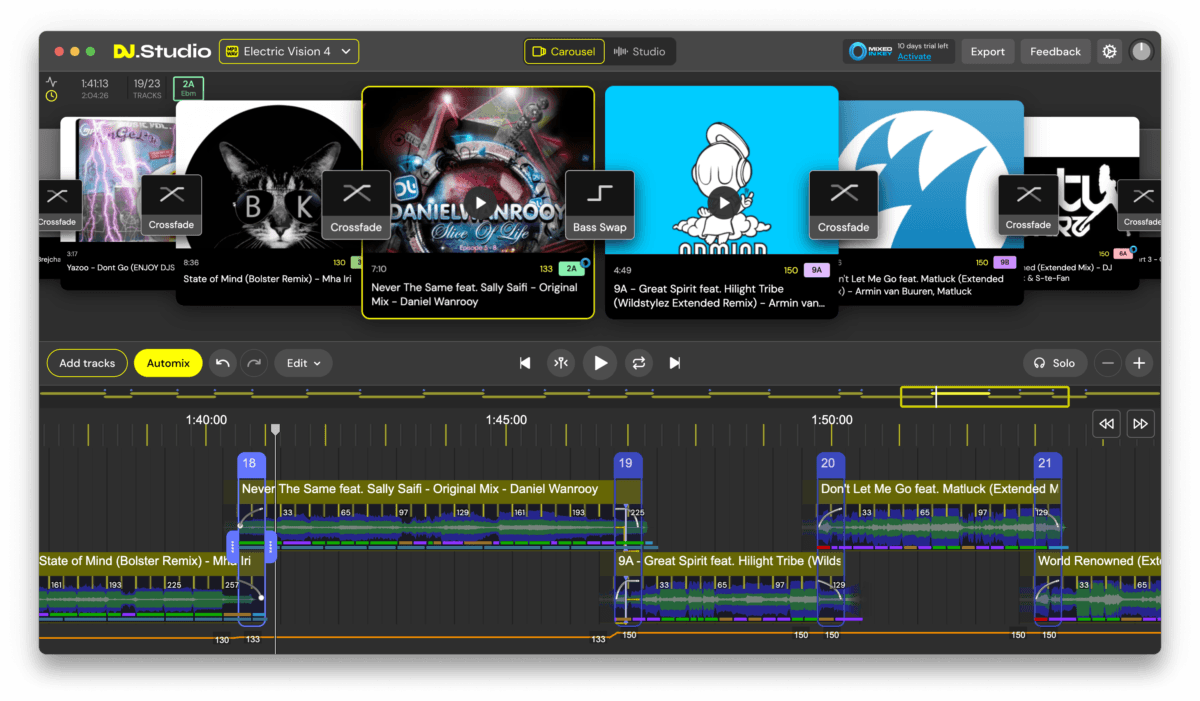 To get a go good sense of why DJ.Studio might be the best app for making transitions, have a look at it's creation process.
Download the app and register a DJ.Studio account.

Create a new mix project (either using your local music library or YouTube streaming).

Import and select the tracks you want to use in your mix.

Use the automix algorithm - which suggests the best order based on harmonic mixing and beat-matching. This automatically places all your tracks on the timeline with transition presets.

Make any changes to the arrangement, including moving around the beats bars, and phrases (verse, chorus, etc.)

Open the transition editor - You can start by selecting some quick transition presets to get a basic mix going. Then use the manual editing feature to create transitions in infinite detail.

Refine your mix until you are ready to share it. You can then easily export the finished mix file to a range of locations, including WAV/MP3, YouTube, MixCloud, other DJ software, or even as an Ableton Live project for additional editing and mastering.
As you can see, DJ.Studio makes it incredibly easy to make transitions between songs. Even if you are new to making mixes, you can use the instant presets to create a pretty professional-sounding mix - only needing to click the mouse a few times!
This AI-DJ tool has a bunch of other smart features, letting you create the perfect mix in a short amount of time. Check out more information on our website to see what else DJ.Studio can do for you - and find out more about AI DJing. 
Integrations

DJ.Studio can also connect to a bunch of other software (sending stuff both in and out). This means it can integrate into your current workflow - expanding your creative horizons and also improving your workflow.
Some of the notable integrations include:
Apple Music

Serato

rekordbox (imports cue points and phrase analysis).

Mixed in Key

Traktor

Virtual DJ
A Live Alternative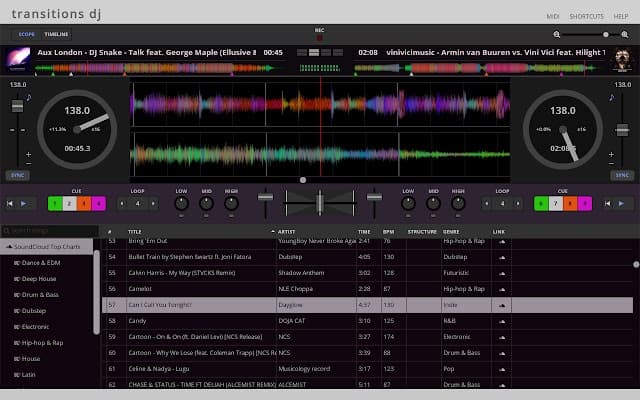 If you want to use a DJ controller, you'll need MIDI support, Transitions DJ integrates with controllers, but DJ.Studio currently doesn't. The Transitions DJ app also offers a three-band eq with kill switches and provides SoundCloud access, letting you mix with Soundcloud's online catalog.
Summary#
If you want to start blending songs precisely and seamlessly - DJ.Studio is the best way forward. The smooth controls and powerful features mean you can create the perfect mix in a matter of minutes. We are offering a 14-day free version you can see for yourself what DJ.Studio can do! 
FAQs About DJ Transition Apps
What is the Best App for Transitioning Songs?

How do you Smoothly Transition Between Songs DJ?