Convert Playlist to MP3: With DJ.Studio
If you have a bunch of playlists stored around the Internet or other places, you may be wondering how you can convert them to MP3s.
You might be wanting to convert your Spotify playlist, YouTube playlist, or other platforms to MP3 files. While this sounds nice in practice, it's a bit of a grey area due to licensing and downloading restrictions.
If your playlist is made of files you have downloaded then you're good to go. However, if you're trying to convert a playlist from online sources to an MP3, you will run into legal and technical barriers.
This guide clears up all the questions you may have about converting playlists to MP3 and also shows you how you can use DJ.Studio to overcome these issues
TL;DR - Convert Playlist to MP3#
Converting playlists to MP3s can be easy, but it can be hard - depending on the type of playlist you're working with.

If you have a playlist of downloaded audio files, it's easy to turn this into an MP3.

If you are trying to convert a Spotify or YouTube playlist - making an MP3 is a bit trickier.

DJ.Studio is the highest quality, legal solution for compiling playlists into a single file.
Why Convert a Playlist to MP3?#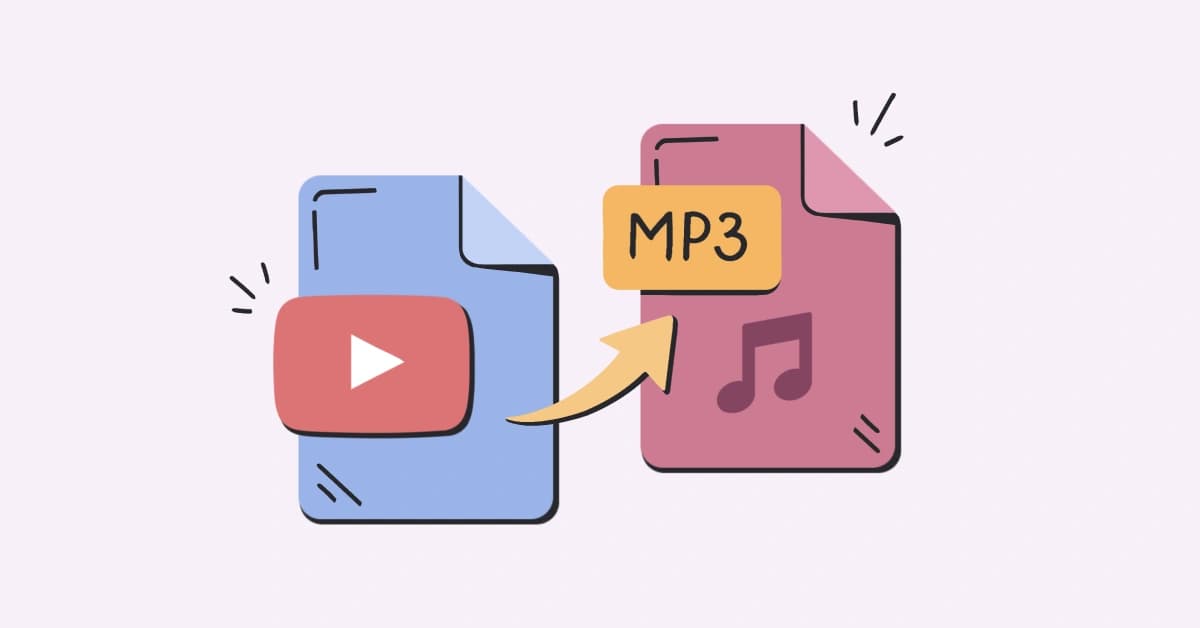 Before getting into the specifics, let's consider why you'd want to make an MP3 file out of the playlist and whether it's always necessary.
The main reason you would want to make a playlist into an MP3 would be if you wanted to listen to it offline or make it into a seamless mix without silent gaps.
In this case, many people look for a YouTube playlist downloader, although these aren't the best (or legal) choice.
The Truth About Converting Playlists to MP3: Legal? Safe?#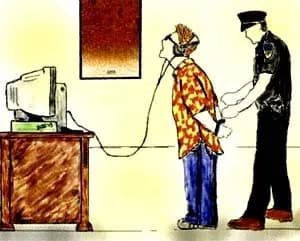 Before running through the different methods for doing this, we should first consider the limitations and situations where this process might not be possible or otherwise restricted.
Because you are using somebody else's audio, you need to adhere to copyright restrictions and licensing, based on the platform, your playlist is hosted in.
If you own the files of your playlist you wish to convert into a MP3 then this is fine because you own digital content. (If you plan on selling the finished mix then this is another complicated legal issue that doesn't fit in this guide).
If your playlist is hosted on a platform like the Spotify app, YouTube, or SoundCloud, then you technically do not own the music that audio, you're simply renting the content from the host.
For this reason, the process of converting online playlists (and other streaming services) is a little more complex as you will need to buy the files to legally make the MP3 compilation
Tools to download Spotify music and YouTube videos to an MP3 are not legal, and the audio quality tends to be terrible: we do not recommend this method at all. These YouTube playlist download websites are technically copyright theft.
In the next section, you will learn some of the options available which are legal and highly effective.
How To Convert a Playlist to MP3 (If You Own The Files)#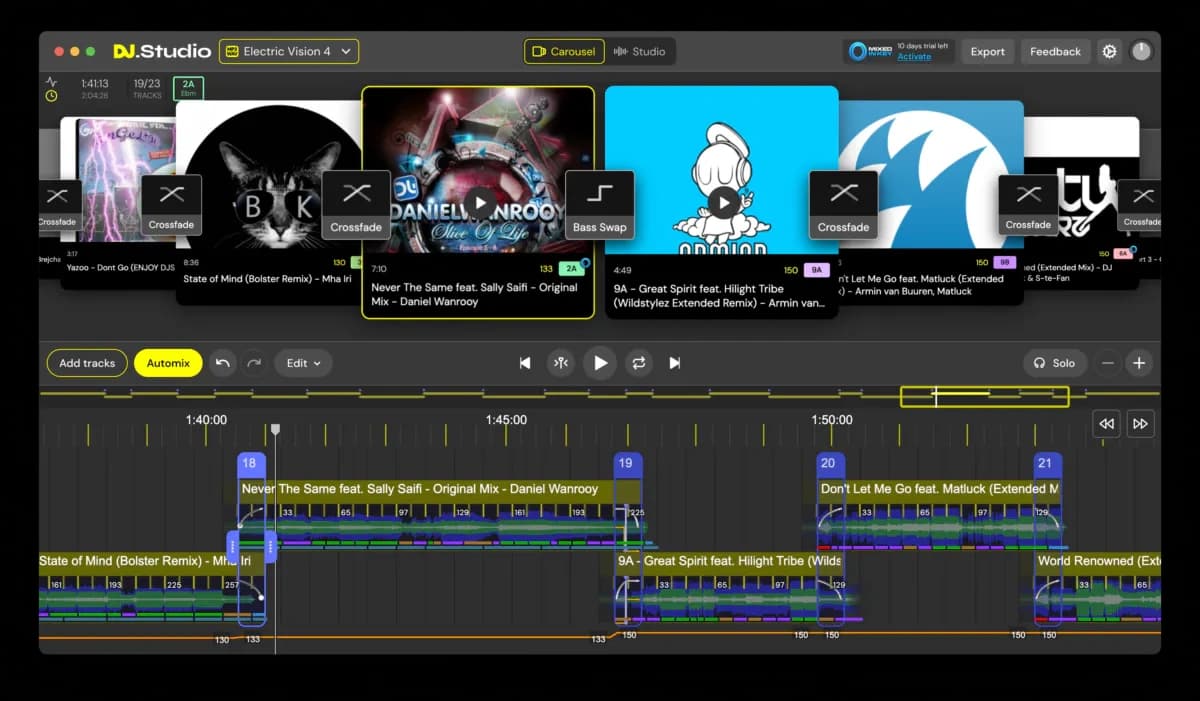 If you own the files in your playlist (for example, it's a Windows media player playlist, then super easy to convert this into a single MP3 file with DJ.Studio.
Simply follow these instructions to convert your playlist of files into a single MP3:
Open DJ.Studio, either in the app or in the browser

Create a new project, making sure you pick the Local File mode.

Import the songs that you want to convert.

If you have a particular order in mind, simply rearrange them in the playlist view in the order. If you don't have an order in mind, you can use DJ.Studio's auto-mixer to find the best order based on the key and tempo and your music.

Now, jump over to the timeline editor, where you can fine-tune the transitions. Unlike traditional playlists on YouTube, you can make seamless mixes where the tracks fade from one to another without any silent gaps.

When you're happy with the way your playlist has been arranged you can export it as an MP3. Simply click the export button, select 'local file', and then MP3. Wait for the export, complete, and voilà! You now have your MP3 file containing all the tracks in your playlist.
As you can see this method of converting a playlist to an MP3 is quick and easy! You can turn your playlists into an interesting and flowing mix.
Converting YouTube Playlists to MP3 (If You Don't Own The Files)#
If you're looking to convert your YouTube playlist to an MP3 file, you might be confused about which way is the best to go about this. In truth, many of the methods you'll find around the Internet are not legal, safe, or even very effective.
Due to the way YouTube (and general) audio copyright restrictions work, it's not viable to just use a shady converter on the Internet.
If you are looking for the best YouTube playlist downloader - we can suggest a better alternative: DJ.Studio is a legal, effective, and safe online tool to convert an entire YouTube playlist link into a single mix.
How to Convert a Spotify/YouTube Playlist to MP3#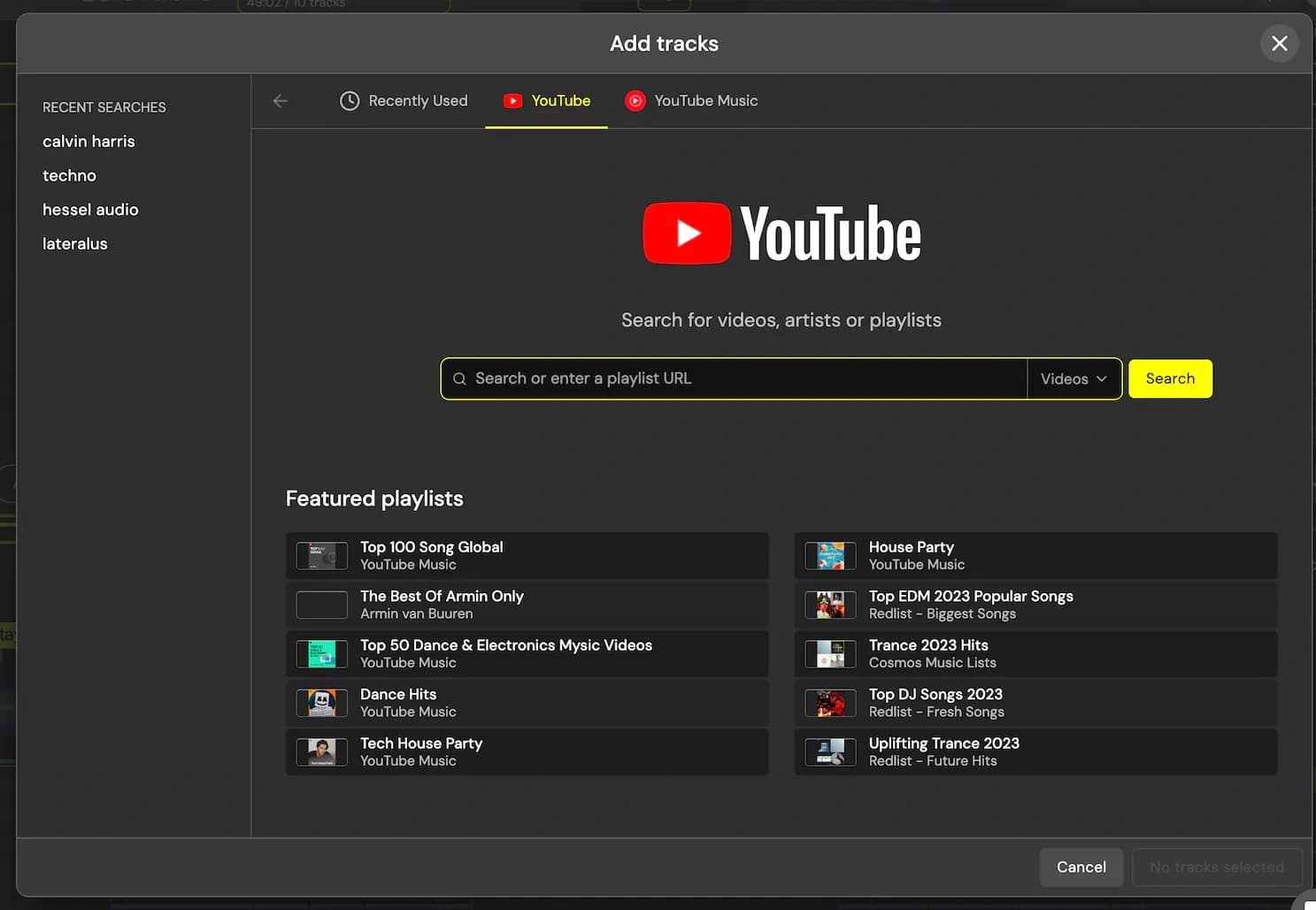 If your playlist is on an online platform, like YouTube or Spotify, the process of creating an MP3 from from this is a little trickier, and has a few caveats.
You have two options:
Buy the songs in your playlist to give you the files, and then use the method above

Use a streaming method where you turn your playlist into an online streamable "mp3".
While the second method doesn't create an MP3 in the true sense of the word, it does create a single "file" which can be shared online and listened to by anybody.
If you don't want to pay for the audio files, then the second method is the only option (unless you want to do something illegal and don't care about low-quality audio).
At the end of the day, the results from the second method are very similar. The only difference is you need an Internet connection to be able to listen to the finished file and it cannot be downloaded. However, in many situations this is fine.
The following steps explain how you can convert Spotify music or a YouTube video playlist to a sharable online mix:
Open the DJ.Studio app.

Create a new project, making sure you use the YouTube mode.

Click Add Tracks - Copy and paste the YouTube playlist URL, or Spotify songs and playlist links into the search bar.

Choose the order of the tracks in your playlist, or use DJ.Studios's automix to do the ordering for you.

Adjust the arrangement of your playlist with the timeline editor.

When you're happy with the arrangement, click the share button.

This lets you enter all the information about your finished mix. You then just simply copy the URL given from this, then send it to anybody who wants to listen. This browser link works in a similar way to an MP3 it can be played from any phone or browser it just requires an Internet connection.
Check out this demo to see what a shared DJ.Studio mix looks like!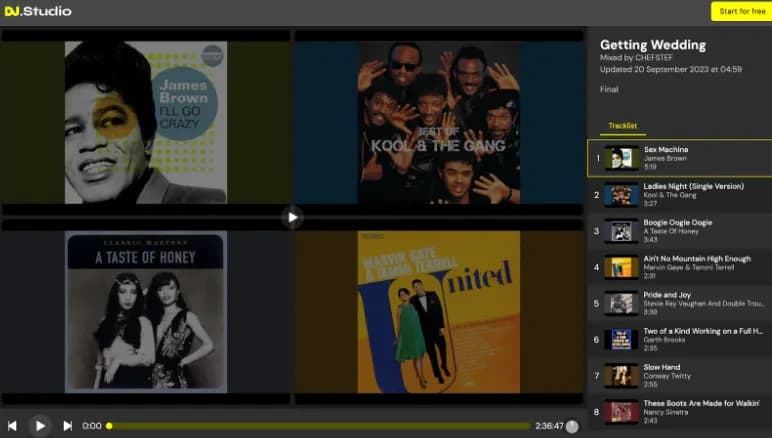 Coming Soon to DJ.Studio: A feature that gives you the option of buying all the tracks that you add from online sources. When this is added, you can create an MP3 from any online playlist – you'll just have to spend a few dollars on each track to buy the download.
Summary#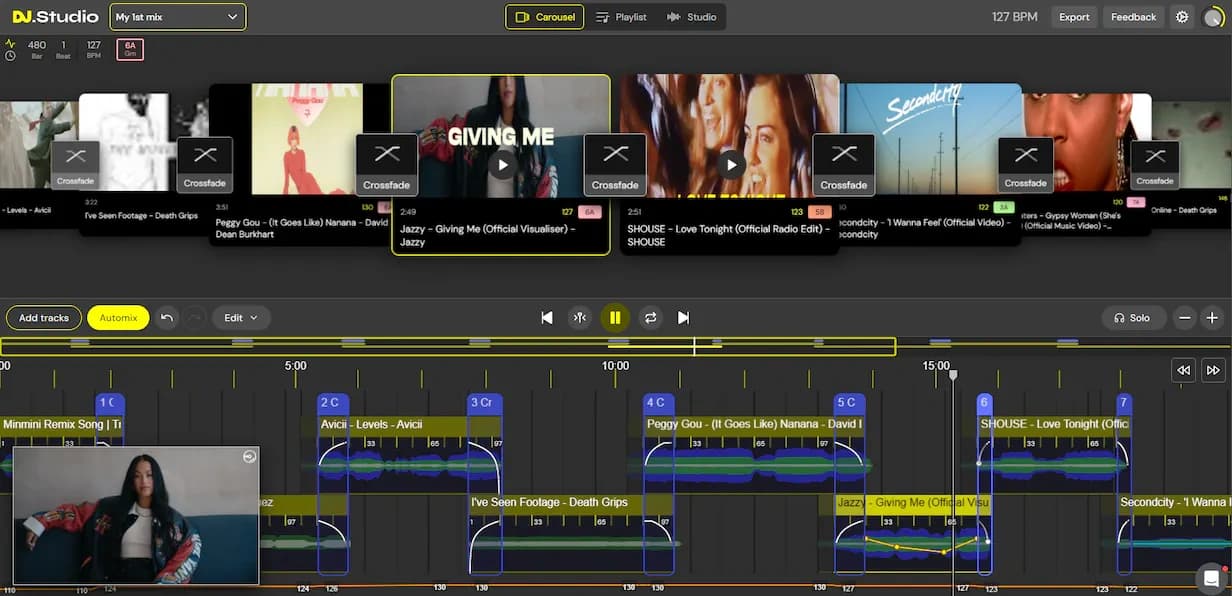 You now know the truth about converting playlists to MP3. If you want to convert downloaded files to an MP3, your job is easy. If you're working with a YouTube or Spotify playlist, you'll have to use the legal workaround above.
Due to the nature of this, it's not so black-and-white and the method is nuanced depending on your situation.
I recommend that you try out DJ.Studio and see the options it provides when it comes to converting playlists!
Check out DJ.Studio's free 14-day trial!
FAQs - Convert YouTube Playlist to MP3
Can you convert YouTube playlists to MP3?

How do I download a YouTube playlist as an MP3 at once?

Is it legal to convert songs to MP3?