DJ.Studio's Mixed In Key Integration - Pro Harmonic Mixing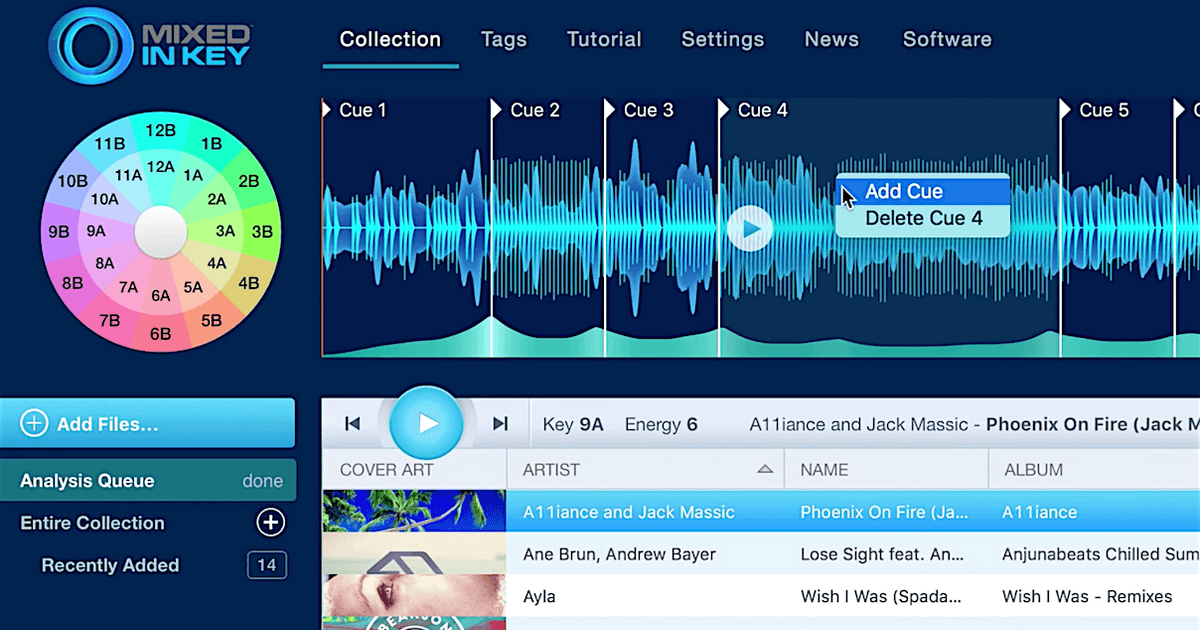 One skill that separates professional DJs from beginners is the ability to harness harmonic mixing concepts. 
Harmonic DJing is often overlooked by new (and even experienced) DJs, although it is a technique that can have a huge improvement in the quality and flow of your DJ sets. 
At DJ.Studio, we are passionate about making the DJ mix process as fluid and expressive as possible, which is why we've spent a lot of time understanding harmonic DJ skills - and implementing useful tools into our software. 
We've added a powerful and seamless integration with Mixed In Key software into DJ.Studio, which gives users harmonic superpowers when building their DJ sets.
Keep reading to find out about the DJ.Studio and Mixed In Key collaboration, and why DJs are obsessed with this new combination!
Mixed In Key Overview#
First, you should understand exactly what Mixed In Key 10 is, and how its features can be useful to DJs. 
Afterward, we will explain how it's integrated into DJ.Studio - we added all of the main features into our software for Mixed In Key owners, making the ultimate creative tool!
What is Mixed In Key?#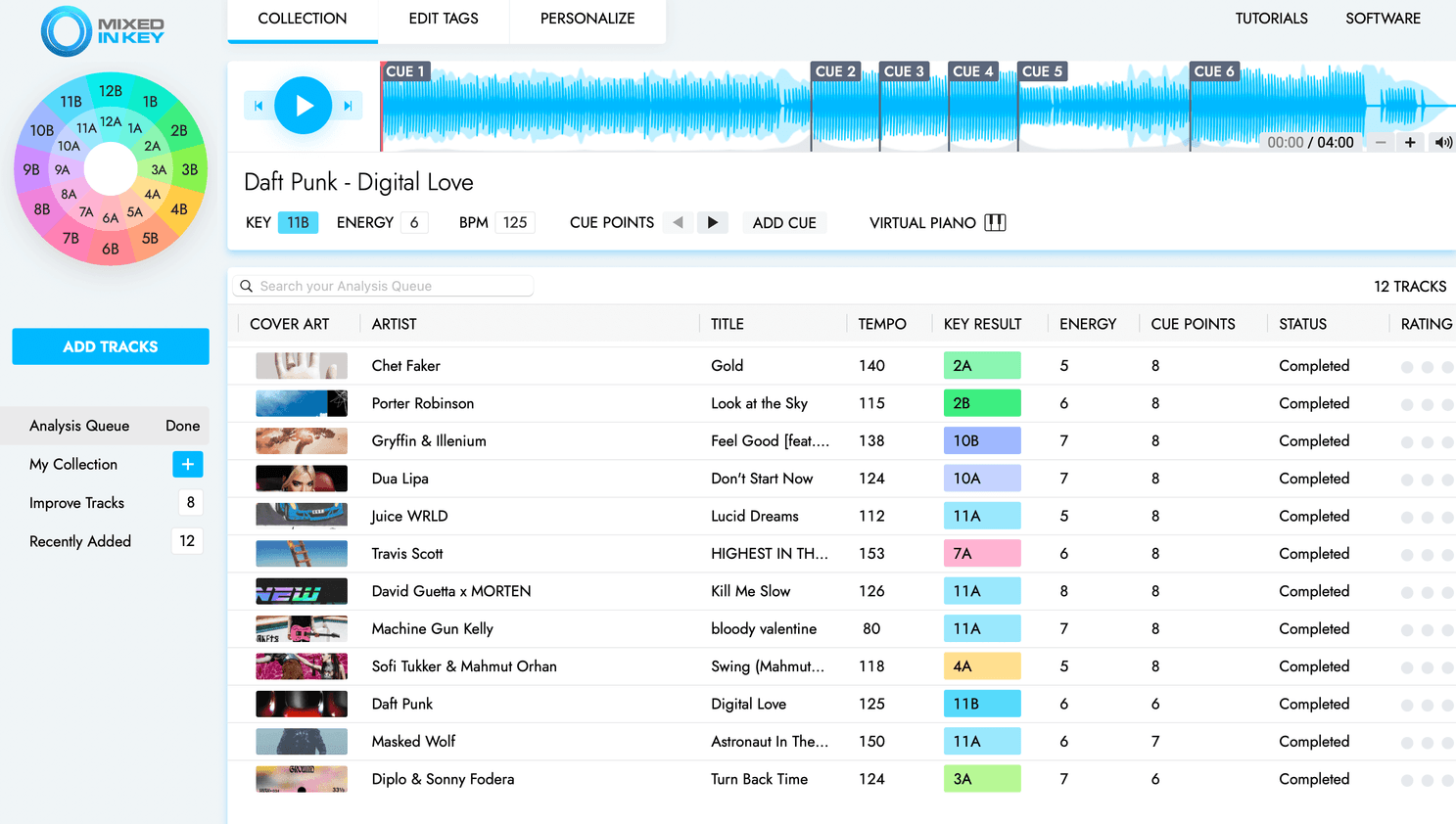 At its core, MIK is DJ software dedicated to musical key analysis. One of its main purposes is to assess and identify the key of a piece of music, based on a range of techniques and algorithms.
Being focused on key-finding, it's the most accurate key detection app out there and has a better level of performance compared to other software - where key detection is usually only an afterthought. 
Even some services like Splice and Beatport label tracks with the wrong keys in their libraries. 
Besides detecting the key of a track, it has a range of other features that DJs will find useful. I use this creastive tool in all my DJ sets, because it helps me make sure my mixes sound perfect harmonically.  It's the perfect tool to pair with software for DJ mixing songs!
Mixed In Key Features#
Here are the main benefits of why you should use Mixed In Key - all of these can be integrated into DJ.Studio.
1) Key Detection#
As mentioned, when you use Mixed In Key, you access a powerful key detection system, which accurately identifies the key signatures of any track. This is more accurate than other software, as this was a central design element of the software. It detects both minor and major keys.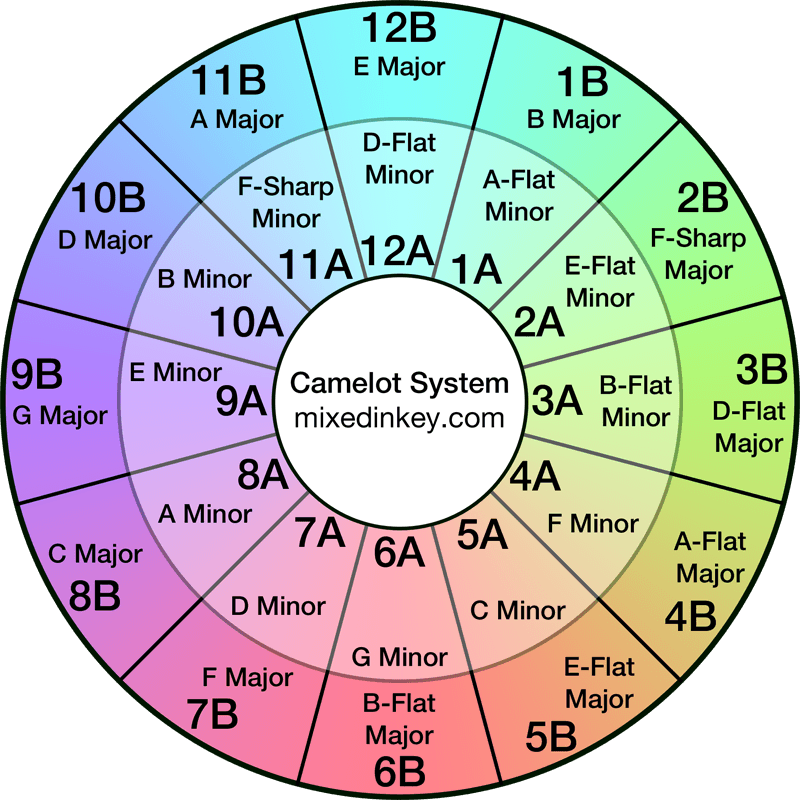 You can choose what key system is used to display the interpreted key signatures. This includes the Camelot system which is useful for DJs, and is also used in DJ.Studio. Using this system ensures you mix harmonically compatible tracks, which will create more professional-sounding DJ sets.

2) Detecting Energy Levels#

Another useful function of Mixed In Key 0 is the ability to detect the energy level of your music files, and also separate sections within a track. 
Having your music library labeled with the energy level of each track can be super useful in a range of situations. This helps you to judge how fitting a song would be to play next in a mix, or it can make it easy for you to find a song with the right intensity when you're lining up new tracks in your setlist. 
Mixed In Key 10 uses a range of analysis algorithms to determine the energy level of a track. It also works out the different relative energy levels within a track. So, if you want to skip the lower-energy sections of a song, and jump straight into the high-energy section, Mixed In Key makes this easy. 
It shows a number rating the incoming energy at every change in energy level in a track.
3) Marking Cue Points#

Additionally, Mixed In Key can assess up to 8 useful cue markers in a track. 
These can make it easy to find good sections to start tracks when mixing. If you want to skip to the chorus or find a good breakdown to transition through, this feature is very useful. 
The detected cues are indicated with a flag on the Mixed In Key timeline.
Why is Mixed In Key Useful? Harmonic Mixing!#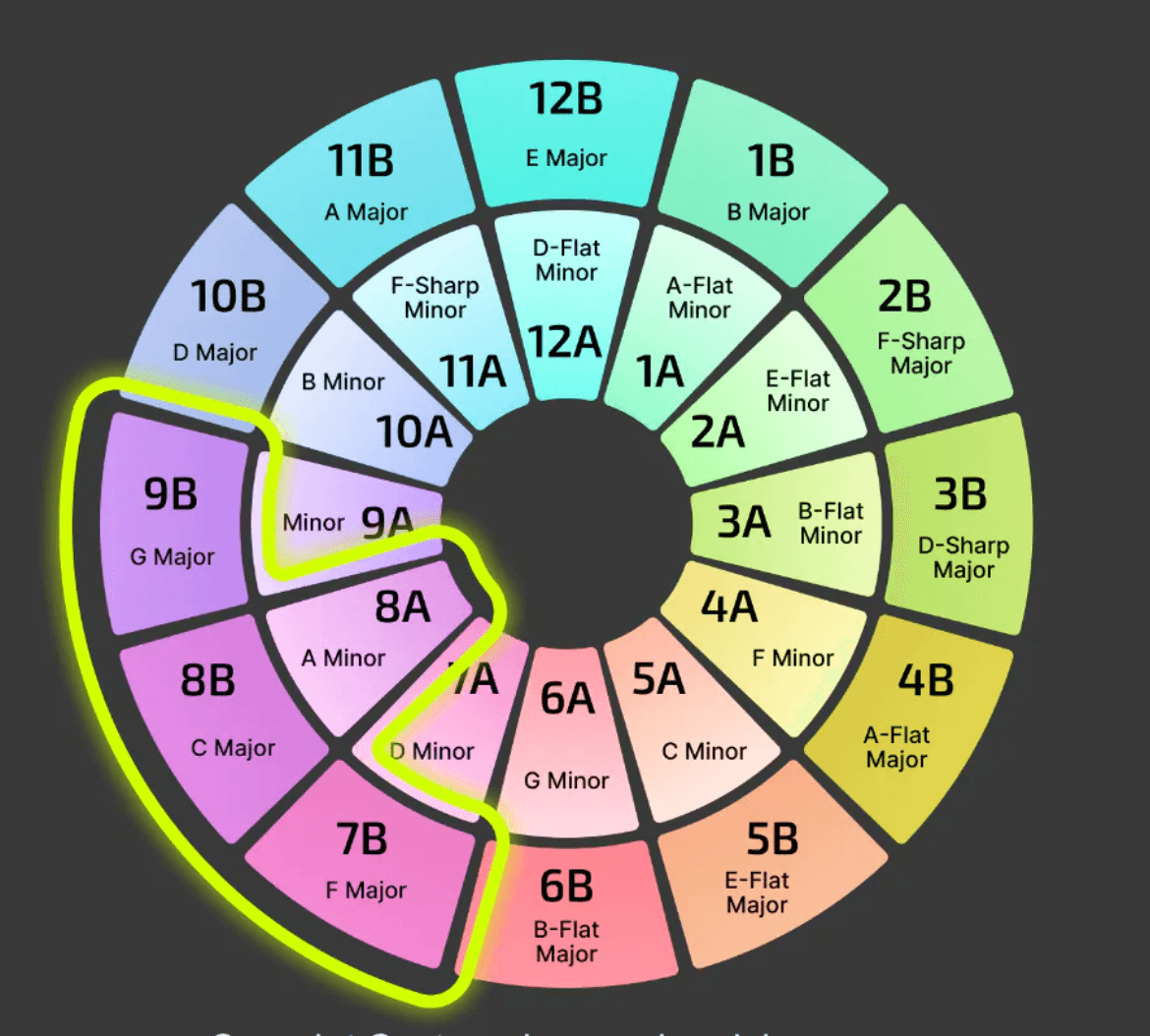 A reason Mixed In Key is such a valuable tool is because of how easy it makes it for DJs to mix harmonically, and harness the power of the Camelot wheel and the Circle of Fifths.
If you don't understand what harmonic mixing and the Camelot wheel is, then you really should learn about it! Particularly if you want to make your DJ sets sound professional. 
Harmonic DJ mixing is a technique where the DJ takes into account the key of each track, and how the keys connect from one to the next. They make sure that two tracks harmonically mix when looking at their key signature. By using two songs that are harmonically compatible, a smoother and more seamless mix is achieved.
This is a large topic, so check out our full Guide on Harmonic Mixing, below is a brief explanation. 
Using harmonic DJ techniques has several advantages. 
Primarily, it ensures that mixes sound more coherent and seamless, as DJs can use songs that have more closely related keys. Otherwise, there is the risk of mixing tracks with incompatible keys that can create awkward, clashing mixes with dissonant chords and melodies. 
If you harmonically mix tracks that are in the same or closely related keys, the transitions between tracks will be incredibly smooth, and sometimes it might not be obvious that you've even changed to a new song. 
Additionally, you can use harmonic DJ mixing to control the energy levels of mixes as you transition between each song. The relationships between different keys create certain energy transition feelings. For example, some key changes create a perceived increase in energy, while others bring the energy level down. 
You can see the full range of energy changes in this table: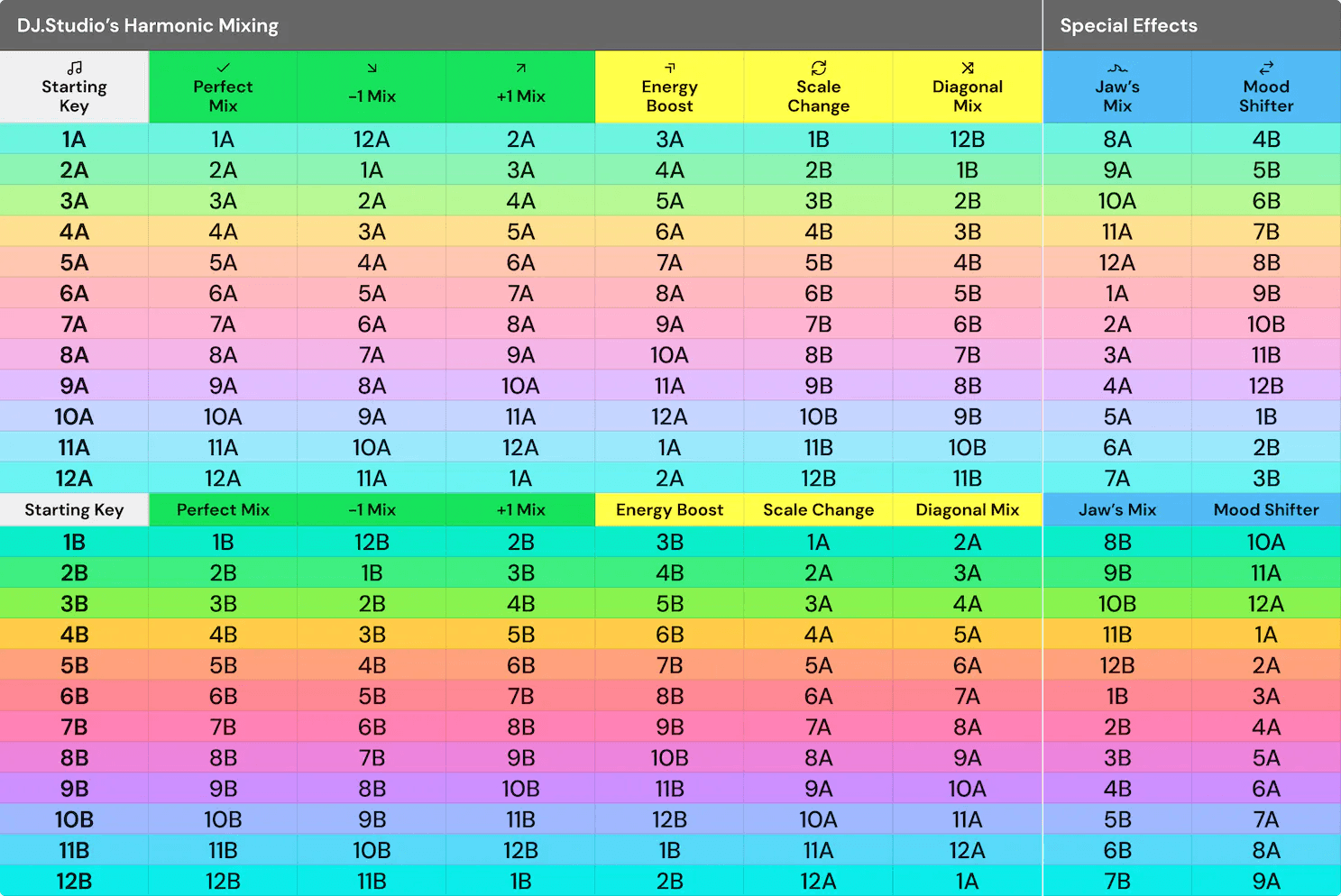 Find out more in our Music Keygraph Guide!
Mastering the harmonic mixing technique and related music theory can take years, so we've added a range of tools to DJ.Studio that lets you harness harmonic power, even as a total beginner!
The additional integration with Mixed In Key even gives you some more advanced key detection features if you own the full version of MIK.
Let's learn about the Mixed In Key and DJ.Studio integration!
DJ.Studio's Mixed In Key Integration#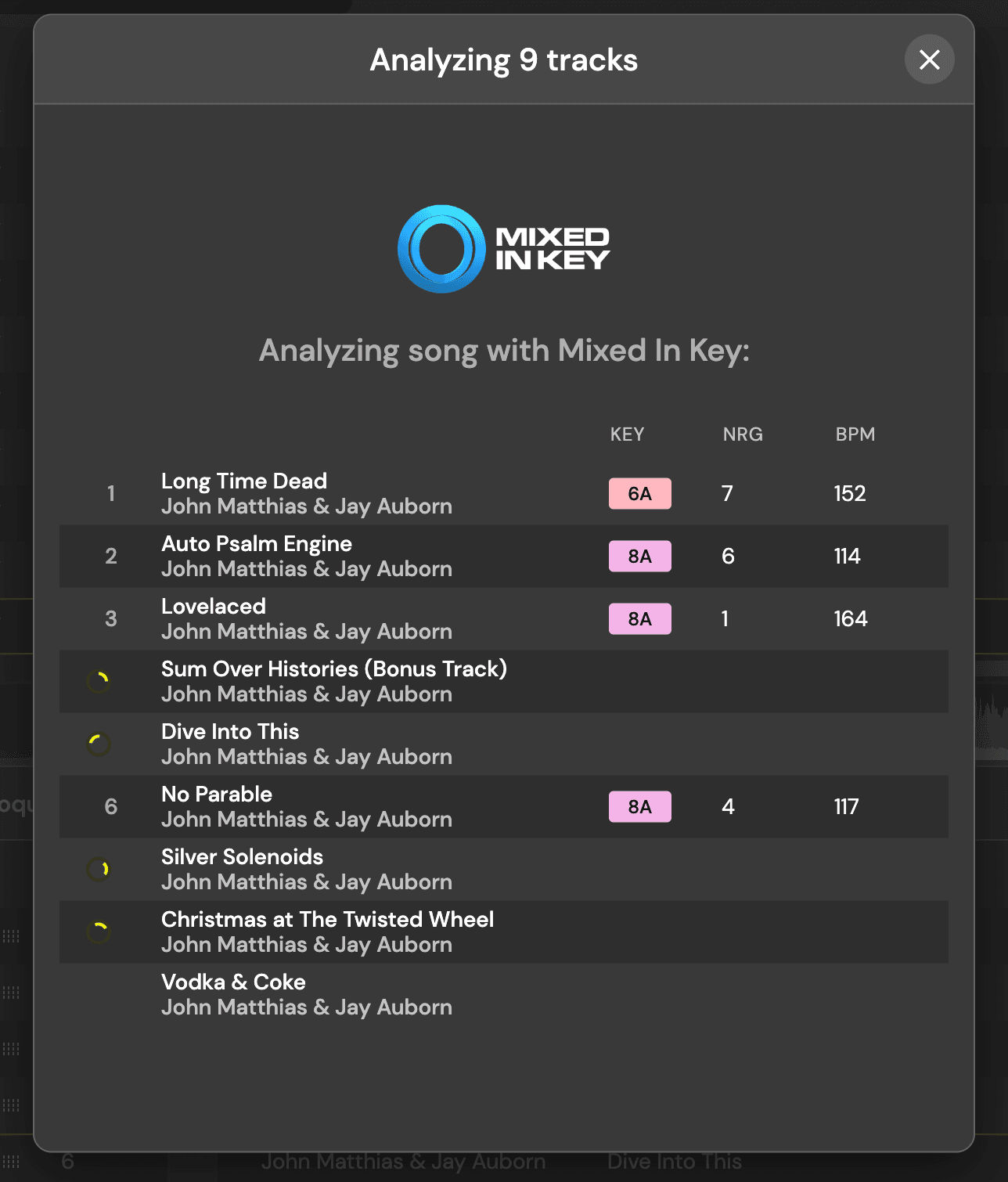 Now you understand what Mixed In Key is, it's time to learn about how it's integrated into DJ.Studio. This makes DJ.Studio's Automix Tool even more powerful!
While DJ.Studio is fitted with its own powerful key detection software, owners of Mixed In Key will be pleased to hear that it has a wider range of integrations, and can fully maximize all of Mixed In Key's features. 

This gives DJ.S/MIK users a powerful tool combining making the most of both software's tools, including:
Use Mixed In Key's key detection algorithms.

See the energy level for each song in your music library.

See the energy segments within tracks in the timeline view.  

Even if you don't own Mixed In Key, you can check out the integration for free. 
Mixed In Key is generously giving all DJ.Studio users the ability to analyze 200 songs through their algorithms, opening temporary access to all the features of the integration. The only difference between the free and paid version is this 200 track limit.
How The Mixed In Key Integration Works#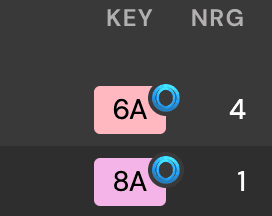 If you've activated your Mixed In Key license, or still have some of your free 200 songs remaining, this is how the integration works. 

Whenever you import songs into DJ.Studio, you will see the Mixed In Key logo start spinning at the top, which means the Mixed In Key analysis is being used. You can click on this logo to see the analysis progress. 

In your library and playlist, you will see the key and energy level determined by MIK next to each song. 

This key will be used by the harmonic automix algorithm in DJ.Studio. 

When you add a song to a playlist, in the timeline view you will see the energy level segments marked out in each track, with a number indicating the intensity of each section. You will also see the MIK Cue markers as gray flags.

You can use these energy sections to map out the perfect flow and arrangement in your DJ Set. 
Combining the analysis power of Mixed In Key, with the revolutionary mixing tools of DJ.Studio, you will rapidly be able to create some professional-sounding, and perfectly harmonically mixed DJ sets!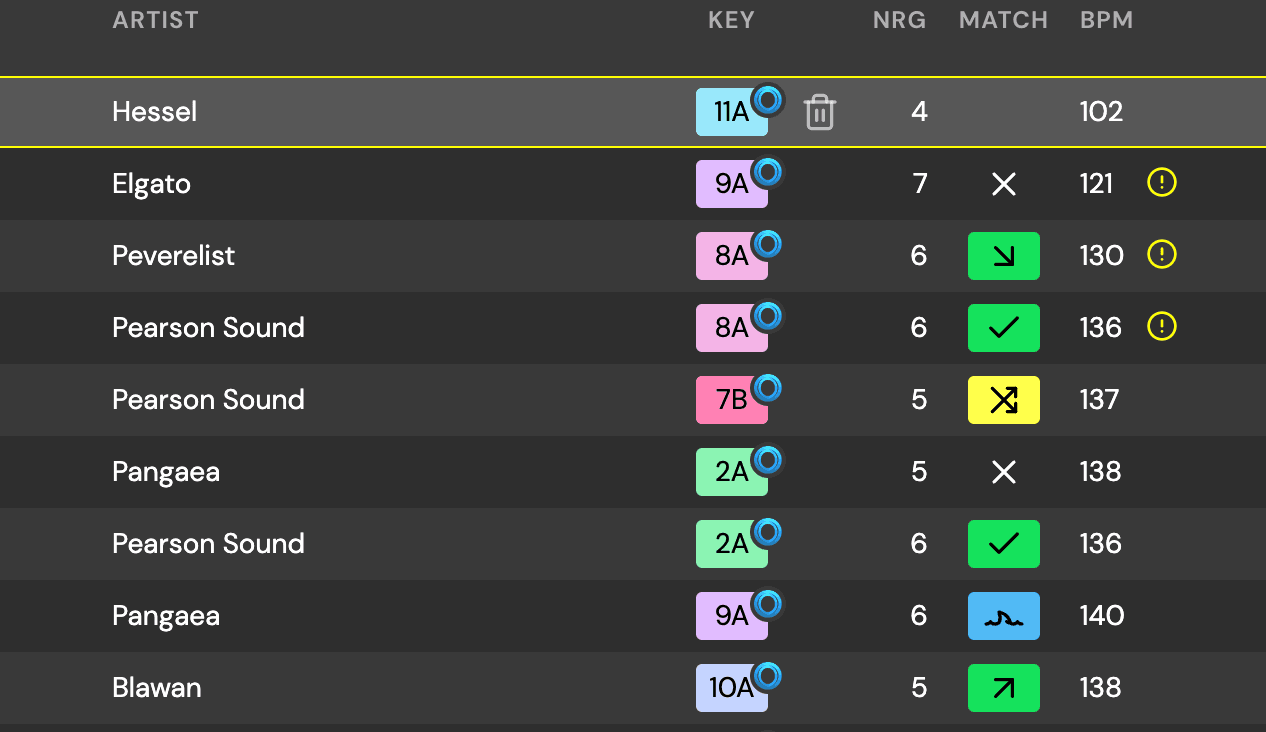 The biggest benefits are being able to quickly see the energy level sections, as well as having access to Mixed In Key's highly accurate key detection!
Final Thoughts#
As you can see, Mixed In Key brings useful additional features to DJ.Studio's toolkit. 
This integration means you can spend less time working out the best place for your transitions and spend more time being creative with your mix. 
You can also make the most of Mixed In Key's highly accurate key and energy detection algorithm to ensure that your harmonic DJ mixing is precise. 
You can test out the Mixed In Key integration in the two-week free trial of DJ.Studio for the first 200 songs. 
If you want to use Mixed In Key permanently in DJ.Studio, you can enter your MIK VIP code after buying the latest version of license from the Mixed In Key Store
FAQs About Mixed In Key
What does mixing in key mean?

What is the benefit of Mixed In Key?

Is Mixed In Key any good?
Related Posts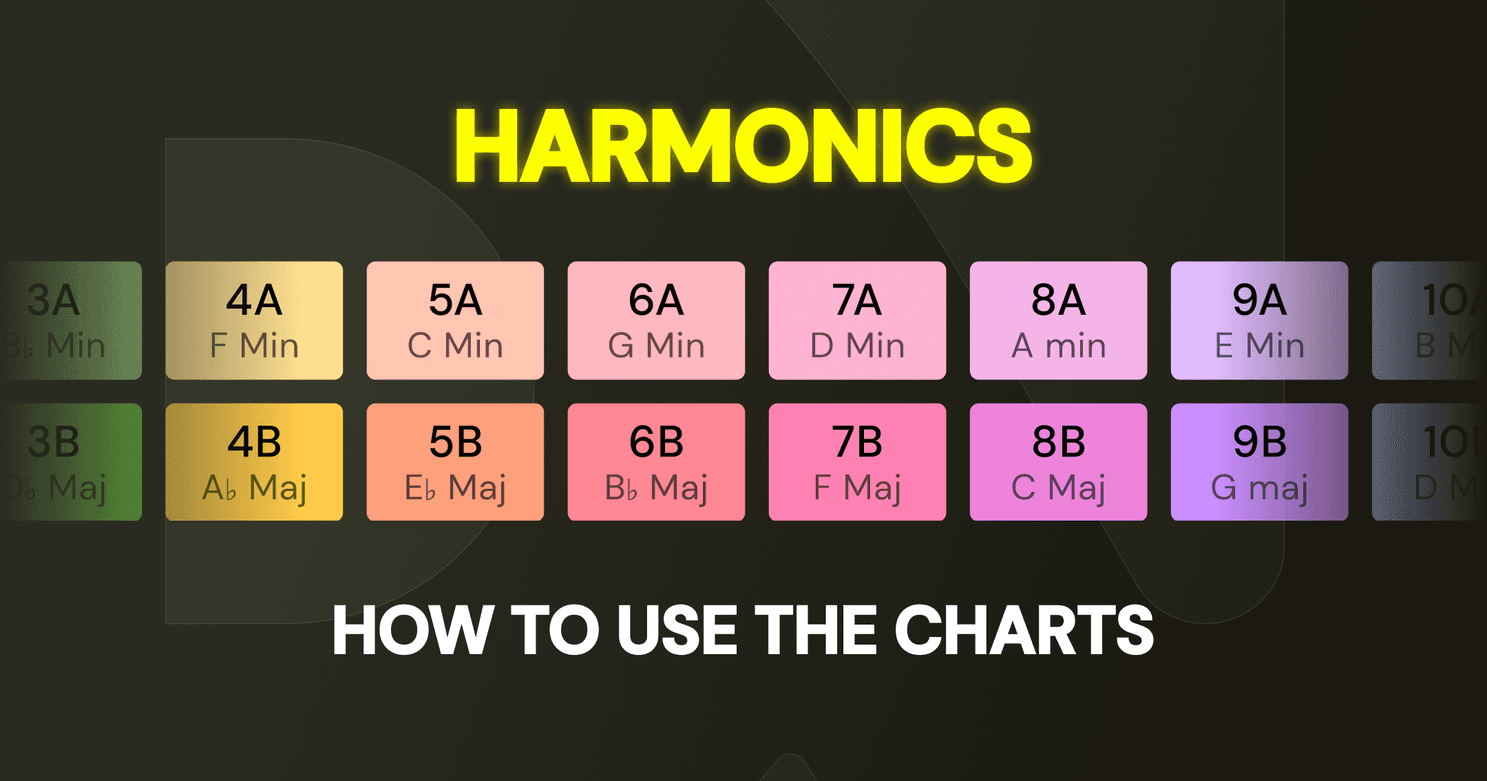 DJ Mix Charts are a great way to get to harness the power of harmonic mixing, although it takes experience. DJ.Studio makes this process super easy!
27 days ago
Harmonic mixing