The Best PC DJ Mixer - Is It DJ.Studio?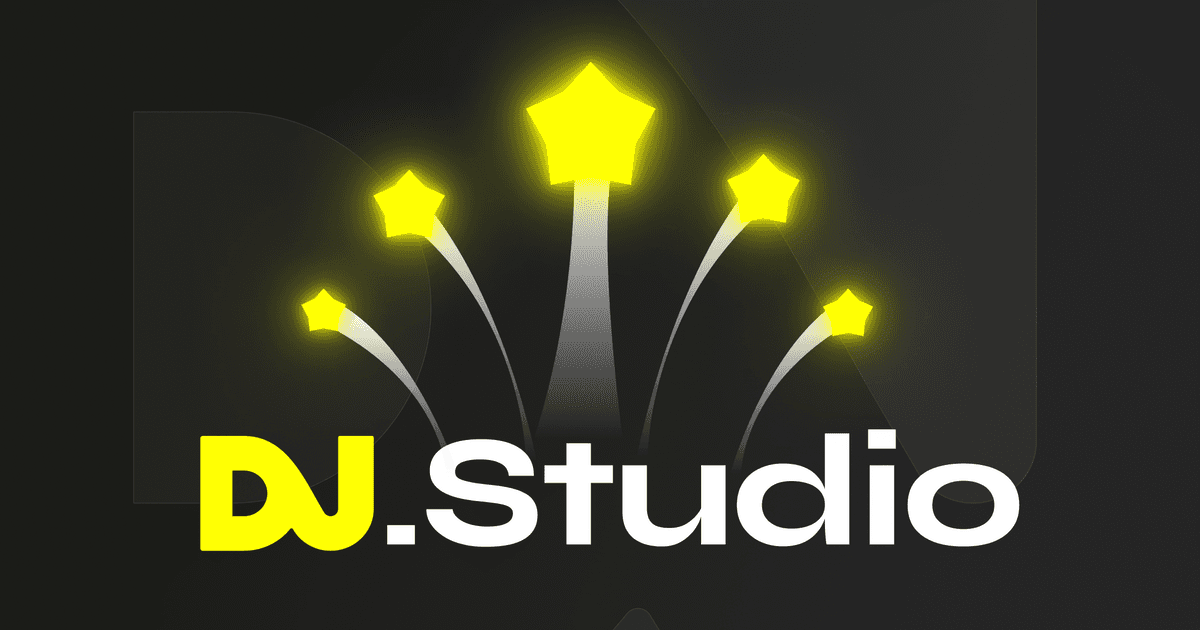 A piece of DJ mixer software is all you need to start making mixes these days, thanks to how powerful DJ software apps are.
Professional DJs tend to use a mix of both software and hardware. Hardware is ideal when you mix music live, as it gives you all the controls you need to blend tracks on the fly. However, you still need to use software to organize your music.
There is a new type of software for mixing music too - studio DJ software. In many situations, this modern form is the best DJ software to use - with DJ.Studio being the leader in this field.
In this article, I'll share a bunch of the best PC DJ Mixers - including both software and hardware. I'll also discuss some of the debates in the DJ community around which type of setup is the best to mix tracks!
TL;DR - The Best PC DJ Mixer#
DJ mixers can either be hardware or software.

Hardware is better for live performances and club DJs, but certain software offers more flexibility, power, and precision in the studio.

The best setup involves a mix of both a DJ controller and advanced software.

These days, you can mix audio with a mouse and keyboard alone!
What is a PC DJ Mixer?#
This term has multiple meanings - it either refers to:
A physical, hardware PC DJ mixer, which is some kind of DJ controller.

DJ mixing software - A digital tool for creating DJ sets, often simulating hardware.
The term 'DJ Mixer' typically refers to the hardware, but a 'PC DJ mixer' can refer to either one, although usually the software.
Physical DJ Mixers#
Hardware DJ Mixers are used to control the volume, EQ, filters, and other parameters of input sources - typically DJ decks like turntables and CDJs. They feature at least two inputs which are used to connect external sources, although often feature four or more channels.
Traditional hardware DJ mixers are only useful if you are using a separate source unit, like a CDJ or turntable, and are not enough on their own to play audio files or music. Beginner DJs often confuse DJ controllers with DJ mixers, and while they look similar and have some common features, they are not the same thing!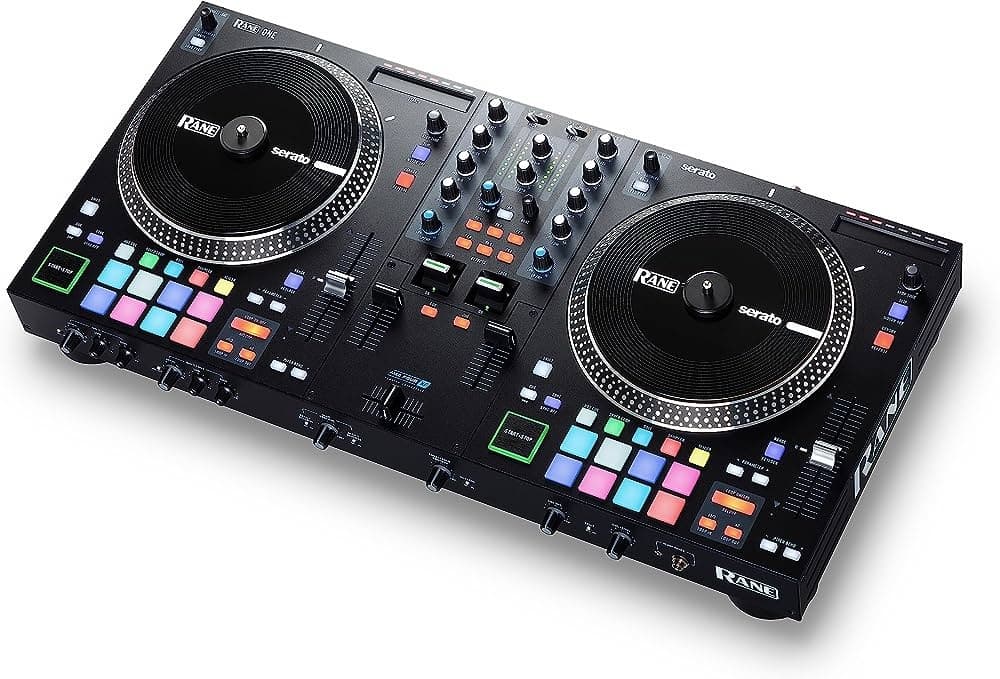 A DJ controller is a different type of device, which is used to control software. These bundle-in controls replicate both DJ mixers and decks and can be thought of as an all-in-one unit. Unlike a mixer and decks setup which can work alone, you will need to pair these DJ midi controllers with a computer to play music - although some are completely standalone.
Later in this guide, I'll share some recommended models for both DJ mixers and DJ controllers.
What is PC DJ Mixer Software - Is it better than hardware?#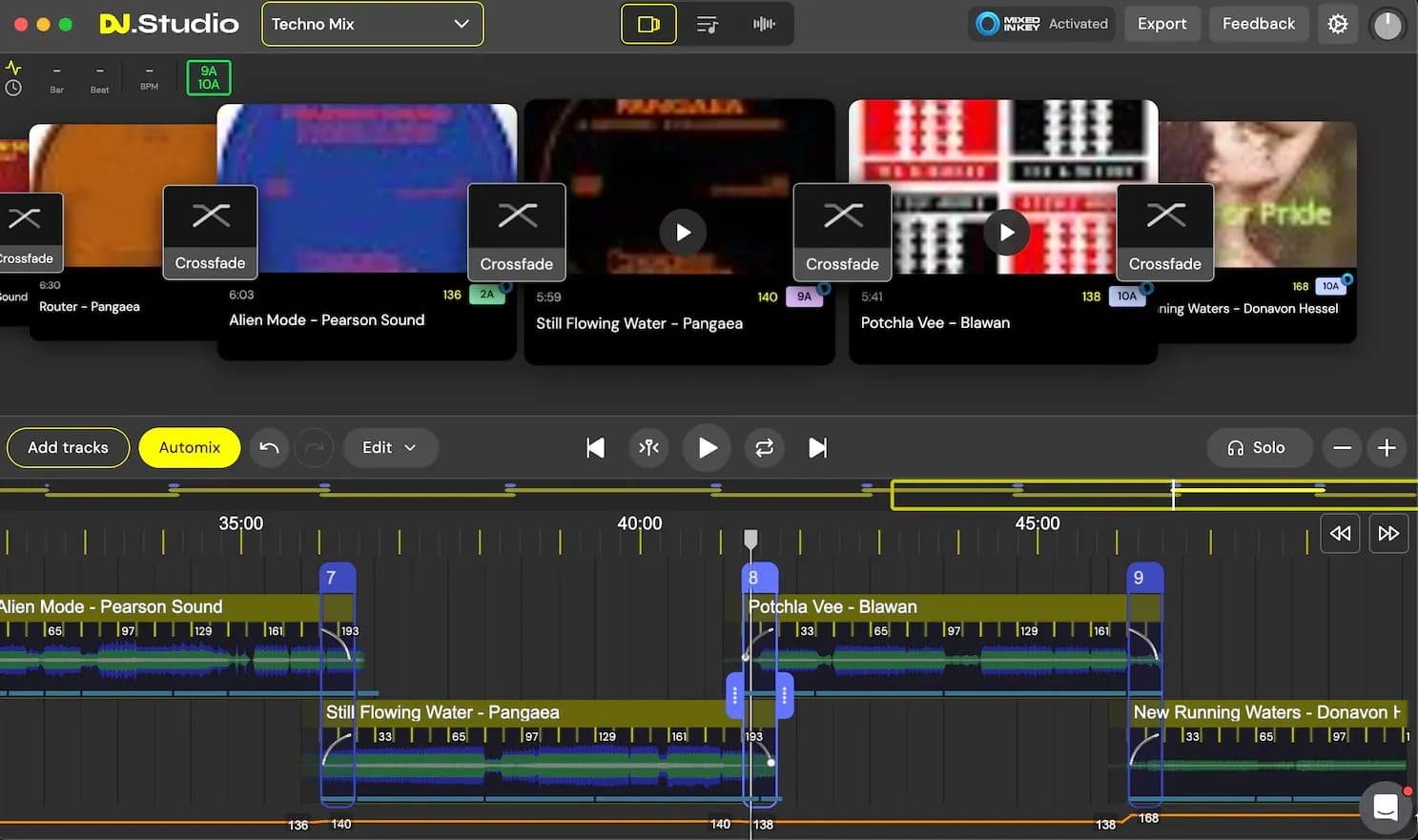 DJ mixer software is different from the above hardware devices, and is a style of computer program that lets you mix music from your PC.
Mac and Windows DJ software can be used with or without a DJ controller - and there are two main types of software with different workflows and use cases: Live and Studio, which are explained in this guide!
These days, thanks to DJ software like DJ.Studio, you can make complete mixes using your computer alone. This makes it ideal to start DJing from a laptop too - no expensive controller is needed!
Most software aims to simulate the decks and mixer-style setup and is best used with a controller to get the hands-on feeling. Although you can still use it with a mouse to practice mixing concepts as an aspiring DJ.
However, there is a new form of DJ software that moves away from traditions and offers a powerful new mixing solution. This type of software is similar to music production DAWs and audio editing software, in that it's a timeline-based editor - but its design revolves around DJs rather than generic editing, so you can think of it as a DAW for DJs.
Keep reading to find out more...
DJ.Studio - The Best PC DJ Mixer?#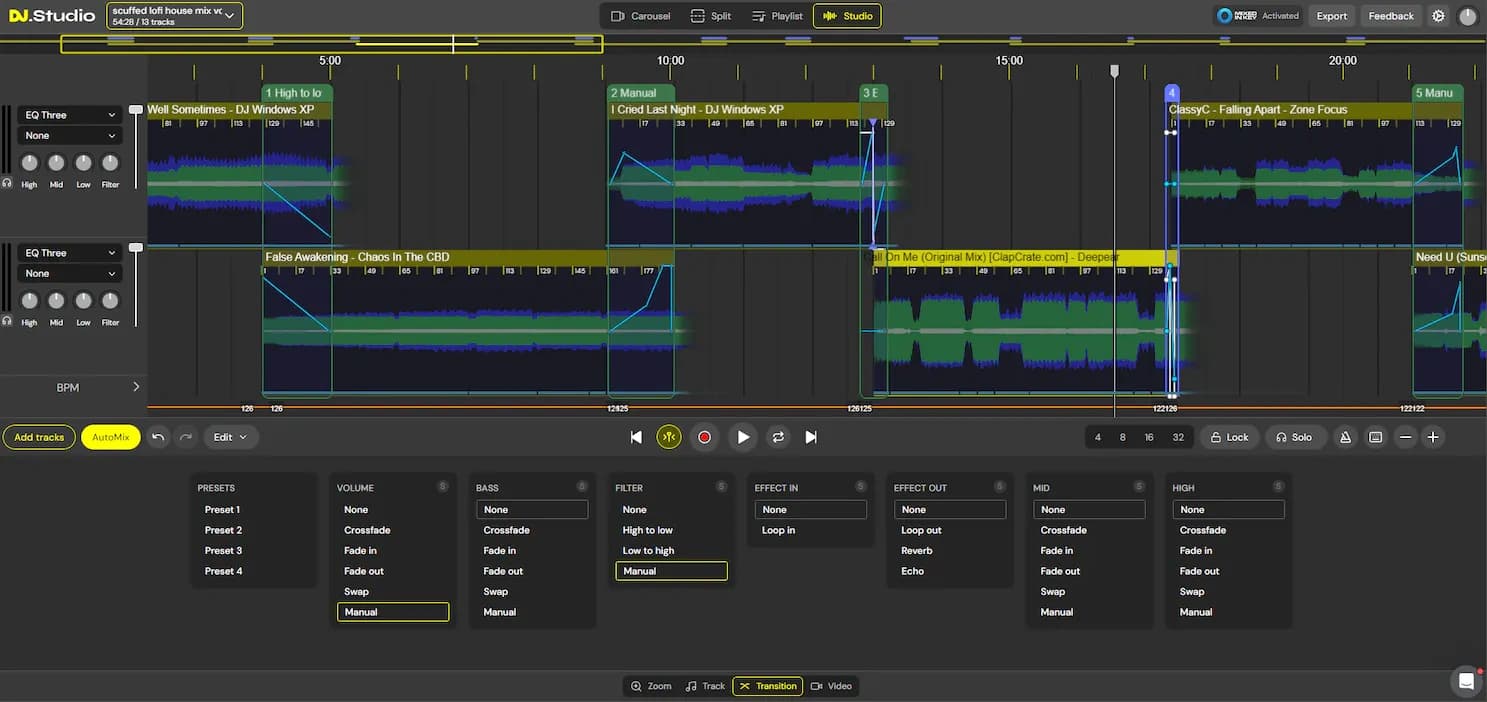 DJ.Studio is a new piece of DJ software that offers a revolutionary workflow to people looking to create a mix or DJ set, who might be in need of some kind of DJ mixer - be it digital or physical.
This digital option turns your PC into a virtual DJ mixing studio - with all the tools you need to create professional-sounding mixes in a matter of minutes - even if you don't have a controller, or have never touched one.
DJ.Studio works differently from other mixing software and revolves around a timeline editing interface. However, it is equipped with a bunch of unique features that are designed to increase productivity, creativity, and expression during the mix-making process.

Some of DJ.Studio's unique features include:
Integrations with other DJ software

Make complete sharable mixes with any YouTube video

Detailed timeline editing

Transition presets
To get a sense of why DJ.Studio is so unique and powerful, check out this step-by-step guide to understand your new workflow process:
Run DJ.Studio, either in your browser or install the app.

Create a new project - Local mode works with your downloaded files, and Online mode lets you mix from YouTube.

Add Songs - fill your library with your favorite songs, and then select which tracks you want to start mixing in your playlist.

Automix - The automix tool automatically arranges your mix and applies transition presets, instantly creating seamless transitions and a nearly finished mix. By using key and tempo analysis, DJ.Studio can work out the best order of your tracks based on harmonic mixing and beat-matching.

Tweak transitions - The transition editor lets you select quick presets for each transition in your tracks, with a range of smooth or sharp blends. Then you can switch over to the manual transition editing, where you can draw in exactly how you want the transition to work.

Edit your mix - Now you can use the precise timeline editor to make changes to your mix, including moving, looping, cutting, copying, pasting, and deleting audio. You can also automate any of the effects parameters, adding a captivating sense of progression and expression to your mix.

Export - When you are finished creating your mix, you can export it to a range of locations. DJ.Studio lets you export mixes as WAVs, MP3s, YouTube videos, or even Ableton Live projects. The export process is much faster than recording at 1:1 speed too!
From these steps, it is clear how DJ.Studio offers a completely different workflow to other software and hardware.
While this software isn't designed for live performance (yet), it's still a great back-end tool for live DJs, as they can use it to arrange and experiment with mixes, as well as use the automix tool to do all the complicated harmonic mixing calculations for them.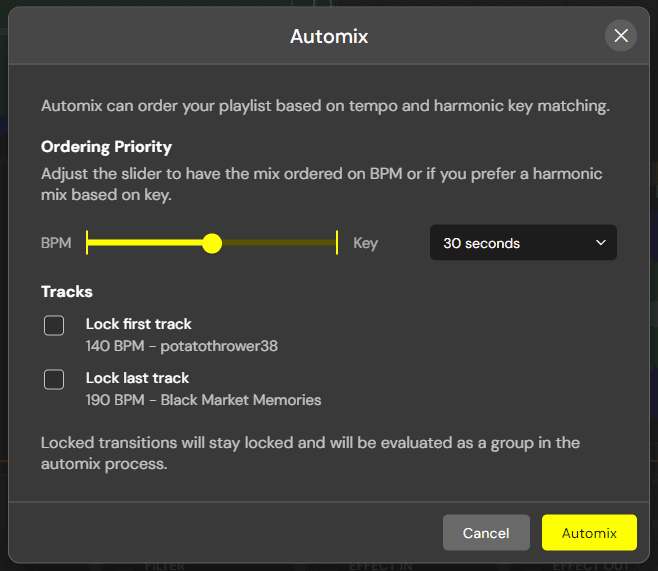 Because DJ.Studio makes it so quick and easy to make complete mixes, it's the ultimate tool for promoting yourself as a DJ.
You can make mixes far quicker than anybody working with old methods, meaning you will have an advantage in being able to create more content faster - thus getting your name out into the world further!
Your mixes will also sound more professional, and you can even create audio-reactive music videos directly within the software!
Due to the design, this is the best software to make mixes using a mouse and keyboard alone. With live software, it's not very efficient to use a mouse and you're better off with a controller. However here, the timeline interface lends itself perfectly to mouse and keyboard interaction.
Check out the 14-day free version of DJ.Studio to see what it can do for your DJ career!
Other PC DJ Mixers and DJ Controllers#
This section of the guide looks at other DJ mixers, including both software and hardware.
Physical PC DJ Mixers#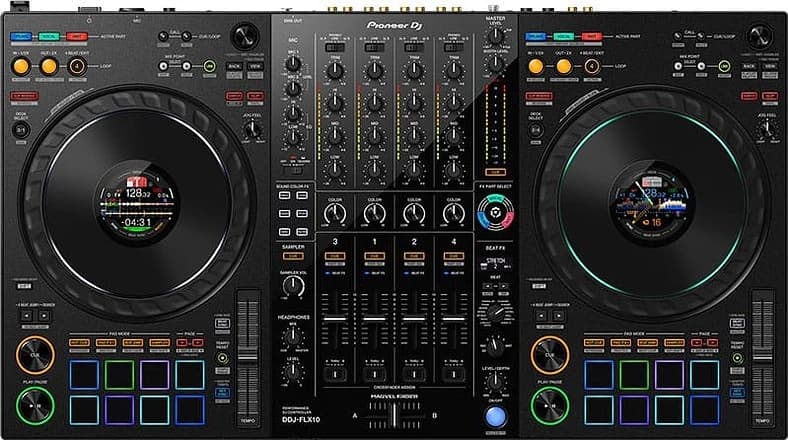 Here is a selection of physical DJ mixers and controllers. Mixers are good if you want a full setup, using other decks. Controllers are better if you want a more minimalistic setup, and just want to use the controller with a laptop or PC.
Mixers (Decks Required)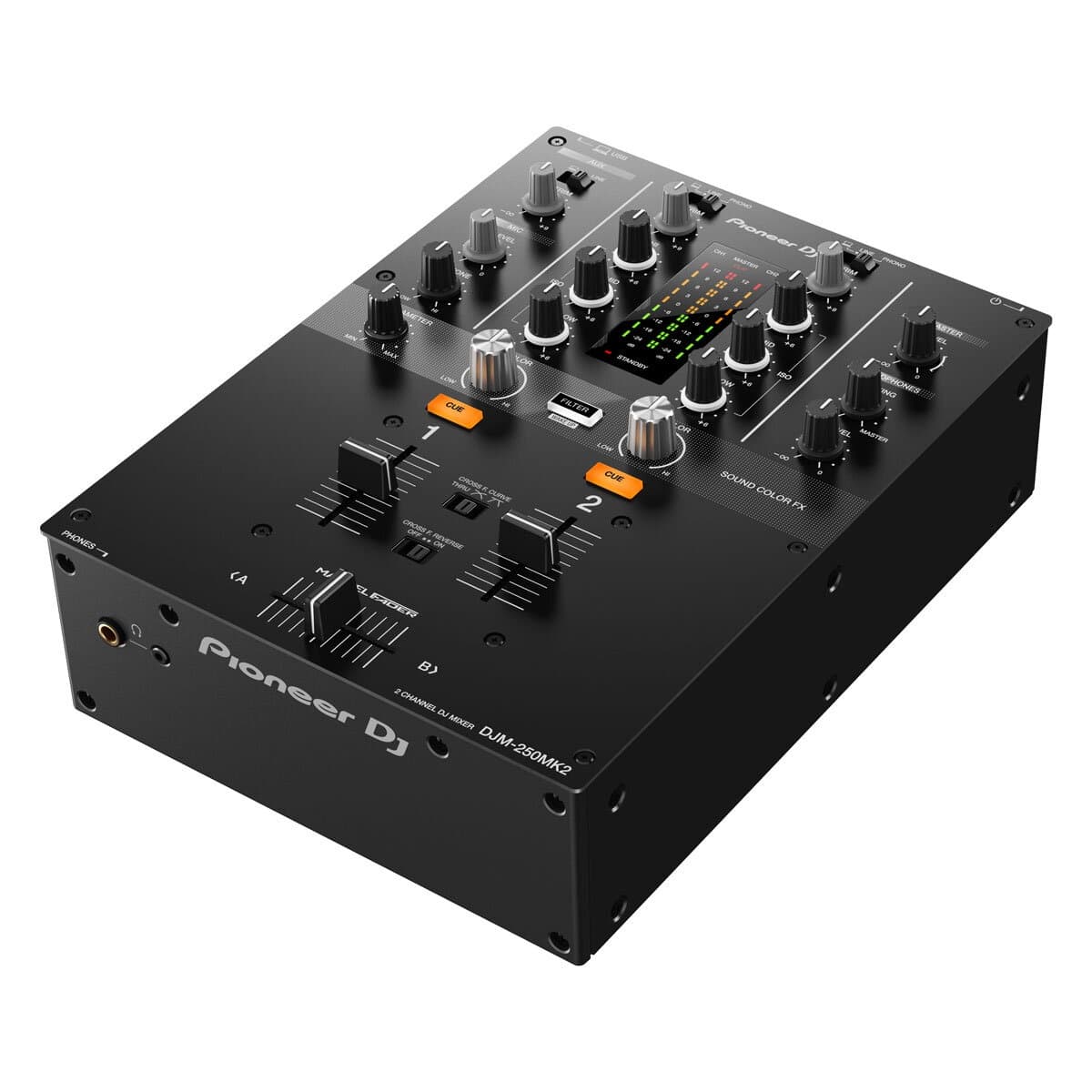 To use these, you'll need a pair of decks to plug into them - either CDJs or turntables. These are ideal for a professional setup and are also the defacto tool in most clubs.
DJ Controllers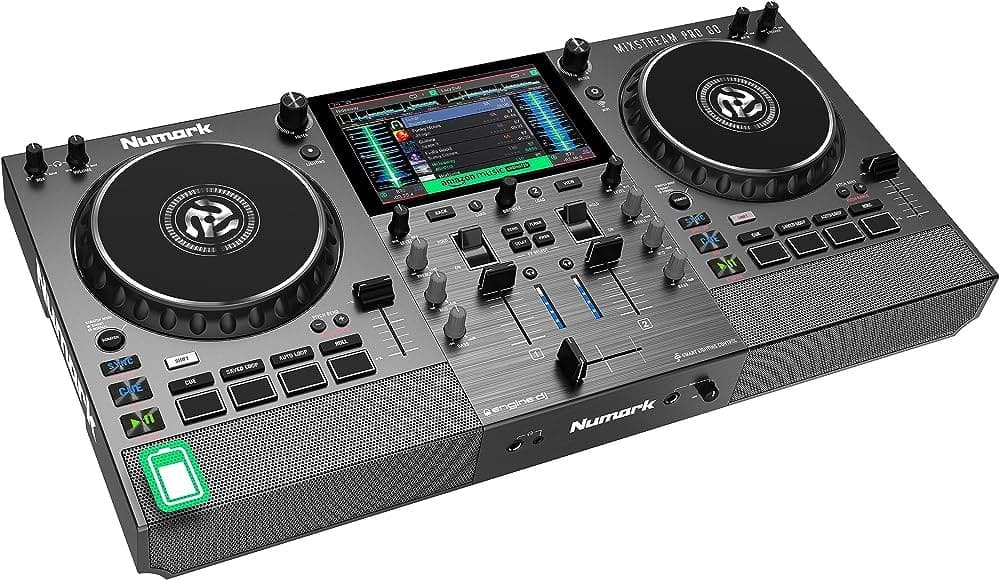 DJ Controllers are a great choice for smaller setups, bedroom DJs, house parties, and raves, thanks to their small footprint, portability, and affordability.
To use a DJ controller, all you need is a computer and some DJ software for it to control. When you buy a DJ controller make sure you check what software it's compatible with. A lot of software has limitations on what controllers they can connect to!
Digital PC DJ Mixer Software#
Here are some other software choices if you're looking for a virtual DJ mixer. These are best used with a controller, as they are tricky to mix using a mouse and keyboard alone.
Pioneer DJ rekordbox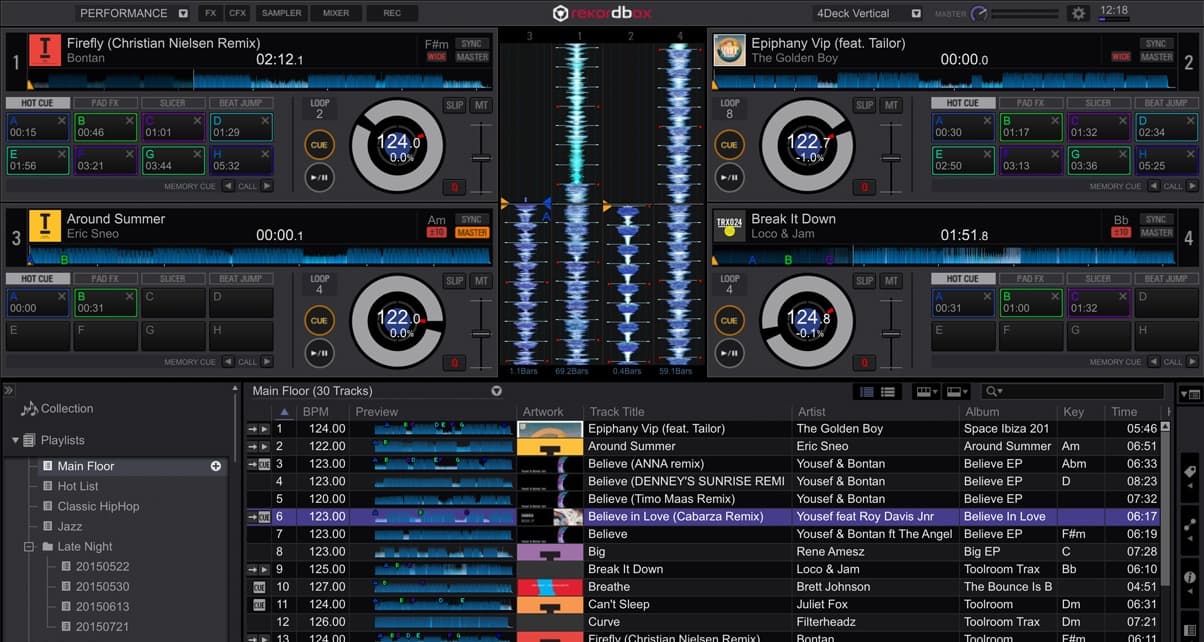 rekordbox is one of the most popular live DJ software options and has a decent feature set, and multiple pricing tiers. It has all the tools you need to organize your music and mix live DJ sets on the fly - including a virtual mixer and decks, a library manager, a bunch of effects, and other cool features.
At higher pricing tiers, you can unlock integration with streaming services, which opens up your options.
It's worth knowing that rekordbox can only be controlled by Pioneer DJ controllers, and doesn't work with any other brand.
Serato DJ Pro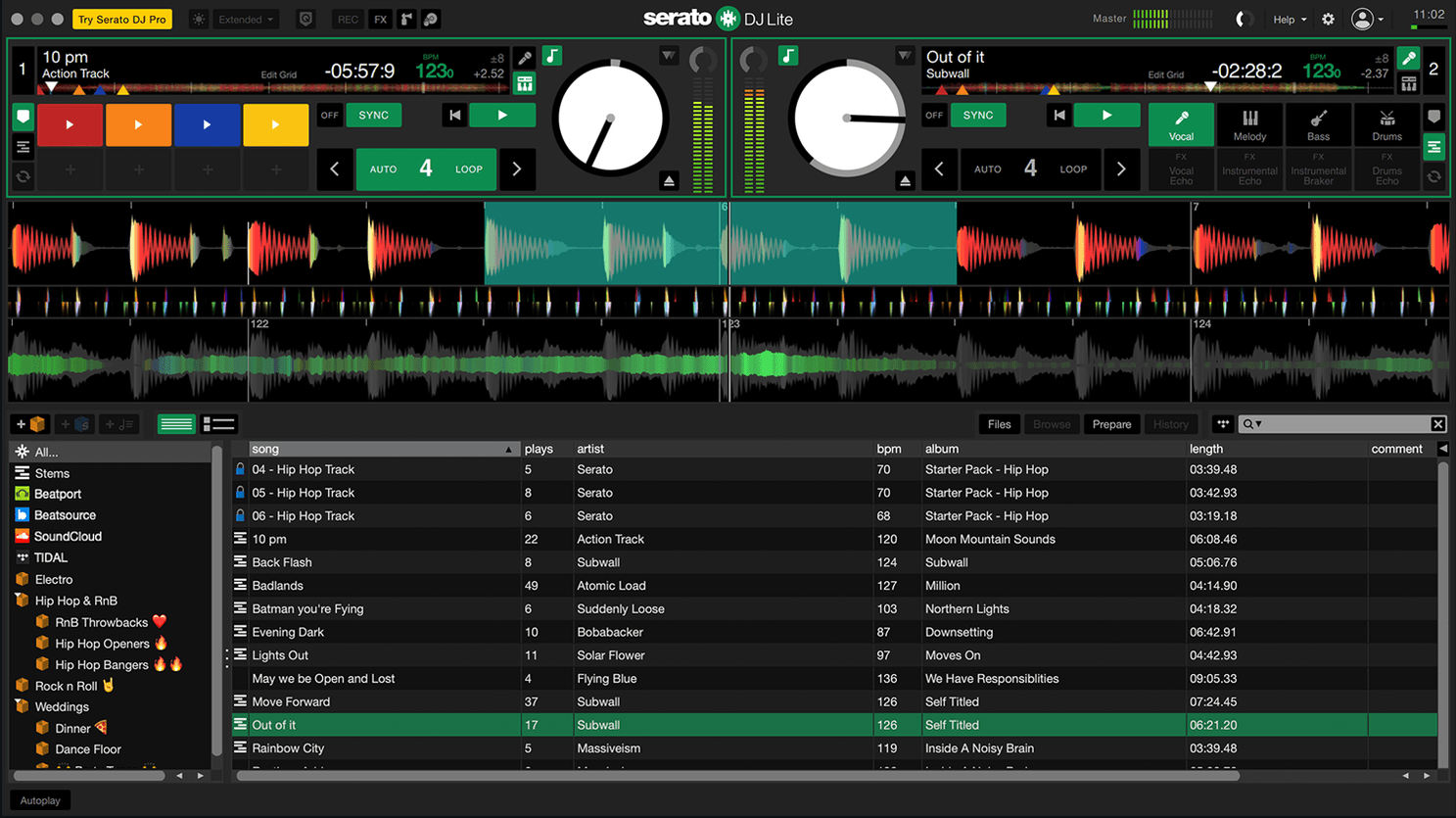 Serato is another popular live DJ software that comes in a few different versions. It's cherished in the hip-hop community thanks to its live remixing effects and digital vinyl systems.
Another sweet feature of Serato is the fact that it works with almost any DJ controller - and isn't limited to Serato-branded devices.
Virtual DJ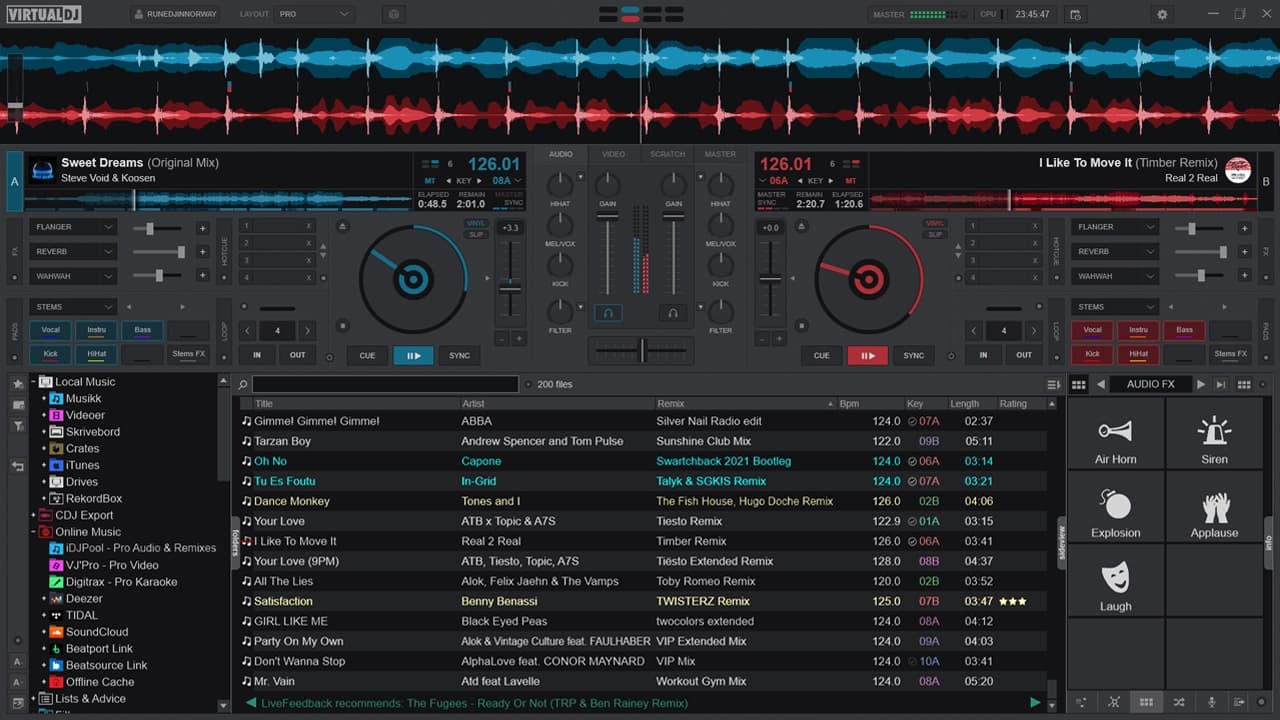 VirtualDJ is a long-standing name in the community that most DJs have heard of. While it isn't as polished as the bigger names, it comes with a bunch of unique and exciting features and even lets you mix up to 99 tracks at the same time (if you want to...).
As for DJ controllers, Virtual DJ is also flexible and can work with most models on the market, although you may have to spend a bit of time manually mapping the input controls.
Summary#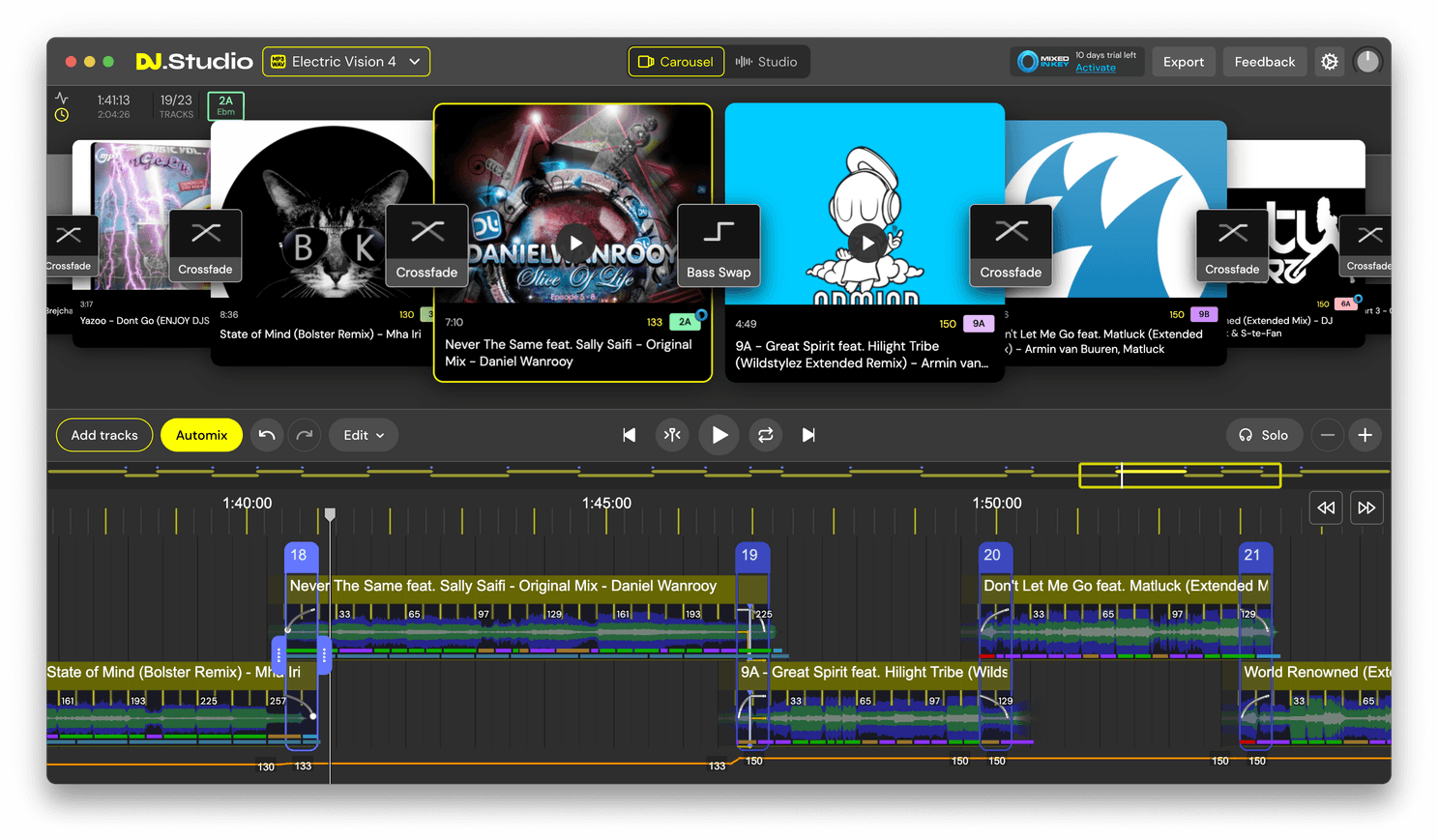 You now have a good idea of the options available when it comes to DJ mixers. Whether you are looking for something physical or digital, the guide above tells you everything you need to know to choose one.
Ultimately the best choice depends on what you want. If you're looking to mix live, then a controller or hardware mixer is the best choice. Controllers are typically more affordable, but standalone mixers are more flexible and let you connect a wide range of deck sources.
If you want to maximize versatility, then a hybrid setup of live and studio mixing tools is the best way to go. Use studio software like DJ.Studio to create promo mixes, plan out your DJ sets, and experiment with music, then use your live software and hardware to perform to an audience in person!
Check out the 14-day trial of DJ.Studio today, and find out how it can revolutionize your mixing process!
FAQs About PC DJ Mixer
Which mixer is best for DJ?

How to do DJ mixing on computer?

Is VirtualDJ worth buying?
Related Posts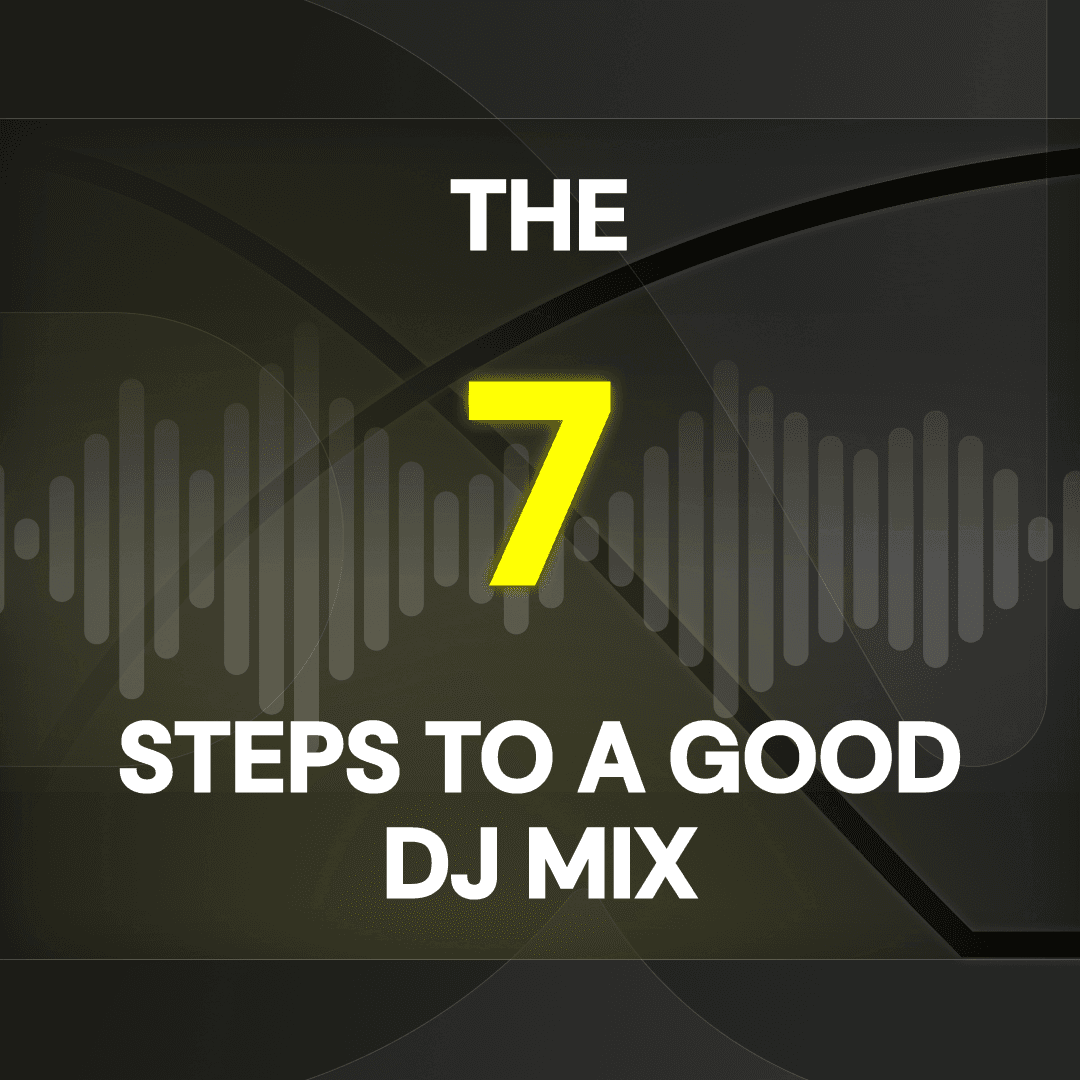 Interested in learning how to mix tracks like a pro-DJ? This guide has the information and tips you need to arrange, mix, record and share your mix.
6 months ago
How to make a DJ mix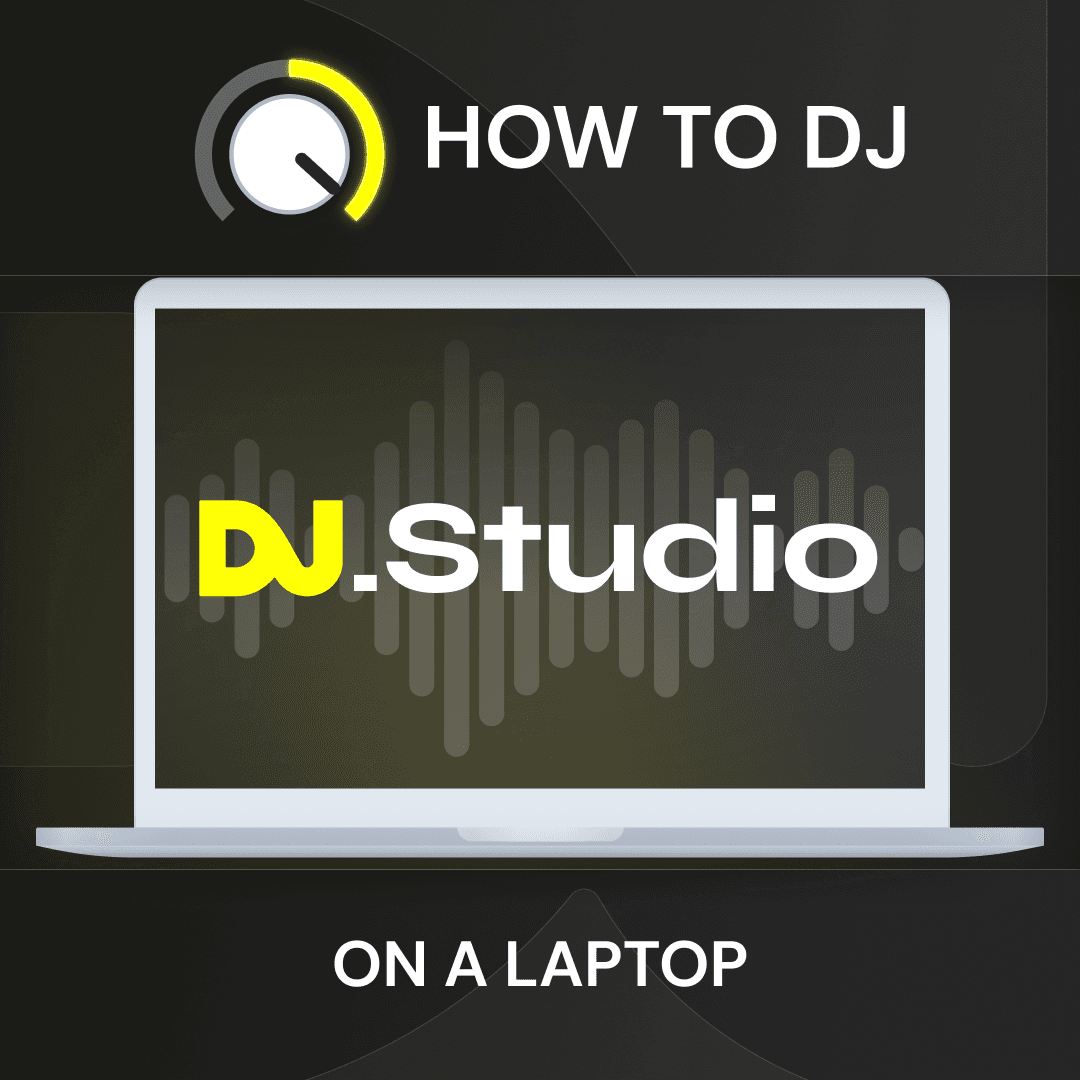 How do I DJ on a laptop? Find out what to consider when beginning your journey as a digital DJ. Discover which laptop, software and hardware you need
6 months ago
How to make a DJ mix

Automix software makes DJ's lives easier - although some are superior to others.